📕 Guides
Zac Perna's $50 Meal Prep For 1 Week of Bulking (Aussie Ingredients List)
UPDATED ON Sep 29, 2022
Zac Perna is an extremely popular Aussie fitness YouTube star who's amassed a loyal following thanks to his cheeky yet informative videos on all things meal-prepping, body-building, health and fitness.
We wanted to see what a week of meal prepping looked like for Zac, and according to one video posted by the bodybuilder, while bulking you can cook 4 meals per day, across 5 days, for under $50.
This video has nearly 5 million views, while his subscriber list almost totals 790,000. So when this man talks, people seem to listen.
Now, this was filmed in 2018, and grocery costs have certainly risen since then. His Woolworths shopping list totalled $46.00.
When we ran the numbers in September 2022, the exact same grocery items from Woolworths would cost you:
$2.95 – Jasmine rice 1kg
$1.40 – Oats 750g
$7.50 – Pic's Peanut Butter
$3.50 – Barilla Penne Rigate 500g
$26 – Beef Mince 2kg
$6 – Woolworth's White Washed Potatoes 2kg
$26 – Chicken Thigh 2kg
$4.86 – 700g broccoli
$9.80 – Woolworths 12 Extra Large Free Range Eggs 700g x 2
TOTAL = $88.01
The biggest price change we found comes from the beef mince and chicken thighs, as well as eggs, which have significantly risen in price in recent times.
However, there are of course often specials at Woolworths for meat that's about to expire, where you can definitely nab a bargain and just freeze the meat if you won't be using it ASAP.
Now, let's get onto the meals!
NB: In all meals and ingredients, it's assumed most people have salt, pepper and other seasonings already in the pantry. Zac has also assumed most people will have some kind of protein powder, pasta sauce and also soy sauce. These aren't inlcuded in the shopping list.
Meal 1: Oats with Peanut Butter & Whey Protein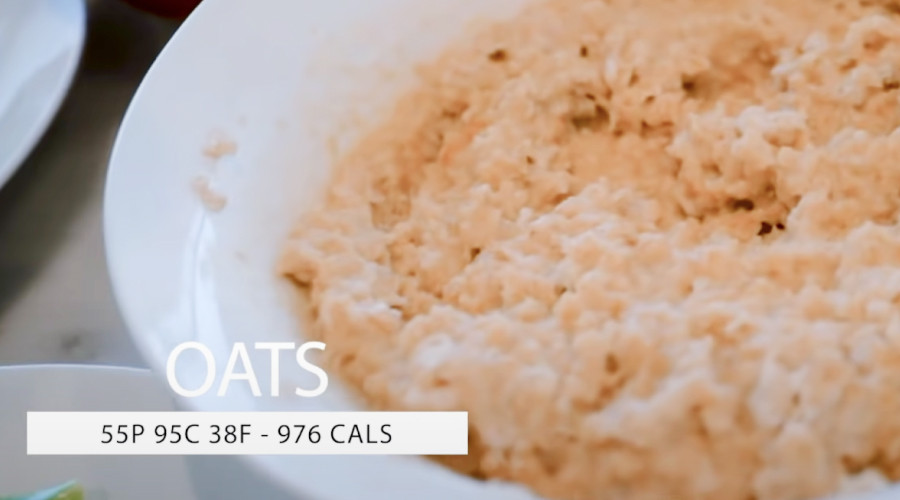 What you'll need:
Microwave
5 meal prep containers
Ingredients:
Oats, 750g
Pic's peanut butter (380g jar)
Protein powder of choice*
Rough steps:
Pour 150g of oats into a bowl, top up with water until just covered.
Cooked for roughly 90 seconds.
Add a heaped tbsp of peanut butter.
Add a serving of protein powder.
Mix together and enjoy.
Macros:
Protein: 55g
Fat: 38g
Carbs: 95g
Calories: 976kcal
Meal 2: Beef Mince with Pasta & Sauce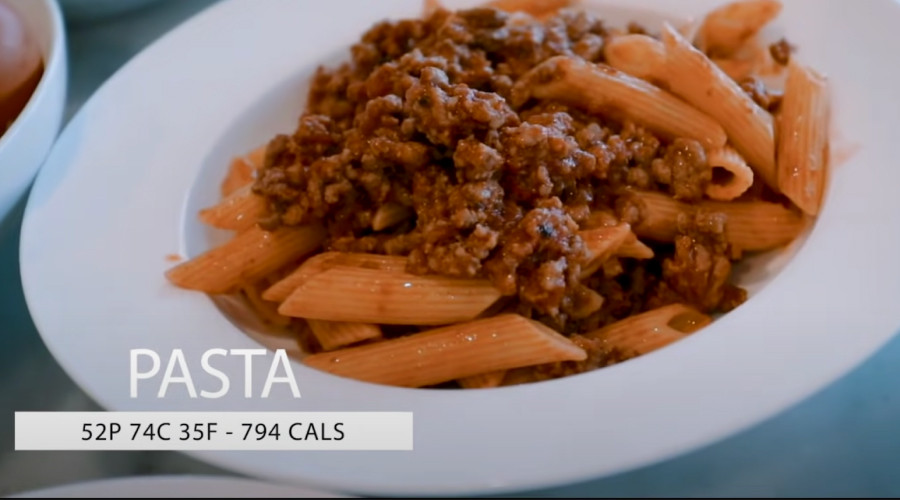 What you'll need:
Frypan
Pot
5 meal prep containers
Ingredients:
2 x 1kg beef mince
500g Barilla Penne Rigate
Pasta sauce of choice
Rough steps:
Cook pasta as per instructions on the packet.
While pasta is cooking, add the mince to a fry pan with oil, salt and pepper and cook.
Once pasta and mince are cooked, combine, and add in pasta sauce of choice.
Important:
Each meal should have 400g mince and 100g of pasta.
Macros:
Protein: 52g
Fat: 35g
Carbs: 74g
Calories: 794kcal
Meal 3: Chicken Thighs with Crispy Potatoes and Broccoli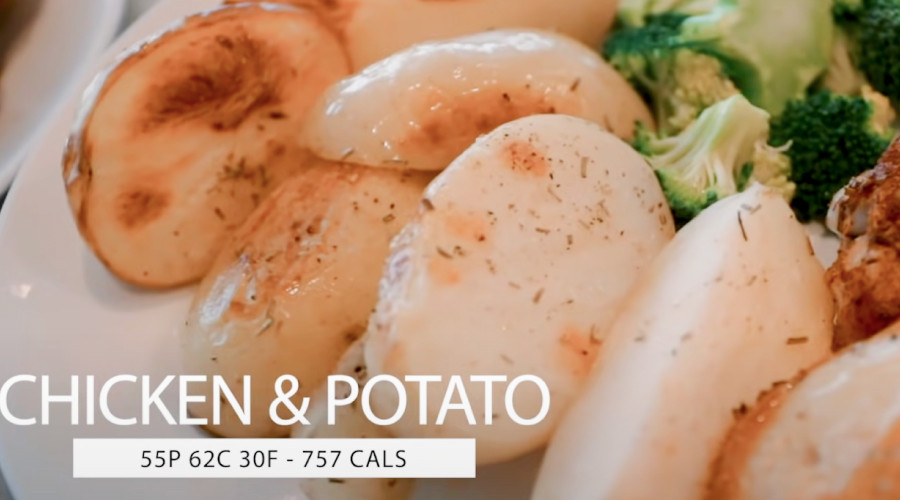 What you'll need:
Baking tray
Microwave safe bowl
Microwave
5 meal prep containers
Ingredients:
2kg white potatoes
2kg chicken thighs
700g Broccoli
Seasoning of choice
Rough steps:
Parboil potatoes then drain. Put on a baking pan and add lots of oil and salt. Cook at 200g for 30 mins or until crispy.
Place chicken thighs on a baking pan, drizzle with oil and salt and seasoning of choice. Put in the oven for 17 mins.
Chop broccoli and microwave for 4 mins.
Divide each portion of the meal by 5 and add to meal prep container.
Macros:
Protein: 55g
Fat: 30g
Carbs: 62g
Calories: 757kcal
Meal 4: Fried Eggs and Rice with Soy Sauce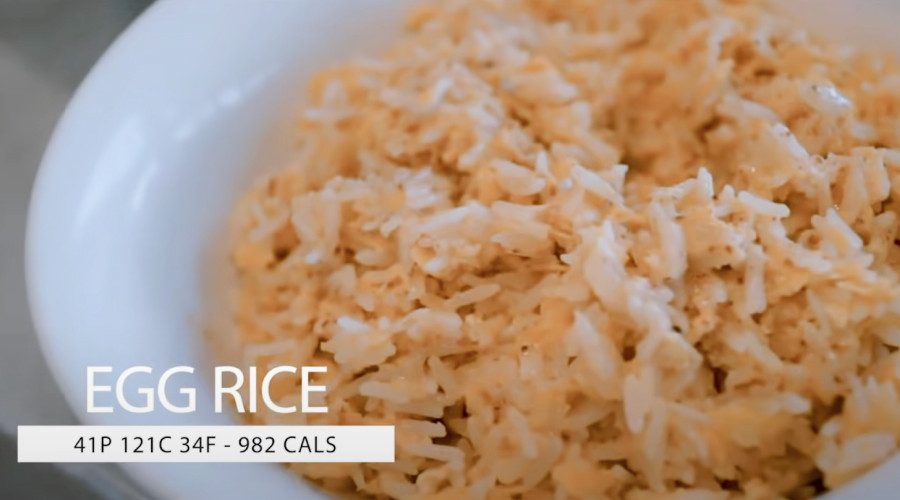 What you'll need:
Frypan
Rice Cooker
5 meal prep containers
Ingredients:
1kg Woolie's brand Jasmine rice
24 eggs
Soy sauce
Kewpie mayo (optional)
Rough steps:
Add whole pack of jasmine rice to rice cooker and put it on. 750g x 1.5 in water.
Once rice is cooked, crack 4-5 eggs onto finished rice. Add some soy and whisk together.
Fry it up and scramble. Add some kewpie mayo if you want.
Important:
Each meal should have 4-5 eggs and 200g of rice.
Macros:
Protein: 41g
Fat: 34g
Carbs: 121g
Calories: 982 kcal
See More From Zac Perna's
Check out more from Zac Perna's here!