🕵 Reviews
Review: Sunee App By Sarah's Day
UPDATED ON Jun 21, 2022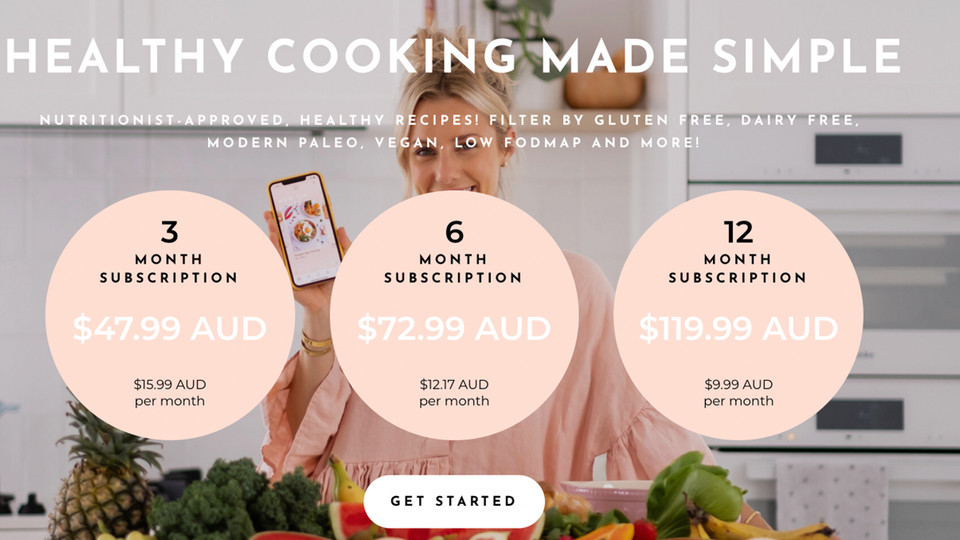 Sarah Stevenson, also known on social media as Sarah's Day, is an incredibly popular health and fitness content creator (on her website she calls herself an Aussie holistic, health and fitness YouTuber with a love for functional fitness, creating healthy recipes, healing the body naturally and utilising home remedies). She started creating YouTube videos seven years ago which followed her health journey to try and naturally cure a range of issues she suffered from including PCOS, acne and food intolerances.
She's since shot to fame with 1.5m YouTube subscribers and 1.1m Instagram followers. I've been following Sarah's Day for a few years now, and she's certainly a divisive character. Diehard fans truly love her and everything she stands for, while others question her health and fitness advice due to the fact she has no formal industry qualifications.
In the last several years she's released two fitness guides, and most recently in 2020, a recipe app. The app was hotly anticipated, but has since received a mixed bag of reviews. On the Apple App Store, it has a rating of 2.6 / 5 stars with over 600 reviews. As a burgeoning home cook, I wanted to download Sarah's App and see what it was all about, and whether it deserves its 2.6 star rating. Let's take a look.
The Good Reviews
Here are what some of the good reviews on the app store say. I've edited them for clarity and length.
"I've been really struggling with body confidence at the moment and having access to these meals is already making me and my stomach feel so much better and maintaining motivation to cook. I also am gluten and lactose intolerant, after almost every meal I google I become really bloated afterwards. I've created 5 meals and 1 dessert already and not once have I bloated. No google recipe search could help me the way Sarah and her team have in 2 days." – Madi_274″
"I love the app, it has a mix of complex recipes and more basic ones. If there weren't any basic ones, people would be having a whinge because they are all too complicated. The recipes are easy to make and all have tasted amazing. I have struggled cutting out gluten and dairy due to an autoimmune disease but this app helps me every day! It's something to look forward to when new recipes are added!" – Tay199787
"This is the best food app I have ever purchased, as someone who cannot eat gluten and dairy the process of having to change every single recipe is a nightmare, and half the time the recipes don't translate to the new ingredients and I end up eating awful meals! These meals are fantastic, delicious, easy to make, don't require a lot of time or ingredients and my entire family eat them." – Amandacwilson
The Bad Reviews
And here are some of the bad reviews. Again, I have edited for clarity and length.
"As a health professional, I am really disappointed to see this labelled as a health and wellness app. My biggest concern with the app is in regard to the information and suggestions within the 'Nourish Me' section, which appears to be based on purely on pseudoscience. There is no scientific evidence referenced to support any of the suggestions made to combat these healthcare concerns. Additionally, there is no peer-reviewed scientific data to back up any of the information provided in regards to the listed healthcare concerns or remedies." – Jazziem18
"I decided to put some recipes through food works and realised a lot of these recipes are NOT healthy. Slapping a 'dairy free' 'gluten free' label on something does not make it good for your body, which is what we were lead to believe these recipes would be all about. Now I know why she didn't put the calorie information OR nutritional information on it, no one would buy these silly recipes. I would also like to know the exact role of the nutritionist she employed because I'm not impressed by how this has been marketed as 'nutritionist approved' but a quick run through dietary analysis software shows the high amounts of sodium (among other things)." – Bella-gold
"Paid the ridiculous amount of many for this app thinking it was going to be worthwhile. Was very disappointed. Firstly all recipes are gluten free dairy free, to me this seems weird as not everyone has diet restrictions. There are no nutritional labels for any recipes. For the price paid I feel there should be nutritional information. I put one of the meals into a calorie counter app and was SHOCKED at the amount of calories/carbs/fat etc was in one serving." – Amelia135
The Cost
For a recipe app, the cost is quite high. When you compare it to Keep it Cleaner (KIC), another popular Aussie health and fitness app, you can see why many people have taken an issue with pricing.
Sunee doesn't offer a free trial period, which is strange for modern apps. You can download the app for free, but in order to access any of the content, you need to subscribe. Subscribing is 3 month minimum which is $47.99. Then you jump to a 6 month subscription for $72.99, and finally a 12 month subscription for $119.99. When you break it down, a 3 month subscription works out around $15 per month.
While KIC is $20 per month, it also comes with daily workout routines, so you're getting more bang for your back with recipes and workouts combined. KIC also offers a free trial period to see if you like the app for committing, and you only need to commit for one month at a time.
The User Experience
In terms of user experience, it's a pretty well designed app and it's easy to find what you're looking for. You can toggle easily between pages, search for specific recipes, and filter your dietary needs with ease. It's not buggy or glitchy, either.
The Nutritional Values
The app was developed with nutritionist Dee Zibara, who holds an advanced diploma in nutritional medicine but is not a registered dietician. In Australia, being a nutritionist isn't a regular profession, so really anyone can call themselves a nutritionist. Basically, a person can practice as a nutritionist, and give themselves that title, without extensive qualifications or accreditations. A dietitian is a type of nutritionist, but a nutritionist is not a dietitian. To become a dietitian, you need formal qualifications and training/education.
In terms of nutritional values for each meal in the app… well, there are none. For Sarah, she lives on the motto of "listening to your body" and personally doesn't count calories. As such, there is no nutritional information on any of the recipes. She does have a handy Healthy Plate graphic wheel in the app, which highlights how to build a balanced meal with healthy portion sizes. For example, the app says a balanced meal should have 1 handful of greens, 1 handful of fruit or vegetables, 1 handful of starchy carbs, a palm-size of protein, three fingers of good fats and 1 thumb of superfood sprinkles.
In a YouTube review of the app, Canadian dietician Abbey Sharp says the portions and representative of healthy serving sizes to meet macros goals, but it's still not helpful for people who need to count calories for health reasons, or track their individual macro goals. However, Sharp did a nutritional breakdown of one of the recipes in the app – the Avocado Carbonara. This is what she found.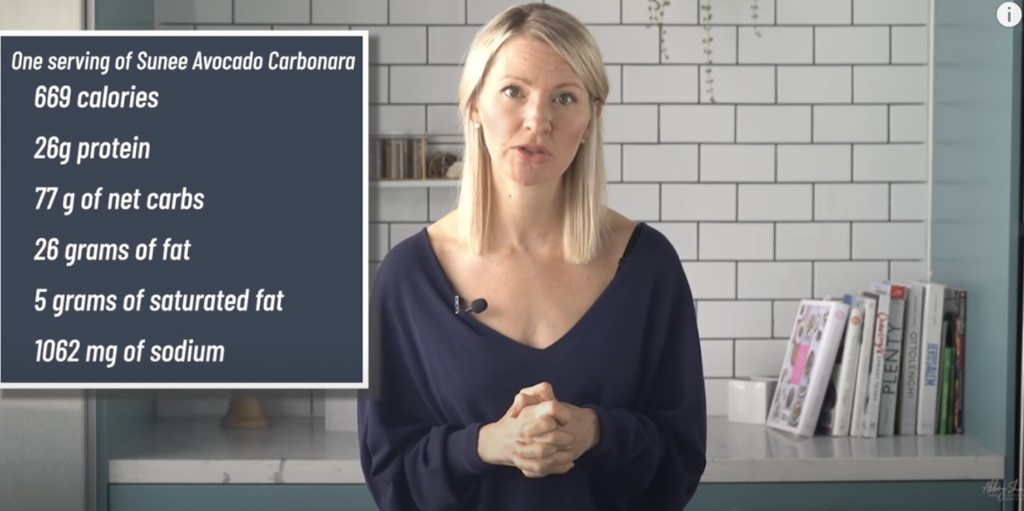 In comparison to a Standford Healthcare Carbonara, Sharp found the Sunee "healthy version" had 2 x the calories, 4 x the fat, 2 x saturated fat, 2 x carbs, 2 x salt, more monounsaturated fat and more protein. So as you can see, it's not necessarily the "healthier option" in comparison to the "normal" versions of the dishes. Not to say the recipes aren't healthy, but they're not necessarily healthier than the original recipes.
Variety of Recipes
Where the app thrives is its variety of meal options and how well it caters to a wide range of dietary needs. There are filter options so you can find meals that are right for your needs, including gluten-free, dairy-free, vegetarian, low FODMAP, modern paleo, nut free and vegan. There's also a cool "Recipe Roulette" for when you don't know what you want to eat. There's a great notes section in the recipes as well so you can input your own notes about each recipe.
Pros & Cons of the Sunee App
After all is said and done, here's a breakdown of the pros and cons of the app.
Pro
Well-designed app that's easy to find lots of nutritious recipes in one place
Good dietary filters
Good portion size suggestions
Great resource centre for cooking substitutions for people with food intolerances
Cons
Expensive in comparison to similar apps
Offers some somewhat misleading health and nutrition advice
No nutritional values on each meal
No cooking or prep time
The meals aren't necessarily "healthy" alternatives to original recipes
We hope you've found this review helpful in deciding whether or not you want to subscribe to this app! Let us know in the comments if you've tried the app before, or will be giving it a go in the future!