🔥 Transformations
Paddy Pimblett's Weight Loss Process: How Does The UFC Champion Do It?
UPDATED ON Nov 24, 2022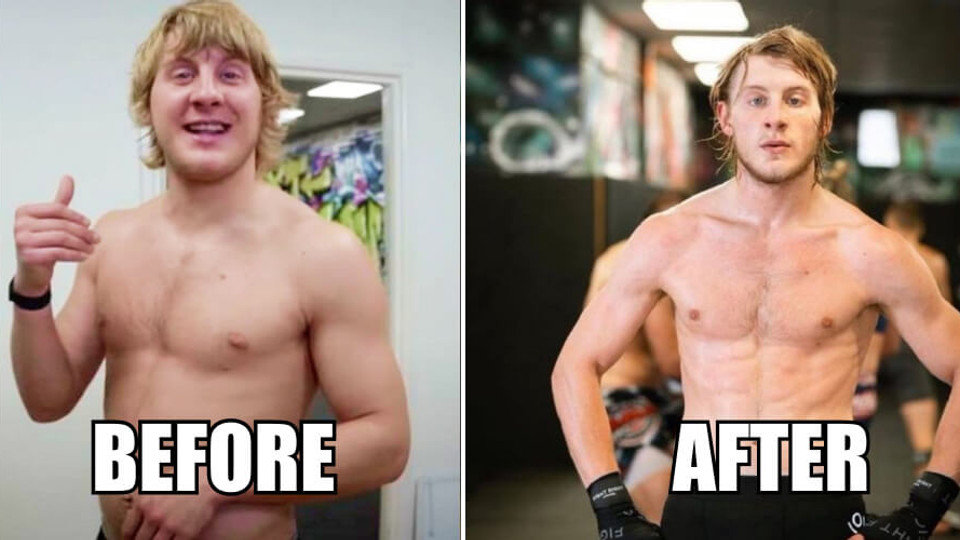 If Paddy "The Baddy" Pimblett is known for anything it's three things: being a champion UFC lightweight, massive weight gains between fights and impressive weight loss before scheduled fights.
How does Paddy Pimblett lose so much weight so quickly in between fights?
Well, Paddy has released a video on YouTube detailing his weight-cutting process, and it's actually pretty darn simple.
With a goal to lose 50 pounds (22kg) before his UFC 282 in December 2022, Paddy says there's "no rocket science to it". Instead, he focuses simply on being in a calorie deficit.
It's Not Rocket Science – It's a Calorie Deficit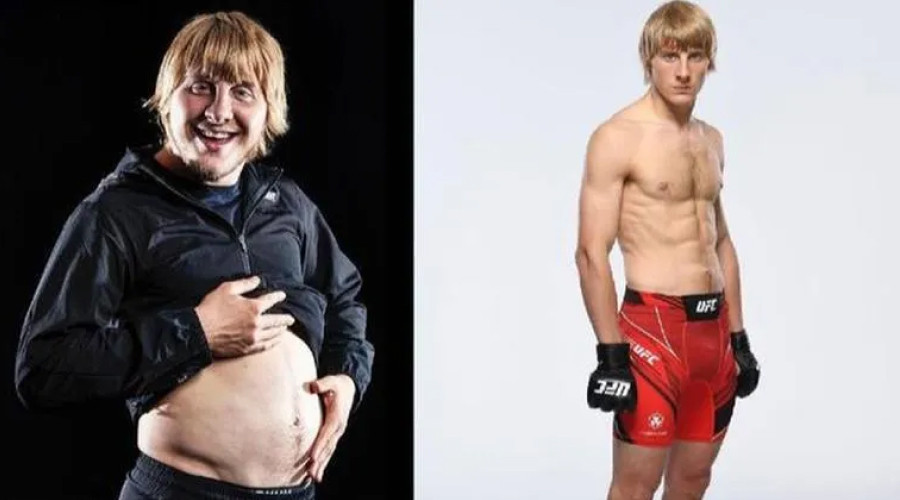 At 27 years of age, Paddy said losing weight isn't hard. In fact, it's as easy as putting on the weight.
"It's not hard. Get yourself in a calorie deficit. Why do you think I get so fat? Because I've got to go from eating 1,500 to 2,000 calories a day to eating 8,000 a day. That's why the weight piles on and that's why it comes off so easy," he said in his YouTube video.
With the help of his friend Joel McCarthy AKA "The Macro Chef" Paddy loses weight by eating between 1,400 and 1,700 calories a day.
For reference, a medium active man 178 cm tall and 78 kg of body mass requires 2,831 calories a day. We wouldn't call Paddy's activity level medium either, especially not training before a fat.
Paddy isn't nervous about losing all the weight before the fight. In fact, he's lost 8.4kg overnight before, so he's confident that with less than a month until his fight he can lose the rest.
Starting at 200 pounds (90kg), Paddy had to lose 50 pounds (22kg) to make the 155 pound (70kg) weight division.
Paddy Pimblett Likes to Eat… A Lot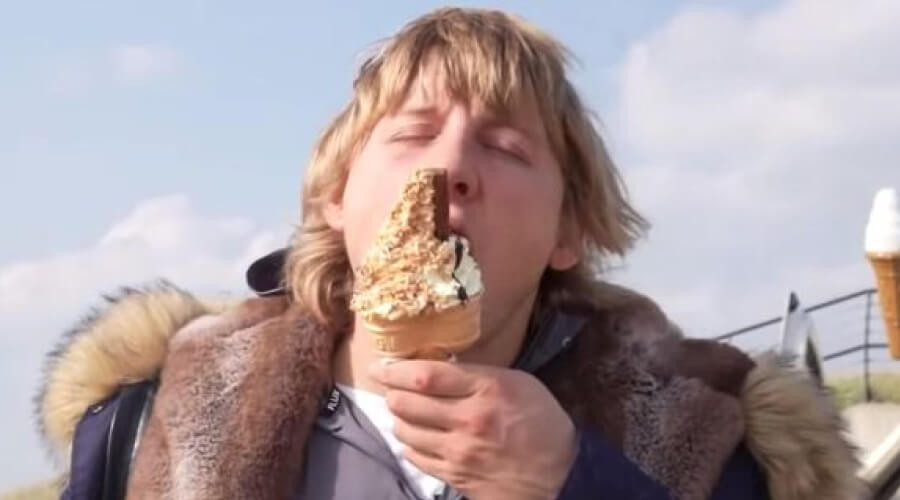 The reason for Paddy's weight gain between fights is because he likes to eat and would rather be fat and happy.
"I'd rather be fat and happy than ripped. These people who are ripped all year round are not happy, I don't care what they say. This six-pack is sound, I look great but I'd rather be fat and happy," he said.
He's eaten as much as 10,700 calories in a day – not doing a food challenge – but just enjoying food.
Paddy Pimblett's Weight Loss Diet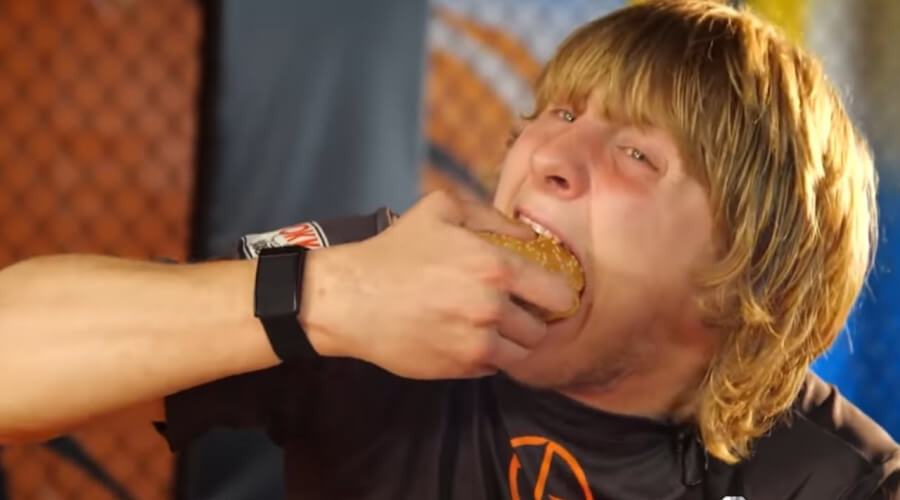 Not a fan of capsicum mushrooms, onions or bean sprouts… What exactly does Paddy Pimblett eat to lose weight?
Breakfast: Protein granola or overnight oats (300-350 cal)
Lunch: Chicken salad wrap or BBQ chicken burrito (450-520 cal)
Dinner: Pasta or burger and chips (470-500 cal)
Cheat meal: Chocolate cake and protein cookies (200 cal)
This all amounts to between 1,400-1,700 calories per day. This is a huge calorie deficit to his normal 6,000 to 8,000 calories when he's not scheduled for a fight.
During fight week, Paddy cuts carbs out of his diet and only eats protein and vegetables. He also cuts down on his water intake, starting at eight litres and decreasing to one litre a day before the weigh-ins.
Another method he uses to lose weight is the bath and towel method, where he will sit in a bath for around 20 minutes and then lay covered in towels for around 15 minutes to shred the remaining pounds he has left.
He's No Stranger to Being Fat Shamed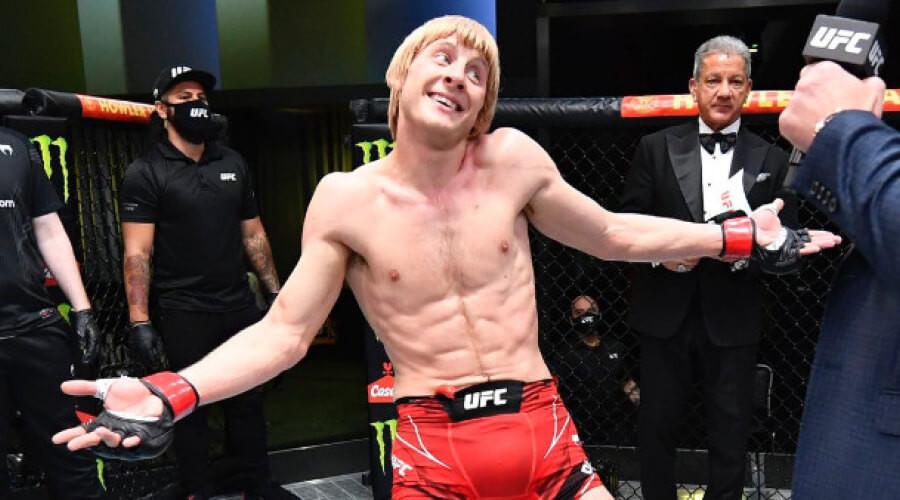 Paddy's lifestyle has drawn criticism from some parts of the MMA world, with former bantamweight champion TJ Dillashaw saying: "That's like a recipe for destroying your body.
"If you keep that same work ethic that he has now, he'll never be a champion. You can't have that down time like that. You can't get that fat."
Paddy continues to prove people wrong with his unconventional yet successful methods.
"People have doubted me for years. At the minute, I'm not in the rankings, I'm fighting once every four months or something, so I can have a good blowout if I want," he said.
"People fat shame me. It's my life and I'll do whatever I want.
"I'm going to be UFC champion and I'm going to prove all these stereotypes wrong."
References
https://www.bbc.com/sport/mixed-martial-arts/62135535
https://www.sportsmanor.com/ufc-paddy-pimblett-diet-reveals-what-he-eats-for-breakfast-lunch-and-dinner-during-fight-camp/
https://www.mirror.co.uk/sport/other-sports/mma/paddy-pimblett-weight-loss-ufc-26818542