📕 Guides
Noshh – A Fresh Take On Meal Planning
UPDATED ON Jul 12, 2022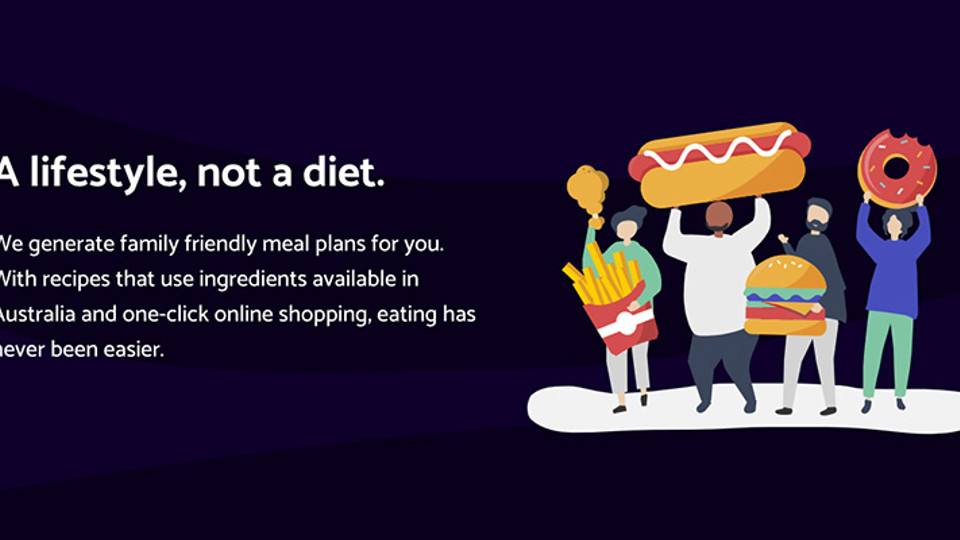 Noshh is a meal planning app for busy Australians who have a nutritional goal (lose weight, gain muscle, or maintain your shape) and don't want to overpay for groceries. Unlike other services, every meal plan is tailored to you. After you provide a few details like your age and weight, a tailored meal plan is instantly generated for you.
Planning meals has always been a common practice, but recently there's been a lot of attention around how to plan and why. Usually, families shop once a week, so if you're doing a weekly shopping trip, you need to know what you're going to eat. Having more structure around meal planning means you're more conscious about what you eat, when you eat it and what effect it has on your body (and mind!).
If you have a specific nutritional goal (like losing weight), meal plans are perfect to ensure you meet the requirements your body needs while adhering to your diet. Planning means you know what you're eating for breakfast, lunch, dinner, and snacks beforehand. This means you're more likely to:
✅ Stick to your diet
✅ Get the right amount of nutrition into your body
✅ Eat food that makes you happy, in portions your body can handle
✅ Maintain a good overview of what you're eating
✅ Spend less on last minute meals
✅ Do minimal grocery shopping
How does Noshh work?
Noshh meal plans are built around the concept of [flexible dieting](https://noshh.com.au/blog/guide-to-flexible-dieting) or IIFYM (if it fits your macros). Basically, your body requires a certain amount of nutrients, and there are three core nutrients that provide your body with energy: fat, protein, and carbohydrates. These three nutrients are called macronutrients (or macros for short) and their presence in everyday food varies heavily. Foods like sour cream, cheese, avocado, and nuts are high in fat, while bread, potato, cereal and soft drinks are high in carbohydrates. Getting the right balance of macronutrients can be tricky, especially if there are foods you love to indulge in regularly. It's incredibly important to get that balance correct – too much and your body won't burn off the energy, too little and your body wont function at its best. Noshh figures out how much fat, protein, and carbohydrates you need every day to reach your goal, and then calculates a week's worth of meals that meet those requirements.
Calculating your macros
There are a few ways to calculate the macros your body needs to be happy. Some of the methods are decades-old and others are far more recent. Noshh uses multiple methods to get the most accurate results possible. You'll need to answer some very easy questions like:
➡️ How active you are (on a scale of 1 – 5)
➡️ What your age is
➡️ How tall you are
➡️ Whether you're pregnant or breastfeeding
Creating your first meal plan
After you answer the initial set of questions, it's time to create your first meal plan. Every meal plan you create can cater for your whole family – simply choose how many people need to be accommodated and what meals you'd like to share with them. It's common to only share dessert – most mums that use Noshh eat dinner with the entire family but eat their own breakfast, lunch, dessert, and snacks.
There's also the option to exclude dessert – if you don't like a bit of excitement! One of the awesome benefits of flexible dieting means you can eat ice cream every night, as long as you have enough macros to spare and can organise other meals around it – that's some of the handy calculations Noshh does for you automatically.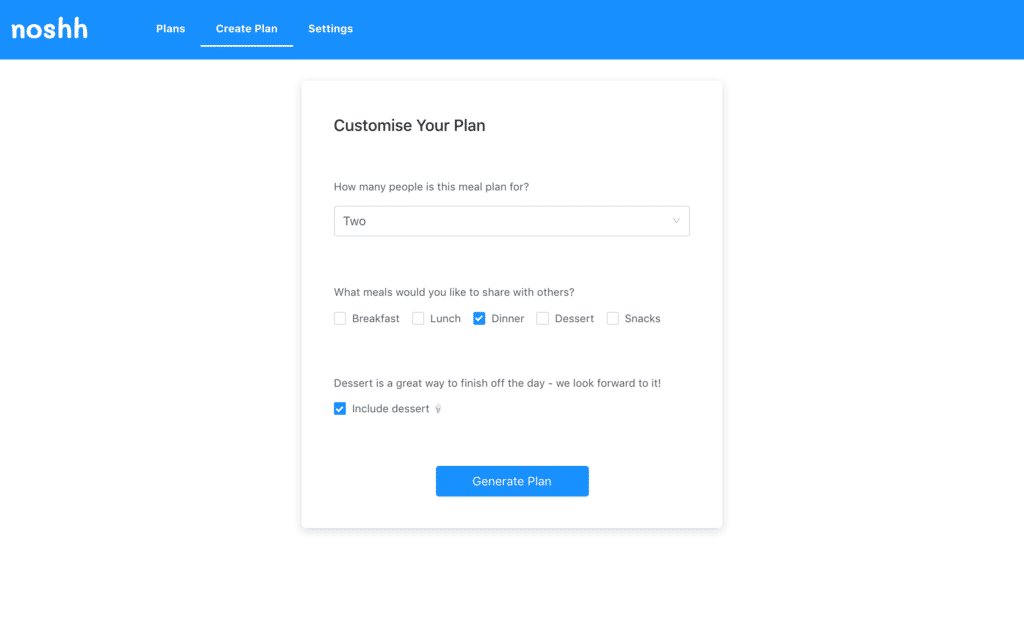 Noshh can plan for the whole family – so even if you don't eat alone, meal plans can work for you.
Every time you create a new meal plan, you'll always get shown the options for how many people the plan is for and if you'd like dessert. This is handy if you're eating with your family for one week, but not the next. You're flexible, your diet is flexible, and so is Noshh.
The meal plan
Noshh will instantly generate a meal plan for you; no waiting, no back and forth with in-person interviews, and no phone calls. The meal plan shows all of your meals for the entire week. It doesn't matter if your week starts on a different day to Monday – just jump right in.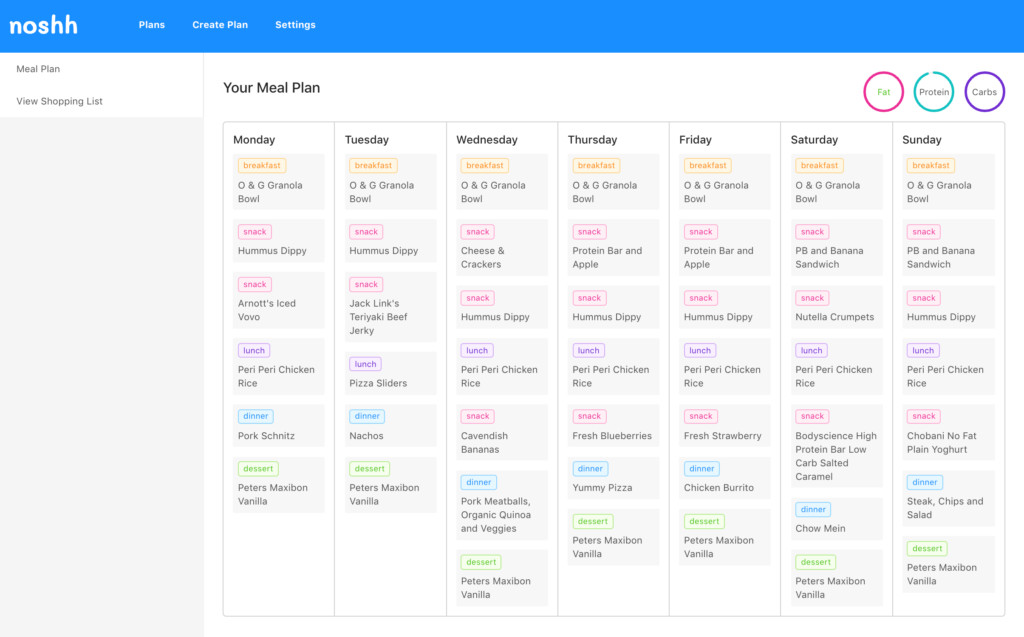 In the top right-hand corner you'll see three circles representing your weekly macronutrient requirements: fat (pink), protein (green), and carbs (purple). If you hover over a circle, it will show you how close the meal plan is to your requirement. Don't worry if it's not 100%; it's suggested being within 5% of your target is completely fine.
Each day will consist of up to five meal types: breakfast (orange), snacks (pink), lunch (purple), dinner (blue), and dessert (green). Noshh automatically distributes snacks and meals as evenly as it can, but some days you might have a few snacks, other days you might have none (if that's the case, try generating a plan *without* dessert!).
Snacks and dinners are most likely different every day, whereas breakfast, lunch, and dessert are the same for the week. This is to reduce cost – it's extremely common to eat the same breakfast and dessert during the week, it saves you having to buy multiple cereals or ice creams. If however, you want to have some variety, or you might not like a specific meal, you can customise and replace any meal by clicking the swap icon: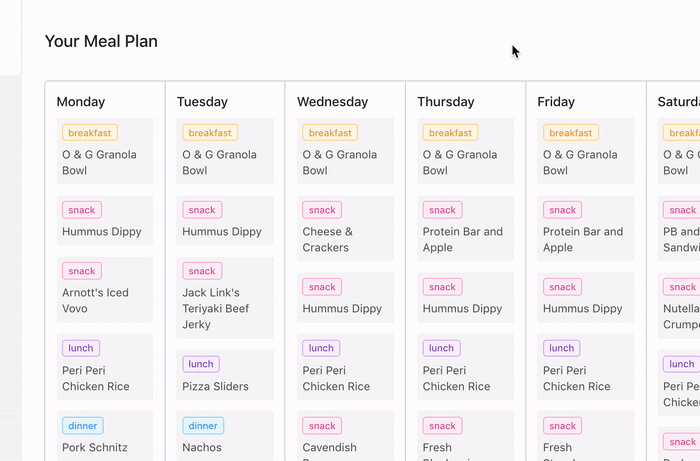 You can swap any meal in one click, creating full customised meal plans
Recipes and easy to read ingredients
Each meal comes with recipes and ingredients (if required – most snacks and desserts don't) that are easy and quick to read. Sometimes cooking is stressful and the last thing you want to do is wade through a bunch of useless information to find out what you need to do.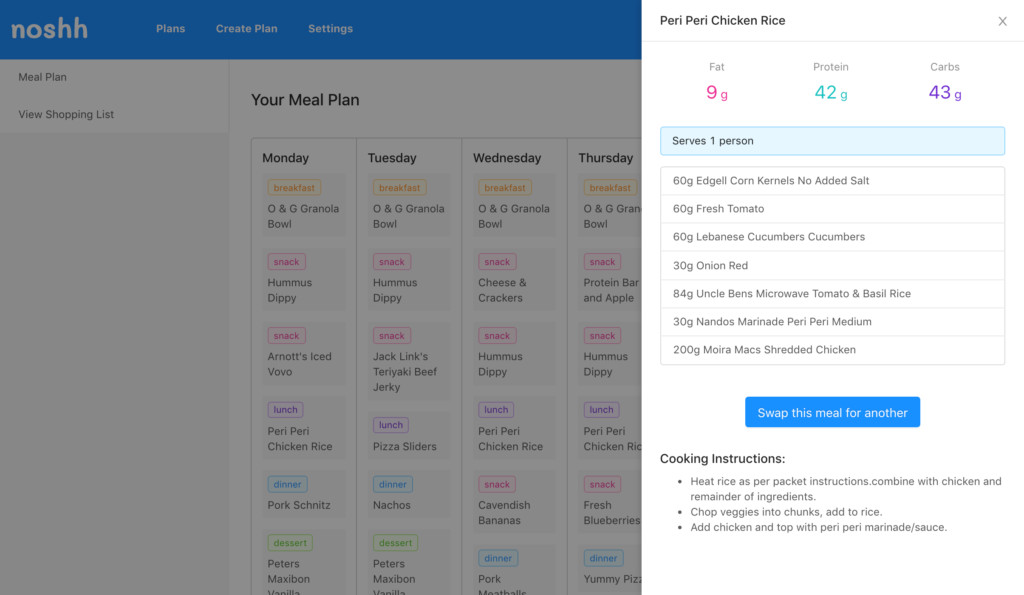 Peri Peri Chicken Rice is a great lunch which is high in protein and carbs, but low in fat.
At the top, you'll find the macros specific to the meal. Just below highlighted in blue is the serving size (if you selected more than one person when creating the meal plan, all ingredients are automatically multiplied). In the middle is a list of ingredients; **all of the ingredients are in grams**. Grams is a great measurement for two reasons: you can be more accurate, and you don't need to dirty measuring cups or spoons. If the meal requires any cooking instructions, you'll find that at the bottom – in plain, easy to understand wording and no fancy cooking terminology!
Automatic shopping list and Woolworths integration
Preparing a shopping list is time-consuming and can get frustrating when you forget to add something. You often don't notice you forgot to buy an ingredient until you're in the middle of cooking! Noshh prepares your entire shopping list for the week, so you don't have to worry about forgetting anything – even snacks.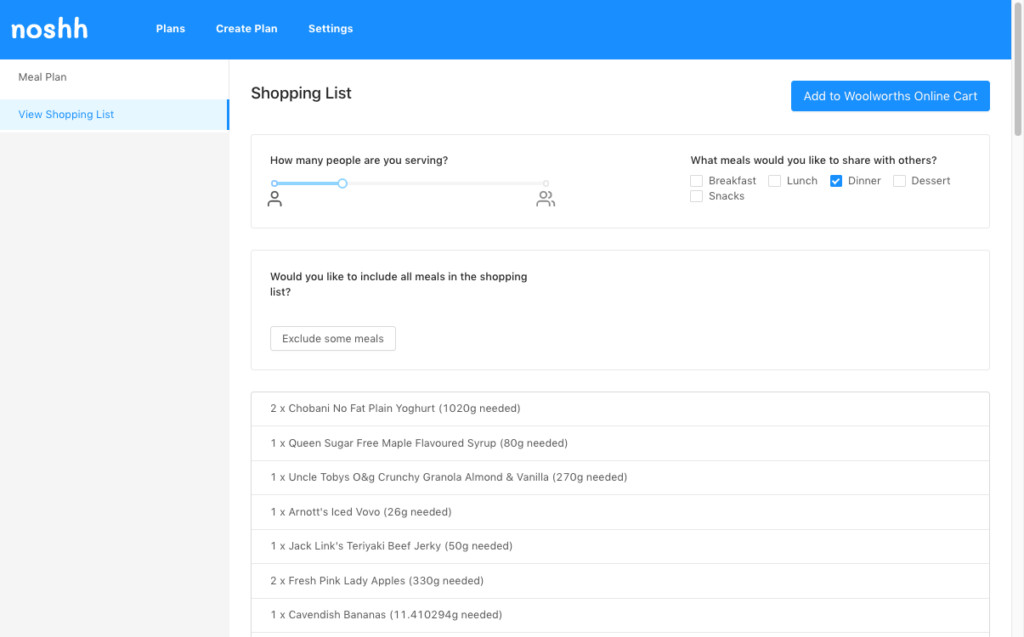 The Noshh shopping list is highly configurable for how many people you're serving, which meals you need to buy, and removing ingredients you already have!
In the shopping list, you'll see an itemised list of what you need in order to meet your flexible diet. It shows you how many of each ingredient you need, but also how much. This is super handy if you've got some ingredients already in the fridge or cupboard, you can check to make sure you have enough with a quick look or by weighing it.
There's also the option to exclude certain meals from your shopping list. A common event is something like 'family night dinner' on a Sunday night. Likely you'll be eating food someone else has cooked, so you won't need to buy ingredients for the Sunday dinner in the meal plan. Simply exclude that meal and the list will automatically update.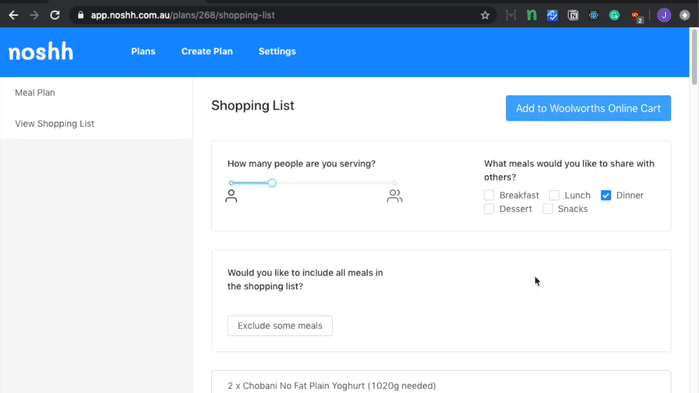 Nosh integrates with Woolworths, so in one click, your entire shopping list is added to your Woolworths Online shopping cart. From there, you can add anything else you need and either get everything delivered, or choose to pick it up in store.
If you're tired of planning meals and making shopping lists, interested in a flexible diet, or you just want to eat healthy with less hassle (and reach your weight goals!) you can start with two free meal plans today.