📕 Guides
Recipes: Healthy & Low Calorie Desserts Under 300 Calories
Satisfy your sweet tooth without breaking your diet! Check out these delicious and healthy desserts, each under 300 calories. Perfect for a guilt-free indulgence or a post-workout treat
UPDATED ON Apr 03, 2023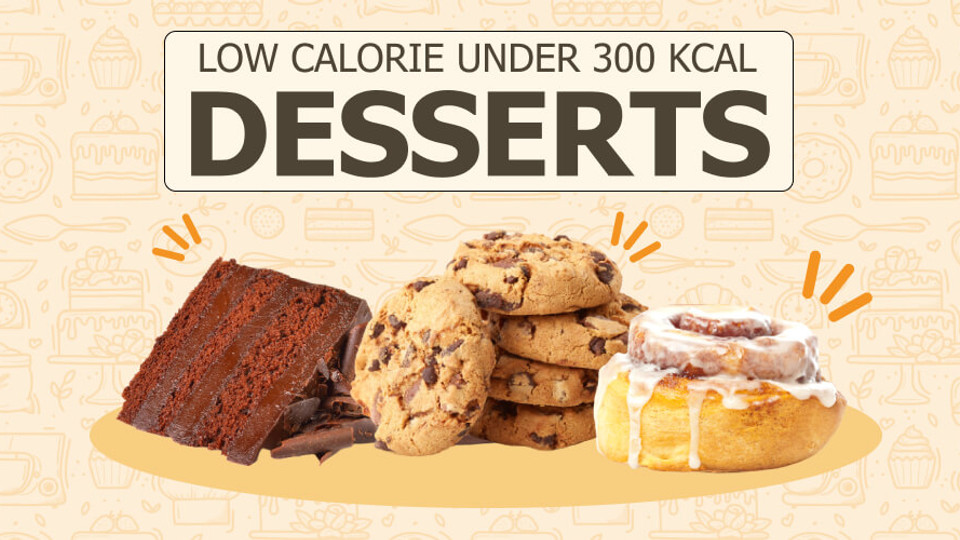 Are you trying to eat healthier but can't resist the temptation of dessert? We've all been there. But what if I told you that you can enjoy a sweet treat without feeling guilty? Look, if I live by the motto generally you should eat whatever you want and not feel guilty, but I understand that when you're trying to lose weight, every calorie counts and you don't want to undermine your efforts by going overboard on dessert.
SO I've compiled a list of delicious and nutritious desserts that are perfect for a guilt-free indulgence or a post-workout treat. These desserts are not only low in calories, but they are also high in nutrients and made with wholesome ingredients. From a berry sorbet to a chocolate avocado mousse, these desserts are sure to make your taste buds happy while keeping you on track with your health goals.
10 Healthy & Low Calorie Desserts
1. Paleo Chocolate Chip Cookies – 100 Calories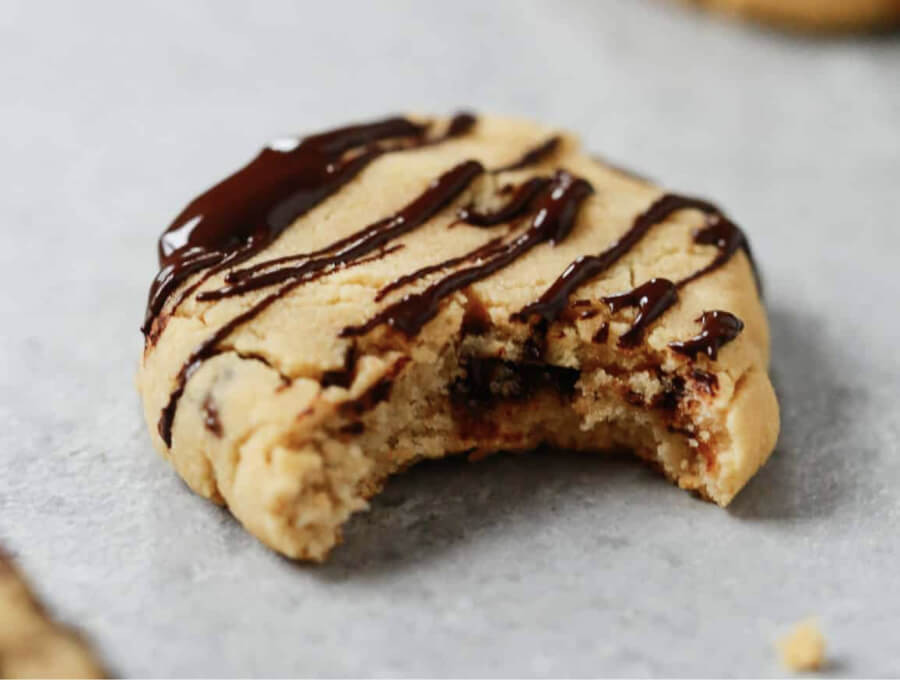 Ingredients
1 cup coconut flour
1/4 teaspoon baking soda
Pinch of sea salt
1/3 cup coconut flakes
2 large eggs
1/4 cup melted butter or coconut oil
1/4 cup maple syrup or keto syrup
1/2 teaspoon vanilla extract
1/3 cup sugar-free chocolate chips more for topping
Steps
Preheat oven to 180°C. Line two large baking sheets with parchment paper or silicone baking mats.
In a large bowl, toss together coconut flour, baking soda, coconut flakes and salt. Set aside.
In a medium bowl, add eggs, butter, maple syrup, and vanilla extract. Mix well until everything is combined.
Pour the wet ingredients into the dry ingredients bowl. Mix everything together. Add the chocolate chips and fold in the dough.
Scoop out 1 tablespoon of the batter onto the tray 2 inches apart.
Flatten the cookies with your fingers and top with a few more chocolate chips.
Bake for 10-12 minutes until golden. Let the cookies cool on the baking sheet for 10 minutes, then transfer to a wire rack to cool completely.
Melt chocolate chips in the microwave and drizzle over the cookies.
2. Avocado Mousse – 300 Calories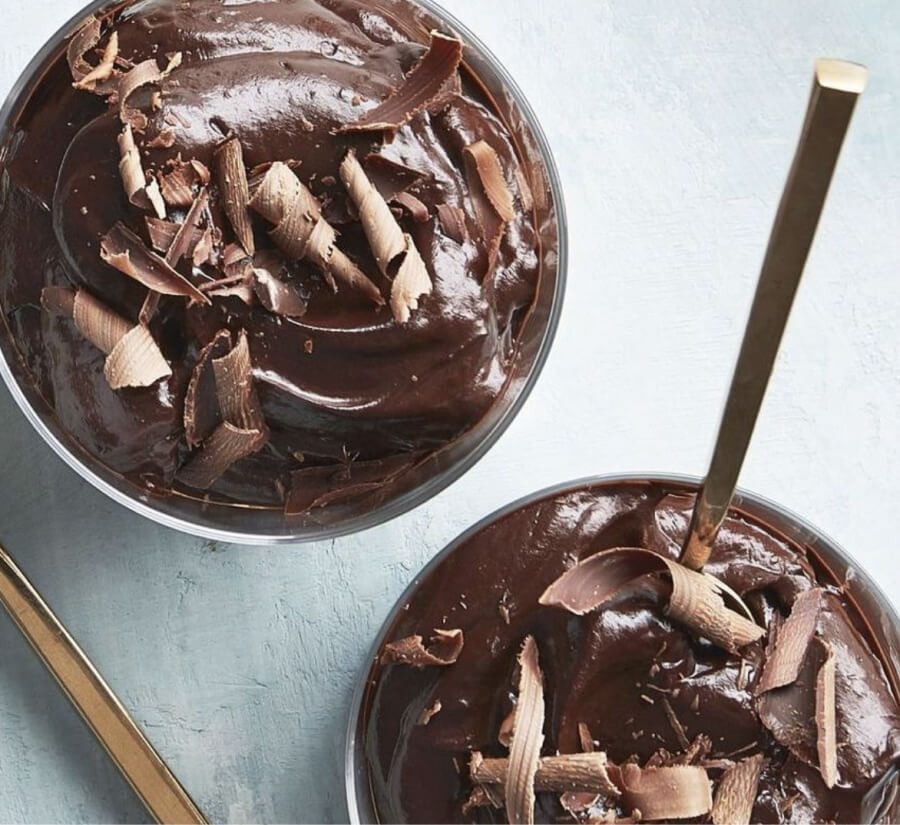 Ingredients
1 large ripe avocado
1/4 c. Dutch process cocoa
3 tbsp. unsweetened almond milk
2 tbsp. honey
1 tsp. pure vanilla extract
Pinch salt
Steps
In mini food processor, puree avocado, cocoa, almond milk, honey, vanilla extract, and pinch of salt. Chill if desired.
Divide between 2 small glasses and serve with shaved chocolate.
3. Sugar-Free Cinnamon Roll Mug Cake – 172 Calories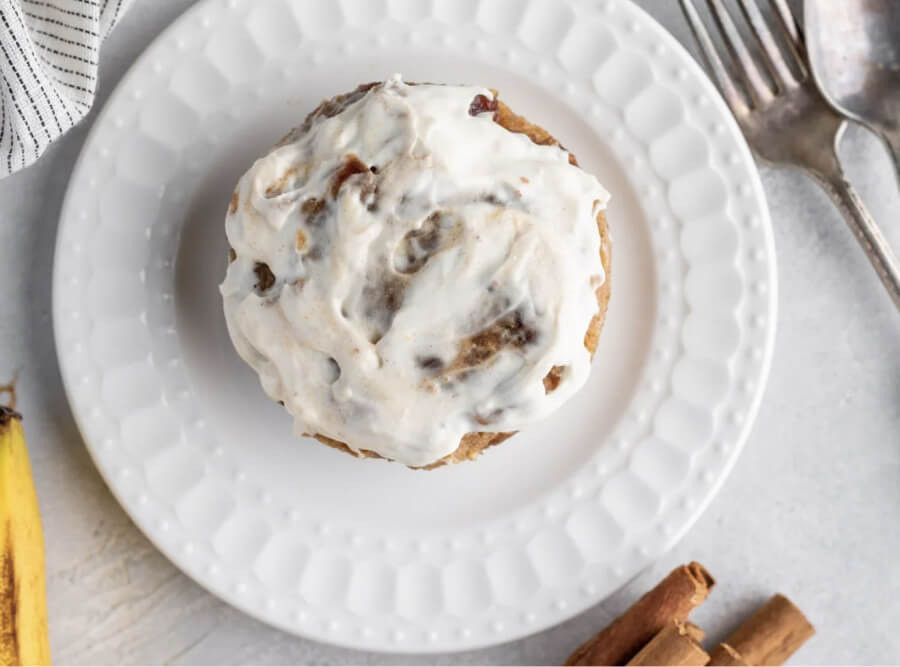 Ingredients
For Cinnamon Roll:
1/4 cup oat flour
2 tbsp rolled oats
1/4 cup mashed banana
1/4 tsp baking powder
1/2 tsp cinnamon
1 pinch salt
1/3 cup low-fat plain Greek yogurt
1 tsp stevia
For Filling:
1 each Medjool date pitted
1/4 tsp cinnamon
1 pinch salt
For Icing:
2 tbsp fat free cream cheese
2 tbsp low fat Greek yogurt plain or vanilla
1/2 tsp stevia
1/8 tsp vanilla extract
Steps
Spray a large mug (or two small mugs) with non-stick cooking spray. In a small bowl, mix together oat flour, rolled oats, cinnamon, baking powder, salt, and stevia. Add in mashed banana and yogurt to form dough. In a separate bowl, mash the date and add in cinnamon and salt (you can also do this in a food processor and add in a bit of water for a thinner textured filling if desired).
Place ½ of dough into the mug. Pour ¾ of date filling on top and then add remaining dough. Cover with the remaining filling. Microwave on high for 60-90 seconds or until cooked throughout.
While mug cake is baking, mix together cream cheese, Greek yogurt, vanilla, and stevia in a small bowl or food processor. Top cinnamon roll with icing when warm. Remaining icing can be stored in the fridge for up to 3 days.
4. Healthy Chocolate Cake – 98 Calories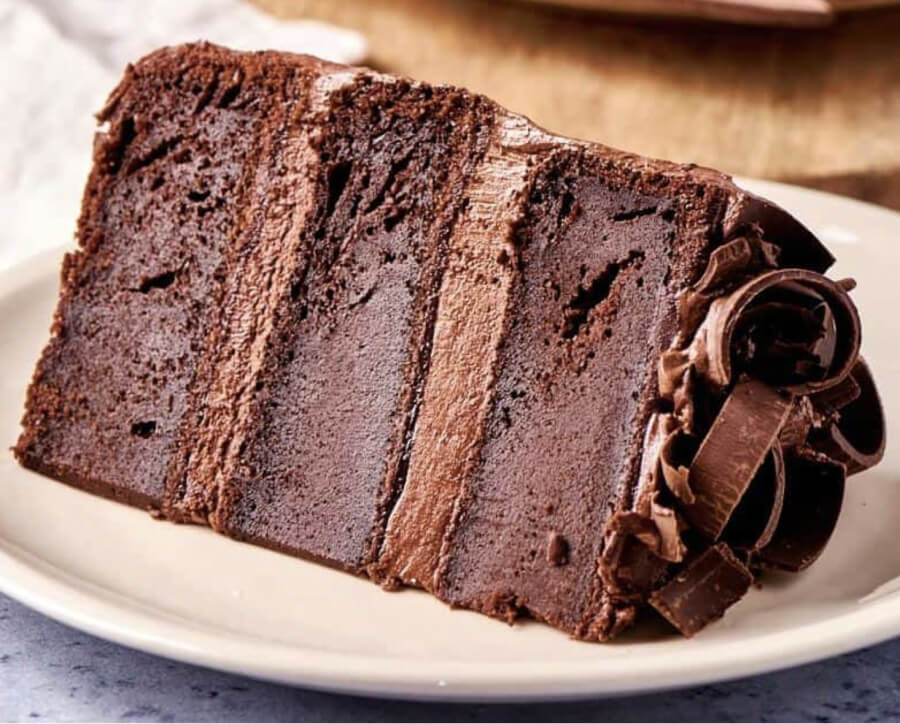 Ingredients
1 1/2 cups all purpose flour gluten free, if necessary
1 cup granulated sweetener of choice * See notes
1/4 cup cocoa powder
1 teaspoon baking soda
1/2 teaspoon salt
1 tablespoon apple cider vinegar
1 teaspoon vanilla extract
6 tablespoon unsweetened applesauce
1 cup water
Steps
Preheat the oven to 180C. Line an 8-inch springform pan with parchment paper and set aside.
In a large mixing bowl, combine your flour, granulated sweetener,cocoa powder, baking soda, and salt, and mix well.
Add your vanilla extract, apple cider vinegar, and unsweetened applesauce and mix well. Pour the water over the top and mix until fully combined.
Transfer the cake batter into the lined pan and bake for 25-30 minutes, or until a skewer comes out just clean.
Remove from the oven and let cool in the cake pan for 10 minutes, before carefully transferring to a wire rack to cool completely. Once cool, frost if desired.
5. Healthy Cookie Dough – 186 Calories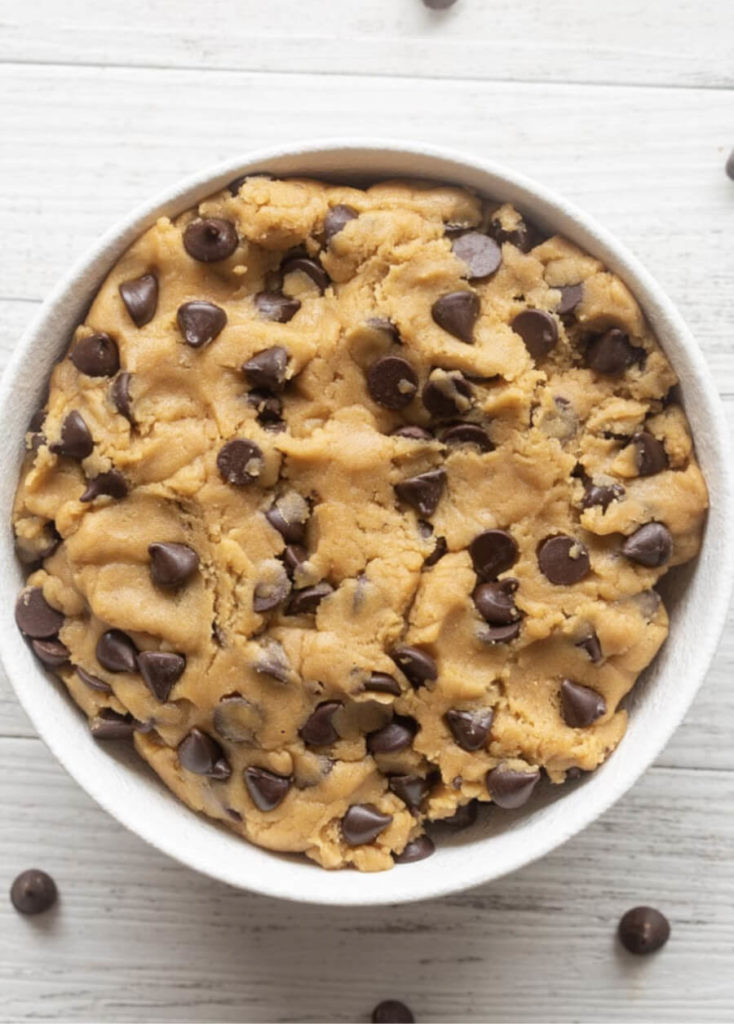 Ingredients
1/4 cup butter softened to room temperature
1/4 cup brown sugar substitute
3 tablespoons powdered Stevia
1 cup almond flour
2 tablespoons milk I used almond milk
1 teaspoon vanilla extract
1/2 cup chocolate chips
Steps
Add the butter, brown sugar substitute, and powdered sugar substitute in a mixing bowl. Using a hand mixer, beat together until creamy and smooth.
Add the almond flour, milk, and vanilla extract and mix well. Fold through the chocolate chips.
Cover the cookie dough and refrigerate it for 30 minutes.
6. Chocolate Nice Cream – 172 Calories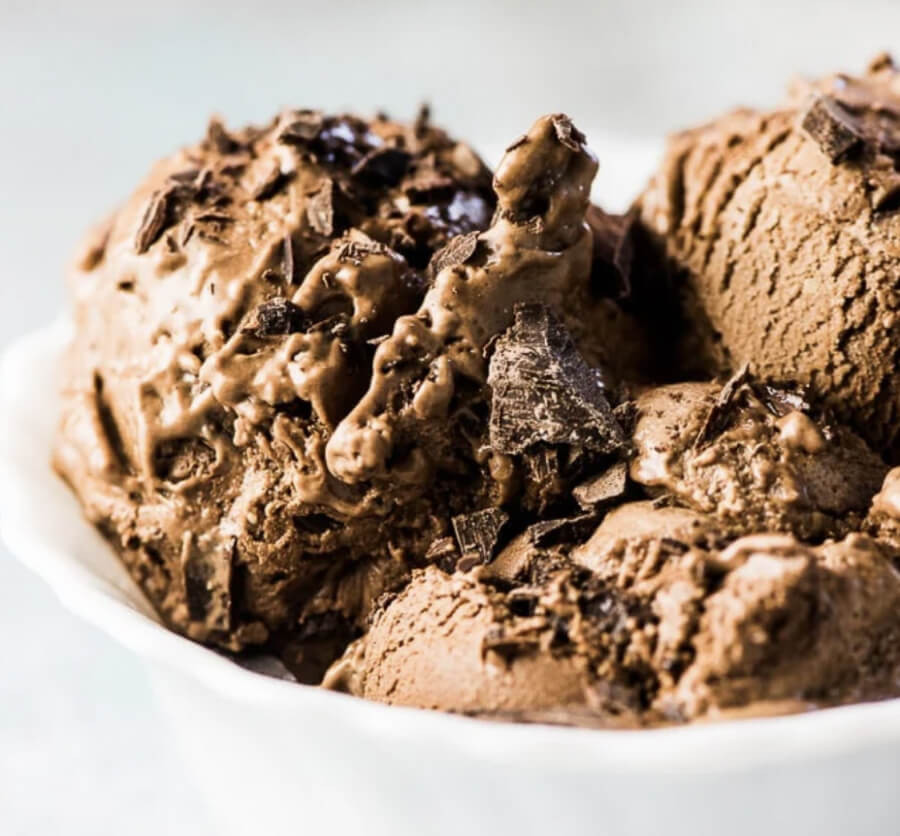 Ingredients
4 frozen bananas, peeled
¼ cup cocoa powder
2 tablespoons almond butter, can sub peanut butter
¼ cup milk of choice, only use if you are making this in a food processor
Optional: chocolate chunks or chips, to sprinkle on the top
Steps
Place the frozen bananas, cocoa powder, and almond butter into your high-powered blender.
4 frozen bananas,¼ cup cocoa powder,2 tablespoons almond butter
Blend the bananas on high speed using the plunger to push the bananas down as needed. After 2-3 minutes the ice cream will run smoothly.
Either eat right away or freeze for 2 hours so that it is hard enough to scoop into cones. Sprinkle with chocolate chunks, if you'd like.
7. Vegan Dark Chocolate Truffles – 89 Calories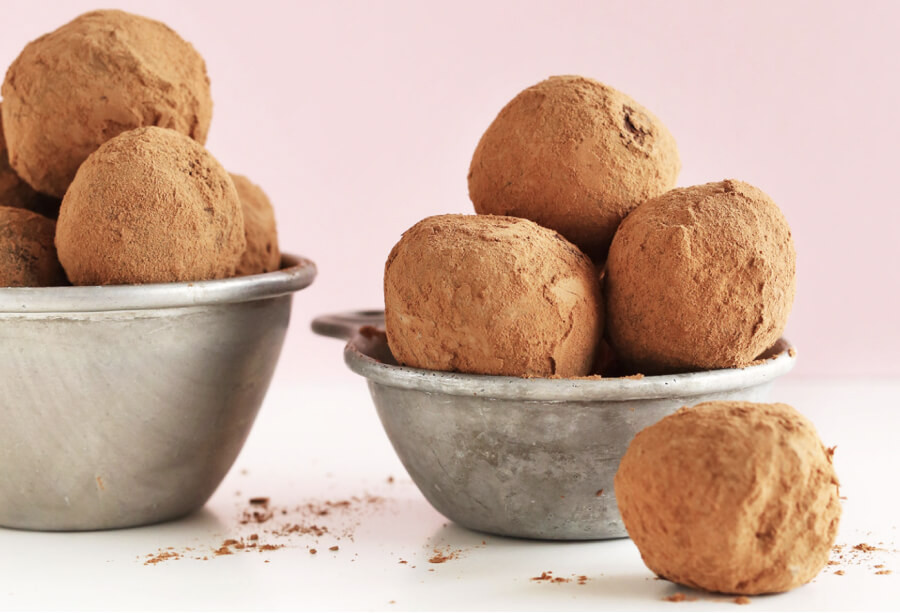 Ingredients
255 g vegan dark chocolate* (very finely chopped // 72% cacao or higher // 9 ounces is equal to ~1 1/4 cup)
90 ml light (or full-fat) canned coconut milk (well shaken)
1/2 tsp vanilla extract (optional)
24 g unsweetened cocoa or cacao powder, or finely ground hazelnuts (optional // for coating)
8. Chocolate Fudge with Sea Salt – 169 Calories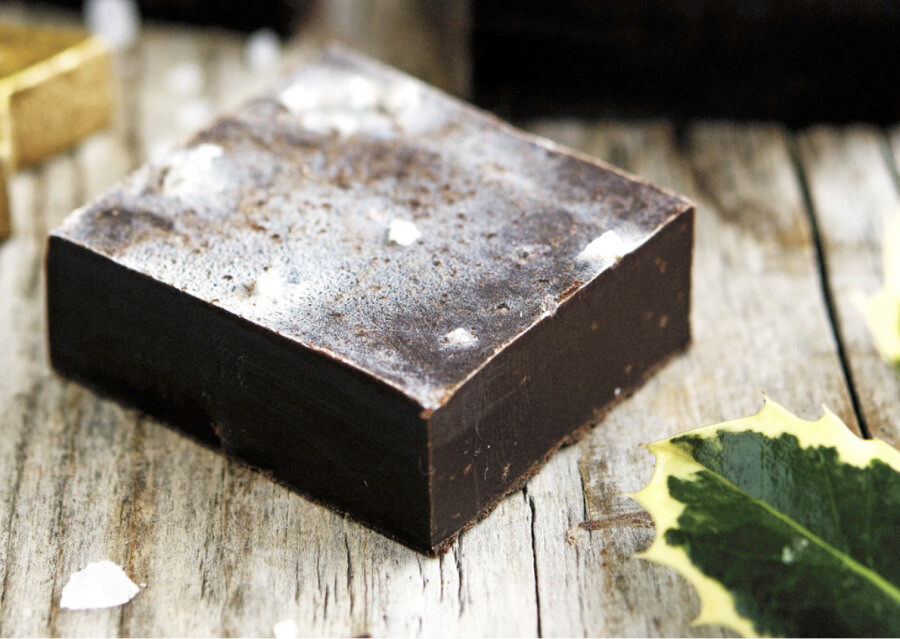 Ingredients
425g dark chocolate
⅓ cup honey
¼ cup heavy cream
Salt flakes
Steps
Line a 8×8-inch baking dish with parchment paper and set aside.
Melt chocolate in a double boiler over low heat. Once completely melted add heavy cream and continue cooking for about 40 minutes, stirring every so often, making sure that the mixture doesn't stick to the bottom or burn.
Add honey and cook for further 10 minutes.
Pour the chocolate mixture into the lined baking sheet and smooth the top with a wetted spatula.
Sprinkle with salt flakes and let cool at room temperature for at least 3 hours.
Cut with a sharp knife into 16 squares and store in an airtight container at room temperature or in the refrigerator
9. Vegan Peanut Butter Mousse – 247 Calories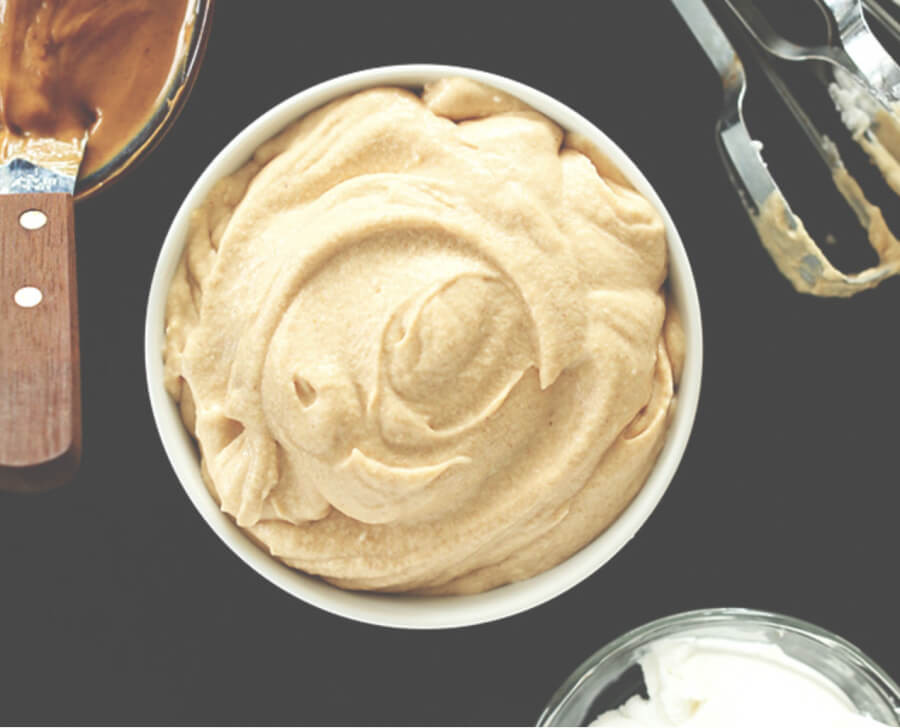 Ingredients
1 400-ml can full-fat coconut milk
2-4 Tbsp salted, natural creamy peanut butter
2-3 Tbsp agave nectar, maple syrup, or powdered sugar (or honey if not vegan)
10. Pineapple Sorbet – 81 Calories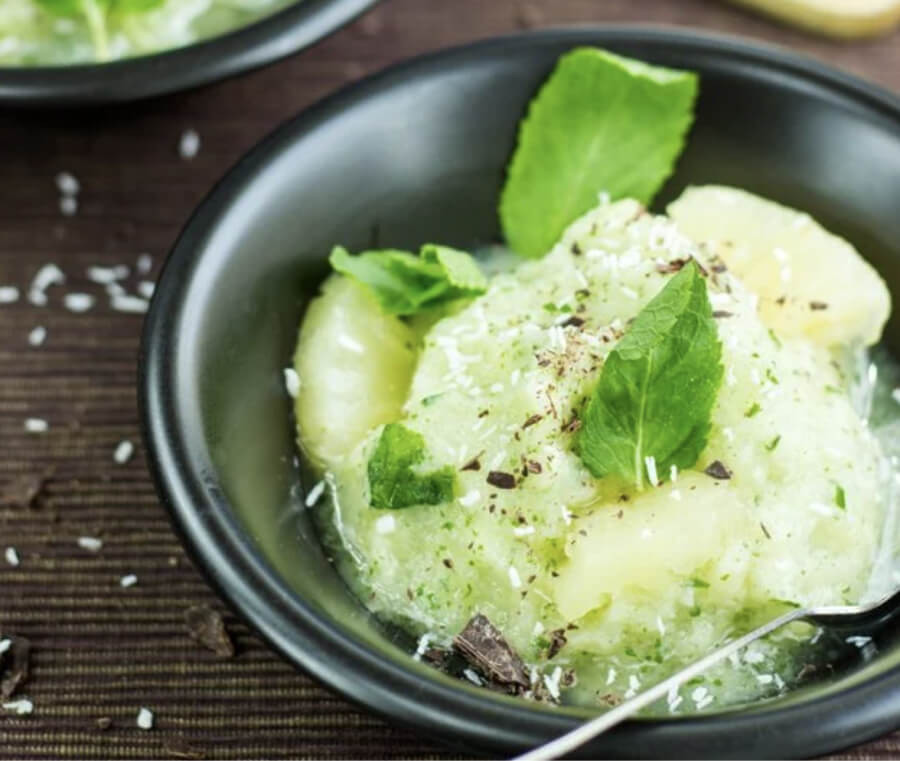 Ingredients
1 can pineapple chunks (1 can = 20oz in juice, or ½ real pineapple)
1 cup mint, fresh
Steps
Drain the tin or chop up the real pineapple and put in bowl in freezer (it should take around 2 hours to freeze). Save a few chunks or a ring for garnish.
When it's frozen use a hand blender or food processor to blend, along with mint (also keep a few mint leaves aside).
If you're using fresh pineapple then I suggest blending first and freezing after, it seems to work better.
When nicely mixed, place in bowls and garnish each with the remaining chunks and leaves.
Serve immediately or put back in freezer until needed.
Tips for Making Healthy Desserts at Home
Making healthy desserts at home is a great way to control the ingredients and nutritional value of your treats. Here are a few tips and tricks to keep in mind:
Use natural sweeteners such as honey, maple syrup, or dates instead of refined sugar.
Experiment with different flours such as almond flour, oat flour, or coconut flour to add some extra nutrients.
Use Greek yogurt or cottage cheese instead of cream or sour cream to add some protein and reduce fat.
Add some extra fibre by using fruits, vegetables, or whole grains in your desserts.
Try substituting some of the fat with applesauce or mashed avocado.
Here are some ingredient substitutions to make the desserts even healthier:
Instead of butter, you can use coconut oil or avocado.
Instead of heavy cream, use almond milk or coconut milk.
Instead of regular flour, use whole wheat flour or almond flour
Instead of granulated sugar, use honey, maple syrup or stevia
Eating Dessert Doesn't Have to Sabotage Your Weight Loss!
As you can see, eating a sweet treat doesn't have to sabotage your health goals. These desserts are not only low in calories but also high in nutrients and made with wholesome ingredients. From a two-ingredient fruit-based sorbet to a cinnamon scroll in a mug, you can pretty much make any of your favourite desserts low calorie with some smart substitutions.
I hope this post has inspired you to try out some new healthy dessert recipes at home. If you're looking for more healthy recipes, make sure to check our other articles for a wide variety of recipes that will keep you on track with your health goals.