📕 Guides
Joe Delaney's Guide to High Protein Meal Prep Under 450 Calories
UPDATED ON Sep 13, 2022
Joe Delaney is a popular UK fitness and health YouTuber with a very decent 578K subscribers. Joining Youtube in 2014, Joe dishes out very informative and very entertaining videos relating to all things diet, fitness and training.
Joe's recent guide to high protein, low cal meals has already amassed a good 117,000+ views, and the meals look nothing short of delicious.
This meal prep will give you 5 servings of 2 different meals: chicken and more chicken. More specifically though, cajun chicken with sweet potato and broccolini, and chicken and a tabouleh-ish salad.
Both are quick to make, high protein and less than 450 cals? Sign us up!
1. Cajun Chicken with Baked Sweet Potato & Broccolini
What you'll need:
Airfryer (optional)
Frypan / grill
5 meal prep containers
Ingredients:
1kg chicken thighs (boneless & skinless)
Cajun seasoning
1kg sweet potato
250g broccolini
1 garlic (optional)
Chilli (optional)
Rough steps:
Pat seasoning over chicken thighs and leave to rest.
Bake sweet potato and 200 degrees Celsius for about an hour.
Add chicken thighs to air fryer (or grill them) 200 degrees Celsius for 25 mins.
Chop up chilli and garlic and add to pan of butter and broccolini.
When chicken and sweet potato is done, add to 5 separate containers and place broccolini on top.
Macros:
Calories: 421kcal
Protein: 44g
Carbs: 42g
Fat: 8g
2. Harris Chicken and Tabbouleh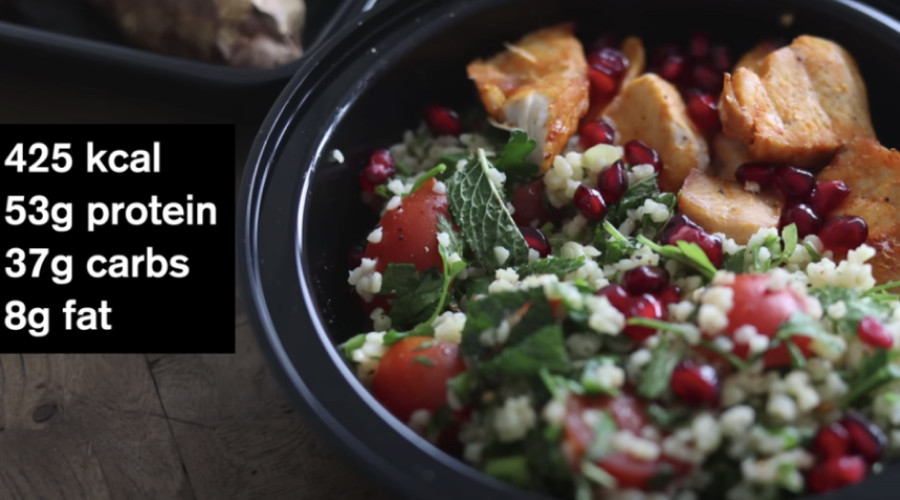 What you'll need:
Frypan
Pot
Mixing bowl
5 meal prep containers
Ingredients:
1kg chicken breast
2tsp harissa paste
200g bulgar wheat
Spring onions bunch
1 lemon juice
60 mint
60g parsley
150g cherry tomatoes
Handful pomegranate
Rough steps:
Chop chicken into chunks and add tsp of harissa pasta and mix it in.
Grill chicken at 180 degrees for 15 minutes.
Cook bulgar wheat in a pot.
Chop all herbs and stick in bowl. Add chopped tomatoes and bulgar wheat and mix with olive oil and lemon.
Plate salad and chicken in 5 separate meal prep containers and top with a handful of pomegranate.
Macros:
Calories: 425kcal
Protein: 53g
Carbs: 37g
Fat: 8g
Watch The Video
You can watch the original video here with all the steps you need to make the meals yourself.