📕 Guides
The Best Kitchen Scales You Can Buy Online For Meal Prep
A weighing scale is an indispensable part of any kitchen. This guide will help you know what to look for when buying one. Plus, we share with you the best options that are available to Australia.
POSTED ON Apr 30, 2021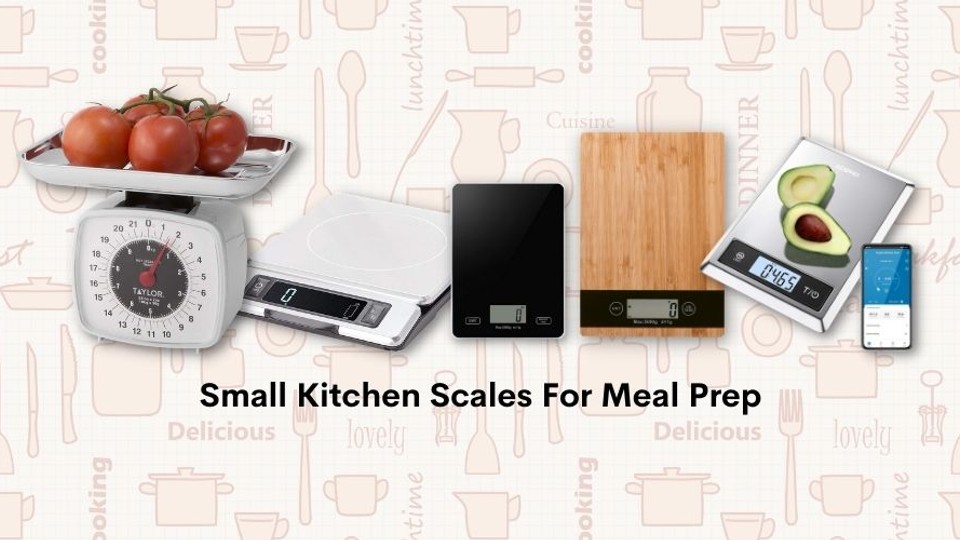 Whether you're new to cooking or a master in the kitchen, a weighing scale is one of the kitchen tools that you shouldn't be caught without. Get the ingredient measurements wrong, and you'll likely mess up the entire recipe. A kitchen scale ensures accuracy and consistency, as well as reduces prep and cleanup time. 
Unlike measuring spoons and cups where you have to use a new one for every measurement, you can just measure out all your dry ingredients in one bowl by simply resetting the scale back to zero. This results in fewer things to wash and dinner that gets onto the table much faster.
So what are some of the features that you need to look for when choosing a kitchen scale?
Type
Should you go for a modern digital scale or an old-school mechanical one? It all depends on your needs and preferences. Digital scales are more precise, while mechanical scales are better for weighing larger quantities. Both types, however, will get the job done. 
Capacity
Most of the scales we recommend have a 5-kilogram maximum weighing capacity, which is enough for the average home kitchen. 
Storage
Mechanical scales tend to be bulkier and take up more counter space, whereas digital scales are usually flat and can be stored away easily. Some also have a hole in the back so they can be hung on the wall.
Unit Conversion
It goes without saying that stopping in the middle of prepping to do some math is a big hassle. Many digital scales come with a unit conversion function to help you avoid this. 
Tare
The tare function resets the scale to zero and subtracts the weight of the bowl from the total measurement, so you get only the weight of the ingredients.  
Display
Having a display that's easy to read and doesn't get covered easily is important on both digital and mechanical scales. Look for one with large and clear numbers, and a contrasting colour needle if you're opting for a mechanical scale. 
Price
Kitchen scale prices range from around $10 to over $100, so there's something for every budget.
If you're having a hard time deciding which kitchen scale to get, check out our recommendations below. Here are five of the best kitchen scales available to Australia.
Best Overall
OXO 11214800 Good Grips Food Scale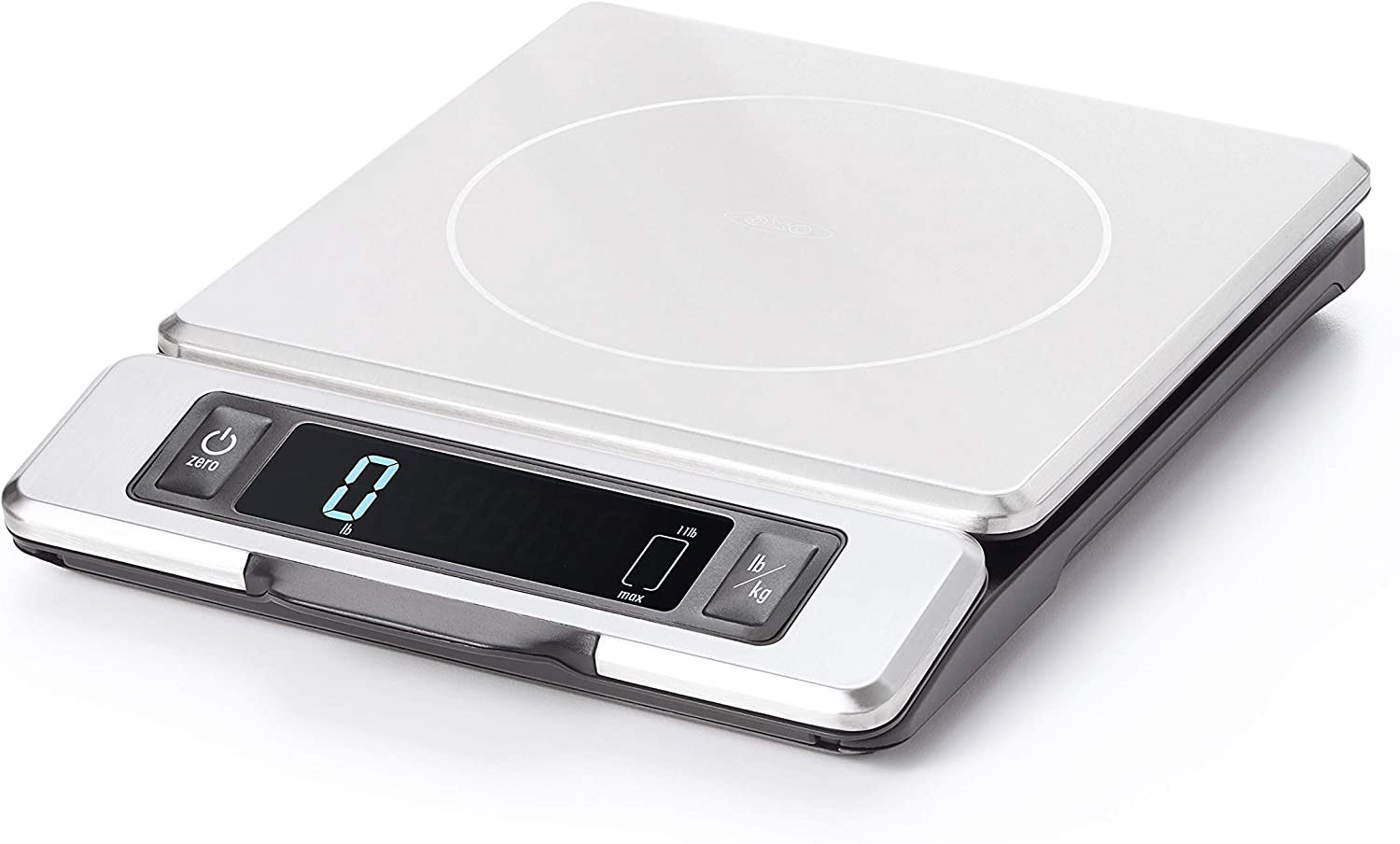 Capacity
5 kilograms / 11 pounds
Product Dimensions
24.1 x 18.1 x 3.2 centimetres
Pros & Cons
What's good?
Pull-out display
Fast to update readings
Smudge- and fingerprint-resistant
Regardless of your cooking experience, the OXO 11214800 Good Grips Food Scale is great to have in your arsenal of kitchen tools. Its most distinctive and handy feature is the pull-out display, which allows you to see the numbers even when there is a large bowl or plate on the platform. 
Speaking of which, the platform can be removed for easy cleaning, though you probably don't need to do much of that thanks to the scale's smudge- and fingerprint-resistant coating. There's also no need to convert units manually—just press the unit conversion button to measure ingredients in ounces, pounds, grams, or kilograms. Two AAA batteries are included with the OXO 11214800 Good Grips Food Scale.
Best Digital
RENPHO Digital Food Scale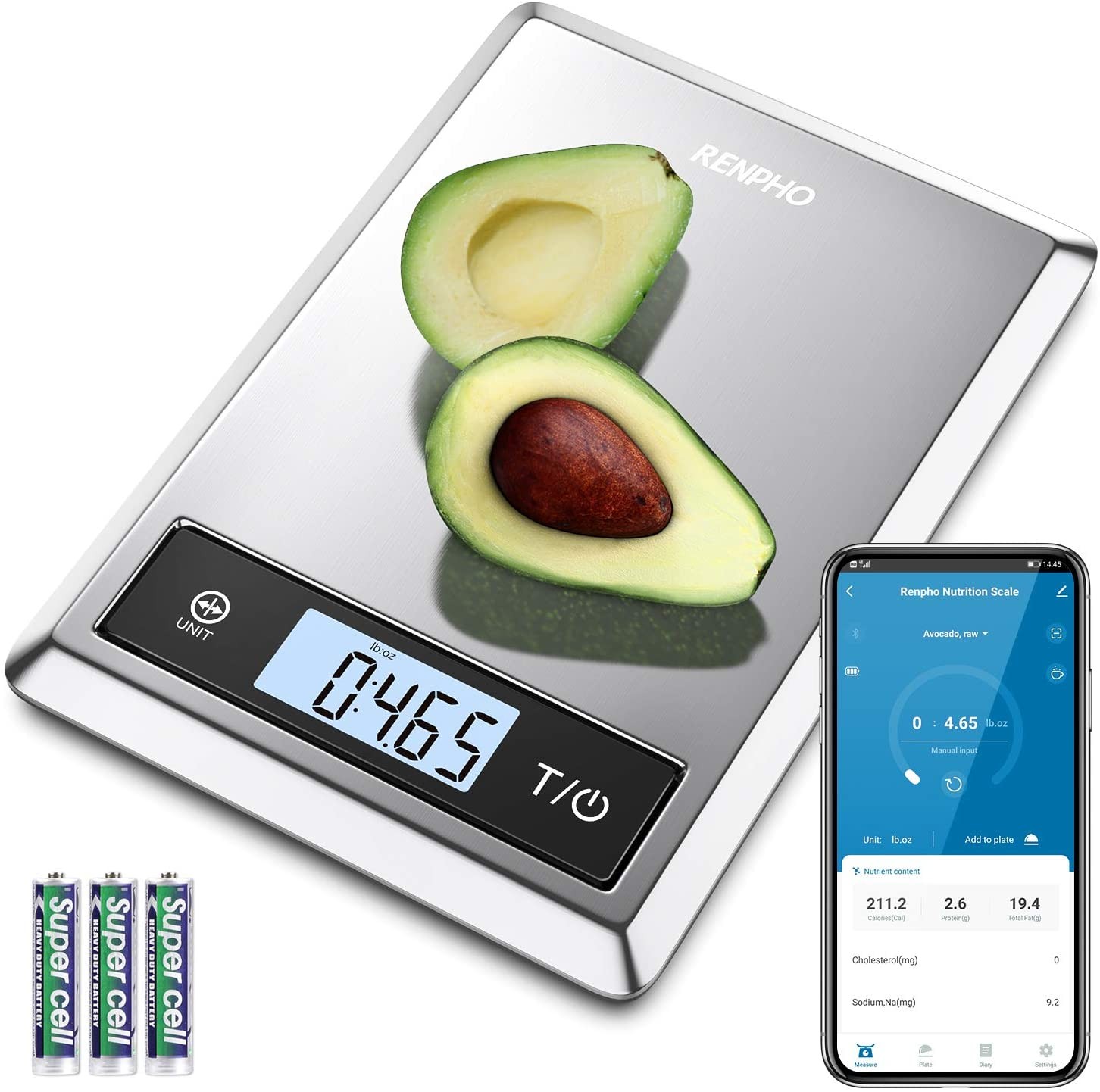 Capacity
5 kilograms / 11 pounds
Product Dimensions
23 x 15.8 x 1.7 centimetres
Pros & Cons
What's good?
Pairs with a nutrition app
Large stainless steel platform
Auto-off function
What's not so good?
Does not recognise non-US food products
More than just a kitchen scale, the RENPHO Digital Food Scale also functions as a nutrition scale and coffee scale. Compatible with the Genecc app, this versatile product helps you keep track of your carb and caloric intake. And if you're a coffee lover, the coffee timer feature allows you to brew the perfect cup of joe to start each day.
With five weight units, you can easily switch from pounds to grams and more while preparing your healthy meals. After cooking, you can simply wipe down the fingerprint-resistant, food-grade stainless steel platform before putting it away. The RENPHO Digital Food Scale comes with a quick start guide and three AAA batteries.
Best Mechanical
Taylor Precision Products Kitchen Scale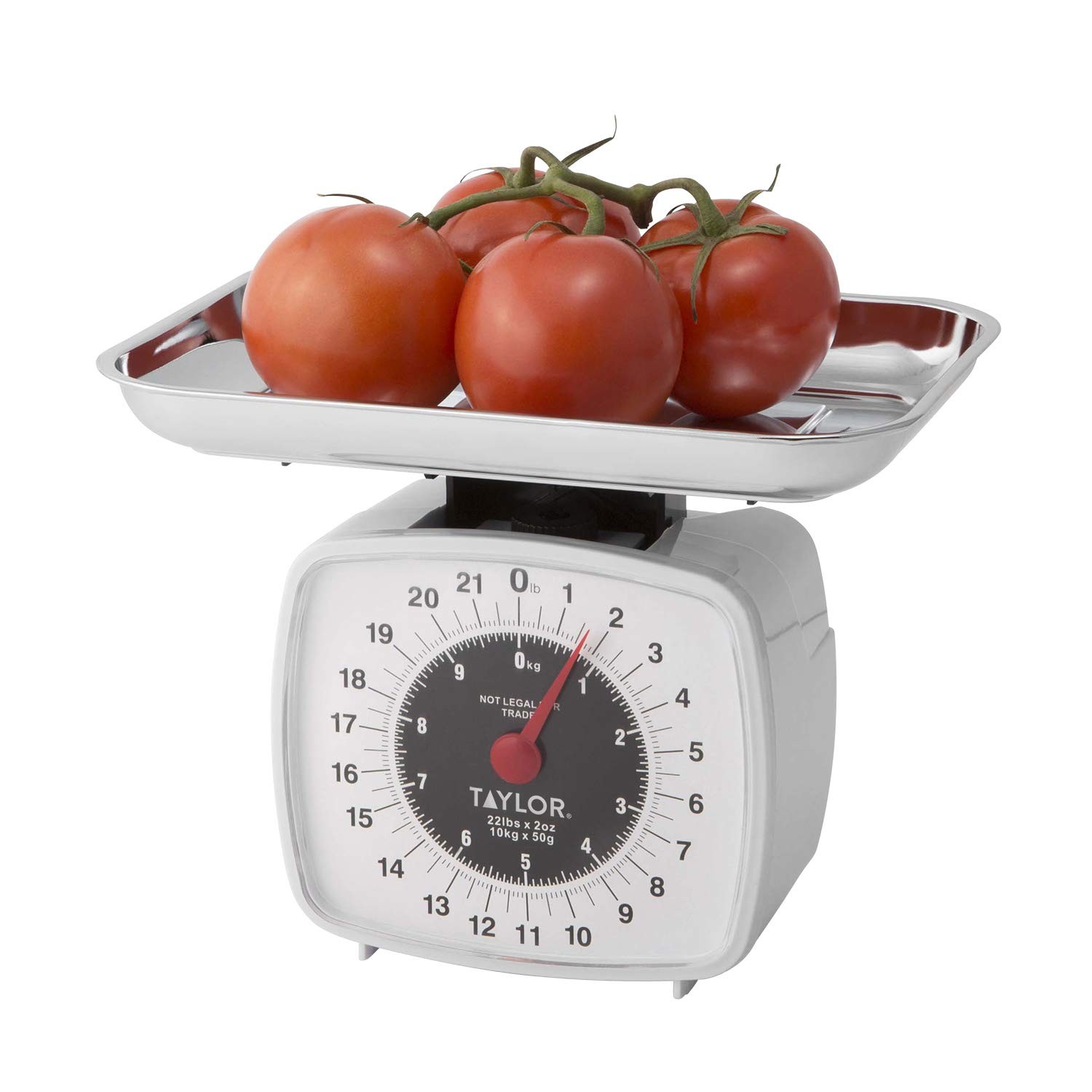 Capacity
11 kilograms / 22 pounds
Product Dimensions:
26 x 18.7 x 10.5 centimetres
Pros & Cons
What's good?
High capacity
Oversized stainless steel tray
Durable
For a good old-fashioned mechanical scale, look no further than the Taylor Precision Products Kitchen Scale. This no-frills model comes with a large, dishwasher-safe stainless steel tray that lets you weigh a variety of items, from cooking ingredients to garden yields. You can even measure wet ingredients thanks to the tray's raised and sloped edges. 
Reading measurements won't be a problem either, with big numbers and an angled red dial protected by a scratch-resistant, crystal-clear lens. The Taylor Precision Products Kitchen Scale has an impressive capacity of 11 kilograms, making it a great choice for the serious home chef.
Best Affordable / Compact
Qianmian Kitchen Scale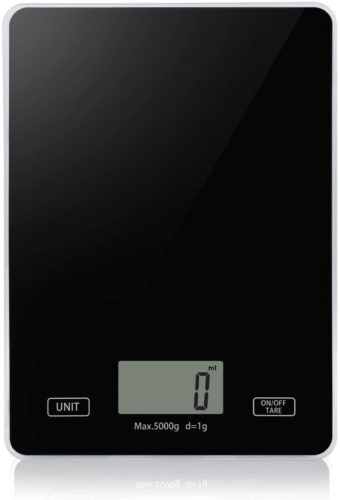 Capacity
5 kilograms / 11 pounds
Product Dimensions
20 x 14.4 centimetres
Pros & Cons
What's good?
Inexpensive
Low battery alarm
Overload alarm
For the price-conscious consumer looking for a good deal, the Qianmian Kitchen Scale is the perfect match. Boasting four high-precision sensors, this little kitchen helper can measure wet and dry ingredients in five weight units at the push of a button. Add a big, easy-to-read LCD display to the mix, and you'll be breezing through recipes. 
Spills and messes are inevitable in the kitchen, but this product's tempered glass and stainless steel construction makes it very easy to clean. You'll also be alerted if the battery is running low or if you go over the maximum capacity. In addition, this model's compact, space-saving design makes it ideal for small kitchens. With all of these features for just $16.99, the Qianmian Kitchen Scale really delivers value for money.
Best Eco-Friendly
Godenzi Kitchen Scale, Eco Bamboo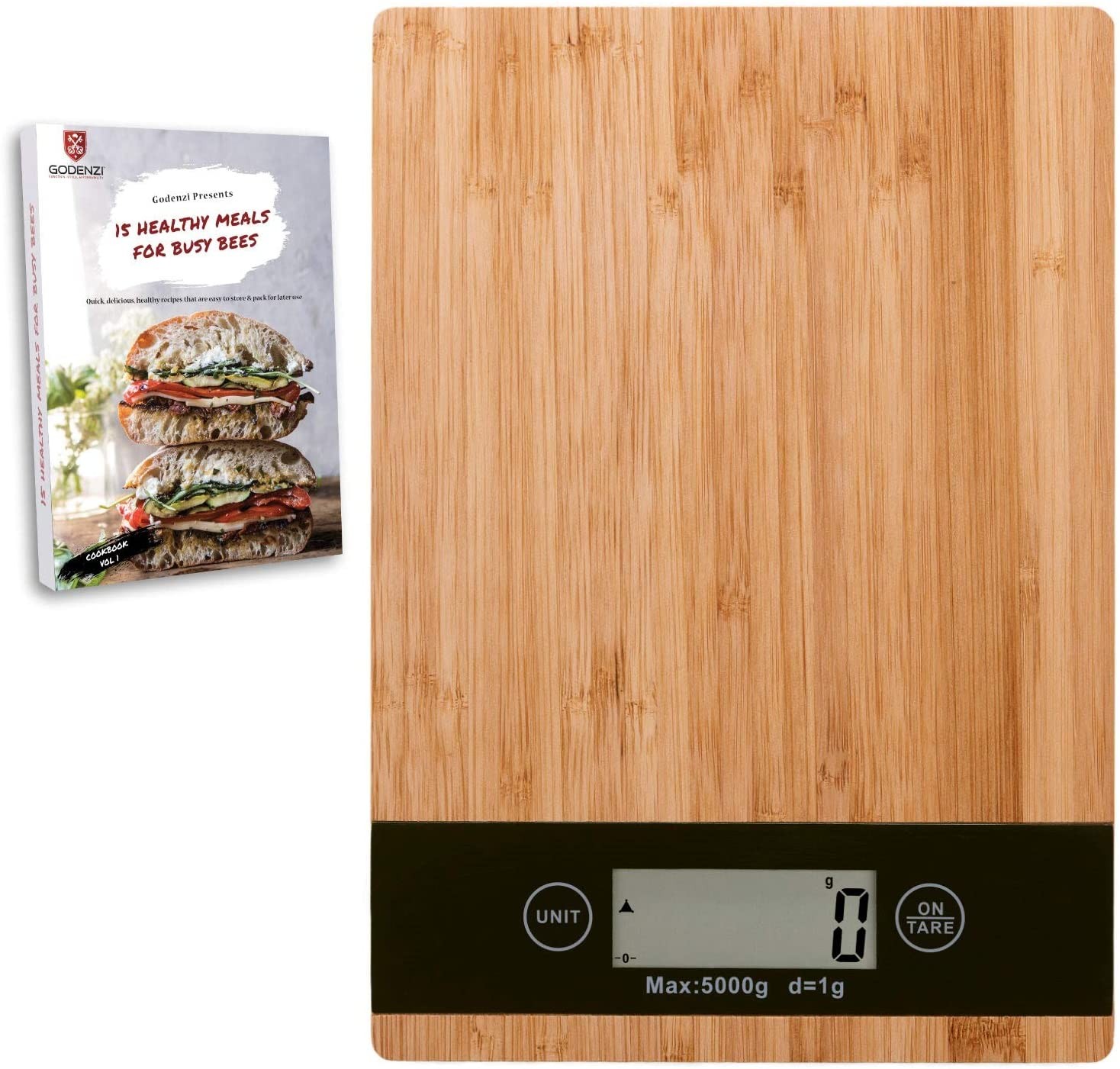 Capacity
5 kilograms / 11 pounds
Product Dimensions
23 x 16 x 2.5 centimetres
Pros & Cons
What's good?
Eco-friendly bamboo
Bonus recipe ebook
1-year replacement warranty
What's not so good?
Need to apply oil before use
For a model that's both stylish and sustainable, you can't go wrong with the Godenzi Kitchen Scale in Eco Bamboo. Made with raw bamboo sans chemical sealants, this weighing scale has a large, solid platform where you can measure out all sorts of ingredients up to 5 kilograms.
A unit conversion button, an easy-to-read LCD display, and a tare function are also among the features to make meal prep fun and easy. Additionally, this scale will turn off automatically after one minute to save battery life. The Godenzi Kitchen Scale in Eco Bamboo comes with a bonus recipe ebook to help you get started on your new healthy lifestyle.
References
https://www.choice.com.au/home-and-living/kitchen/kitchen-scales/buying-guides/kitchen-scales
https://www.masterclass.com/articles/how-to-use-a-digital-kitchen-scale-benefits-to-cooking-and-baking-with-a-digital-scale