📕 Guides
Your Guide to Everything You Need to Know About Meal Plans
What's a meal plan? How do you write a meal plan? What are the best meal plans for weight loss? How do you stick to a meal plan? Please, someone, help me!
UPDATED ON Jul 11, 2022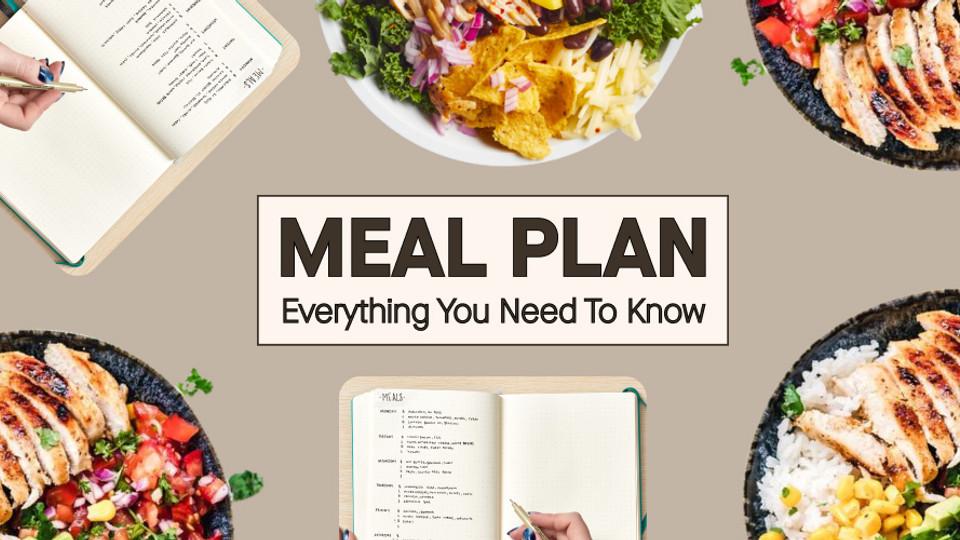 Sound like a familiar train of thought?
There's so much you need to know when meal planning, and it can definitely get overwhelming when you're constantly wondering if you're doing it right, or if there's some way to do it better.
Whether you're wanting to write meal plans to save money, to budget your time better, to help you lose weight or even gain weight, we've got all the answers you're looking for about meal prepping right here, right now.
Think of it as your masterclass to meal prepping: Meal Plans 101.
Ready? No time to waste, let's get planning!
What is a Meal Plan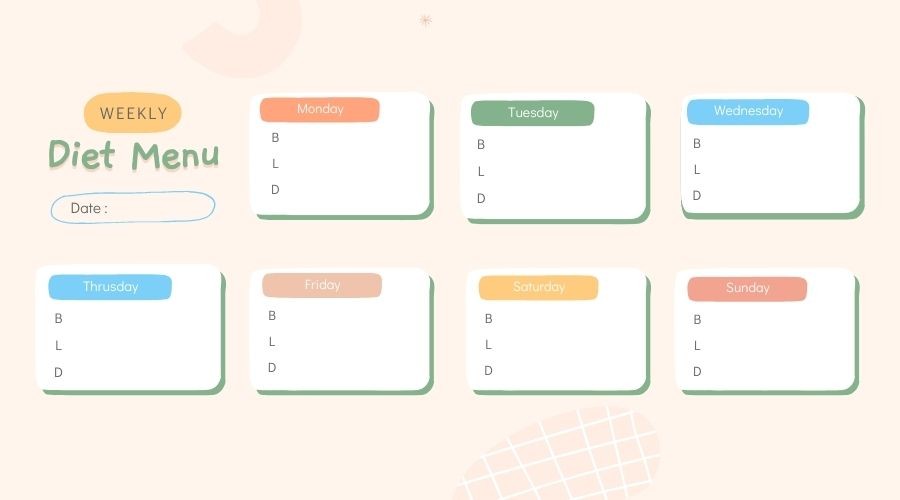 Let's start with the basics, what the heck is a meal plan?
Meal planning is the process of building a weekly menu to best suit your nutritional needs. It helps take the guesswork and 'umming' and 'ahhing' out of meal time, can you help stick to a budget and help keep you on track with your health and fitness goals.
Meal plans – like humans – come in all shapes and sizes. Some meal plans are geared towards managing certain health conditions like diabetes or heart disease. Other meal plans are created with the help of a dietitian or nutritionist to help you lose or gain weight. Some meal plans are simply there to make life easier for you.
A meal plan is basically a roadmap to your weekly food intake. Sounds fun when you put it that way, right?
Why Do a Meal Plan?
Why make a meal plan anyway? Sounds like a lot of effort. But actually, not writing a meal plan is likely going to be a lot more effort.
No matter who you are, what your job is or what your food needs are, you can certainly benefit from a meal plan. In fact, there are hardly any cons to writing and following a meal plan!
Here are some of the common reasons people do a meal plan (Do you fit the bill? Let us know in the comments why you want to start meal planning!)
To be healthier: a meal plan can help you be healthier overall, including making sure you're drinking enough water, getting the right serves of fruit and veg per day as well as hitting all key food groups to keep your body and mind working at its peak.
To lose or gain weight: Whether you want to lose weight, or perhaps gain weight, a meal plan is one of the best ways to help you hit your goals by allowing you to calculate the calories/macros per meal every day, for the whole week.
To budget better: meal plans are an excellent way to budget and save money because you'll know exactly what you're cooking each week, and what you need to buy at the grocery store. No more wasting food and buying ingredients each week that you don't know what to make with!
To be organised: if you're time poor, meal plans can help keep you ahead of the game and ensure you're eating properly during your busy schedule. It means you'll have more free time, and more mental headspace to do things you actually enjoy doing each day.
Medical reasons: some meal plans are necessary for medical reasons, like type 2 diabetes, heart disease and cholesterol issues or even dietary requirements like gluten and dairy free. Meal plans help keep your body fuelled with stuff that's good for you and won't cause a flare up of your health issues.
The 4 Different Types of Meal Plans
The cool thing about meal plans is there's no one hard and fast way to do it – you can make it work for you!
In saying that, there are 4 common types of meal plans people generally stick to.
Meal Plan 1 – Basic Meal Planning
Basic meal planning basically means picking a few favourite recipes you want to make for the week, writing down the ingredients you need to buy at the shops, running to the grocery store and then packing away your items in the pantry and fridge.
Easy, basic – it works for a lot of people. You're not left scrambling on some random Thursday night without any food to cook up and then have to opt for UberEats.
This method means cooking a different meal every night, chopping, grilling, baking – and then the dreaded washing up (or is that just me?)
If you love taking the time to cook new meals every night, great, this is the perfect meal planning option for you.
But what if you don't want to spend up to an hour each night cooking and washing? What if you want to get a healthy dinner ready in 20-30 minutes each night? And by using the exact same healthy recipes you picked ahead for the week? Let's go to Meal Plan 2.
Meal Plan 2 – Bulk Cooking/Prepping Ahead of Time
Bulk cooking or preparing ahead of time is a sure-fire way to make meal time faster and more efficient.
This type of meal planning generally works by you spending a few hours on the weekend doing the prep work for the recipes you've chosen.
This could be chopping up all the veggies, and cooking your choice of protein and carbohydrates in bulk (which can then be stored in the freezer). You can even batch cook sauces ahead of time!
Then, each night when you go to make your dinner and/or lunch for the next day, all the hard stuff is already done and all you need to do is put it all together. Easy as!
Meal Plan 3 – Leftovers
Leftovers don't have to mean sloppy, boring seconds.
The idea with leftovers is you make double what you need the night before, or even triple, and use it for lunch or dinner the next day. Or freeze it. Whatever you feel like!
I remember growing up sometimes having the same meal three nights in a row, and as a functioning (barely) adult, I can now see why my parents chose to cook that way. It saves so much time, and if you eat it all within a few days, no need to freeze it and the meals still taste nice and fresh.
There's some weird voodoo magic about leftover meals, they always taste better on day 2 or 3 anyway!
Meal Plan 4 – Meal Providers & Meal Kits
The easiest, fastest and best way for many people to plan? Getting someone else to do it for you.
Ready-made meal providers (where the meals are already cooked and all you have to do is heat them up), and meal kits (where the provider sends you the ingredients and recipes and then you simply cook it up), make healthy eating easy with delicious meals at your fingertips.
You pick and choose what you want to eat for the week, place your order and that's…it? It sounds too good to be true, but that's what we love about meal providers! They literally do all the hard work for you and then all that's left for you to do is eat!
Meal providers are an awesome way to stick to nutritious meal plans and kick any goals you have for yourself because most will offer customised plans a low calorie meal plan or keto plan for weight loss, or high protein for athletic performance, to things like vegan meal plans and gluten-free meals plan, low carb meals and more. There are a variety of meal plan options to suit everyone and anyone.
Looking to save time and for the ultimate convenience? Choose a ready-made meal provider.
Tools for Creating a 7-Day Meal Plan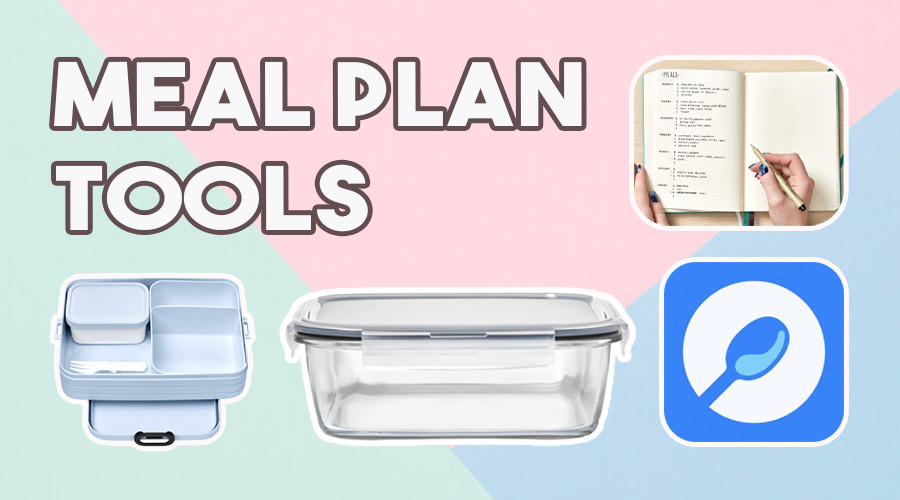 OK, so what do you need to be the ultimate meal plan king or queen? There are several tools you'll need in your kitchen arsenal (but don't worry, they don't have to cost you an arm and a leg!)
Food storage containers: Food storage containers come in a variety of sizes and materials, so you can store individual portions of food, or large batches. Some are microwave friendly, or freezer friendly. Check out our tried and tested guide to the best meal prep containers!)
Lunch box: If you're wanting to take your lunch with you to work, a leak-proof, air-tight lunch box is a must. You can find our recommendation for the best lunchbox here.
Meal planning app: An app might be a useful way to help keep your meal planning on track digitally. Check out MealBoard!
Meal planning journal: If you prefer good old pen and paper, buy yourself a dedicated meal planning journal which you can stick to the fridge for easy access.
How to Write an Easy Meal Plan
Alright, now how on earth do you begin to write a meal plan? Good news – you can break it down into 6 easy steps.
Determine your weekly schedule
Pick your recipes
Match recipes to your schedule
Make a shopping list
Go to the shops
Cook, eat and enjoy
#1 Look at Your Schedule for the Week
Looking at your schedule for the week will help you determine what type of meal planning you want to do.
Do you want to take a Sunday afternoon to cook in bulk ahead for your busy week? Or do you have enough time on your plate to cook a new meal each night?
Take stock of what's on for the week, and plan your meals/list accordingly.
#2 Pick Your Recipes
This is the fun part, picking what you want to cook! If you'll be cooking ahead in bulk, it's probably a good idea to choose recipes that will freeze well, or last for several days in the fridge.
If you're working to a budget, you can pick recipes based on what you have in the pantry, or perhaps choose meals with healthy foods that include seasonal produce to ensure you're getting the most bang for your buck at the grocery store.
#3 Match Recipes to Schedule
Now it's time to match your recipes to your schedule. For example, you've noted that Wednesday is a super busy day for you, and you'll only be home after work around 7pm.
In that case, you'll want to choose a recipe for Wednesday that won't make you look to cook up, or ensure that on Monday, you cook a recipe that's big enough to last you until Wednesday's dinner.
If you want to cook each night, having a theme or a certain meal you cook each night of the week can be helpful. For example, growing up Tuesday was always spaghetti bolognese, while Sunday was homemade pizza night.
You could do things like Taco Tuesday, Meatless Monday… you get the idea.
#4 Write a Shopping List
Look at each recipe on your list and take stock of the ingredients, including quantity. Make sure you look at what you already have in the fridge or pantry to avoid doubling up and food waste.
Write it down in your app or on a piece of paper that'll take you to the shops with you.
#5 Shopping Time!
Shop in-store, shop online, whichever way you choose to do it, if you do it right – this will be the only time during the week you need to shop!
#6 Cook, Eat, Enjoy
Depending on the type of meal plan you've chosen, the final step is to cook, eat and enjoy.
Tips & Tricks for Sticking to a Weekly Meal Plan
OK so you've got your meal plan written, you've shopped for your ingredients and now it's time to cook and you'd still rather scroll through a meal delivery app.
Put the phone down, my friend!
This is why we suggest prepping ahead of time if you can – it means less effort, less washing and faster cooking time when meal time rolls around.
Planning ahead and cooking in bulk is one of the easiest ways to stick to a meal plan.
Or, you can try out a dedicated meal provider. This is undoubtedly the easiest way to stick to a meal plan because all the food is either already made for you (and all you need to do is heat it up), or it's all there in your fridge ready to go in about 30 minutes or less.
Meal Plans Frequently Asked Questions
Meal Plans Frequently Asked Questions
Results from a meal plan will depend on what you're hoping to achieve, so there's no hard and fast answer here. Any kind of change in diet will take a few weeks to see the desired results, whether that's weight loss, muscle gain, less inflammation and so on.
Why's it so Hard to Follow a Meal Plan?
Meal plans are hard to follow if they're not written correctly, or if you don't try a meal plan that works for you. Say you hate spending time each night cooking but you've written a meal plan that sees you cooking a new meal each night – it's going to be hard to stick to it, right? But if you opted for a ready-made meal provider or even did cooking in bulk for the week, it'd be much easier to follow the meal plan.
What's the Best Weight Loss Meal Plan?
Weight loss comes from burning more calories than you consume through diet and an active lifestyle. You could opt for a keto meal plan, low-carb meal plan or low calorie meal plan. But really, one of the best ways to lose weight on a meal plan is using the services of a ready-made meal provider who will take all the guesswork out of weight loss meal planning. Check out our guide to the best meal providers for weight loss here!
Do I Need to See a Dietician Before Starting a Meal Plan?
It's always a good idea to speak with a health professional before starting any new food regime, especially if you have underlying health issues or any concerns about starting a new diet. A health professional will also be able to give you some tips and tricks for writing a meal plan geared towards your goals.