🔥 Transformations
Derrick Lewis Weight Loss: How The UFC Star Shed the Kilos
UPDATED ON Dec 06, 2023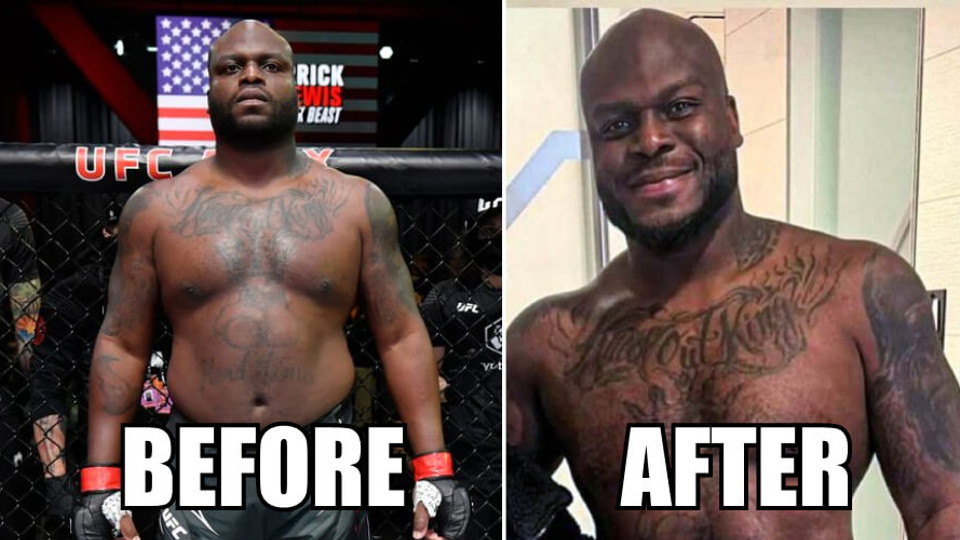 Heavyweight UFC star Derrick Lewis has made waves across the internet after fans got a glimpse of his new insanely chiselled physique.
The popular UFC champ appears to be in the best shape of his career ahead of a fight against Sergey Spivak, which occurred on Feb 4th. Sadly, Lewis didn't win, but he's certainly still walked away with a ripped body.
Fans were quick to point out their amazement at Derrick Lewis' weight loss after UFC lightweight prospect Terrance McKinney shared a photo on social media that showed Lewis looking considerably slimmer than usual.
Derrick Lewis looks like he's ready for welterweight 😤 pic.twitter.com/vf9YB2ygIM

— Terrance McKinney (@twrecks155) January 7, 2023
"Derrick Lewis looks like he's ready for welterweight," McKinney captioned the image taken during a strength and conditioning session.
At 37-years-old, Lewis has always been one of the bigger guys at heavyweight and more often than not typically cuts weight to make the 260lb (120kg) UFC limit.
However, his cutting days may be behind him after it appears Lewis has made significant changes to his diet and training regimen after a decline in performance over the last several matches.
Important:
Lewis has achieved several notable victories against Ngannou, Blaydes, Volkov, and Daukaus, but has lost four of his last five fights.
 

 

View this post on Instagram

 
Crash MMA shared a before and after shot of Derrick Lewis' weight loss on their Instagram
Who is Derrick Lewis?
Derrick Lewis is an American mixed martial artist and heavyweight fighter. He currently competes in the Heavyweight division in the Ultimate Fighting Championship (UFC), where he holds the record for most knockouts in UFC history. A professional competitor since 2010, Lewis has also competed for Bellator MMA and Legacy FC, where he was the Heavyweight Champion.
Turning Point in Derrick Lewis' Weight Loss Journey
Fans have speculated Derrick's new body is a result of poor performance over the last several fights. He lost two fights in a row in 2022, with both fights only a few months apart. He suffered his third consecutive stoppage loss as Sergey Spivak submitted him in one round at UFC Vegas 68.
What Does Derrick Lewis Eat in a Day to Lose Weight?
A notoriously shy person, during a recent interview, the interviewer asked Lewis about his physical transformation, with 'The Black Beast' explaining that the weight loss was all about 'angles'.
He said, "It's about angles, it's all about angles.
WATCH: Derrick Lewis joking about his weight loss being about 'the angles'.
It's not currently clear how Derrick Lewis lost the weight or what his day on a plate looks like, but from social media footage, exercise seems to have a lot to do with his major weight loss.
What Did Derrick Lewis' Weight Loss Training Regime Look Like?
Derrick Lewis has been tight-lipped so far about what his training regime looked like to help him shed some extra kilos, but from social media evidence, it appears cardio played a big role in it.
A photo shared on Terrence McKinner's social media shows a sweaty Derrick Lewis in what looks like the middle of a high-intensity cardio or running session.
Fans React to Derrick Lewis' Weight Loss
Fans have certainly had some interesting reactions to Lewis' weight loss, airing their unfiltered thoughts under The best form of comments can be seen under Terrance McKinney's Twitter post.
One fan wrote:
"That's not real? Is it??!!! If so, bro is going for the title."
One said:
"The welterweight strap will be his."
Another commented:
"Imagine if this MF really trains his body into shape. I really want to see him back in the win column."
One more said:
"Seriously, he'd be a monster at light heavyweight."
Meanwhile, a devoted fan took the time to dish out their appreciation to his hard work: "I love seeing this man taking fighting and training seriously. For the longest time, he was just relying on his natural talent."