📕 Guides
Comparing the Healthiest Options at Australia's Most Popular Fast Food Restaurants 
When we think of McDonald's, KFC, Subway and Hungry Jack's – we don't automatically think healthy, right? However, is it possible to make "healthy" choices? And is it actually healthy? Let's find out.
POSTED ON Jan 02, 2021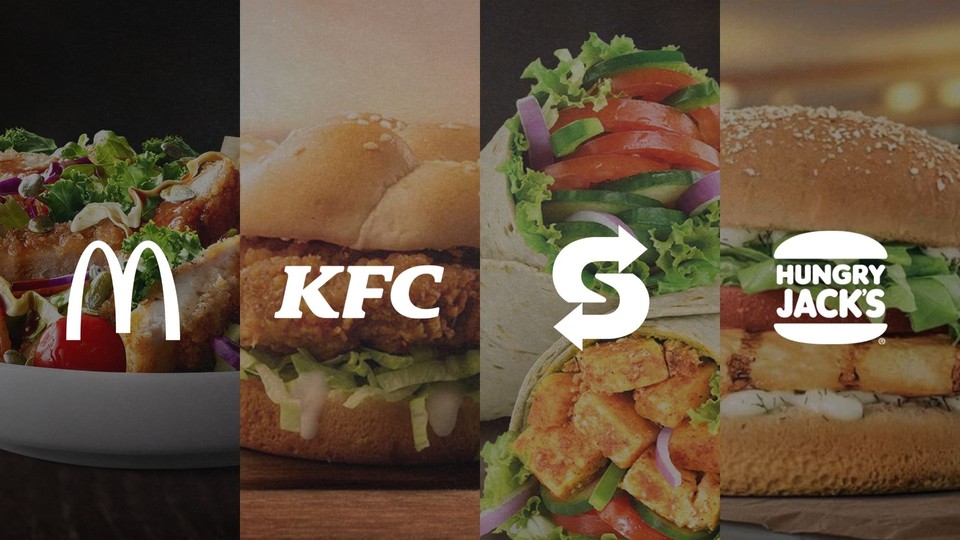 When we think fast food, we don't immediately think healthy, right? That's because for the most part, fast food is junk food. It's filled with extreme levels of sodium, saturated fats, added sugars and all the things that make food pretty dang unhealthy. That's not to say we shouldn't eat fast food. Come on, it's convenient and delicious! And as the common school of thought goes, everything in moderation is fine.
Despite the fact most Australians would know and understand the food on offer at fast food restaurants aren't the healthiest of meal choices, it doesn't stop some of Australia's most popular fast food chains from offering "healthier options". Think: a salad or wrap from Macca's, or Subway marketing its entire menu as healthy. We wanted to investigate just how healthy the "healthiest" options are at Australia's top four most popular fast food chains, which are McDonald's, KFC, Subway and Hungry Jack's. We based this on a 2018 Roy Morgan consumer poll. In terms of how we define the "most healthy option", we looked at the menu items with the lowest overall calories. So, let's dig in!
| | | | | | | |
| --- | --- | --- | --- | --- | --- | --- |
| McDonald's Classic Chicken Salad ($10.20) | 21.8g | 12.2g | 2.8g | 18g | 5.6g | 902mg |
| KFC's Original Recipe Burger ($5.95) | 32g | 27.5g | 2.4g | 79.3g | 8.7 | 1054mg |
| Subway's Veggie Delite With Avo Wrap ($7.25) | 8.2g | 5.3g | 2.7g | 41.7g | 3g | 552mg |
| Hungry Jack's Grilled Classic Chicken Burger ($6.90) | 22.5g | 15.4g | 2.4g | 28.6g | 3.0g | 663mg |
General Tips & Tricks for Choosing "Healthy" Fast Food
As we said, fast food isn't exactly known for being healthy. But what's a person to do when they're on a road trip with limited options, or really have no other choice than to grab a quick bite at a fast food joint? Well, you're probably not necessarily looking for healthy fast food, but rather the best option. What you're really looking for when eating at fast food restaurants is the meal that has a relatively low level of saturated and trans fat, sugars and sodium, which can be difficult considering most fast food has high levels of all these things to make it taste as good as it does.
When eating fast food and choosing the best option, it also heavily depends on your own diet and goals. Perhaps you're following a keto diet, so choosing something with low or no carbs is important. Or, maybe you have high cholesterol, so steering away from high-fat products is most important for you. It's good to be informed before you go, and most fast food restaurants have a pretty comprehensive guide of the nutritional values of all their items online.
Without further ado, here's the best options at McDonald's, KFC, Subway and Hungry Jack's. Let us know in the comments your go-to fast food option, we'd love to hear them!
McDonald's Classic Chicken Salad ($10.20)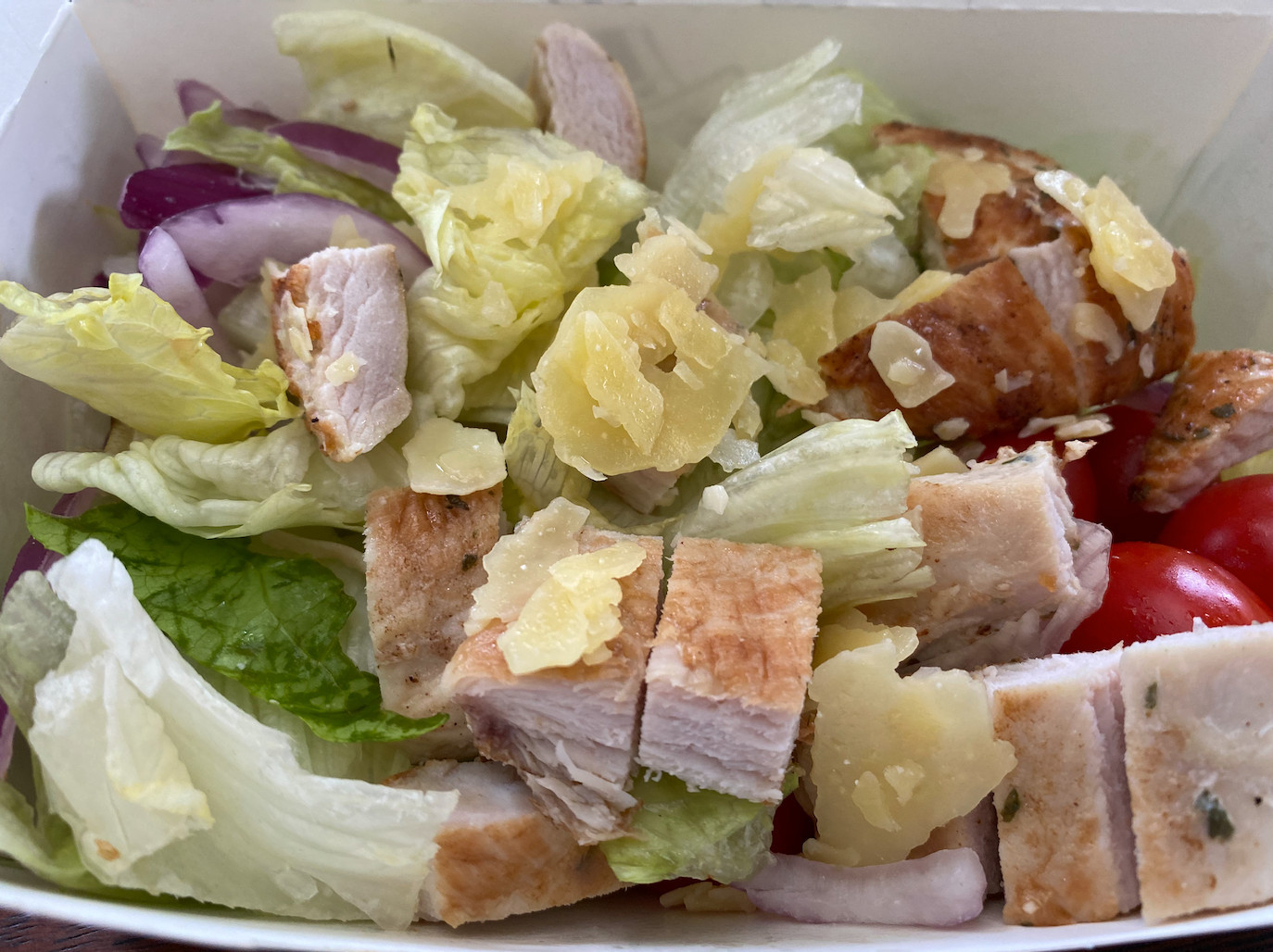 Apart from the generic garden salad (which comes in at a very modest 193 calories), McDonalds Classic Chicken salad is the next healthiest menu on the item with 278 calories. While it doesn't look like much and wouldn't say it's great bang for your buck, it's a good choice when you're stuck and need to get some food into you.
As you can see, overall it's pretty healthy. Carbs are good, saturated fats, and sugars are minimal. Sodium is slightly higher than the recommended 800mg per meal, but it's not terrible. It's best to opt for the grilled salad over crispy salad to save yourself an extra 179mg of sodium (the less sodium the better) and 93g of fat. It's also important to not over-do-it on the dressing. And of course, if you want to keep your meal as healthy as possible, skip the fries. If you really want a burger, the Cheeseburger by itself is your best bet, with 309 calories and 6.7g of saturated fat. You could pair that with a side salad for a healthier option.
KFC's Original Recipe Burger ($5.95)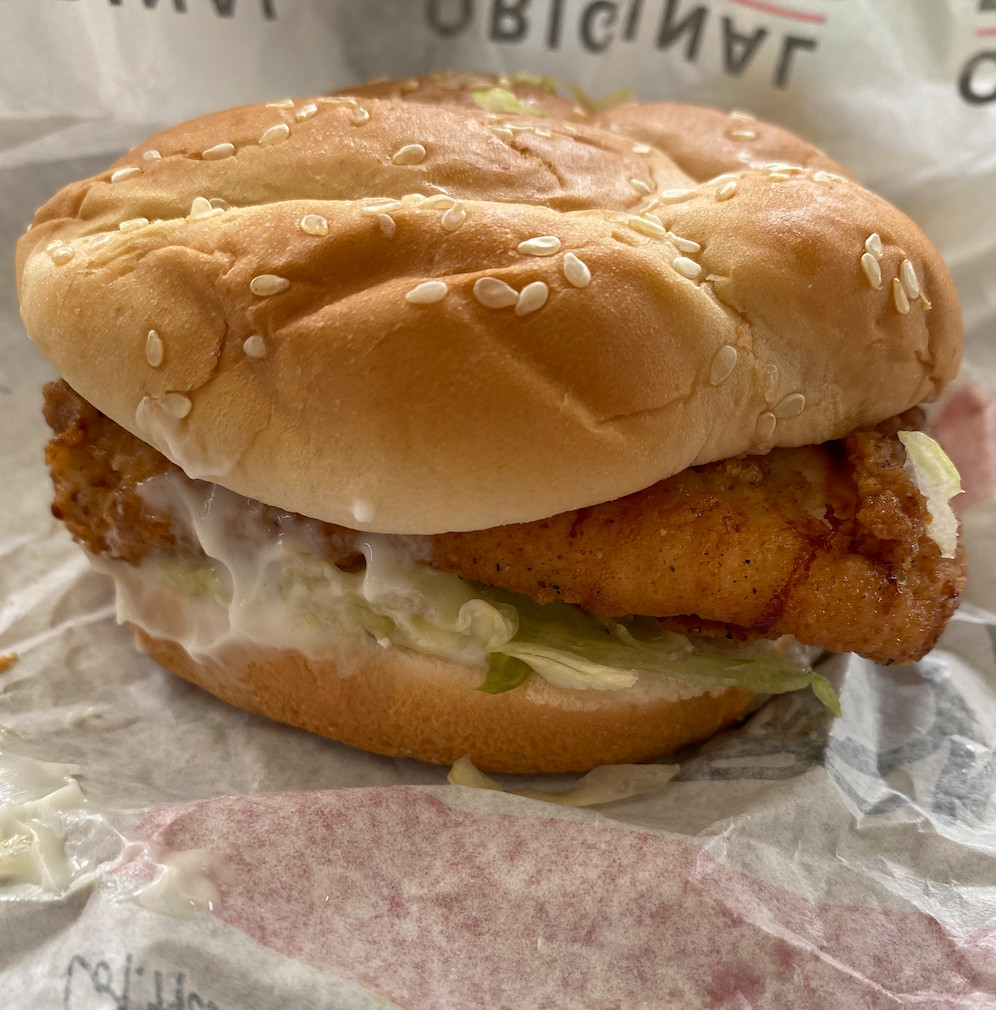 KFC is an Aussie staple, as is its Original Recipe Burger. While not the healthiest item on the menu, it is certainly the healthiest choice of burgers (and probably the tastiest). With 530 calories in just the burger, it's not a terrible option. It's pretty carb and fat heavy, and the sodium isn't great but hey, it's a fried chicken burger. You can't expect much!
Interestingly, the combo (chips and drink as well), is only an extra 160 calories?
Subway's Veggie Delite With Avo Wrap ($7.25)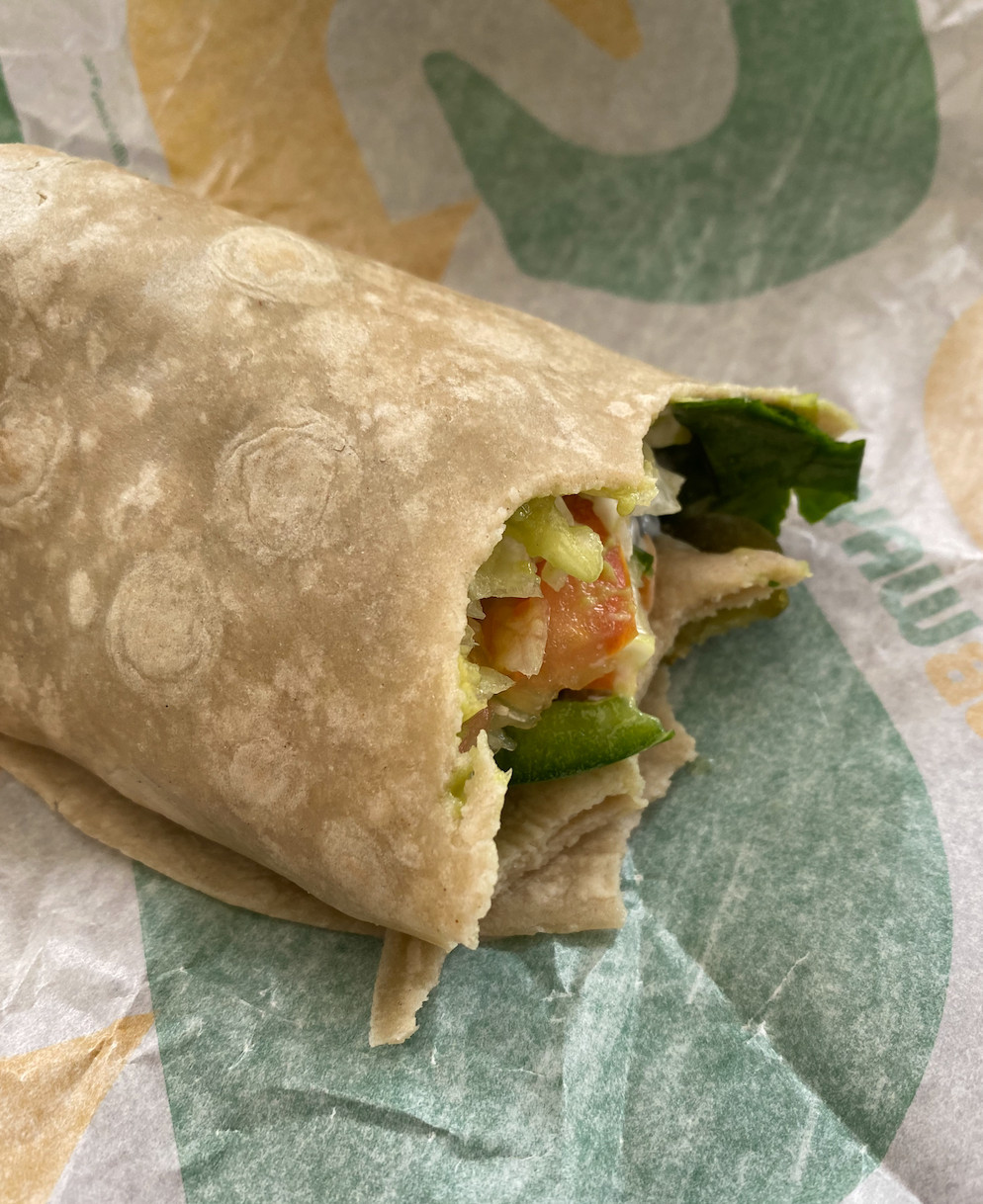 Subway markets its whole menu as healthy and more specifically a  "healthy" alternative fast food. However, while it might be better than most fast food, nutritionally it can vary a lot depending on your choice of bread, fillings, toppings and sauces. Subway actually has an entire range of what it calls "6g of Fat or Less" with one of the healthiest being the Veggie Delite. Starting at 292 calories, the Veggie Delite with Avo is one of the better sandwiches (well, wraps) you can reach for at Subway.
You could also opt for the Six Inch Oven Roasted Chicken Sandwich if you fancy some meat, which has a nice 534mg of sodium and 4.4g of fat.
Hungry Jack's Grilled Classic Chicken Burger ($6.90)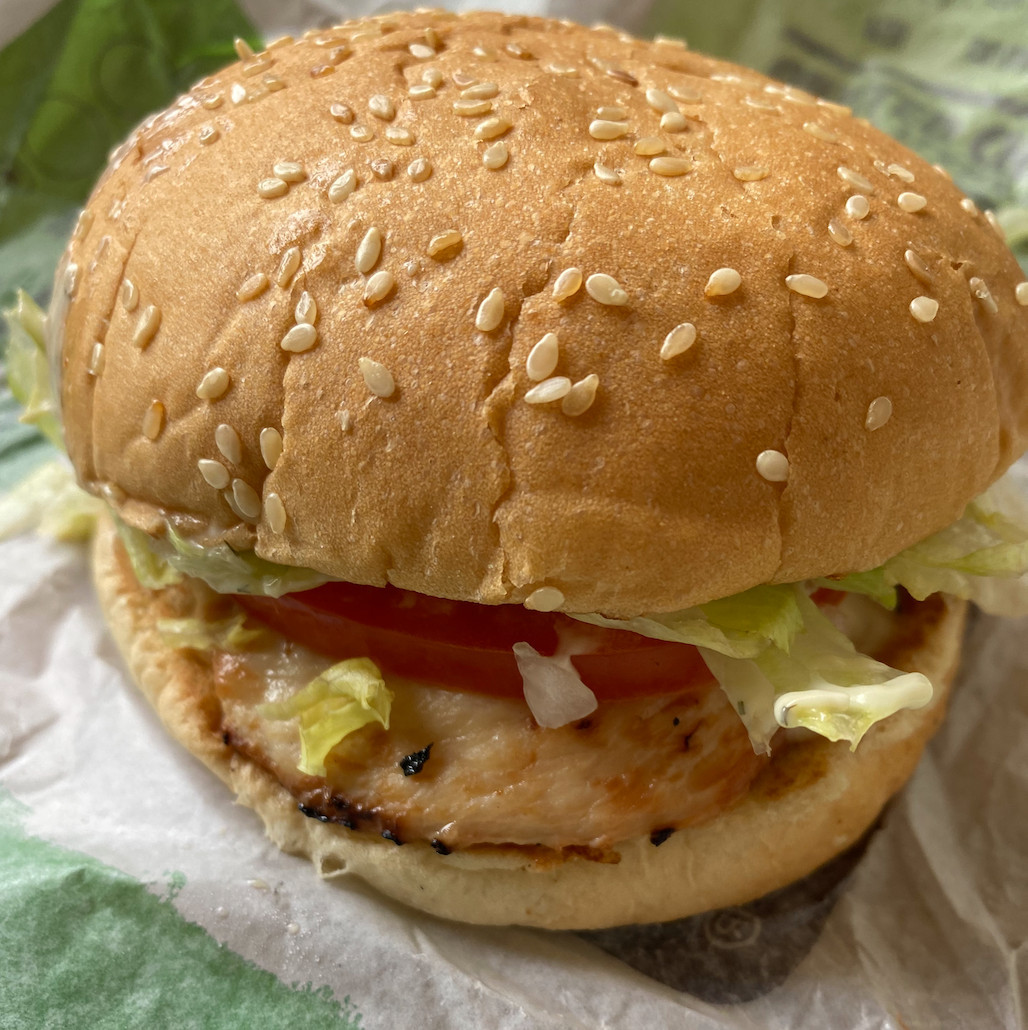 As with any fast food order, choosing something that's grilled over fried will make it a much healthier choice. That's why Hungry Jack's Grilled Classic Chicken Burger is your best bet. With 344 overall calories, its macros breakdown is also pretty good. Again, stick with just the burger if you want to make it the "healthiest" meal you can.
So, what's best overall?
Looking at overall macros, most people would be best off with a Veggie Delite Six Inch Sub. It's the lowest in overall calories, carbs, fats, sugars and sodium. However, the important thing to remember is cooking and eating whole foods, fruits and vegetables at home is always going to be the healthiest option.
Alternatively, you can go to most supermarkets and find healthy, ready-made meals to eat on-the-go. For example, My Muscle Chef has a range of ready-made meals stocked across a variety of supermarkets such as selected IGA's, FoodWorks, Harris Farms, Romeo's, Drakes and Cornetts stores across Australia. You could grab a 300g meal beef lasagne for just $9.55, which has 42g of protein, 8.9g of saturated fat, 23.7g of carbs, and 760mg of sodium. It's definitely better value for money when you consider the portion size.
At the end of the day, just remember: you're looking for the best option, not necessarily the healthiest option. And, if worse comes to worse, it's just one meal of the day. You can just make your next meal a healthy one, so don't fret too much.