📕 Guides
Comparing Australia's Healthy Fast Food Options 🍔
Is it possible to make "healthy" choices at McDonald's, KFC, Domino's and Hungry Jack's? Are the "healthy" menu items actually healthy? Let's find out.
UPDATED ON Nov 21, 2023
When we think of fast food, we don't think "healthy". It's typically filled with extreme levels of sodium, saturated fats, added sugars and all the things that make food pretty unhealthy. Not to say we shouldn't eat fast food in moderation – but let's call a spade a spade.
Despite this, most of Australia's popular fast food chains have some kind of "healthy options". Think: a salad or wrap from Macca's or KFC, or Subway calling its entire menu "healthy".
So, we wanted to investigate just how healthy the "healthiest" options are at Australia's top four most popular fast food chains, which are McDonald's, KFC, Hungry Jack's & Domino's Pizza. We based this on a 2021 Roy Morgan consumer poll.
In terms of how we define the "most healthy option", we're looking at the menu item with the lowest overall calories (not including things like snacks, sides, chips etc).
Lowest Calorie Fast Food Options Australia 🍟
| | | | | | |
| --- | --- | --- | --- | --- | --- |
| McDonald's Classic Chicken Salad – Grilled ($11.50) | 266 | 24.9g | 10.3g | 16.2g | 7.0g |
| KFC Original Recipe Burger – $7.45 | 381 | 25g | 15.7g | 35.1g | 5.8g |
| Domino's Ham & Cheese Thin & Crispy Crust – $7.00 | 101 (per slice) | 3.8g | 5.3g | 11.7g | 1.5g |
| Hungry Jack's Grilled Chicken Classic Burger ($10.70) | 344 | 22.5g | 15.4g | 28.6g | 3.0g |
KFC, McDonald's, Domino's & Hungry Jack's Healthiest Options 🥗
McDonald's Classic Chicken Salad – Grilled ($11.50)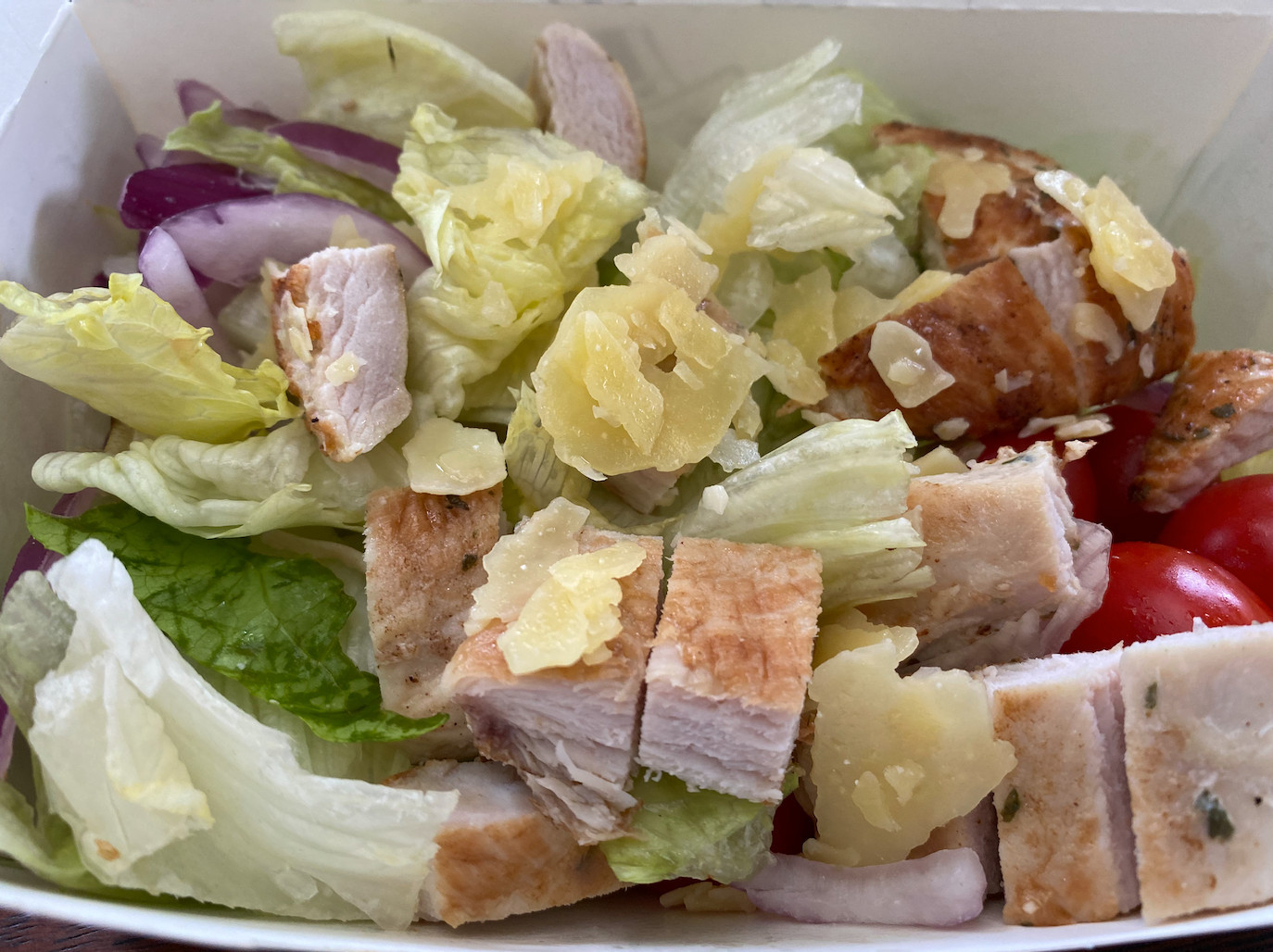 McDonald's Classic Chicken Salad, with 266 calories, is a healthy choice, especially compared to the lower-calorie garden salad. It's balanced in carbs, low in saturated fats and sugars, though slightly high in sodium. Choosing grilled over crispy salad reduces sodium and fat. To maintain healthiness, use less dressing and skip the fries. For a burger option, the 300-calorie Beef Cheeseburger paired with a side salad is a healthier alternative.
KFC Original Recipe Burger – $7.45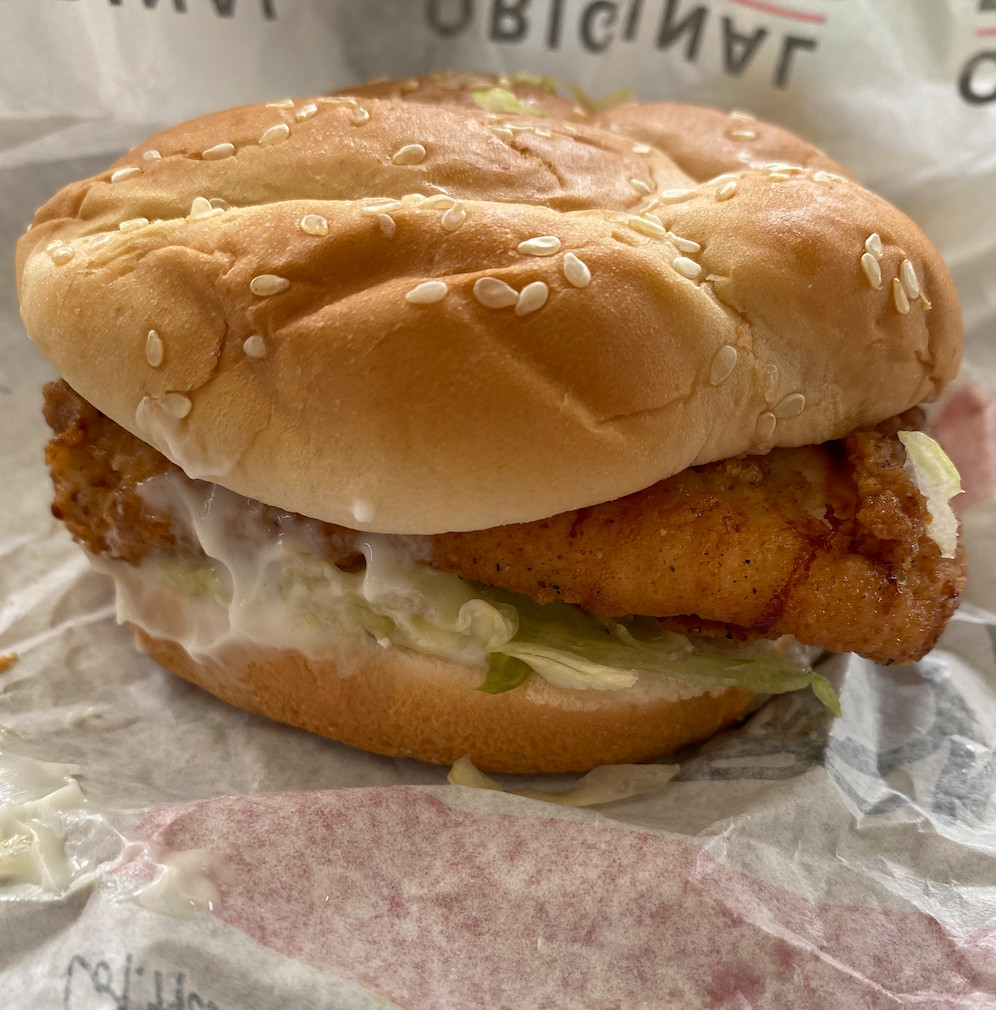 In terms of KFC's healthy options, well, it's a fried chicken joint. You can't expect much. However, if you're after the healthiest thing at KFC, the Original Recipe Burger only has 381 calories per serve. The combo (chips and drink as well), is only an extra 293 calories – if you were curious.
Domino's Ham & Cheese Thin & Crispy Crust – $7.00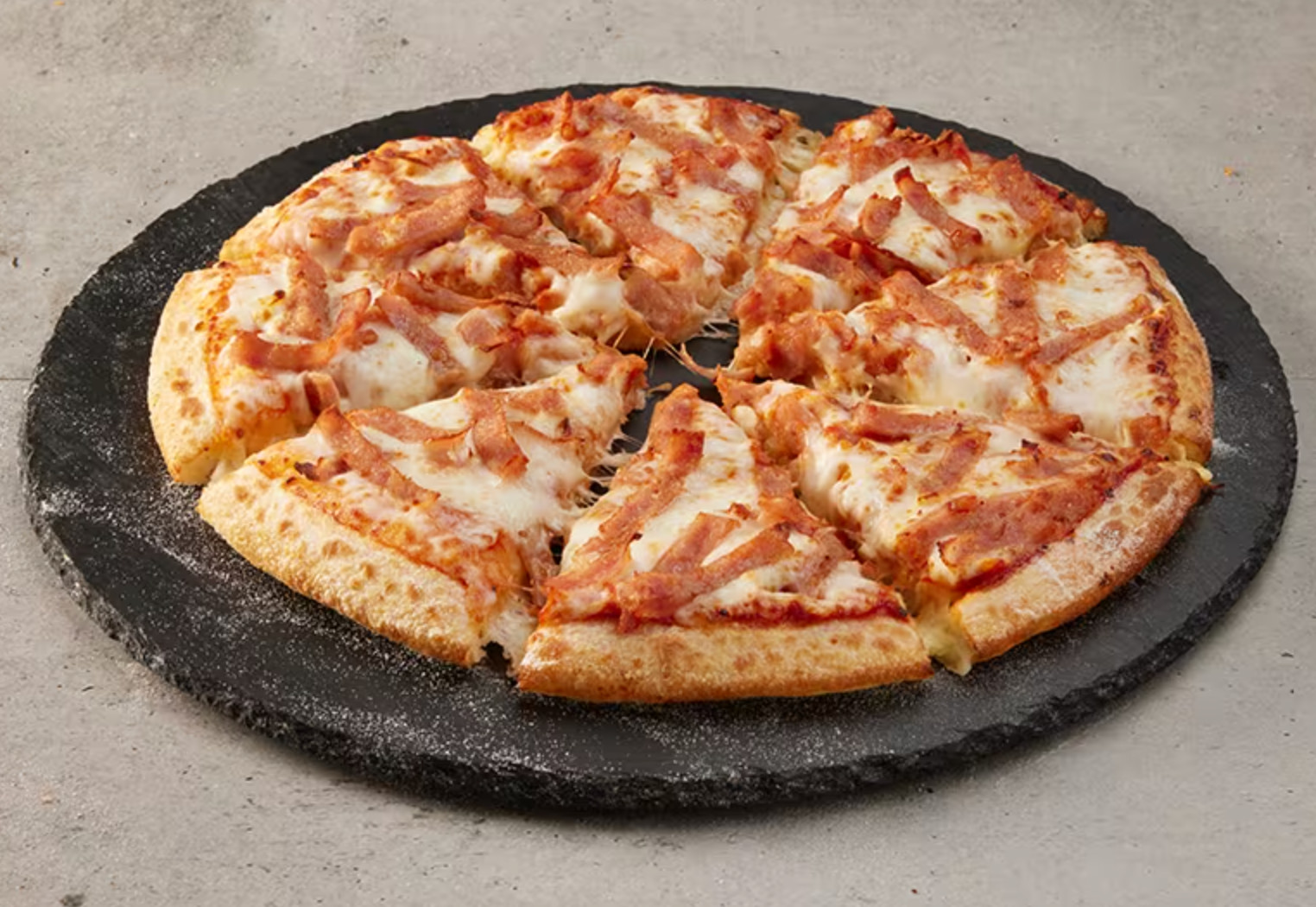 If you're looking for Domino's lowest cal and "healthiest" pizza (apart from a basic margarita because #BORING), you'll want to opt for the Ham & Cheese Thin and Crispy Crust. At just 101 calories per serve (1 slices) – that's pretty darn good. And, with 8 slices in total, you're only looking at 808 calories for a whole pizza which actually could easily fit into your daily calories – whether you're looking to maintain or lose weight. Swap to a classic crust and you're looking at 121 calories per serving – still not too shabby at all.
Hungry Jack's Grilled Chicken Classic Burger ($10.70)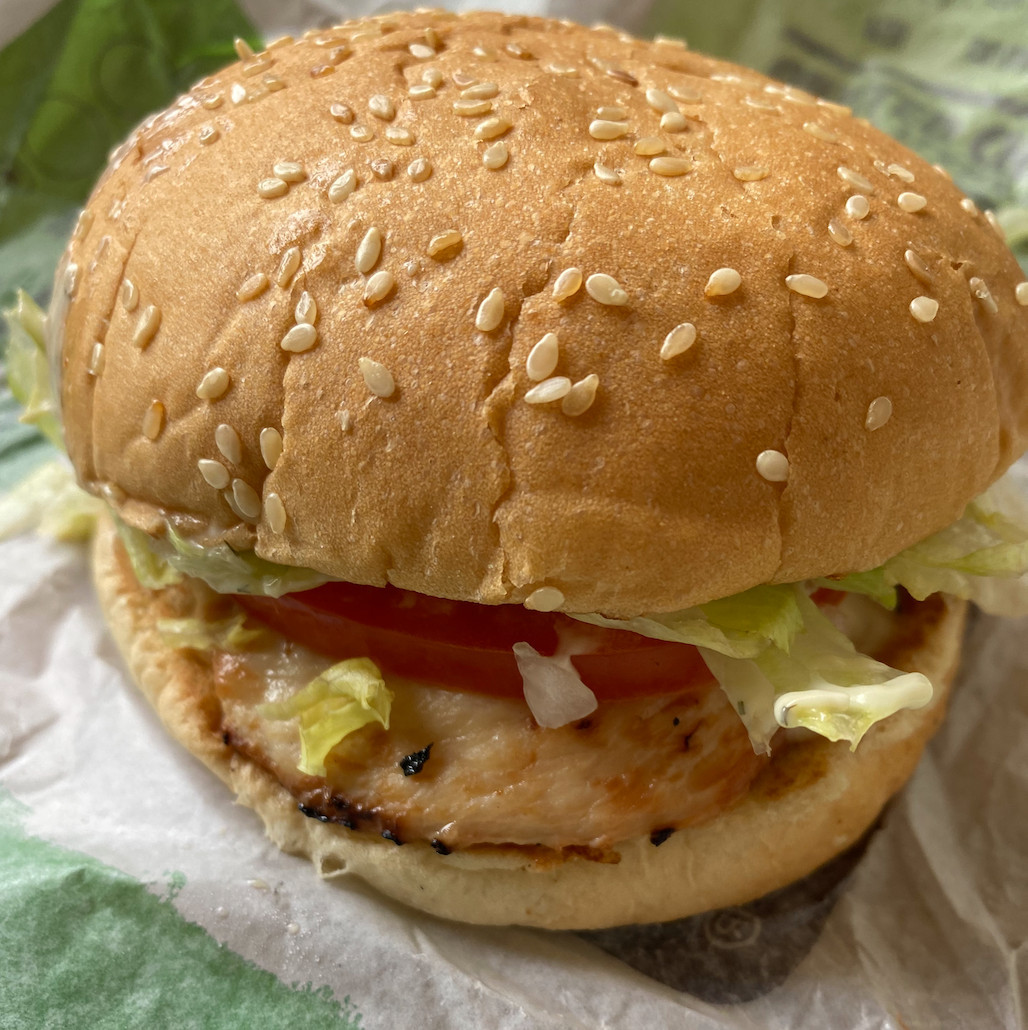 As with any fast food order, choosing something that's grilled over fried will make it a much healthier choice. That's why Hungry Jack's Grilled Classic Chicken Burger is your best bet. With 344 overall calories, its macros breakdown is also pretty good. Again, stick with just the burger if you want to make it the "healthiest" meal you can.
Tips & Tricks for Choosing "Healthy" Fast Food 🍕
As we said, fast food isn't exactly known for being healthy. But what's a person to do when they're on a road trip with limited options, or really have no other choice than to grab a quick bite at a fast food joint? Well, you're probably not necessarily looking for healthy fast food, but rather the best option. Here's what to look for:
Review Nutritional Info: Look for items with lower calories, fats, sugars, and sodium.
Choose Grilled Items: Prefer grilled over fried for less fat.
Control Portions: Pick smaller servings to manage calories.
Healthy Sides: Choose salads or fruit over fried sides.
Avoid Sugary Drinks: Drink water, unsweetened tea, or diet sodas.
Limit Condiments: Use less sauce or choose lighter options.
What About Grill'd, Subway & Guzman y Gomez & Nando's? 🌯
We all know about love the classic fast food chains, but what about other popular fast food joints like Grill'd, Subway, GyG and Nando's? Here are the lowest cal options:
SO – What's the Healthiest Fast Food Option in Australia? 🤔
Look, there is no single healthiest fast food option in Australia. It largely depends on your daily calories, macros, goals and dietary requirements. If you're looking for "healthy" fast food – choose a menu item that is grilled over fried, and swap a burger for salad if you want. It's that easy.
Alternatively, you can go to most supermarkets and find healthy, ready-made meals to eat on-the-go. For example, My Muscle Chef has a range of ready-made meals stocked across a variety of supermarkets such as selected IGA's, FoodWorks, Harris Farms, Romeo's, Drakes and Cornetts stores across Australia. You could grab a 300g beef lasagne for just $10.95, which has 42g of protein, 8.9g of saturated fat, 23.7g of carbs, and 760mg of sodium. It's better value for money when you consider the portion size.
At the end of the day, just remember: you're looking for the best option, not necessarily the healthiest option. And, if worse comes to worse, it's just one meal of the day. You can just make your next meal a healthy one, so don't fret too much.
Healthiest Fast Food Australia FAQs
What's the healthiest thing at KFC Australia?
The "healthiest" option at KFC Australia can be subjective. However, based on nutritional information, some of the options with lower energy, fat, and sugar content include:
Original Fillet Piece: With 780 kJ of energy, 19.2g of protein, 9.2g of fats, and only 0.2g of sugar, this is a relatively lighter choice​​.
Regular Popcorn Chicken: Offers 1723 kJ of energy, 24.3g of protein, 26.1g of fats, and 0.6g of sugar​​.
Original Recipe Burger: Contains 1600 kJ of energy, 25.2g of protein, 15.3g of fats, and 5.8g of sugar, making it a moderate option among burgers​​.
Original Crunch Twister: Provides 2278 kJ of energy, 24g of protein, 29.4g of fats, and 6.2g of sugar​​.
These are some of the lower-calorie, lower-fat, and lower-sugar choices available at KFC Australia.
What is the best high protein fast food option?
High-protein fast food options in Australia include:
KFC Original Recipe Burger: 32g protein.
McDonald's McDouble: 22g protein.
Burger King Double Cheeseburger: 24g protein.
Carl's Jr. Charbroiled BBQ Chicken Sandwich: 33g protein.
Subway Rotisserie-Style 'No Bready' Bowl: 31g protein.
Chipotle Chicken Salad: 37g protein.
KFC Kentucky Grilled Chicken Breast with Green Beans: 35g protein.
These items offer substantial protein but vary in fat and sodium content, so consider overall nutritional value when choosing.
What's the healthiest Hungry Jack's Burger?
The healthiest burger option at Hungry Jack's in Australia is the Grilled Classic Chicken Burger. This burger has 344 overall calories and offers a good balance of nutrients with 22.5g of protein, 15.4g of total fat (including 2.4g of saturated fat), 28.6g of carbohydrates, 3.0g of sugars, and 663mg of sodium.