🔥 Transformations
Chris Pratt's Weight Loss Journey – How He Lost 30kg in 6 Months
UPDATED ON Nov 23, 2022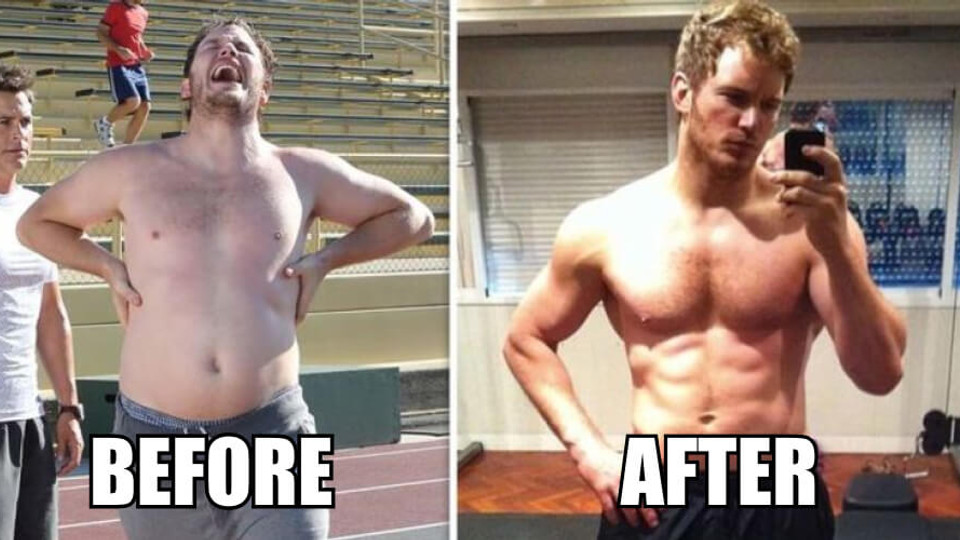 As one of the most famous actors in the world known best for his role in Parks and Recreation and Guardians of the Galaxy, Chris Pratt also had one of the most dramatic weight loss transformations, losing 30kg in just 6 months.
While playing the character of Andy in 'Parks and Recreation', the actor weighed in at 136kg, his heaviest weight to date.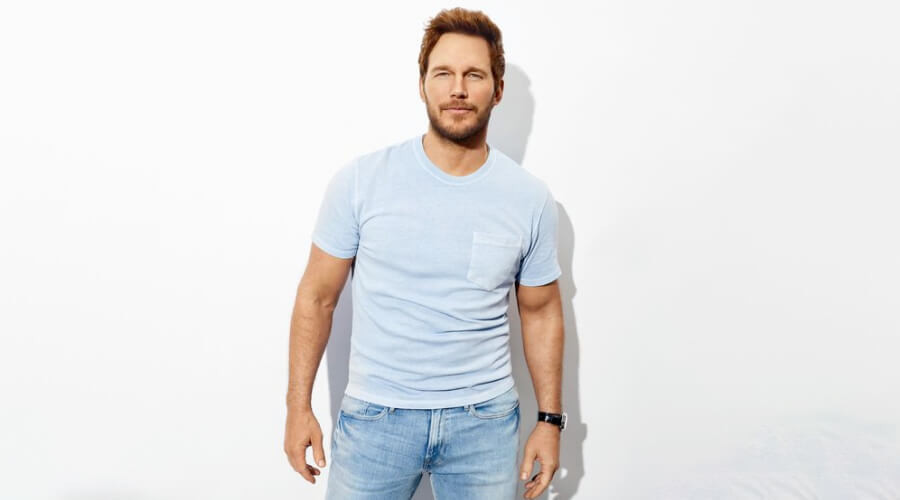 Speaking with Men's Health UK in 2015, Chris admitted he'd eat three burgers at every read of Parks & Rec, and put on a lot of weight.
He said, "I saw myself in an episode of 'Parks and Rec' and in a matter of two moments very close together, I thought, 'Oh my God, I'm getting fat'. And then almost immediately I did something else and I thought, 'Holy crap, I've never seen myself funnier.' And I put the two together."
"I would eat four burgers at every read. I became really fat and got up to almost 300 pounds. I had real health issues that were affecting me in a major way," he said.
The Turning Point
While the extra kilos may have made him feel funnier, he also admitted he was impatient and depressed at his heaviest, and had a lot of major health issues.
It was after seeing himself in 'Zero Dark Thirty', he promised himself he wouldn't get fat again.
Then, the role of a lifetime came along when he was cast as Peter Quill/Star-Lord in 'Guardians of the Galaxy'. The role required him to be a ripped superhero, which was the turning point for his weight loss.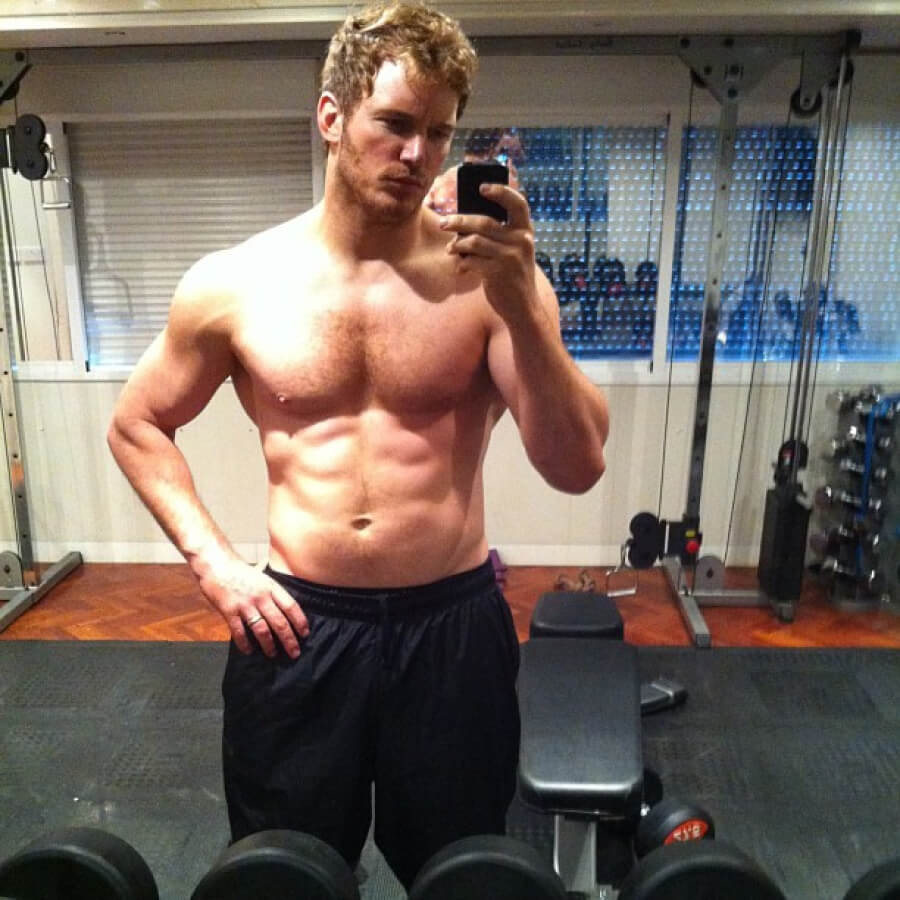 Caption: The photo that broke the internet and revealed Chris' new shredded body
Speaking about his weight loss journey, Chris said: "You can't have beer, hash browns, burgers or anything fried. No carbs. And you have to work out five times a week.
"If you cut the crap out of your diet and spend an hour a day doing something physical, you'll feel better mentally, physically and spiritually because it's all tied together.
"Honestly, there's no trick or secret to it. It's about getting after it and being patient and consistent. And it's not about starving yourself because you want to give your body proper nutrition.
"And think about who you want to be in six months or eight months or two years time, whatever it is."
Chris Pratt's Weight Loss Diet Plan

While working out with a large part of Chris' weight loss, so was eating right.
His entire diet was revamped and he was eating 4,000 calories a day, and drinking lots of water.
He said he lost 15kg in 5 weeks by running "five or six miles a day, eating leafy green salads and protein shakes and cutting out all alcohol".
Chris' Guardians of the Galaxy diet plan was designed by nutritionist Phil Goglia, who implemented some fundamental changes.
The actor's diet focussed almost exclusively on healthy foods, swapping out fried foods for protein-rich and nutrient-packed alternatives such as steak, fish, chicken, eggs, and vegetables.
He also cut down refined carbs and opted instead for complex carb sources like brown rice, oats, and sweet potatoes. For a cheat meal, he'd have the occasional scone.
His diet plan also involved a major uptick in water intake, with the actor noting he drank so much water that frequent bathroom breaks were becoming a part of his every day routine.
Here's how Chris lost the weight through a good diet:
Foods to eat: steak, fish, chicken breast, broccoli, whole eggs, spinach, sweet potatoes, steel-cut oatmeal, brown rice, nuts, berries grass-fed butter, coconut oil, avocado
Foods to avoid: burgers, fried foods, sugar, dairy, hash browns, refined carbs, processed foods
Supplements: whey protein, testosterone booster, BCAA, fat burner
Chris Pratt's GOTG Workout Routine
Eating 4,000 calories a day means you have to be working hard in the gym to turn those excess calories into lean muscle.
Chris Pratt partnered with former marine sniper and ex-Navy SEAL Duffy Gaver to help get into shape to play a Marvel superhero.
He reportedly worked out for five months straight, training for four to six sessions per week.
Here's an example of one of the training sessions the star would do:
Back, Biceps, and Abs
warm-up: stretching and 10 minutes on the treadmill
deadlift: 4 sets of 10, 8, 5, 3 reps
pull-ups: 4 sets of 10 reps
lateral pull downs: 4 sets of 10 reps
hammer strength row: 4 sets of 12 reps
heavy dumbbell row: 4 sets of 12 reps
a. hammer curls: 3 sets of 12 reps
b. barbell curls: 3 sets of 12 reps
planks: 3 sets at 60 seconds
hanging leg raises: 3 sets of 15 reps
sit-ups: 3 sets of 25 reps
References
https://www.news.com.au/entertainment/celebrity-life/chris-pratt-reveals-his-diet-secrets-for-getting-back-into-shape-for-new-movie/news-story/c31036acadb8da8d127788c88fef7862
https://manofmany.com/lifestyle/fitness/chris-pratts-guardians-of-the-galaxy-workout-diet-guide
https://www.menshealth.com/uk/building-muscle/a754341/how-chris-pratt-made-fat-extinct/