🔥 Transformations
What Chris Hemsworth Eats in a Day to Look Like Thor
UPDATED ON Nov 17, 2022
If you're looking to achieve Thor-worthy muscles, who better to take pointers from than Thor himself (well, Aussie actor Chris Hemsworth, who plays Thor in the Marvel movies).
Contrary to what people might think, working out for long hours in the gym and lifting heavy weights won't grow your muscles to Thor-levels. In fact, Thor's muscles start in the kitchen.
Now, it's worth noting Chris was already pretty lean and well-defined muscles prior to his Thor-bulk routine, but that doesn't mean he didn't put a lot of hard time in the gym, as well as ensuring he stuck to a strict diet (which sat around the 4,500 calorie a day mark).
This means eating six to eight meals a day, eating a meal every 2 to 3 hours, and eating any remaining calories by 'eating a big dinner' after a workout.
His team prepared 450-calorie meals with 30-40% protein, with the remaining nutritional profile split equally between carbs and fat.
The Chris Hemsworth Thor Diet Plan
Because the Aussie actor is a staggering 6"3, his trainer and nutritionist said he had to eat that much more, and work that much harder, to build the required muscle to look like the God of Thunder.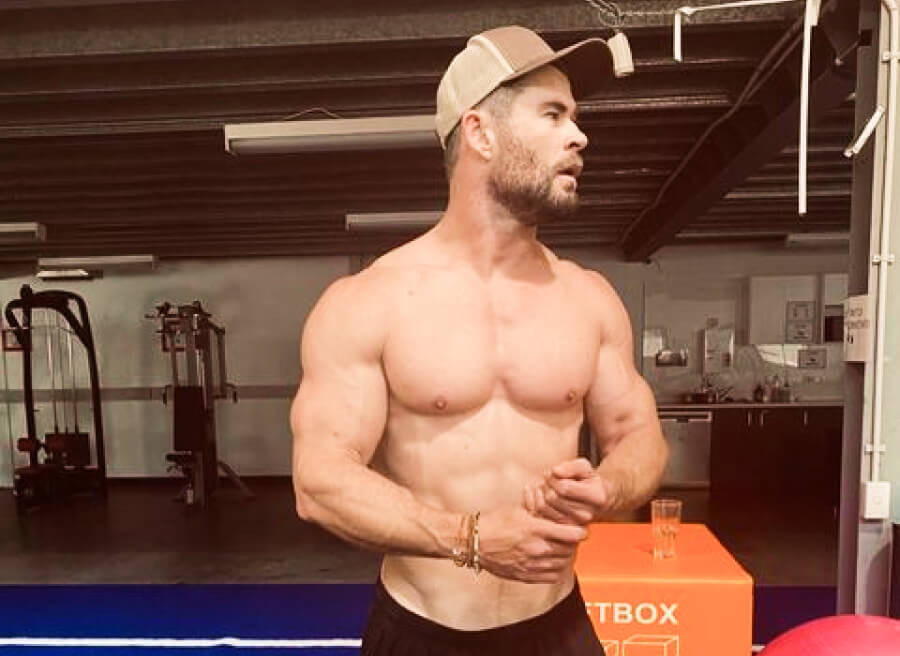 Chris is said to enjoy a few bigger meals a day — like steak, chicken and fish or sweet potato with white rice, with smaller meals and protein shakes in between.
"It's obviously very high in protein, and I eat six times a day," said Chris.
"With the months leading up to the shoot and during filming, I'm basically overfeeding myself on protein and endless amounts of chicken breast, eggs, steak, fish, vegetables, tuna, avocado, cottage cheese, and brown rice."
"That said, we've tried to cut down a bit on animal protein and introduce more legumes and certain grains, as a result of being more mindful about the environment. But to be honest, it's still mostly animal proteins."
Thor's Day on a Plate
8 AM: Green protein power shake
10 AM: Bowl of yoghurt with mixed fresh berries, chia seeds, almonds, and honey
1 PM: Post-workout shake with vegetable protein, ice water, branched-chain amino acids (BCAAs), and 1g of Vitamin C
2:30 PM: 230g grilled chicken with crispy sweet potatoes and a rocket salad with seeds, nuts, salted apple (lemon & olive oil dressing on the side)
5:30 PM: 2 rice crackers with Vegemite, tuna, and cherry tomatoes
7 PM: 230g white fish with grilled mushrooms and raw broccoli salad
9 PM: Half a small pawpaw/papaya with yoghurt and berries
How to Workout Like a God
With his food and nutrition down pat, Chris also underwent a rigorous training regime. His body-stunt double Bobby Holland followed suit.
To convincingly double as Thor, he also had to train intensively and gain over 10kg of lean muscle in just 10 weeks. According to a recent profile with Centr – Chris Hemsworth's workout app, the stuntman worked out around three times per day and had to eat almost 4,000 calories – with very impressive results.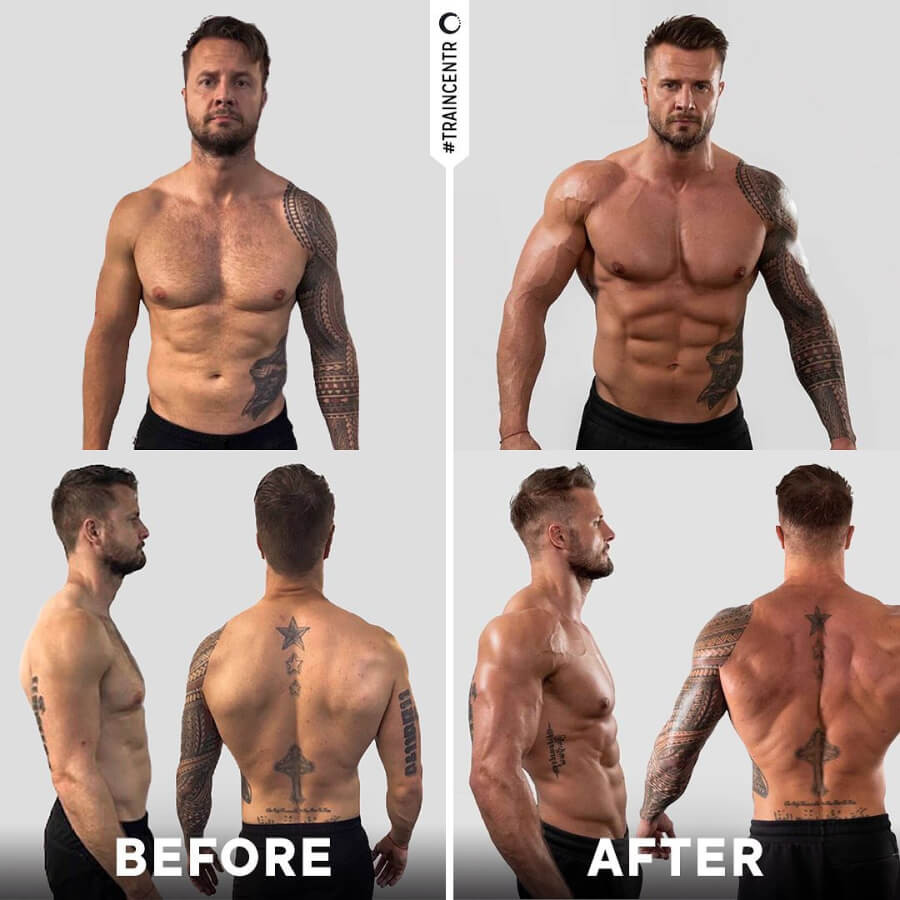 Chris's personal trainer Luke Zocchi said the actor doesn't exercise for more than an hour at a time, but the intensity per hour is always at a 10.
His workouts revolve around extremely functional training and traditional bodybuilding methods. In addition to his general weightlifting, Chris has also been known to do:
A lot of timed battle ropes
Kettlebells
Throws with medicine balls
"Hanging raises
High-resistance bungee moves
Timed bear crawls
He'll also do a bunch of sprints on the bike or the treadmill for his cardio.

"I love the assault bike. Those things are savage. Especially on a Tabata time set-up, I find that's great and I prefer that to running," he said.

Boxing, Muay Thai, and wrestling are also a part of his fitness regimen.
References
https://centr.com/blog/show/7459/eat-like-a-superhero-sergios-meal-plan-for-chris-hemsweoth
https://www.fitandwell.com/news/chris-hemsworth-ate-4500-cals-a-day-to-bulk-up-for-thor-heres-his-diet-plan