📕 Guides
Buff Dudes' Beginner's Guide to Meal Prepping
UPDATED ON Sep 29, 2022
Buff Dudes is made up of American brothers Hudson and Brandon White. They started their YouTube channel in May 2012, and in that time have earned themselves a whopping 2.59M loyal fans.
They cover everything from meal prepping to training in an entertaining and informative style.
So, when we found their beginner's guide to meal prepping, we were intrigued. It can be hard to know where to start with meal prepping, and this video does give a pretty good basis (and it seems 2M other people agree, with the view count currently sitting at 2.12m).
It's not the perfect video, however – the recipes and how much to cook/buy for each meal are a little bit confusing and you have to pay very close attention. And while he does list the macronutrients and calories at the end, for things like the beef, it's not clear how much he used in the recipe.
But there are some useful tips in here and he does give a day-on-his-plate example, including what snacks he'd incorporate into his meal prep.
So, let's get into it!
Ingredients:
Chicken tenders
Beef mince
Bone broth
Hot sauce
Rice
Frozen broccoli
Green beans
Oats
Fat-free milk
Fat-free Greek Yoghurt
Protein powder
Banana, apple, blueberries
Rice cakes
Peanut butter
Nuts
What you'll need:
Glass containers
Mason jars
Crockpot
Food scale
Frypans
Pots
Breakfast: Overnight Oats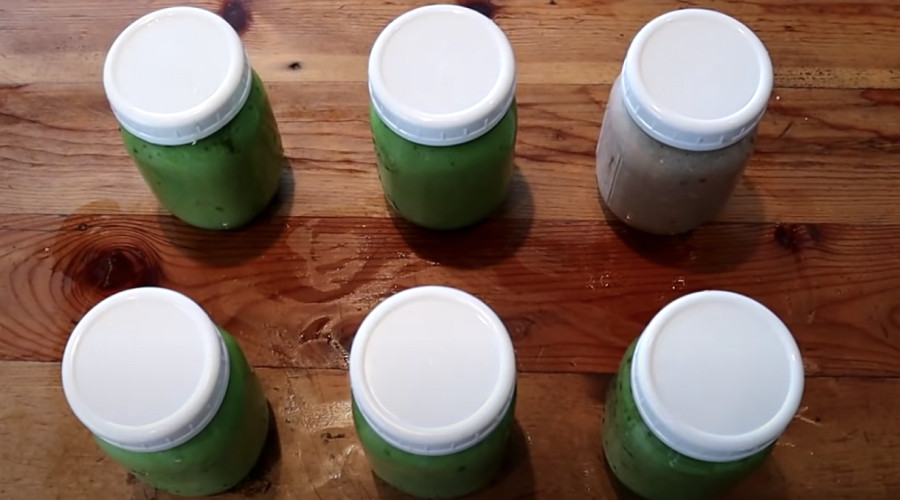 Ingredients:
1 cup oats
1 cup fat-free milk
¾ cup Greek yoghurt
1 scoop chocolate protein powder
Steps:
Add all ingredients to a mason jar and shake well.
Put in fridge and leave overnight.
Macros:
Protein: 62g
Carbs: 74g
Fats: 6.5g
Calories: 600kcal
Lunch: Chicken, Broccoli & Rice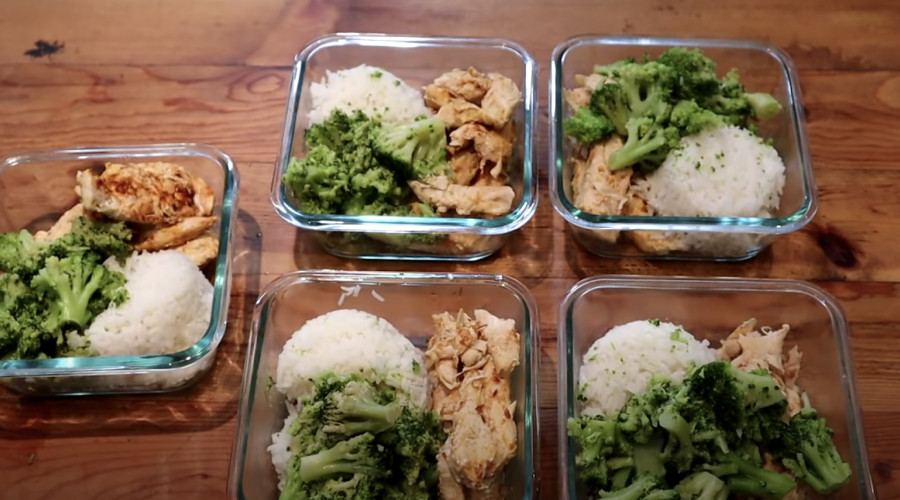 Ingredients:
1.3kg chicken tenders
Bone broth
Hot sauce
4 cups rice
Frozen broccoli
Steps:
Cook chicken tenders that have been mixed with hot sauce and bone broth on high in crockpot for four hours.
Cook rice on stove.
Cook broccoli on stove.
Add chicken (263g) plus one cup of rice and one cup of broccoli to container.
Macros:
Protein: 67.8g
Carbs: 51g
Fats: 7.4g
Calories: 566kcal
Dinner: Ground Beef, Rice & Green Beans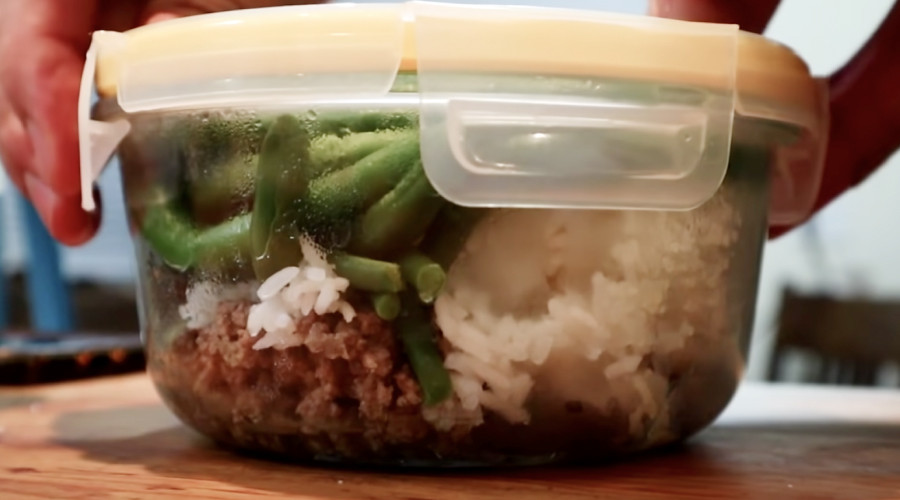 This meal was a little trickier to figure out as he didn't give value to how much beef, rice and beans. But if his lunch meal is anything to go by, you can assume 250g of beef, 1 cup of rice and 1 cup of beans per meal.
Ingredients:
Beef
Rice
Green beans
Seasoning of choice
Steps:
Cook the rice on the stove.
While rice is cooking, fry up beef mince in a frying pan. Season as desired.
Cook green beans in the microwave, or leave raw if you prefer that texture.
Macros:
Protein: 54.7g
Carbs: 52g
Fats: 39.7g
Calories: 794kcal
Brandon's Day on a Plate
Breakfast: oats
Post gym snack: protein shake with milk
Lunch: chicken, broccoli and rice
Snack: 3 x rice cakes with peanut butter
Dinner: beef, rice and beans
See More From Buff Dudes
For more information including what healthy snacks Brandon recommends, check out more from Buff Dudes here!