📕 Guides
Beyond Burger Versus V2, Veef & More: Which Plant-Based Burger Is Best?
Demand for plant-based meat has grown exponentially in Australia, driven by both a concern of the environmental impact of meat, and the health implications with over-consuming animal product. According to a recent report from think tank Food Frontier with modelling from Deloitte, plant-based meat sales were up 48 per cent in Australia in the year to June 2020.
POSTED ON May 14, 2021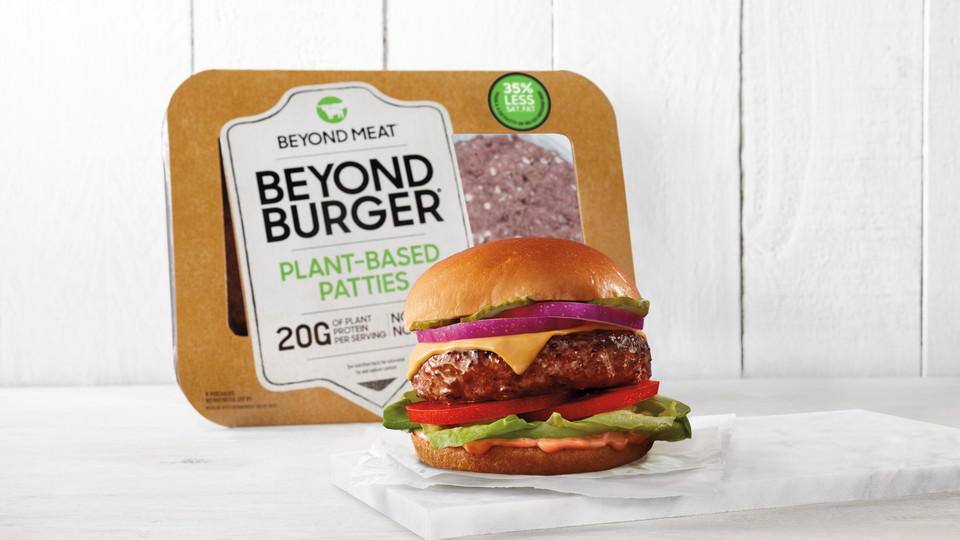 There are more plant-based meat alternatives hitting the shelves across Australian supermarket chains, and more Aussie restaurants and cafes are offering plant-based alternatives, too. Yet are plant-based meats really all they're cracked up to be? Some of them taste uncannily like meat, so one has to wonder what exactly goes into these products to give them that meat-like quality? Are plant-based meats actually good for us? And if so, which plant-based meat brand is best for our health, and which is the least healthy? Let's take a look.
What is Plant-Based Meat? 
Plant-based meats are made from plants and manufactured to feel, taste, and appear like real meat. Plant-based meats are typically healthier than regular meat as they're lower in saturated fat and calories. However, they do contain lots of extra and often unrecognisable ingredients to help them reach the consistency of real meat, such as methylcellulose, potassium chhlorie, and sunflower lecithin).
Why Eat Plant-Based Meat?
Interestingly, many (but not all) vegans and vegetarians steer clear of plant-based meat. Why? Because even though it obviously contains no meat, it's the principle of it. Vegans choose not to eat meat for a reason, so a meat substitute that looks and tastes like real meat, holds no appeal. The people who do eat plant-based meat are often those looking to lessen their overall meat consumption, while still getting the taste, feel and protein hit of "meat".
Plant-Based Meat Ingredients
Each brand of plant-based meats has different ingredients, but the most common are water, some kind of protein (such as pea or rice) and beetroot juice (to give a meat-like 'blood'). Below are the ingredients of one of the most popular types of meat-free burgers – Beyond Burgers:
Water, pea protein isolate, expeller-pressed canola oil, refined coconut oil, rice protein, natural flavors, cocoa butter, mung bean protein, methylcellulose, potato starch, apple extract, salt, potassium chloride, vinegar, lemon juice concentrate, sunflower lecithin, pomegranate fruit powder, and beet juice extract (the beet juice give the burger its meat-like "blood").
Are they gluten free? 
Not all plant-based meats are gluten-free, with most actually containing gluten. It's important you check the label before buying to check if it has gluten in it. Most will be clearly labeled "gluten-free" on the front if they are.
Does Plant-Based Meat Have Protein? 
Plant-based meat contains plenty of protein which is constructed from ingredients derived from plants. Depending on the brand, plant-based meat often has more protein per serve than regular meat mince.
Which Plant-Based Meat Has the Most Protein? 
We've broken down the most popular plant-based meats on the market below, including protein and calories per serve. In terms of protein, V2 Burgers have the most protein with 20.1g per serve.
How Does Plant-Based Meat Compare to Regular Meat? 
Plant-based meat actually compares quite favorably with animal meat for certain nutrients. For example, it's lower in calories, lower in satured fat, on-par in terms of sodium and often has added fiber that meat does not have.
However, it's important to note that at the end of the day, plant-based meats are still highly processed foods, while normal meats are wholefoods.
Here is a comparison of the popular Beyond Meat Burger to a Coles Beef meat patty.
| | | |
| --- | --- | --- |
| | Beyond Meat Burger | Coles Beef Burger |
| Price per patty | $6 | $1.30 |
| Protein per 100g | 17.7g | 14.9g |
| Saturated fat per 100g | 4.4g | 7g |
| Sodium per 100g | 336mg | 336mg |
| Calories per serve | 250kcal | 270kcal |
Are Plant-Based Meats Healthy?
The biggest question people have when it comes to plant-based meats is whether they are actually a healthy alternative. Most plant-based meats have words like "gluten-free", "vegan-friendly", "no GMOs" and "preservative-free" splashed across the packaging. However, this doesn't necessarily make them healthy. While plant-based meats are quite comparable to regular meats, they are still a processed food, also known as a fast food, with lots of added ingredients. It's not the same as whole plant foods like legumes, for instance, which are also high in protein.
Nutritionists Valentina Duong and Sarah Appleford explain why plant-based meat products aren't always necessarily the healthier option.
"…Lean meat can be part of a healthy diet and provide us with protein, iron, zinc, magnesium and B-vitamins.  On the other hand, plant-based products often are much higher in fibre and can be a good source of calcium, magnesium and iron. Individuals choose vegetarian diets for multiple reasons including health, ethical, environmental sustainability," said Valentina.
"The majority of plant-based meats on the market are what I describe as Frankenstein foods filled with soy isolates, vegetable oils, stabilises and flavourings. They're ultra-processed, offer very little nutritionally and made to resemble the taste and texture of the real meat. You've got to consider what these processed chemicals are actually doing to our bodies in the long-term," said Sarah.
A post on the subreddit r/nutrition talked about whether plant-based burgers are actually healthy, one Redditor linked to this insightful article from harvard.edu which provides a pretty good summary of plant-based burgers.
The Top Plant-Based "Beef" Burgers In Australia
For the most consistency and in order to properly compare plant-based meats, we're looking specifically at vegan burger patties. There are plenty of veggie patties out there, but we're looking specifically at fake "beef" burgers.
V2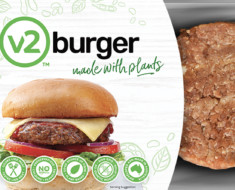 Calories per serve
238 kcal
Price
$9 for 4 x 113g patties
Beyond Burger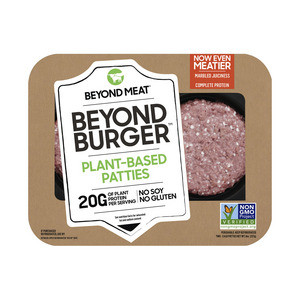 Calories per serve
250 kcal
Price
$11 for 2 x 113g patties
The Alternative Meat Co. Burgers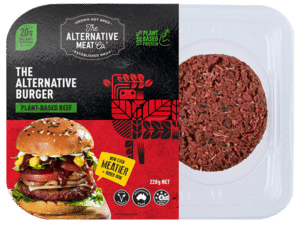 Calories per serve
179 kcal
Price
$8 for 4 x 80g patties
Veef Burgers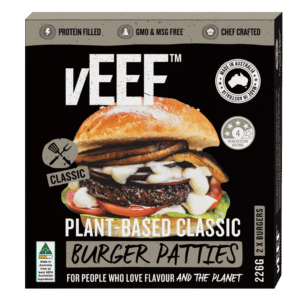 Calories per serve
254 kcal
Price
$6.50 for 2 x 112g patties
Next Gen 2 Plant-Based Burgers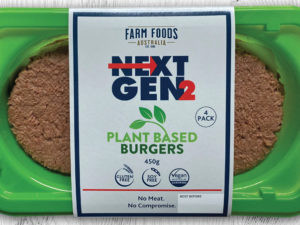 Calories per serve
199 kcal
Price
$8 for 4 x 112.5g patties
Naturli Plant-Based Burgers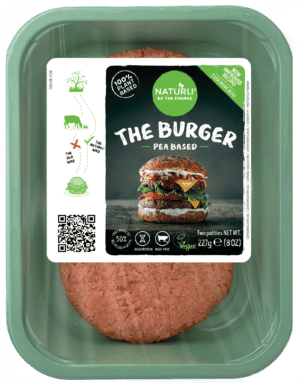 Calories per serve
195 kcal
Price
$7.50 for 2 x 113g patties
Brand
Protein per serve
Calories per serve
Price
Where to Buy
V2 Patties
20.1g
238.5 kcal
$9 for 4 x 113g patties
Woolworths, Coles & Drakes and various fast-food outlets
Beyond Meat Burgers
18g
250 kcal
$11 for 2 x 113g patties
Woolworths
 

The Alternative Meat Co. Burgers

14.6g
179 kcal
$8 for 4 x 80g patties
Woolworths
VEEF Burgers
16.3g
254 kcal
$6.50 for 2 x 112g patties
Woolworths
Next Gen 2 Plant-Based Burgers
19.5g
199 kcal
$8 for 4 x 112.5g patties
Woolworths
Naturli Plant-Based Burgers
15g
195 kcal
$7.50 for 2 x 113g patties
Woolworths
Are Plant-Based Meats Better for the Environment?
Apart from the ethical reasons of switching to plant-based meat, many consumers make the switch because it is more sustainable than conventional meat, largely because of how unsustainable animal agriculture is. Plant-based meat is less damaging for the climate in another critical way since emissions of greenhouse gasses are reduced by up to 90 percent when compared with conventional meat.
To Conclude
Should you choose a plant-based burger over a regular burger? Well, if you're vegan, the answer is pretty obvious. If you're a meat-eater, you could really go either way because at the end of the day, all food should be eaten in moderation and balance, and burgers are no different. So, if you feel like a plant-based burger, go for it! Just don't make it part of your everyday diet (just like you wouldn't make normal beef burgers part of your regular diet, either).