📕 Guides
8 Best Electric Grills In Australia 2022 (For Meal Prepping and Indoor Grilling)
There's no better way to kick off a relaxing Friday evening than enjoying a flavour-infused steak paired with a glass of wine. If that thought gets you drooling, it's high time to invest in a new kitchen sidekick, the electric grill!
POSTED ON Jan 27, 2022
#

NAME
GRILLING CAPACITY
Price (AUD)
🍗🍗🍗🍗 (x2 for open BBQ mode)
$299.99
🍗🍗🍗🍗
$299.00
🍗🍗🍗
$55.00
🍗🍗🍗🍗 (x2 for open BBQ mode)
$616.83
🍗🍗
$45.00
🍗🍗🍗🍗 (x2 for open BBQ mode)
$319.00
🍗🍗🍗🍗🍗🍗
$79.00
🍗🍗🍗🍗
$279.00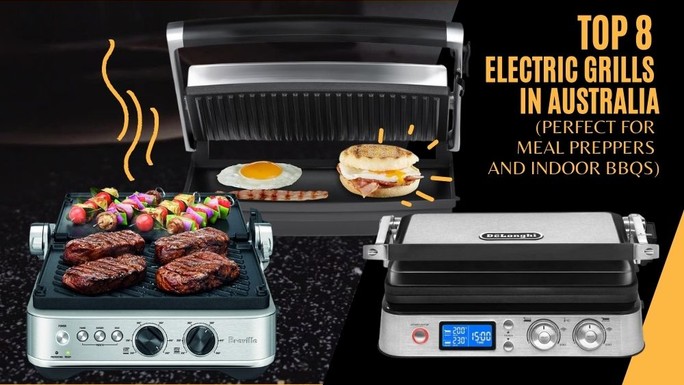 The electric grill has steadily hiked up the leaderboards in terms of popularity, and there are several great reasons why these kitchen appliances are gradually garnering more attention from meal preppers!
While its famous counterparts, the gas grill and charcoal grill, have been the centrepiece of many outdoor parties and family gatherings, the electric grill has a few pleasant surprises tucked up its sleeve.
We will explore the pros and cons of the electric grill and evaluate if this kitchen companion is worth the investment further down the article. But to kickstart this review, here's our summary of the top 8 electric grills in the Australian market!
What Is An Electric Grill?
The electric grill, or electric barbecue, has built-in electrical heating elements acting as heat sources. To get your electric grill going, all you have to do is plug it into an electrical socket, and after a short wait, your grill will be fired up and ready to go!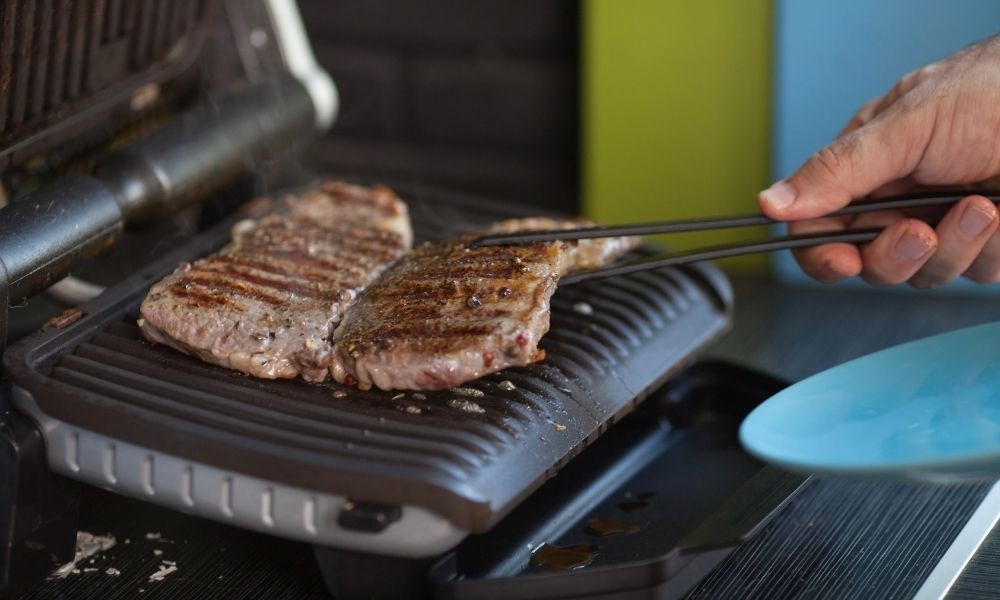 These kitchen devices come in a range of sizes, and each will have a different combination of features and functions that cater to various needs.
Smaller electric grills fit snugly on a countertop, while their larger counterparts can be placed outdoors, on the patio, or in the backyard to serve a crowd of ten to fifteen people during parties!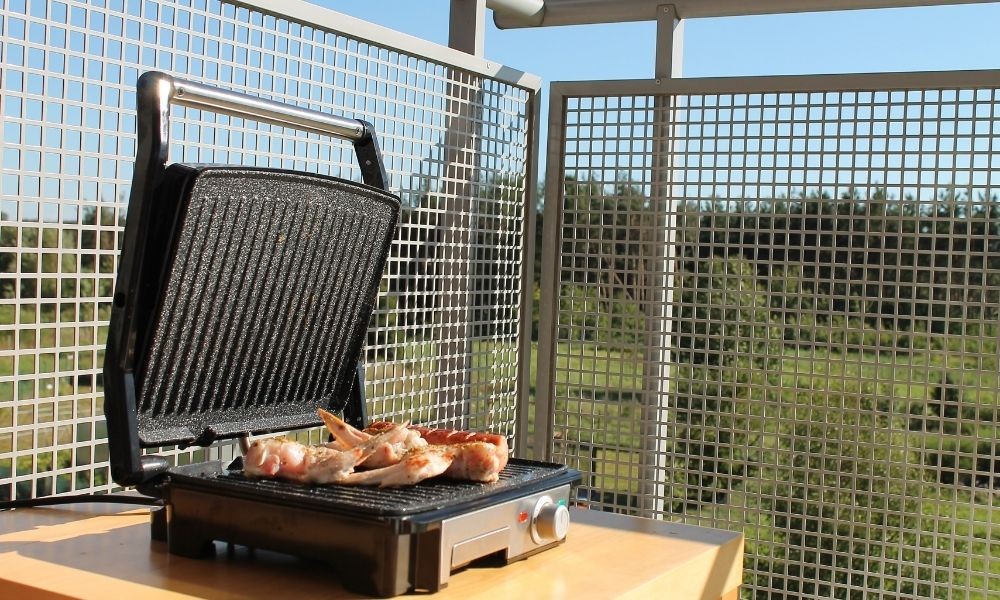 There are currently two main variations of the electric grills; One type comes with heating elements on the top and bottom layer, ultimately sandwiching foods, so you save half the time cooking. At times, these models also allow for an open BBQ mode which doubles the cooking area.
The other variation is an open electric grill, where the heating elements are embedded directly beneath the cooking surface.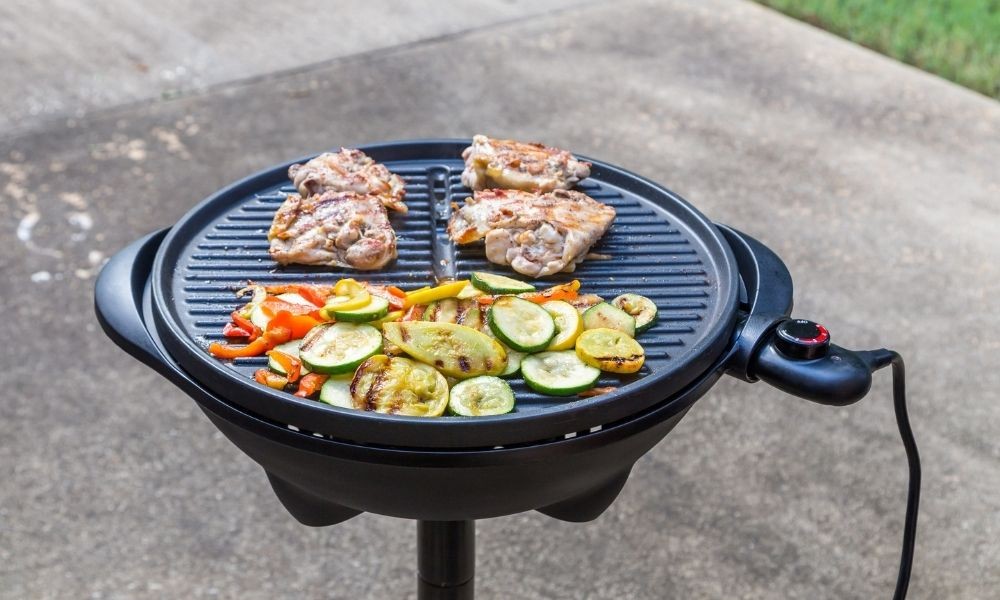 What Are The Pros And Cons Of Getting An Electric Grill?
Choosing the right grill to fulfil your cooking needs would involve weighing out the pros and cons of each type.
Pros
Firstly, the electric grill can be utilised for indoor or outdoor cooking. They are suitable for indoor use as they emit minimal fumes and smoke. In contrast, the gas BBQ and charcoal BBQ are better suited for just outdoor barbeques as these tend to produce much more smoke!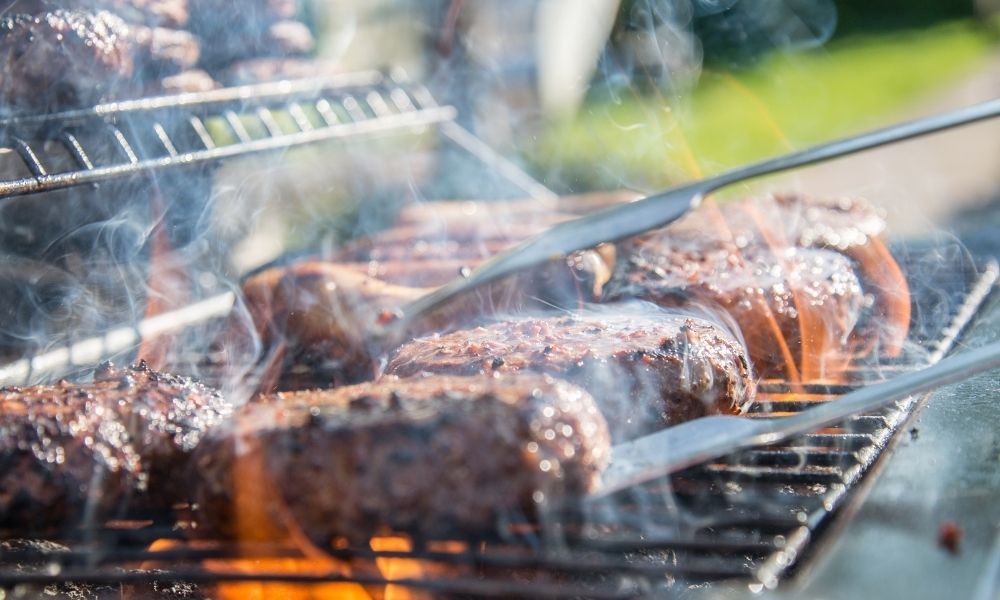 Compact electric grills can also double up as portable BBQs. These grills can be utilised indoors or outdoors, and you can set them in a caravan or pack 'em up for camping trips. Plus, on rainy days or winter evenings, you can safely move your barbecue party indoors!
Additionally, the electric BBQ offers incredible convenience and is exceptionally beginner-friendly. For instance, electric grills allow for smoother and more precise temperature control to avoid unwanted charring or burning, as you can quickly turn the heat up or down with just a button or knob! On the other hand, the charcoal and gas grill may leave you scrambling to adjust the heat, especially if BBQs aren't your field of expertise!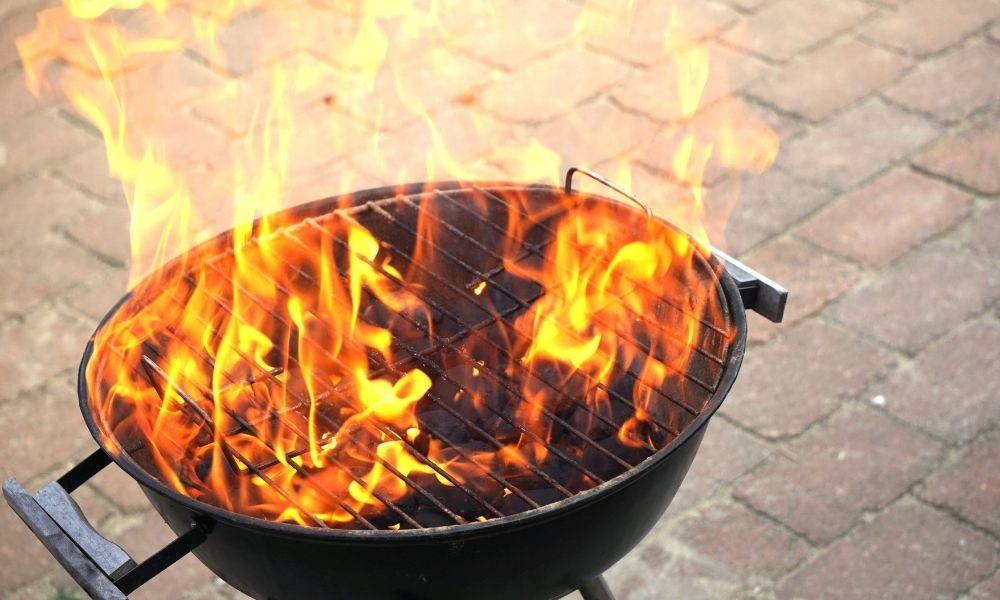 Besides that, setting things up becomes completely foolproof with the electric grill. All you'd have to do is plug it into an available electric socket! In contrast, the gas and charcoal grill both require extra steps to set up before cooking. In the case of the charcoal grill, you'd have to purchase the charcoal before the party, transfer the charcoal into the grill, and then get the fire started. This may be worth the hassle for occasions, parties, and gatherings, but these extra steps make all the difference for meal preppers.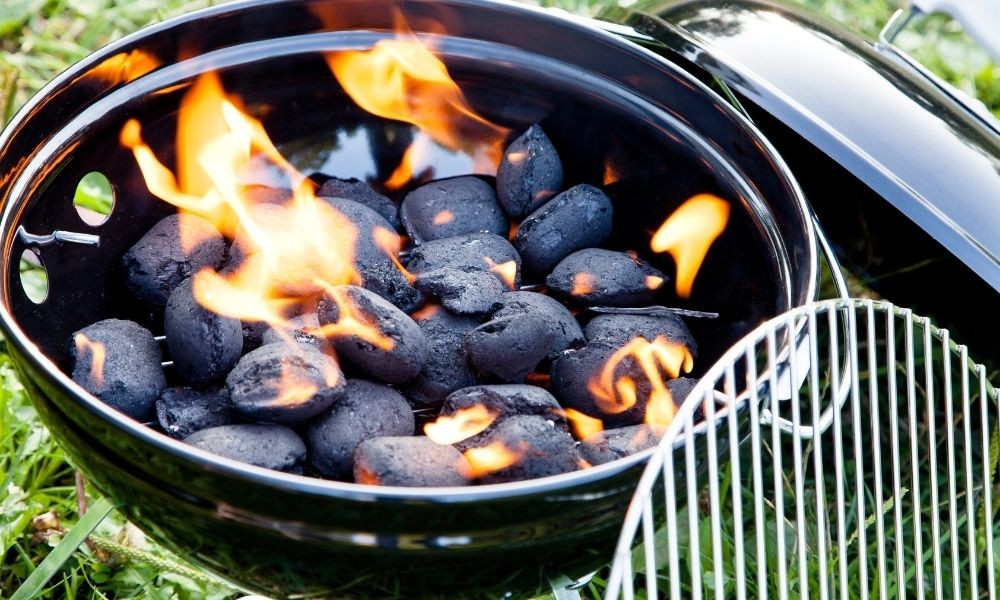 Hence, electric grills help save time, effort, and money in the long run. And, of course, you won't reek of smoke each time you're grilling meat!
Most people agree that the electric grill offers the healthiest grilling method amongst the three. Plus, it gets extra brownie points for being the most environmentally friendly! These kitchen gadgets also pose less of a risk than open fire charcoal or gas barbecues, which are potential fire hazards.
Easy cleaning is another factor that tips the scale in favour of the electric grill. They are simpler to clean and maintain, and most models come with dishwasher-safe racks and plates.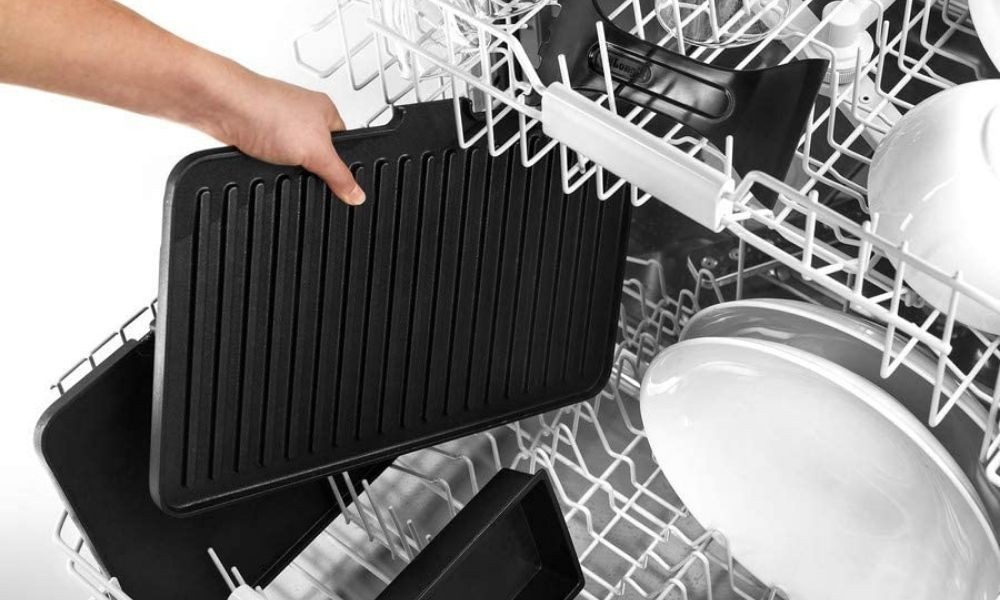 Cons
Since the electric grill is armed with a slew of advantages, you may wonder why anyone would pick a gas or charcoal grill over this impressive candidate. Unfortunately, foods grilled using the electric grill don't give off that distinct and delicious smoky flavour.
In short, the charcoal grill blows the competition away if you're looking for grilled meat with an authentic smoky flavour. The gas grill ranks in second place, while the electric grill comes in last.
Another downside to the electric grill is that it's generally more expensive to purchase than its counterparts.
The 8 Best Electric Grills In Australia 2022
Choosing the best electric grill that caters well to your needs doesn't have to feel like navigating a maze. Here's our list of the best grills in Australia, including their pros and cons to further steer your decision-making process!
De'Longhi Benchtop 3-in-1 Multi Grill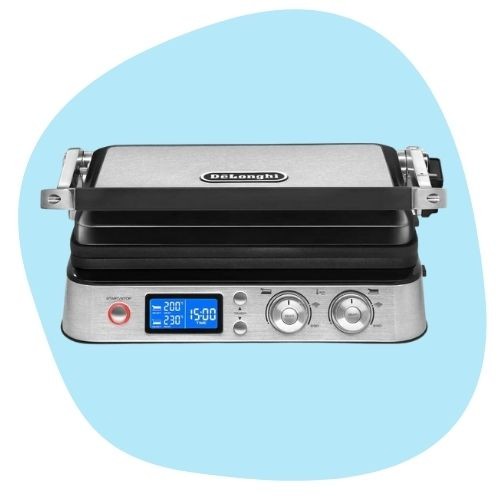 GRILLING CAPACITY: 🍗🍗🍗🍗 (x2 for open BBQ mode)
What's good?
3 in 1 cooking appliance: Oven grill, contact grill, open BBQ
Digital control panel
Comes with an intelligent app
Removable and dishwasher safe plates
What's not so good?
Temperature recommended in the recipes from the app are not suitable (too high)
Delicate build (according to users)
The De'Longhi Multi Grill is the only model on our list that comes with an intelligent smartphone app. This app walks you through the cooking process and comes with a plethora of recipes!
The De'Longhi Multi Grill operates in 3 modes:
Open grill: Doubles the cooking space
Contact grill: Halves the cooking time (great for warming up foods)
Oven grill: A unique feature that allows you to grill with the bottom plate and roast with the top plate. To use this function, you can adjust the height of the top plate to 4 different pre-defined height levels.
Additionally, it's equipped with a LED panel that displays the cooking temperature and duration, enabling you to attain consistent and replicable results each time! Plus, you can prep a host of foods, such as meats, fish, vegetables, burgers, and paninis, thanks to this precise control. This stainless steel multi grill will also alert you when the cooking process is complete, right before switching off. Hopefully, with this kitchen companion, rookie mistakes (and charred disasters) can be minimised!
Lastly, the package includes one set of plates that are Teflon-coated, heat-resistant, and dishwasher safe.
While this intelligent kitchen appliance may sound like the ultimate dream machine, it does come with its share of flaws (though few)! For instance, several users have commented that the model isn't as sturdy as initially presumed, so you need to be careful when switching to the different modes of cooking (open BBQ) or when adjusting the height of the top plate, which can be cumbersome.
Nevertheless, numerous users are highly pleased with their purchase, remarking that it heats up fast and is extremely easy to clean and maintain. Plus, it handles steaks like a boss!
Tefal OptiGrill + XL GC722 Smart Electric Grill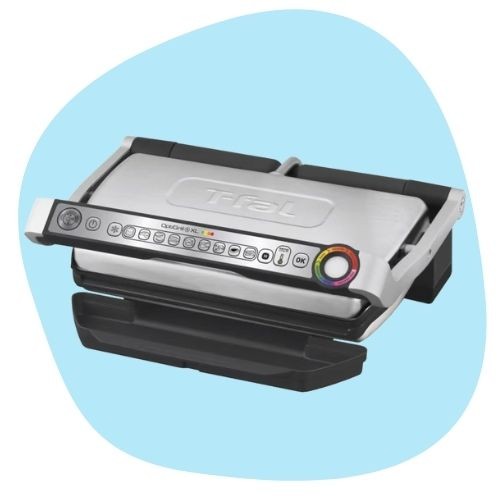 What's good?
Automatic sensor cooking technology
9 automatic preset cooking programs
Colour-coded cooking indicator signals the doneness of cooked food
Detachable dishwasher-safe plates
What's not so good?
Slower cooking
Not beginner-friendly (complicated instructions according to users)
One distinctive feature of the Tefal OptiGrill is what the brand labels as the "ultimate innovation to grilling," which is its automatic sensor cooking technology. As you begin cooking, this intelligent electric grill detects the thickness and number of items you set on the grill and adjusts the cooking temperature and duration according to that input.
Paired with this feature is an indicator light that changes colour based on the doneness of the meat, so you know exactly when to take the meat off the grill!
In addition to that, you could opt for the prebuilt automatic cooking programs that handle meats, burgers, sandwiches, steak, bacon, and even seafood. Or, if you wish to take complete charge of the cooking process, you could go for the manual mode to pick between 4 different temperatures.
Users can't stop raving about how well the grill drains excess fat from cooked meat, all while keeping it flavourful, juicy, and tender. They love how well the grill handles steaks, and the extra-large cooking area allows you to meal prep in extra-large batches! Plus, its removable plates are dishwasher safe!
While its capacity is large, this may not be well-matched with power, as a few users mention that it heats up slowly, hence, taking longer to reach cooking temperature. Several users have also pointed out that the grill is not the most user-friendly. Plus, the product manual does not provide as clear-cut and easy-to-follow instructions as they had hoped. Hence, they recommend watching how-to Youtube videos or giving the manual a careful read before testing it out!
Best Budget
George Foreman Family Steel Grill GR25042AU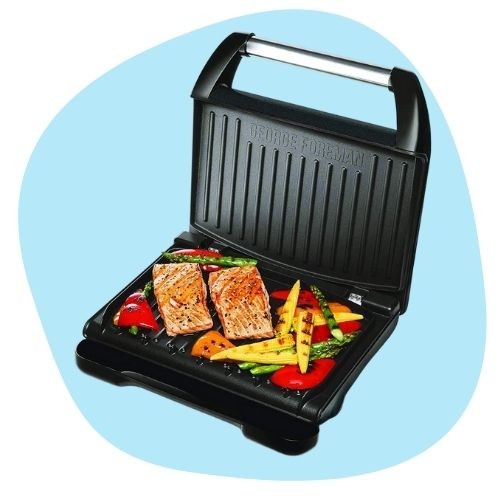 What's good?
Budget-friendly
Space efficient and compact
Lightweight and portable
What's not so good?
Non-detachable plates
Smaller capacity
This George Foreman Family Steel Grill is another budget-friendly kitchen addition. According to the brand, this grill's patented angle design helps to reduce the fat contents in cooked meat by up to 42%! The top and bottom plates are grooved, and this family-sized grill can house up to 5 portions of meat!
Additionally, this kitchen appliance can handle fish, vegetables, chicken, toasted sandwiches, and even frozen foods! The model also features a removable drip tray and non-stick plates for hassle-free cleaning. In addition to that, it's space-efficient and can be conveniently stored in a vertical position.
Based on user reviews, many are pleased with its features and design, especially at that cost. They comment that this George Foreman grill handles different types and cuts of meats decently well, and they love that it is compact, easy to maintain, and comes with a lock-in drip tray that is straightforward to use! Moreover, they note that this device heats up reasonably quickly and is very portable due to its lightweight nature.
Nevertheless, there are some users with vastly contrasting opinions. Some of them mention that the grill is, in fact, a sore to clean as both top and bottom plates are non-detachable, unlike most of the other brands on our list!
Best For Beginners
Sage The Smart Grill Pro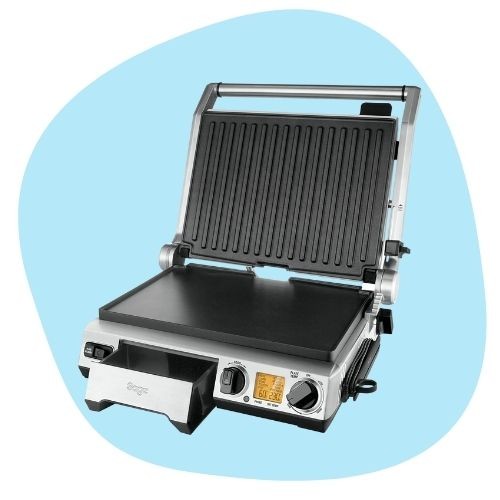 GRILLING CAPACITY: 🍗🍗🍗🍗 (x2 for open BBQ mode)
What's good?
Five pre-programmed meat settings
Can fold out into an open BBQ
Includes intergrated probe to tell you when your meat is done
Removable non-stick grills
This appliance sits at the peak of our list in terms of price, costing over $600! But don't let its extravagant price throw you off just yet. Sage's Smart Grill Pro has heating elements embedded directly into the grill plates and an electronic thermostat. These features enable steaks to be seared at consistently high temperatures, and any small temperature changes will be quickly detected.
What sets this grill apart from the other contenders is its temperature probe and rest indicator. The temperature probe can measure the temperature of cooking meat directly, and all this information is transmitted to the LCD, which then indicates when you can take off your cooked meat to rest.
With these unique features, you can choose from different levels of doneness and five pre-programmed settings for various meats, including lamb, beef, pork, poultry, and fish. The Smart Grill Pro will then inform you when the meat is done and ready to rest! Lastly, all PFOA-free non-stick plates can be removed for handwashing.
Surprisingly, even at that high price tag, users deem this a worthy investment. Many note that it's beginner-friendly and portable (for outdoor and indoor use), though it lands slightly on the heavier side. On top of that, it distributes heat evenly, preheats quickly, and provides a wide cooking surface for large-batch cooking! Plus, reviewers love how the detachable non-stick grills make the cleaning process a breeze.
Nonetheless, the most significant downside to this purchase is, of course, its cost, so if you don't see yourself grilling meat often, you may wish to go with something less pricey on this list!
Best Lightweight
Sunbeam Compact Café Grill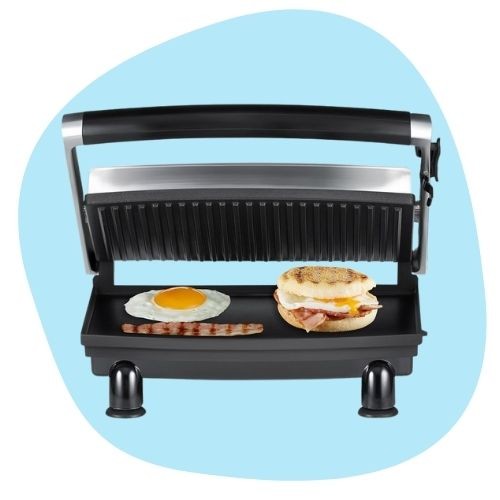 What's good?
Space-saving compact grill
Budget-friendly
Non-stick plates
What's not so good?
Non-removable plates
Doesn't grill foods evenly (according to user reviews)
Smaller capacity
Now that you're acquainted with the most expensive product on our list, we'd like to introduce you to the cheapest! Meet the Sunbeam Compact Café Grill, a budget-friendly and durable mini grill perfect for breakfast sandwiches, thinner slices of meat, and toasted snacks.
This machine comes with a non-stick coating for easier cleanup, a ribbed top plate paired with a bottom flat plate, plus a floating hinge that allows the toasting of thicker sandwiches, snacks, and wraps.
This mini grill is smaller than most other products on our list, so it's better suited for heating up foods or grilling sandwiches, snacks and thinner slices of meat. Nevertheless, numerous reviews mention that the Sunbeam Compact Grill preheats quickly and is reasonably easy to operate!
However, several other users note that the model is less sturdy than its other contestants and better suited for thinner sandwiches or wraps. Unfortunately, the top layer does not line up parallel to the bottom plate when toasting thicker food items, leading to uneven toasting!
For the price, though, most are satisfied with the capabilities of this mini machine!
Breville Sear And Press Grill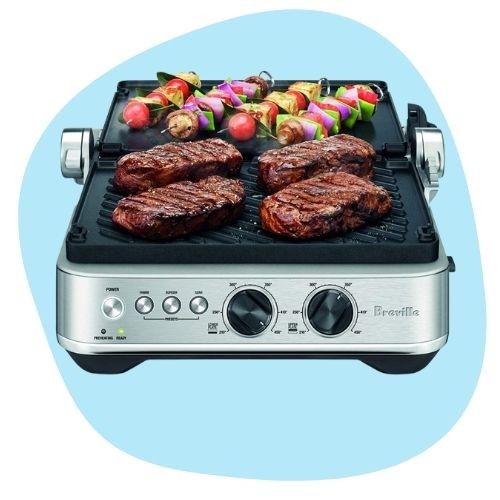 GRILLING CAPACITY: 🍗🍗🍗🍗 (x2 for open BBQ mode)
What's good?
Operates on one-touch presets
Open BBQ mode doubles space
Temperature can be independently adjusted for top and bottom plates
Detachable and reversible grill and griddle hotplates
What's not so good?
Bulky and space-consuming
Expensive
Versatility is its middle name! This popular kitchen helper can handle various foods, including burgers, paninis, steaks, sandwiches, and waffles. And yes, included in the package are non-stick ceramic waffle plates. Plus, if you need a larger cooking area, this model also features an open flat BBQ mode that doubles the space for you to craft and create. A clever trait that manufacturers have embedded into the model's design is this; The two non-stick ceramic hot plates are reversible, meaning that one side of the plate features a griddle plate and the other a grooved grill plate, so you can rotate between the grill and the griddle as you wish! Plus, these plates are PFOA-free and dishwasher-friendly.
The Breville Sear and Press Grill caters to precision grilling, as the temperature of both top and bottom plates can be controlled independently. This electronic temperature control gives you full reigns over the cooking process. Or, if you don't wish to take the wheel, the Sear and Press grill comes with one-touch presets for burgers, paninis, and searing meats to deliver consistent results each time.
The Breville Sear and Press may sound too good to be true, and you're right. Users have pointed out that this grill isn't the most compact and may take up quite some storage space. Additionally, despite being non-stick, the plates may be a little hard to clean, especially since delicate foods like fish tend to stick on them.
Nonetheless, this grill has garnered a ton of positive reviews as well! People love the solid and sturdy build of the grill, and many users remark that the Sear and Press can deliver impressive results and provide easy yet precise temperature control. They enjoy using the innovative reversible hotplates, and the waffle plates included in the package is a massive plus for many!
Best large Capacity
George Foreman Large Fit Grill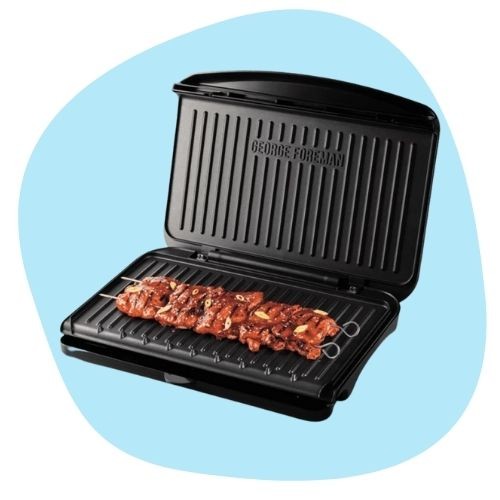 GRILLING CAPACITY: 🍗🍗🍗🍗🍗🍗
What's good?
Floating hinge for cooking thicker food
Large cooking capacity
Affordable
What's not so good?
Non-removable plates
Lettering on inner plates makes cleaning harder
The George Foreman Large Fit Grill lives up to its name, housing nine portions of grilled foods! This model features an adjustable rear foot, allowing you to cycle between flat or angled grilling based on your preferences. The sloped angle allows the drainage of excess fats and oils from grilled meat, plus non-stick plates help ease cleaning.
Furthermore, you can expect shorter cooking times as this grill heats 160% faster than a conventional electric oven! That's not all. The floating-hinge feature enables thicker foods to be grilled evenly, and a streamlined design allows this grill can be stored vertically to save space!
Due to its affordable price and versatility, this George Foreman Large Fit Grill has rounded up a decent amount of positive reviews! Many users are well-pleased, emphasising how this grill allows for hassle-free, quick and large batch cooking with limited mess. They love how it can be conveniently stored in a vertical and space-saving position, yet is large, powerful, and intelligent enough to produce great-quality grilled foods for a 4-5 person family.
Nevertheless, several users have pointed out a few design flaws. Unfortunately, this model does not come with a handle, so you might face some trouble lifting or lowering the top plate whilst the grill is hot. Moreover, both top and bottom plates are non-detachable, making cleaning up less efficient. Users also remark that since the brand name 'George Foreman' is embossed on the cooking plate, cleaning around those letters becomes a complete sore!
Best Versatile
Ninja Foodi Grill AG301 – 4 in 1 Cooking Appliance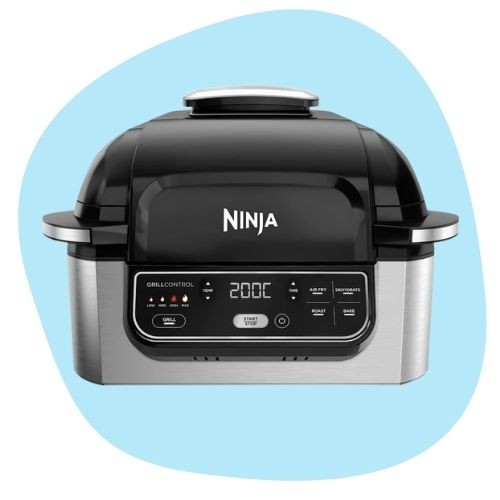 What's good?
Can grill, air fry, dehydrate, roast, and bake
Smoke-free technology
Cyclonic grilling technology means no midway flipping is required
Perfect for quick and healthy cooking
What's not so good?
Emits small amount of smoke (based on user reviews)
Bulky, heavy, space-consuming
Why clutter your counter with a plethora of kitchen appliances when you just need this very one. The Ninja Foodi Grill offers outstanding versatility in the kitchen! With this handy device, you can grill, sear, air fry, dehydrate, roast, and bake a host of foods, including meat, steak, fish, veggies, chips, and pies.
Additionally, this impressive kitchen equipment offers a practical solution for apartment owners via its smoke-free technology. In addition to that, its cyclonic grilling technology cooks and browns food all around with no hint of burning or charring. This means that you won't have to flip your food halfway through the cooking process. On top of that, the package includes a ceramic-coated detachable cooking pot, grill plate, and crisper basket that are dishwasher-safe!
According to numerous user reviews, the Ninja Foodi Grill is a massive gamechanger for indoor grilling as it opens up the door to quick, easy, and healthy meals and guilt-free fried foods! They mention that meals commonly take less than 20 minutes to prepare, and frozen foods don't even need to be dethawed beforehand. Based on their experience, this grill delivers impressive and consistent results, wow-ing users each time with its unbelievable speed and precision. Furthermore, users mention that it is easy to clean up and maintain.
Nevertheless, users have noticed several minor inconveniences and flaws with this product. The smoke-free technology isn't wholly smoke-free when cooking certain types of foods, plus the heavy and bulky design of this kitchen device makes fitting it into a cabinet for storage rather challenging. According to them, the Ninja Foodi Grill takes up quite a lot of space on the counter, too!
How To Choose The Best Electric Grill
If you're keen on investing in an electric grill, here are some considerations to keep in mind while you're shopping!
What's a suitable size?
Larger models are perfect for outdoor BBQs. These are the ultimate crowd-pleaser and can replace your conventional charcoal grills, especially since they're thought to be cleaner, greener, and more eco-friendly. Smaller models can't accommodate large crowds, but most are large enough for meal prepping. Additionally, most models are decently compact and easy to store.
What's your budget?
Once again, you'd have to consider your budget. Several models in the market land on the lower end of the spectrum in terms of price, yet they still rack up reasonably positive reviews and user compliments. These models will likely be equipped with just the essential features, such as a simple knob or buttons for temperature adjustment and a non-stick hotplate for easy cleaning.
More expensive models come with a broader range of functions and features, as elaborated below. If you don't see yourself needing such fancy features, then a simple no-frill model that does its job will suffice.
What extra features would you like?
Pricier models are packed with an arsenal of various functions, such as preset cooking programs, digital control panels, other cooking functions such as air frying, and automatic sensor technology that can adjust cooking temperature and duration automatically based on the amount of food being grilled.
More expensive models may also feature removable and dishwasher-safe hotplates, while cheaper models usually have non-detachable plates!
FAQ
1. Are electric grills safe?
Electric grills run on electrically powered heating elements and emit minimal smoke and fumes. As a result, they are less of a fire hazard and the safest option amongst the various grill types. In fact, they are the only type of grill you can safely use indoors (without triggering your fire alarm)!
Of course, you should heed any instructions and precautions provided by the manufacturers in their manuals and avoid leaving the grill running unattended.
2. Are electric grills healthy?
Unsurprisingly, the electric grill offers a healthier grilling method than the gas or charcoal grill.
Healthwise, the charcoal grill takes the biggest hit. As the juice from grilled meats dribbles onto burning hot coals and other scorching surfaces, a compound called polycyclic aromatic hydrocarbons (PAHs) begins to form. These compounds can easily transfer and stick to the meat you're grilling, leading to inadvertent consumption of these cancer-causing compounds. [1]
The gas grill is considered a safer alternative to the charcoal grill as it generates less smoke and fumes, reducing the emission of PAHs. Nevertheless, grilling with gas does not eliminate these risks and merely reduces them. [1]
In contrast, the electric grill sits rightfully at the top of the scoreboard in terms of health and safety. These machines barely emit fumes and smoke (if any), and the temperature of the plates can be easily controlled with precision to avoid charring, hence, minimising the production of any carcinogenic compounds. [1]
3. How long can I store grilled meat?
According to the U.S. Department of Agriculture (USDA), cooked steak can be stored in the refrigerator for roughly 3-4 days. Because refrigeration merely slows but doesn't prevent the growth of bacteria, the USDA recommends using cooked leftovers, including grilled or cooked meat, within 3-4 days. [2]
4. What can I meal prep using the grill?
Here's a list of foods you can prepare using the electric grill to spice up your meal prep journey!
Meat:
Sausages, chicken breast, burger patties, steak, beef slices, turkey slices, bacon.
Note: Cooked fish and other seafood can be safely stored in the fridge for 3-4 days [3]. Nevertheless, heating seafood up can release an unpleasant pungent smell, which is something you may wish to keep in mind!
Vegetables:
Eggplant, corn, broccoli, mushrooms, onions, bell peppers, sweet potatoes, potatoes, asparagus, tomatoes, cauliflower, pumpkin, carrots.
5. Does food taste good on an electric grill?
Yes, the food would generally taste good. However, the taste may differ from the traditional barbecue taste you're familiar with. Some people would still prefer the smoky taste of meat done on a charcoal grill, but the electric grill wins hands down in terms of convenience and cleaning up.
6. Is the gas grill or electric grill better?
This would depend on your preferences. Gas grills generally cannot be used indoors, while electric grills can. You may find that charcoal grills give off the richest and smokiest taste, followed by the gas grill, while the electric grill comes in third place. In a way, electric grills will have the least authentic flavour. However, the electric grill is easier to use compared to the gas grill, and there isn't much of a learning curve at all.
Final Takeaway: The Best Electric Grill in Australia
The electric grill will be a worthy investment if you meal prep often or enjoy grilled foods. Extensive preparations are not required to get these BBQs going, and various features and modifications have transformed them into user-friendly and reliable kitchen companions.
Imagine yourself cosied up on a relaxing Friday evening, digging into a perfectly grilled steak paired with a glass of fine wine. Well, the electric grill can make that dream a reality without all the added mess and hassle!