🕵 Reviews
5 Best Dog Food Subscription Services in Australia (2022)
Some claim they'll even help your dog live longer.
POSTED ON Apr 06, 2022
#

NAME
Cooked/raw
Cost per 250g
Cooked
$7
Raw
$5
Both
$5
Cooked
$6.50
Raw
$7
Searching for the best dog food subscription services can be overwhelming, we get it. There are countless providers, but not every one of them is going to be the best fit for you and your beloved pooch's palate (because your bud deserves nothing but the very best!)
Luckily for you, you've come to the right place. We've done the hard work and found the 5 best dog food subscriptions services on the Aussie market so you don't have to waste your money trying to find the right fit.
If you want to ensure your doggo is well-fed on a nutritious diet, is happy, and healthy as possible, it's time you get amongst these amazing dog subscription services…and today. You might even just extend the life of your precious fur child in the process – but more on that later.
Not to mention having dog food delivered straight to your door means you'll spend less time shopping and more time doing the things you love (like playing with your pup). Sounds like a win-win all round, yes?
Are you and Fido ready? Let's get to it.
How We Made This List
I have a gorgeous 9 month black Labrador. Stay with me, it's relevant. Now, Labs aren't known for being fussy eaters, so safe to say he'll eat almost anything I put in front of him (even lettuce). However, I can attest to the fact there are some meals he enjoys way better than others.
How do I know? The drool as he waits for his "free" command to dig into his dinner.
Now, my personal experience with several of these providers aside, we've also done countless hours of research, scoured the internet for user reviews (think Reddit, Facebook, Google reviews and so on) to ensure these dog food subscription recommendations really are the best of the best.
Kibble Versus Raw/Fresh Food
We've made our list based on raw/fresh food and not kibble. Think of it like delicious, gourmet, takeaway food for your dog. While there are some providers who market themselves as fresh dog food, often this is just real food turned into kibble.
Not saying there's anything wrong with that, but for the purposes of this article, we're sticking to raw/fresh dog food subscription providers.
The Best Aussie Dog Food Subscription Boxes
Below you'll find our trusted recommendations for the best dog food subscription boxes currently available. If we missed anything, leave us a comment!
Aussie-grown ingredients
Lyka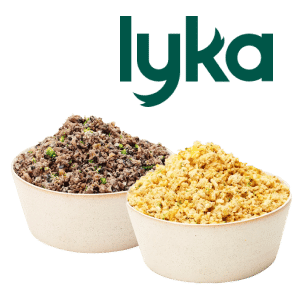 What's good?
Offers a "sniff test" starter box
Choose a full bowl meal plan, or half bowl
Human-grade meat
What's not so good?
One of the more costly options
Lyka is one – if not the most – popular dog food subscription service on the market, and for good reason. With the help of their in-house vet, Lyka's meals are made with the perfect balance of natural vitamins and proteins to ensure whatever age, shape or breed, your dog is receiving all of the nutrients necessary to live a healthy, carefree life. 
After asking a few questions about your beloved pooch, they will provide you with a detailed seven-day personalised meal plan.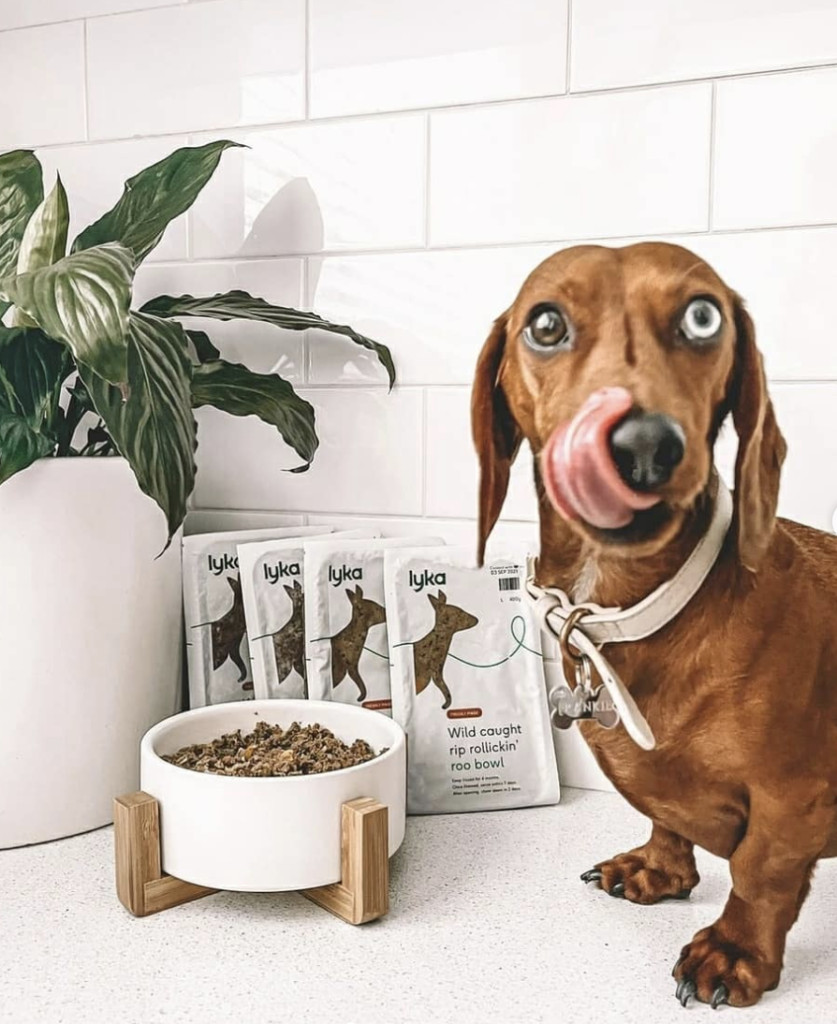 Not totally sure if it's right for you and want a sniff test first? They offer a Starter Box for first-time customers. There's no commitment and you can cancel anytime too, so what's not to love?.
Delivery process: Lyka deliveries come to you through either a cold-courier service, or express delivery. The insulated box keeps your pupper's meals at the right temperature until you get home. Just be sure to pop the pouches into the freezer once you arrive home. 
What do customers say? Reviews for Lyka are overwhelmingly positive, with consumers praising Lyka's great customer service and noting their pupper's look and appear to feel a lot better on Lyka's food. On the otherhand, some customers suggest the meals are quite pricey (but that is typical of fresh dog food).
Cooked/Raw:

Cooked 

Cost:

$7.00 per 250g 

Delivery cost & locations:

Free

to NSW, QLD, VIC, ACT, WA, SA 

Am I locked in to a subscription?:

Cancel any time

Customised diet option?:

Customised based on weight, age and activity level 
Buy in bulk
Raw & Fresh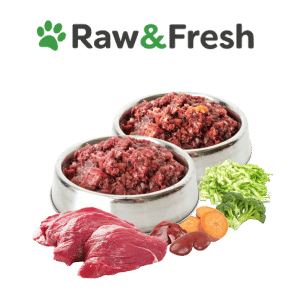 What's good?
Free of fillers, grains and artificial additives
AAFCO standard
Also offers cat food
What's not so good?
Not as customised as other providers
This company provides exactly what they advertise, raw and fresh food for our pets. 
Raw & Fresh embrace the carnivorous nature of our pets supplying our dogs raw meat, mixed fresh vegetables and a pinch of brown rice. There are plenty of flavours for you to choose from including chicken, kangaroo and beef and just in case your pet doesn't like it, you can purchase each meal individually to test it out.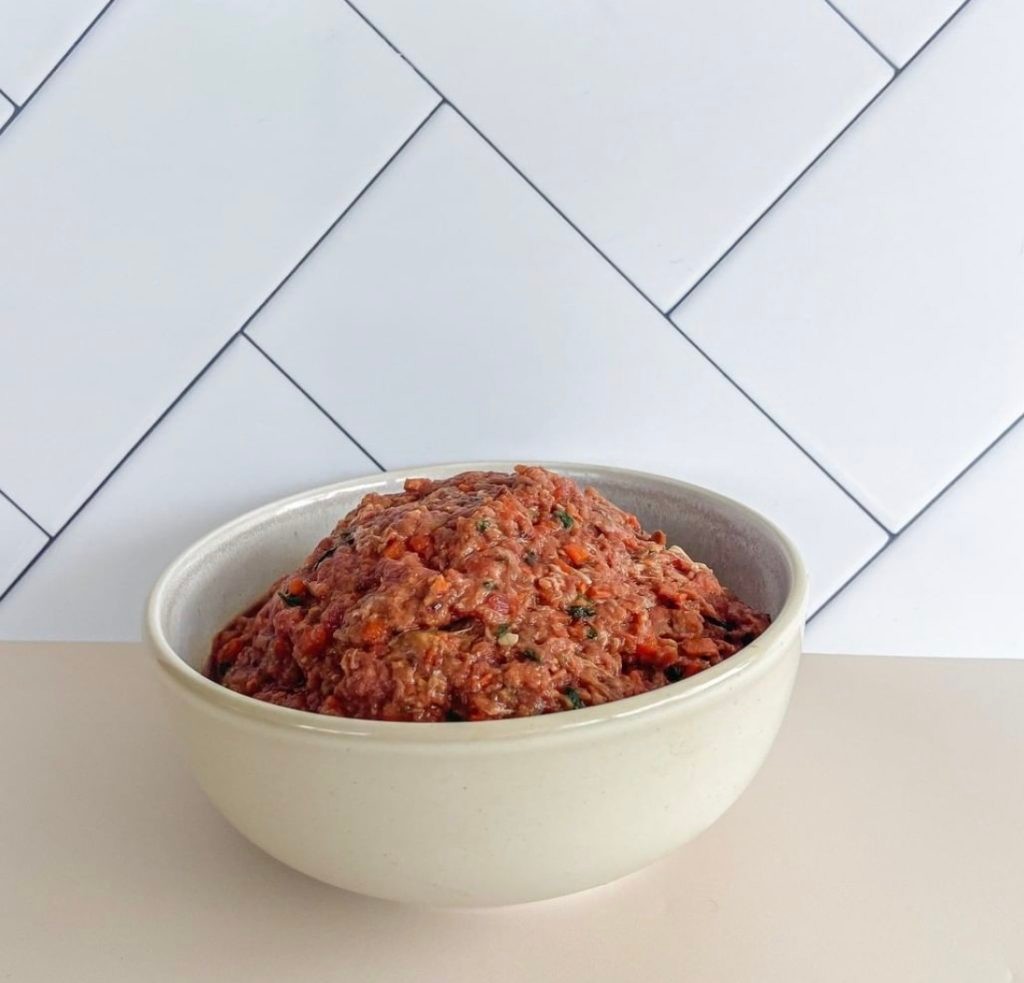 Raw & Fresh dog food is Biologically Appropriate Raw Food (BARF) and is free of fillers, grains and artificial additives. Raw & Fresh pet food contains only the freshest ingredients, biologically suited to the nutritional requirements of your pets.
Delivery process: You don't need to be home to receive delivery.All food deliveries are via refrigerated courier and packed with thermal liners and ice packs to maintain temperature. Your food will stay cold for at least 10 hours after arrival at your premises.
What do customers say? Customers love the quality and freshness of Raw & Fresh, while also speaking highly of the great customer service. They also enjoy the range of options available. 
Cooked/Raw:

Raw

Cost:

$5.00 per 250g 

Delivery cost & locations: 

Orders over $100 free to NSW, QLD, VIC, ACT

Am I locked in to a subscription?:

No 

Customised diet option?:

No
Offers raw & cooked food
Mad Paws Dinner Bowl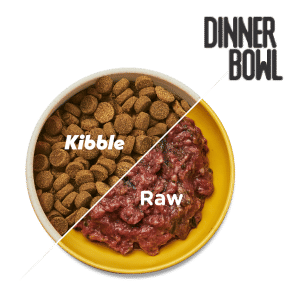 What's good?
Food sources from FREPA-accredited farms
Offers raw, cooked and kibble
Good for fussy dogs
What's not so good?
Need to input a lot of information before you can view the meals
Mad Paws Dinner Bowls provides Aussie dogs with raw, high-protein, low-calorie meals delivered straight to your door. 
With 100% complete & balanced meals, Mad Paws Dinner Bowl meets AAFCO Standards, providing the paw-fect amount of vitamins and minerals for your dog. They offer both cooked and raw bowls, so if the thought of raw food is completely unappealing to you, you have options!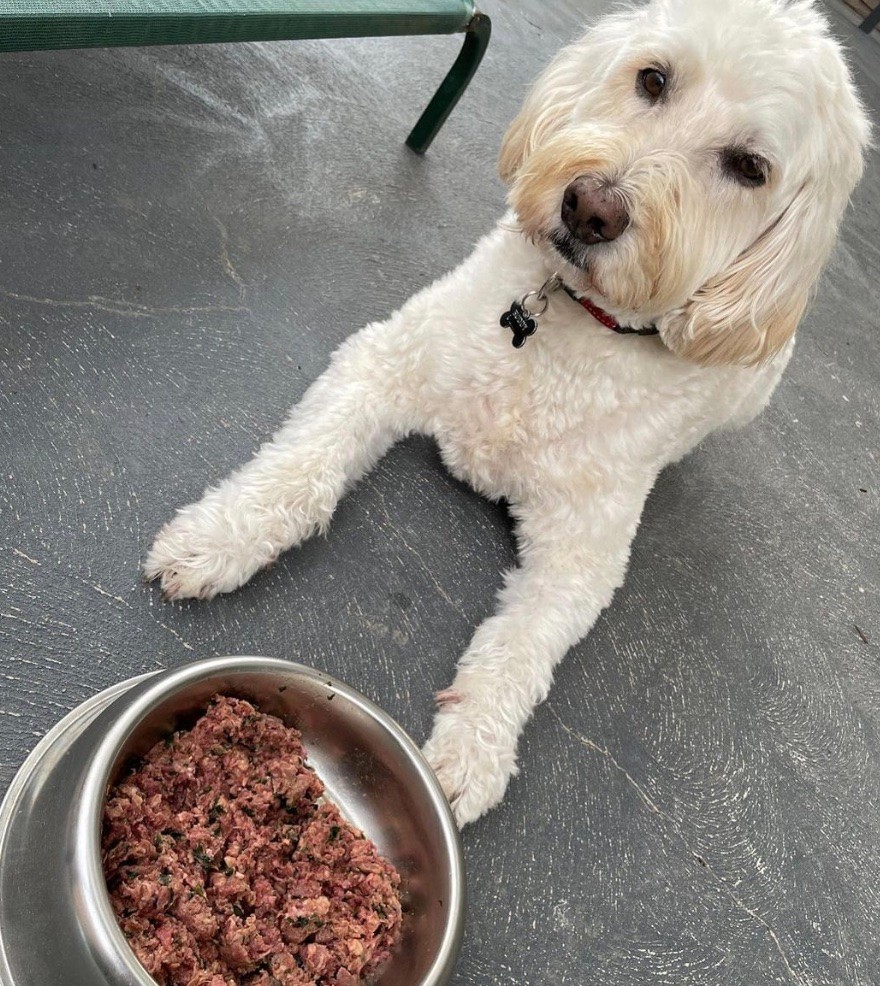 Not to mention it's human grade food too – so if you ever run out of your own food – you could technically, you know… 
When making the meal plan you can choose cooked, raw, half/half or just kibble, which is handy if you like to keep things interesting for your dog!
Delivery process: Dinner Bowl Cooked and Raw meals are prepared fresh on demand each week and are transported from a temperature controlled warehouse to your door using refrigerated / frozen delivery vehicles. They are packed in an insulated bag / box and include ice-packs.
What do customers say? Customers suggest their typically "fussy" dogs love Mad Paws Dinner Bowl, while usually slow eaters finish off their meals in a flash. On the other side of the coin, some customers have suggested customer service can be lacking. 
Cooked/Raw:

Both 

Cost:

Roughly $5 per 250g 

Delivery cost & locations: 

Free to N

SW, VIC, QLD, SA, and ACT

Am I locked in to a subscription?:

No

Customised diet option?:

Customised based on weight, age and activity level
Allergy-friendly
Perfect Bowl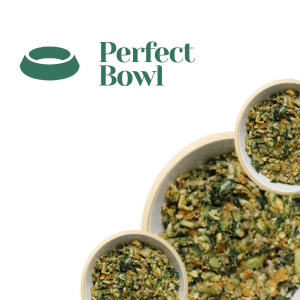 What's good?
Caters to your dog's unique dietary requirements
Buy online or in-store (Sydney)
Fussy dog money-back guarantee
Using only human-grade meat, poultry and vegetables to ensure freshness and quality, the Perfect Bowl is vet approved and recommended. 
You can choose from gently cooked chicken, beef or lamb, and you can either order online or via certain stockists, which is handy if you don't want to spend money on delivery.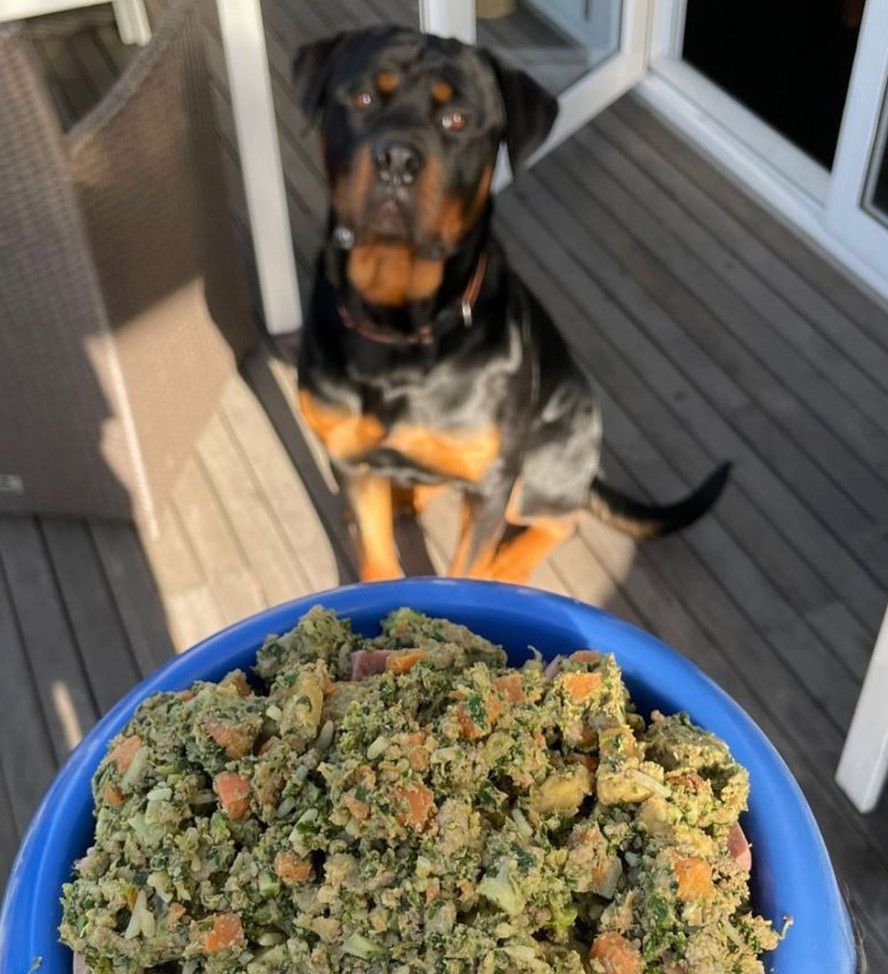 They are so confident that your pup will love their freshly cooked food, they'll give you 100% of your money back if they aren't licking their bowl clean – that's their fussy dog policy.
Perfect Bowl's range is designed to comply with the AAFCO (American Association of Animal Feed Control Officials), for a complete and balanced dog food meal. 
Delivery process: Perfect Bowl is delivered frozen in insulated packaging, so don't worry about being home; just pop them in the freezer as soon as you can.
What do customers say? Customers are happy with the high quality of the food, suggesting that their typically picky dogs rush to their Perfect Bowl meal.
Cooked/Raw:

Cooked 

Cost:

$6.50 for 250g

Delivery cost & locations: 

Free

over $100 to NSW only 

Am I locked in to a subscription?:

No

Customised diet option?:

Customised based on weight, age and activity level & dietary requirements
In-house butcher
The Butcher's Dog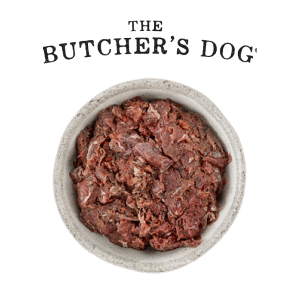 What's good?
Puppy friendly with a special puppy box combo
40+ years dog food making experience
Can buy in bulk
What's not so good?
Food only last 4 hours from delivery
Developed with animal nutritionists and checked by vets, The Butcher's Dog is all about offering your dog a nutritionally balanced diet without using synthetic vitamin and mineral premixes to make it balanced. 
THE Butcher in The Butcher's Dog has over 40 years experience in the meat industry and sources the meats that go into The Butcher's Dog meals from the same farms your local butcher buys their produce. They also buy their veg and fruit directly from the growers so it's fresh and seasonal.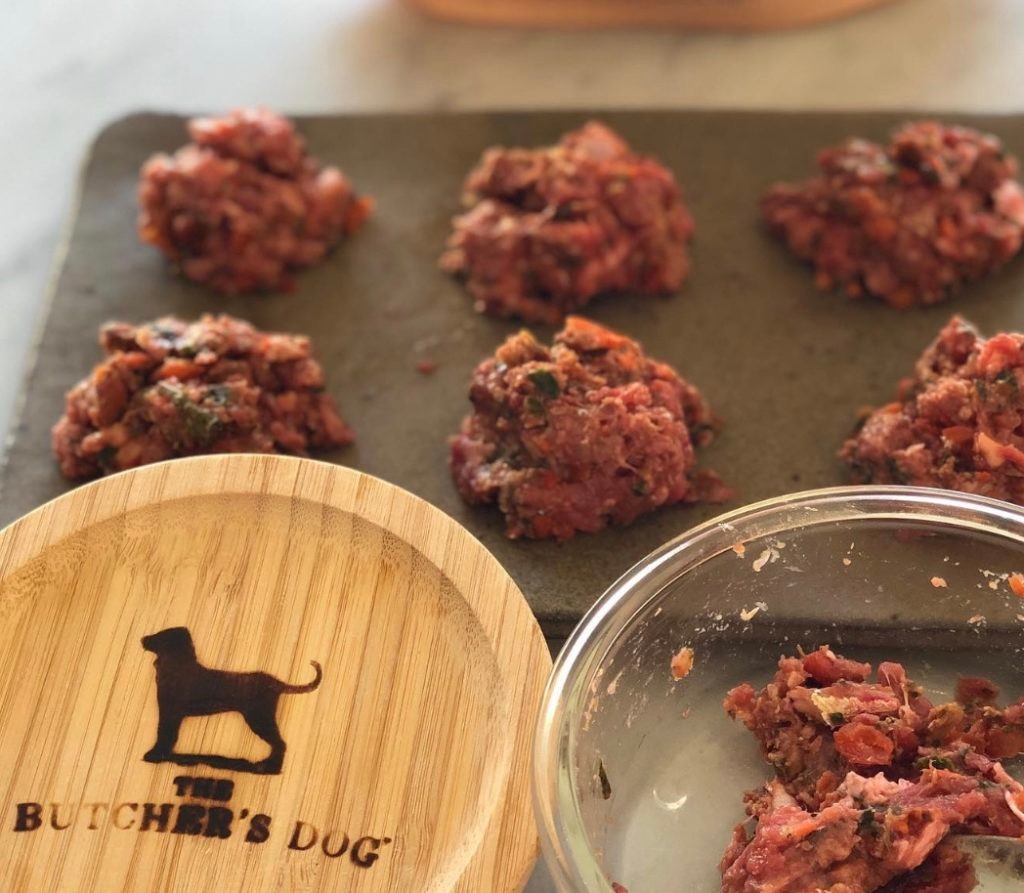 Their food is made  in small batches in a HACCP food approved facility and is  delivered in temperature controlled vans to make sure it gets delivered promptly and stays perfect and frozen.
Delivery process: The Butcher's Dog food is frozen and the packaging is designed so that it will remain solid for about 4 hours. If you are not going to be at home, you can nominate a cool/shady place where we can leave your delivery out of the sun (and away from your dog).
What do customers say? Customers love the "outstanding service and products" offered by The Butcher's Dog. Some have even said the meals cleared up certain ailments of their dog (like itchy skin). While a few customers have suggested the price is high, it should be noted this is typical of raw/fresh dog food.
Cooked/Raw:

Raw 

Cost:

From $7 for 250g

Delivery cost & locations: 

Free

over $99 to NSW, ACT & VIC

Am I locked in to a subscription?:

No

Customised diet option?:

No
Did You Know Fresh Food Can Increase Your Dog's Life?
We all want our dogs to live as long as possible, and diet can play a big role in ensuring your dog lives a happy (and long) life. One study found that raw food diets extended dog lifespans by 32 months on average. Diet can also affect your dog's mobility, digestion, and dental health.
So while fresh dog food subscriptions do tend to be on the pricier side, they may help you avoid high veterinarian bills and keep your beloved family member alive for longer.
Dog Food Subscription FAQs
What is a raw food diet?
A raw food diet is supposed to more closely resemble the diet your dog's ancestors would have eaten. It focuses on natural ingredients and a balance of vitamins and minerals to deliver what your dog needs from their diet. Because the ingredients remain in a raw state, raw dog food doesn't lose the enzymes and vitamins through cooking. Also, raw food doesn't contain the added fillers and preservatives in non-raw food (like kibble).
Is raw food safe for all dogs?
Ask a bunch of vets if raw food is safe for dogs and you'll get varied answers. Is raw food safe for dogs? Yes, but it can't just be any old raw meat. And, it needs to be a balanced diet. You can't just throw a slab of meat into their bowl and call it a day. That's why we've chosen these providers as they use high-quality meat that is good for your dog, that is balanced with a range of other essential ingredients that will keep your dog healthy and happy.
What are the benefits of feeding raw food to dogs?
The diet resembles what they would have eaten in the wild
No artificial flavours or colours
No artificial additives
A stronger immune system thanks to the boost in antioxidants
An easy alternative to feeding conventional pet foods
Can complement feeding conventional pet foods like kibble
Is there a provider which caters specifically to a raw diet? 
Of the providers listed, Raw & Fresh and The Butcher's Dog cater specifically to raw food diets.
Which dog food meal provider is best for puppies? Or for older dogs? 
All of the listed providers offer puppy-friendly meal options, while senior dogs are also able to enjoy all of the listed meal providers. It's important, however, to consult with your vet if you have a puppy or senior dog to ensure their unique needs and requirements are being met.
FYI: Important Disclaimer You Need to Read
I know, boring disclaimers are – well – boring. But please read:
Every dog is different in their diet and needs. Before switching up your dog's diet, always consult your veterinarian to ensure it is a balanced diet that is good for your pup and their individual needs.