🕵 Reviews
Are The Plant-Based Burgers From Macca's, Hungry Jacks & Grill'd Actually Healthy Alternatives?
Ever wondered if the plant-based burgers from popular chains like McDonald's, Hungry Jacks & Grill'd are actually decent? And more importantly, are they as healthy as they are marketed to be? How do they compare to the normal range of burgers? Let's take a look.
POSTED ON Dec 23, 2020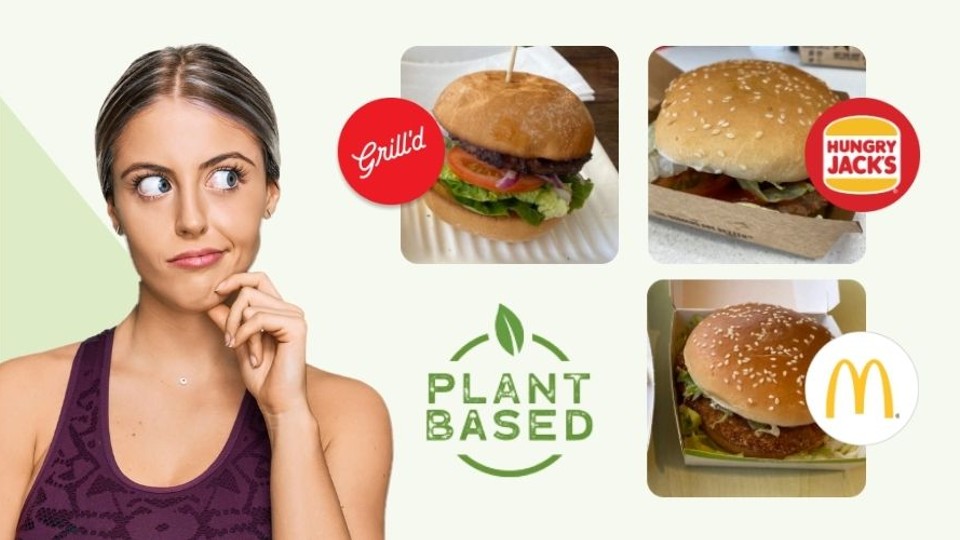 Plant-based living has certainly been on the rise in recent years, and for good reason. It's good for the environment, it's good for animals, and for the most part, it's good for your health. Don't believe plant-based eating has grown in popularity in recent times? Well, you only need to look at the fast-food chains who are now offering vegan and vegetarian products to feed the growing need. While Grill'd in Australia has been offering plant-based and vegan options for some time now, fast-food giants like McDonald's (Jan 2020 it released its McVeggie Burger) and Hungry Jacks (October 2019 it released its Vegan Whopper) have only recently jumped on the bandwagon as the demand for meat-free products grows.
Plant-based food is often marketed as the healthy alternative and while it can be, just because it's meat-free, doesn't necessarily mean it's the healthy alternative. Often-times meat-free alternatives are laden with added preservatives and nasties, something nutritionist Sarah Appleford calls "Frankenstein foods".
"The majority of plant-based meats on the market are what I describe as Frankenstein foods filled with soy isolates, vegetable oils, stabilises and flavourings. They're ultra processed, offer very little nutritionally and made to resemble the taste and texture of the real meat. You've got to consider what these processed chemicals are actually doing to our bodies in the long-term," says Sarah.
So when looking at plant-based burger in particular, how do meat-free alternatives compared? Sarah says: "Some plant-based meat products are lower in saturated fat than real meat and comparable when it comes to calorie and protein content. But there is one major difference and that is plant-based meats are ultra processed whereas whole meat or poultry products, like a steak or chicken breast, are all natural. These plant-based meats actually don't provide you much nutritionally. While everyone is individual, most thrive on a diet of mostly plant foods and a moderate intake of meat, poultry and fish. The emphasis here is whole foods, not those that are made in a lab by scientists."
As a plant-based eater and burger lover myself, I put the veggie and vegan burgers on offer from Grill'd, McDonald's and Hungry Jacks to the test (all in the name of science, of course). Here's what I found out.
Grill'd: Beyond Simply Grill'd Vs Simply Grill'd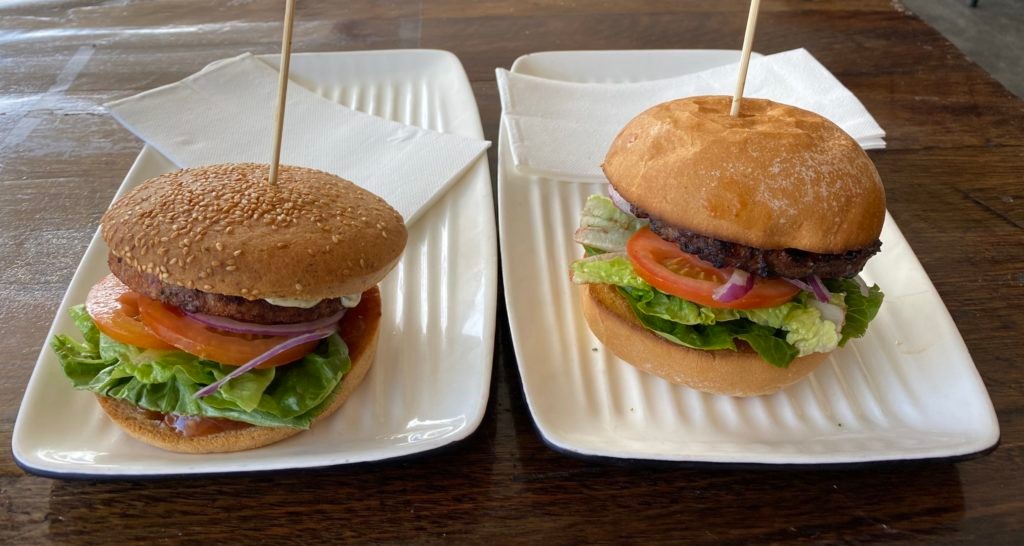 The Beyond Simply Grill'd (with a gluten free bun) comes in at 3230kJ (while a traditional bun comes in at 2640kJ). It comes with the faux meat Beyond Meat patty (which is supposed to look and taste like meat), cos lettuce, tomato, Spanish onion, relish & herbed mayo. A Simply Grill'd burger on a traditional bun is 2400kJ (240kJ less than the veggie option) and comes with grass-fed beef patty with cos lettuce, tomato, Spanish onion, relish & herbed mayo. Presentation-wise, they both look pretty banging. I've been a fan of Grill'd's vegan/veggie range for a while, and it's typically my go-to option for burgers.
In terms of the of dining at Grill'd, the experience is obviously much different to McDonald's and Hungry Jacks. While still a food-chain, Grill'd markets itself as a healthier option to fast-food chains, and the experience of dining in is certainly a nice, more up-market affair. When ordering the burgers, I wasn't asked if I wanted to make it a meal or add drinks or sides. However, Grill'd does offer "healthy" alternatives to potato chips, including sweet potato chips and zucchini chips. And, Grill'd's overall range of plant-based/vegan burgers is much more extensive than Hungry Jacks and McDonald's, with 10 different types of burgers on offer.
Price-wise, the vegan burgers start at $13.50, compared to the real burgers which start at $11.50.
Below is how the two compare in macros in average quantity per serve. They're much of a muchness in terms of fat, carbs and sodium. However, the Beyond vegan burger is certainly higher across all macros.
Simply
Grill'd
Beyond
Simply Grill'd
Energy
2400kJ
2640kJ
Protein
30g
32.2g
Fat (saturated)
9.8g
8.6g
Carbohydrates
40.9g
44.2g
Sugars
8.9g
7.6g
Sodium
782mg
955mg
Hungry Jacks: Vegan Whopper Vs Regular Whopper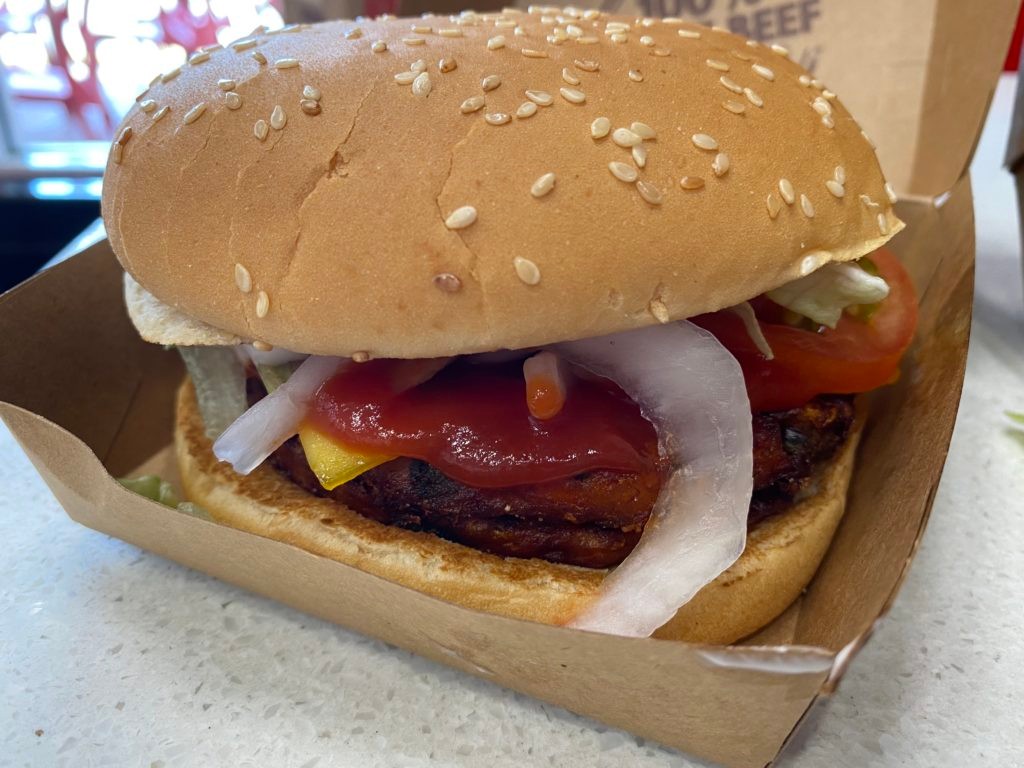 The Hungry Jack's vegan Whopper comes with two thing veggie patties made from corn, capsicum and carrot, vegan cheese and vegan mayonnaise with tomato sauce, onions, fresh tomato and lettuce on a seeded bun. The patty in itself isn't much to rave about – not particularly tasty. The tomato sauce saved it, honestly). The vegan Whopper is Hungry Jack's only vegan/veggie burger option, and costs $7.70.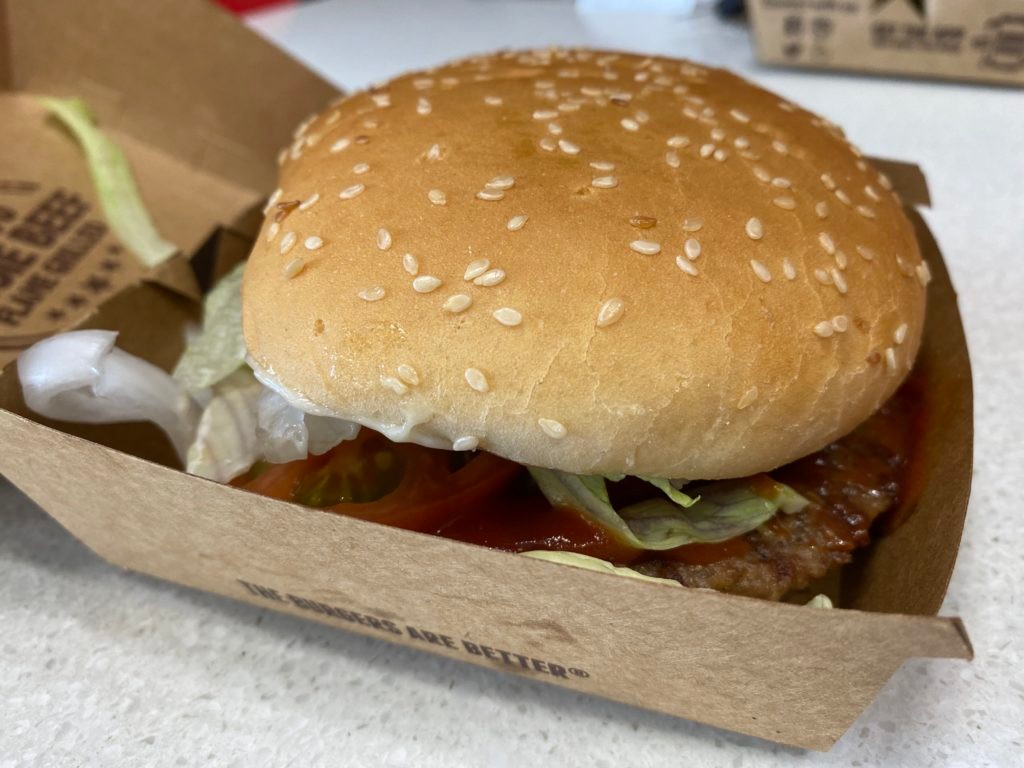 The Hungry Jack's regular Whopper comes with beef, lettuce, ripe tomatoes, onion, pickles, mayo and tomato sauce on a toasted sesame seed bun. It costs $6.90. When ordering my burgers at Hungry Jack's, I was asked if I wanted to make bother burgers a meal or just have the single burgers. Interestingly, the chips at Hungry Jack's are vegan.
Below is how the two compare in macros in average quantity per serve. Overall, the kilojoules are much of a muchness, but when you break it down into protein, the regular Whopper has almost double. In terms of saturated fat, the regular Whopper has double that of the vegan Whopper. However, when looking at carbs and sodium, the vegan Whopper has almost double that of the regular Whopper.
Regular
Whopper
Vegan
Whopper
Energy
2750J
2730kJ
Protein
28.3g
16.4g
Fat (saturated)
11.7g
5.6g
Carbohydrates
47.9g
87.8g
Sugars
8.0g
11.7g
Sodium
837mg
1480mg
McDonald's: Classic Angus Vs McVeggie Burger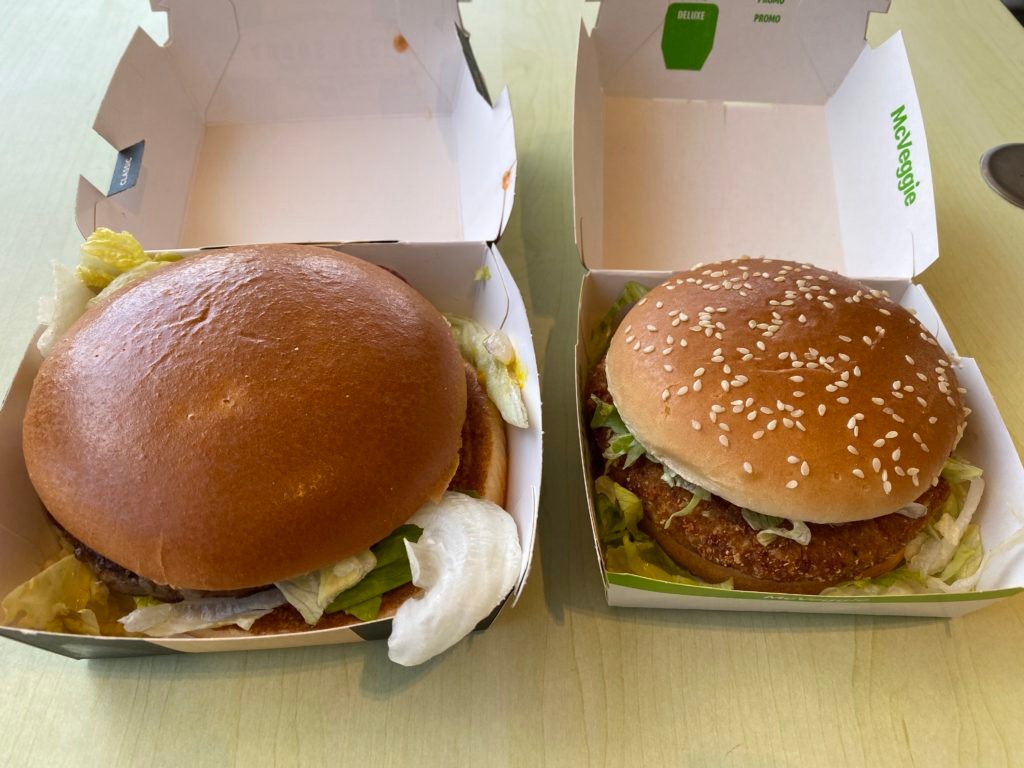 Finally, we get to the classic Aussie favourite – Macca's. McDonald's also only have one vegan/veggie burger in its range – the McVeggie burger which comes with crunchy potato, cheese and veggie patty, lettuce and pickles. The burger is made from vegetables, however, McDonald's is currently looking to introduce a Beyond meat burger in 2021. The McVeggie burger as a standalone item comes in at $6.30.
In terms of taste, again, this veggie patty offered little in the way of flavour. It was thicker and more filling than Hungry Jack's vegan Whopper, but in terms of taste, was much the same as Hungry Jack's veggie burger.
The Classic Angus Beef burger comes with a beef patty, cheese, tomato, onions and pickles with mustard and mayo for $8.45.
Below is how the two compare in macros in average quantity per serve. In terms of overall kilojoules, the Angus burger is miles ahead of the McVeggie. Protein in the Angus if unsurprisingly almost double, while saturated fat in the Angus is a decent 4 x higher than the McVeggie. Carbs are much of a muchness, while sodium is also relatively the same.
| | Angus | McVeggie |
| --- | --- | --- |
| Energy | 2930J | 2010kJ |
| Protein | 39.7g | 13.5g |
| Fat (saturated) | 18.8g | 4.2g |
| Carbohydrates | 44.5g | 57.4g |
| Sugars | 7.1g | 6.6g |
| Sodium | 1150mg | 1080mg |
So… Are Plant-Based Burgers Actually Healthier?
What have I learnt? Are plant-based burgers actually healthier? Well, when you compare the plant-based burgers to regular burgers from Grill'd, Hungry Jacks, and McDonald's it's pretty clear the regular burgers offer better macros and overall nutrition scores. However, interestingly, McDonald's veggie burger might be the only plant-based burger to slightly comes out on top.
So if you're a plant-based foodie hankering for a burger, what's your best bet? Well, personally, I don't eat burgers a whole lot and if I do, I'm not really looking at the macros. Taste is more important to me personally, which is why I'd also opt for Grill'd. However, when looking at macros, here's where each veggie/vegan burger stands.
Kilojules 
McDonald's: 2010
Grill'd: 2640kJ
Hungry Jacks: 2730k
Protein
Grill'd: 32.2g
Hungry Jacks: 16.4g
McDonald's: 13.5g
Saturated fat
McDonald's: 4.2g
Hungry Jacks: 5.6g
Grill'd: 8.6g
Carbohydrates
McDonald's: 57.4g
Grill'd: 44.2g
Hungry Jacks: 87.8g
As you can see, each chain's veggie burger has a very different breakdown of macros, so really, it's up to you and your daily nutritional goals as to which burger is best.
The Final Verdict
A burger is a burger. Plant-based burgers are not overall any worse for you, but they're certainly not any better. Burgers aren't good for you, but they're also not bad for you. Food is food, at the end of the day. Of course, some burgers have a better nutritional breakdown than others, says nutritionist Valentina Duong.
She says: "There are many different plant-based burgers available and some of them are healthier than others. In comparison to regular burgers, most plant-based burgers are lower in saturated fat but higher in sodium." Overall, however, Valentina says she would consider consider plant-based burgers as a food to enjoy occasionally but wouldn't recommend them as a "healthier alternative" to regular patties.
I personally think the main takeaway here is don't be tricked by clever marketing. At the end of the day, unprocessed, whole foods are always going to be best for you, and that's something you're not going to find in plant-based patties. However, enjoying a plant-based burger once in a while isn't going to ruin your diet. As with everything, moderation is key.
Tell us in the comment sections – do you have a favourite plant-based burger?