📕 Guides
A Guide To Starting Your Own Meal Provider Service
Deciding to start your own meal provider business is super exciting, but that doesn't mean it's easy! There are quite a few things you need to consider before you take the leap and a few steps you should try to follow to make sure your new meal provider service kicks off without a hitch, so we've gone ahead and provided you with a rough, eight-step guide to help you get things started!
POSTED ON Nov 08, 2021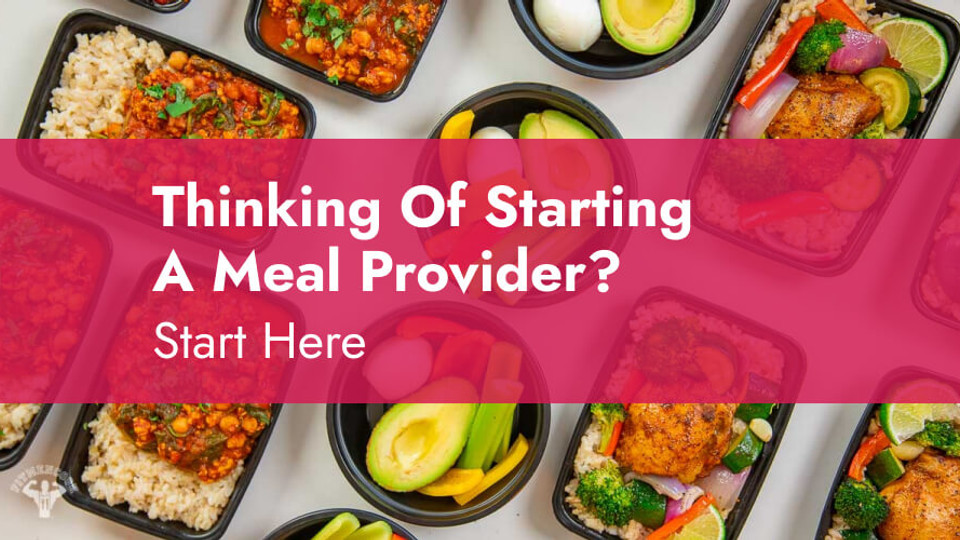 Choose which type of meal prep you would like to provide 
When you envision your ideal meal prep business, it's important you know what type of food you hope to be turning out to your customers. Whether it be pre-made meals, frozen meals or uncooked meals in the form of prepared ingredients (think Hello Fresh and Marley Spoon) you need to clearly define what service you would like to offer.
Each of these meal prep options have pros and cons which is something you should take into account before diving in.
Choose a name 
This is the fun part! Creating your own meal prep business is and should be a very exciting experience, but arguably the most exciting part of starting a business is finding the perfect name.
This is an important step for many reasons; firstly, you will need to find a name that hasn't already been taken by someone else to avoid any legal issues. Secondly, you will need to land on a name before you design and publish your website for your customers.
The name of your business will be synonymous with your brand so you will want it to be as memorable and catchy as possible!
Prepare a Business Plan
It's important that you create a clear business plan to ensure your business stays on track and continues to hit milestones. If researched properly, you will be able to distinguish whether your business has demand within the current market and whether there is potential for growth.
Once you have this information, you can then arrange to bring this to possible investors. Not everyone knows how to throw together a business plan, which is why there are plenty of business plan templates available online.
One of the first things you should do is choose a business name and you will to double check that the name hasn't already been taken by another company; to do this, follow the link through to the ASIC.
The next step is to pinpoint your services and products. This includes what you're planning to sell, how much you will be selling your items for, how much production will cost and how much time and money you will need to invest in research and development.
Obtain the proper permits and licenses & insurance 
In order to make and sell food in Australia, there could be certain licenses you will need to acquire. Each state will have their own version of a food license and each license will qualify a business owner to handle food on different levels. This, however, may not be the case for every meal provider.
QLD:
For example, in Queensland it is not necessary for a business to obtain a food license if they are selling "low-risk" food items. Low risk food items include:
Packaged food
Whole fruit and vegetables
Drinks (with exception of fruit and vegetable juice processed on site)
Ice
Seeds, spices, dried herbs, tea leaves, coffee and coffee grounds
Unpackaged snack food including potato chips, confectionary, nuts and corn chips
Food sold by non-profit organisations for fundraising (e.g. sausage sizzles and cake stalls)
Food provided at state government run facilities (e.g. hospitals and state schools)
In Queensland, it is also necessary for some meal providers to obtain a food business licence from their local council. This applies to any food provider that manufactures (which means any food that is made through the combining of ingredients).
Every licenced food business will also need to appoint a food safety advisor to oversee food safety operations on a daily basis. This may sound simple but not everyone can be a safety supervisor!
Every state will have their own requirements, which is why it is essential that you thoroughly research the requirements of your business prior to opening.
NSW:
In New South Wales, businesses will need to hold a food business licence if they handle, process, pack or store red meat or poultry or if they produce plant products such as seed sprouts, vegetables in oils or unpasteurised juices.
You will also need to obtain a food license if you plan to transport any of the above items.
Find out how to apply for a NSW food licence here.
VIC:
If you're hoping to run a meal prep business in Victoria, there are a few different requirements you will need to meet before you are up and running. Firstly, you will need to register your business with the local council which will then allow them to accurately classify your business in accordance with the Food Act 1984. This will give you a better idea of which type of licence you will need.
For every class of food business, there are a number of different food safety requirements your business will need to achieve including the appointing of a food safety supervisor and the completion of a food safety program. This is not applicable to every class, so by getting classified by the local council, you will then be able to find out whether or not your business will require a safety supervisor or will be required to complete a program.
To find out more about how to acquire a VIC food licence, follow the link to the Victoria Health Government website.
WA:
Western Australia has its own requirements for home-based food businesses, which also requires business owners to register their businesses through the local government environmental health services website.
This means that if you provide online food sales from home or prepare food to sell at your local markets, you will be required to comply with certain food safety laws. For more information on how to abide by WA food laws for home-based businesses, follow the link through to the Department of Health website.
There are also requirements for businesses who plan to prepare and sell food from industrial kitchens that will also require you to obtain a specific food license. For more information on how to obtain a food licence for industrial kitchen-based food businesses, follow the link.
ACT:
The ACT requires all permanent food businesses to register their business with the local government and the Health Protection Service before opening their doors to the public; registered businesses are obliged to comply with requirements outlined in the Food Act 2001.
The government will then classify you under the same act which will allow you to better understand which food safety requirements you will need to follow as per the Food Act 2001.
Depending on how long you are registering your business for, you may be required to pay a fee. For example, a one-year registration will be free of charge, a two-year registration will cost $140 for a low risk business, $205 for a medium risk business and $276 for a high-risk business; three-year registrations are also available.
For more information on how to obtain the appropriate licence in ACT, follow the link through to the government website.
TAS:
Similar rules apply to Tasmanian meal prep businesses. According to the City of Hobart website "The sale of food in Tasmania requires a licence, whether you have a fixed premises, a business that moves around (e.g. a mobile food truck) or a temporary food business."
The City of Hobart website also offers in depth information on how to both register your food business with the local council and advice on food safety and training. If you are a first time food business owner, the council will send out an Environmental Health Officer to inspect your place of business before issuing you with a Certificate of Registration of a Food Business which you will need to obtain before opening your business to the public.
The government does advise anyone who is a first-time food business operator to complete some food handler training which they provide online for free through the following link. To find out how to register your business in Tasmania, follow the link through to the government website.
SA:
Starting a food business in South Australia will also require a little bit of paperwork! Under section 86 of the Food Act 2001, businesses owners will need to get in touch with the necessary enforcement agency to notify them of your intention to open a business prior to starting operations.
Before you do this however, you will need to contact the local council to speak with an Environmental Health Officer to find out which requirements your business will need to meet. These regulations will apply to any businesses handling "food intended for sale" or the "sale of food".
The EHO will also help you to classify your business as either low-risk, medium-risk or high-risk and will also inform you of any necessary inspection fees.
To find out more, follow the link through to the SA Health website.
Insurance
While obtaining the proper licenses and permits to cook both at home and in an industrial kitchen are important, you will also need to ensure you are covered by insurance. This is a must when developing a plan for your upcoming meal provider business, especially for any business that distributes and delivers food on a regular basis.
Transporting and dealing with fresh ingredients could potentially lead to contaminated produce which as a result, could lead to illness from food poisoning, allergies or other issues. A good option for meal providers is Public Liability insurance, which will protect you and your business if a customer claims your negligence led to their injury or illness.
Decide how you would like to sell your meals 
When you're deciding what type of meal prep business you want to run, you will also need to figure out how you plan to sell your meals. This means there are a few different things you should consider including how you plan to package your meals and how you plan to sell them.
There are plenty of options for you to choose from when it comes to packaging your meals, however, you will also need to consider whether food will need to be kept cold during travel or whether it will be sold straight from an onsite fridge.
One popular option for meal providers is Prepac, a packaging service that pride themselves on keeping takeaway meals fresh for meal providers. Prepac have a long list of takeaway meal trays for you to choose from in different shapes and sizes including bowls and trays with portioned compartments.
Prepac are best suited to a business with a large customer base and larger budget due to the added cost of the machine sealed lids. These particular containers require plastic film lids which need to be machine sealed. These machines are also available through Prepac but are not cheap and will not be worth your while unless you plan to service a large customer base.
A cheaper option you may want to consider if you are working with a smaller budget is containers with flat or domed lids that do not require a machine sealer. Bulk Buys have a bunch of containers for you to choose from along with matching lids sold separately.
You can nab yourself 50 Genfac 500ml Plastic Rectangle Containers in either black or clear packaging for $14.50 along with 50 Genfac Platic Rectangle Container Lids for another $6.50. Much like machine sealed containers, Genfac containers are also microwavable and completely recyclable.
While these are a cheaper option than machine sealed containers, they do come with a higher likelihood of leakage which is something you will need to keep in mind.
Once you have decided how to package your food, you will then need to figure out how you plan to sell your meals. You could opt to sell your food through a website, at your local farmers market, from a shop front or from your own home.
If you decide to sell your meals through a website, you will have to set up a digital payment method along with a shipping page. Once you have done this, you will then need to arrange packaging and transport for your meals.
A great option for thermal home delivery packaging is Visy. Visy have a large number of sustainable, insulated home delivery options for your meal kits that will ensure your food stays fresh, frozen or chilled for delivery.
The boxes contain advanced thermal insulation to protect the integrity of your food items allowing you to safely deliver your meals to your customers. Once delivered, the items will stay cool for up to four hours in 35-degree weather and 10 hours in 23-degree weather.
Delivery
Finding a reliable and cost-effective delivery service is key, which is why you need to shop around for a delivery service that works with your budget and will deliver to the regions you hope to cover.
Something else you will need to keep in mind when choosing a delivery service is whether the food you are providing will need to be delivered via a refrigerated vehicle and which regions this service will cover.
Home Delivery Service have a national fleet of drivers ready to deliver different sized packages to the doorsteps of your customers via their state of the art, refrigerated trucks. HDS offer both regular and premium services to their customers along with competitive delivery costs to ensure they are exceeding even the best industry rates.
The company has over 600 vans under their management and have more than 100 subcontractors available to help transport your produce from A to B safely and efficiently. The prices will change based on how many deliveries you require but do provide different sized vans to suit your delivery requirements.
Acquire funding  
Unless you already have substantial funds to carry you through your business endeavour, you may need to apply for small-business funding of some description to help fund your supplies and business expenses. It's a good idea to contact your bank or employ the help of an accountant to help you ascertain which funding will work for you. Each individual circumstance will dictate ho much money you will be able to acquire through a business loan, as will the amount of money you need to start your business.
For example, if you are starting from home, you will have less overheads than someone who chooses to outright lease an industrial kitchen for production purposes.
Collect your supplies  
To start a meal prep business, one thing is for certain, you're going to need a lot of food to consistently cater to your customer base. This can be an expensive exercise, so finding yourself a wholesale supplier is important to help you cut costs.
When it comes to food, there is likely to be a certain amount of wastage, which is why you should figure out how much food you need in order to throw together your meals or meal kits without letting your leftover ingredients go bad. It could be a good idea to find an inventory management app to help you keep track of your ingredients.
Market your business
Now that you have everything you need to start your business; you need to figure out how to successfully market your business to your potential customers. To do this, figure out what the strengths of your business are (e.g. are your meals ideal for athletes, health seekers or families, or are they low calorie, low carb or perfectly portioned).
Let's say your meals are designed to feed families on a small budget, you will want to emphasise this when you market your brand. This is something that could make you stand out from other brands and will be the basis of your marketing plan.
Any unique feature your brand might have is what you want to shine a light on when developing a solid marketing plan, this will be what your customers think of when they hear your business name out in the public sphere and will set you apart from your competitors.
These eight steps should help you to get started on your journey as a meal provider. Remember, each person's experience, needs and goals will be different, so starting a business isn't exactly a 'one size fits all' situation.  This means some of these steps may or may not apply to everyone but they can act as a guide to help get you on track to starting your very own meal provider service.