📕 Guides
5 Cricket Protein Powders You Can Buy In Australia (& Where The Crickets Come From)
We all know about plant-based protein powder, right? But have you ever heard of cricket protein powder? Here's everything you need to know about cricket protein powder, and where you can buy it in Australia.
UPDATED ON May 17, 2022
#

NAME
Protein per 100g
Cost per 1kg
68.5g
$149.95
69g
$256.47
68.5g
$250.00
65.6g
$80.00
60.7g
$119.96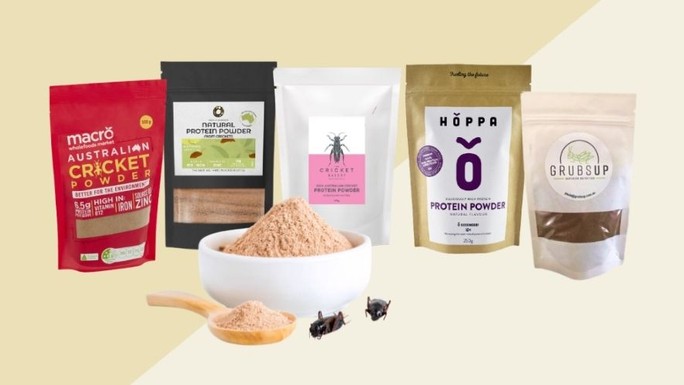 We all know about plant-based protein powder, right? But have you ever heard of edible insects powder? Or specifically, cricket flour? Just as the name suggests, cricket protein powder is made out of milled crickets. While to many people the idea of eating insect protein might feel a bit weird, humans have actually been eating insects for millennia. So, why now this resurgence in cricket protein? Well, not only is it environmentally sustainable, it also has a load of health benefits, too. Let's take a look at the key things you need to know about cricket protein, and where you can buy it in Australia.
What is Cricket Protein?
Cricket protein is made out of milled crickets from cricket farms. And, these types of farms are much more sustainable than a feed yard (where cows and other animals are raised and slaughtered for meat consumption). Studies have shown cricket farms use less feed and generate less greenhouse gases per kilogram of protein harvested.
And, because cricket powder is a nutrient-dense and low-carb protein source, it's good for those on a paleo and keto diet. Not to mention if you buy 100% cricket powder, you'll find it's naturally gluten-free and dairy-free. It's basically another superfood. However, crickets are closely related to crustaceans, so those with seafood allergies should be cautious.
So, why else should you consider adding it to your daily diet? There are actually quite a few reasons, which we talk more about below.
Benefits of Cricket Protein
Just like a whole cricket, cricket powder is an excellent source of vitamins, minerals, fibre, and fatty acids. However, if the thought of eating a whole cricket makes you squirm, the good news is cricket powder looks nothing like an insect, making it much more palatable. And yet, 100% cricket powder is still essentially a whole food with all nutrients preserved.
It's a complete protein
It's eco-friendly
It's rich in minerals
It's a good source of fatty acids
It's high in B vitamins
It's good for your gut
Cricket Powder Nutrition Profile
When looking at the nutrition profile of cricket powder, it basically has all the same nutrition and benefits of eating whole crickets. For 100% cricket powder and at a serving of 10g, it has the following nutrition profile:
50 calories
2 grams protein
2.5 grams fat
Less than 1g carbohydrate (0g sugar)
25% RDA riboflavin
80% RDA vitamin B12
20% RDA biotin
15% RDA zinc
Cricket powder is super high in B vitamins, contains all 9 essential amino acids, is rich in minerals like copper, zinc and manganese and is also high in chitin, which is a prebiotic fibre that can support your gut health.
OK, but what does it taste like? Well, most people say cricket powder has a slightly malted flavour, similar to the taste of cacao. Basically, it's not a flavour that's going to overwhelm your taste-buds.
How Much Does Cricket Protein Cost?
Since cricket protein is somewhat of a niche powder, you might be wondering how much it costs. Well, it does depend on where you buy it from. However, most cricket proteins are probably on the pricier side than your typical natural protein powder. You can expect to pay anywhere from pay around $15-30 per 100g.
Where Can You Buy Cricket Protein in Australia (& Where do They Come From?)
Interested in trying cricket protein for yourself? There are a few places you can buy it in Australia. Fun fact: Australia has cricket farms, and all of the below cricket protein powders come from Australian cricket farms.
| | | | | |
| --- | --- | --- | --- | --- |
| Product | Protein per 100g | Cost per 1kg | Shop | Source |
| Circle Harvest | 68.5g | $149.95 | Buy here | Australia |
| Grubs Up | 69g | $256.47 | Buy here | Australia |
| The Cricket Bakery | 68.5g | $250.00 | Buy here | Australia |
| Woolworths Macros Cricket Protein Powder | 65.6g | $80.00 | Buy here | Australia |
| Hoppa Foods | 60.7g | $119.96 | Buy here | South East Asia (Thailand & Vietnam) |
Circle Harvest Cricket Protein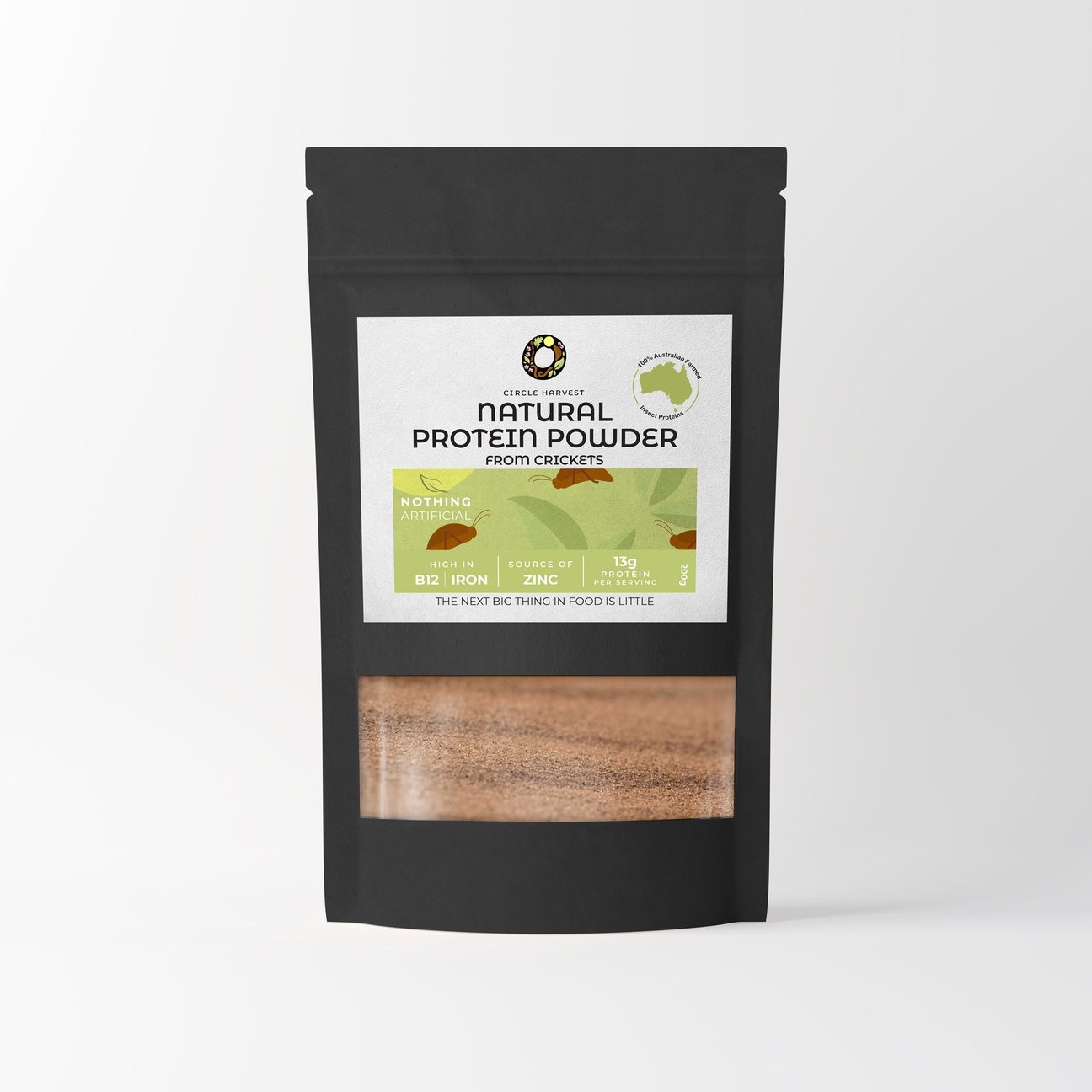 Circle Harvest Protein Powder has been specially farmed to provide a fantastic source of environmentally sustainable, digestible protein. Circle Harvest's 100% Aussie farmed crickets are bred under hygienic conditions in Sydney and are fed on a nutritious diet of fruit and vegetables. This product comes in a resealable stand up pouch with 10 x 20g serves.
That work out to be just $2.99 per serve. Each 20g serve of cricket powder contains over 13g of digestible protein as well as calcium, iron and other essential micronutrients. It also has lots of B12 and B2 Vitamins and 3 times the amount of Omega 3 as salmon.
Grubs Up Cricket Protein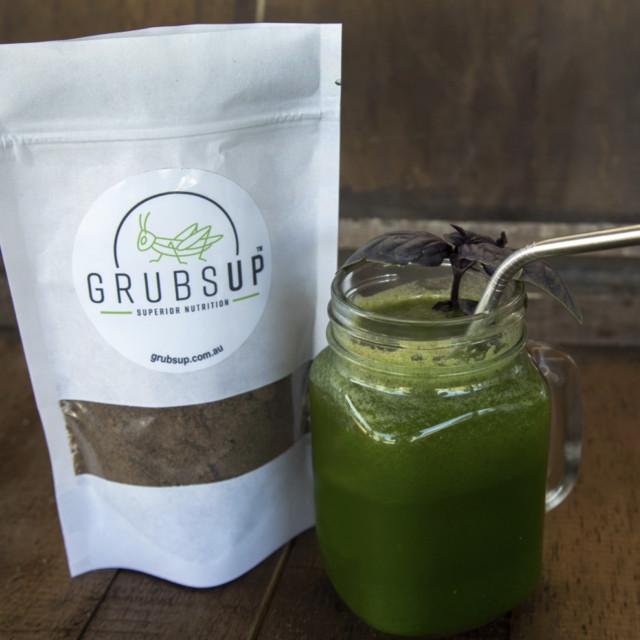 Grubs Up insect farm was established in 2016 by Paula after two years of dreaming big, and researching the potential of insect production for animal feed and human food in Australia. Paula is passionate about agriculture and primary industries, and understood that the pressure for change was paramount.
That's when she asked the question – why can't insects replace traditional sources of protein? Grubs Up grows its crickets in an environment where they have plenty of room to grow and hide. They drink rain water, and eat vegetables, and high quality dry food, high in calcium and protein. Grubs Up cricket powder is 100% USDA certified organic.
The Cricket Bakery Cricket Protein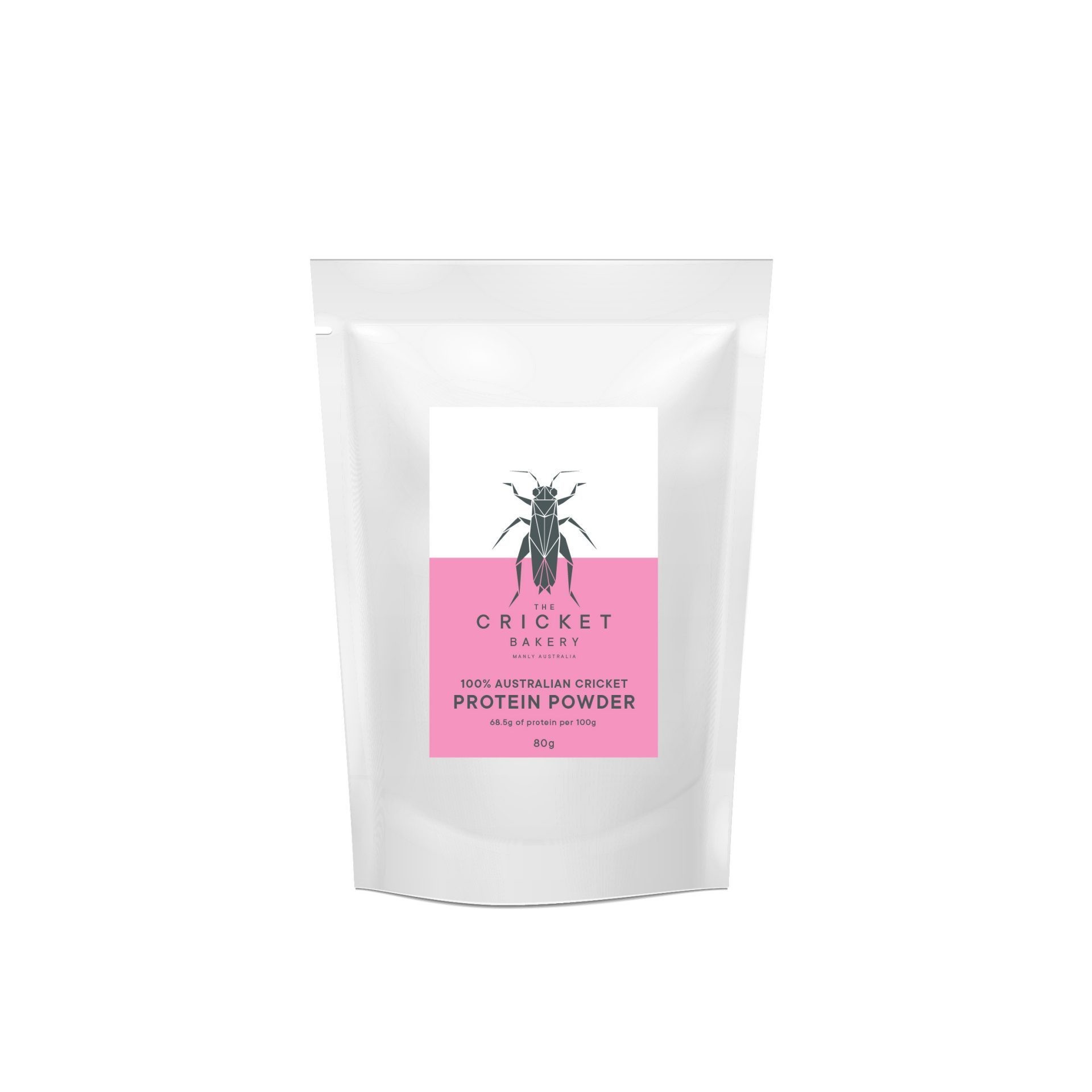 The Cricket Bakery was started in 2018 by two mums eager to change people's perception of bugs as food. Ruth had been feeding bugs to her family for a couple of years, initially discovering crickets while searching for a less environmentally impactful and healthy source of protein to feed her family and heal her sons gut issues.
Blown away by the environmental and health benefits she was inspired to persuade more people to do the same. The Cricket bakery believes in future-focused, environmentally beneficial, nutrient-dense food solutions and passionately believe bugs are part of this movement. Their mission is to change the perception of bugs as food.
Macro Cricket Protein Powder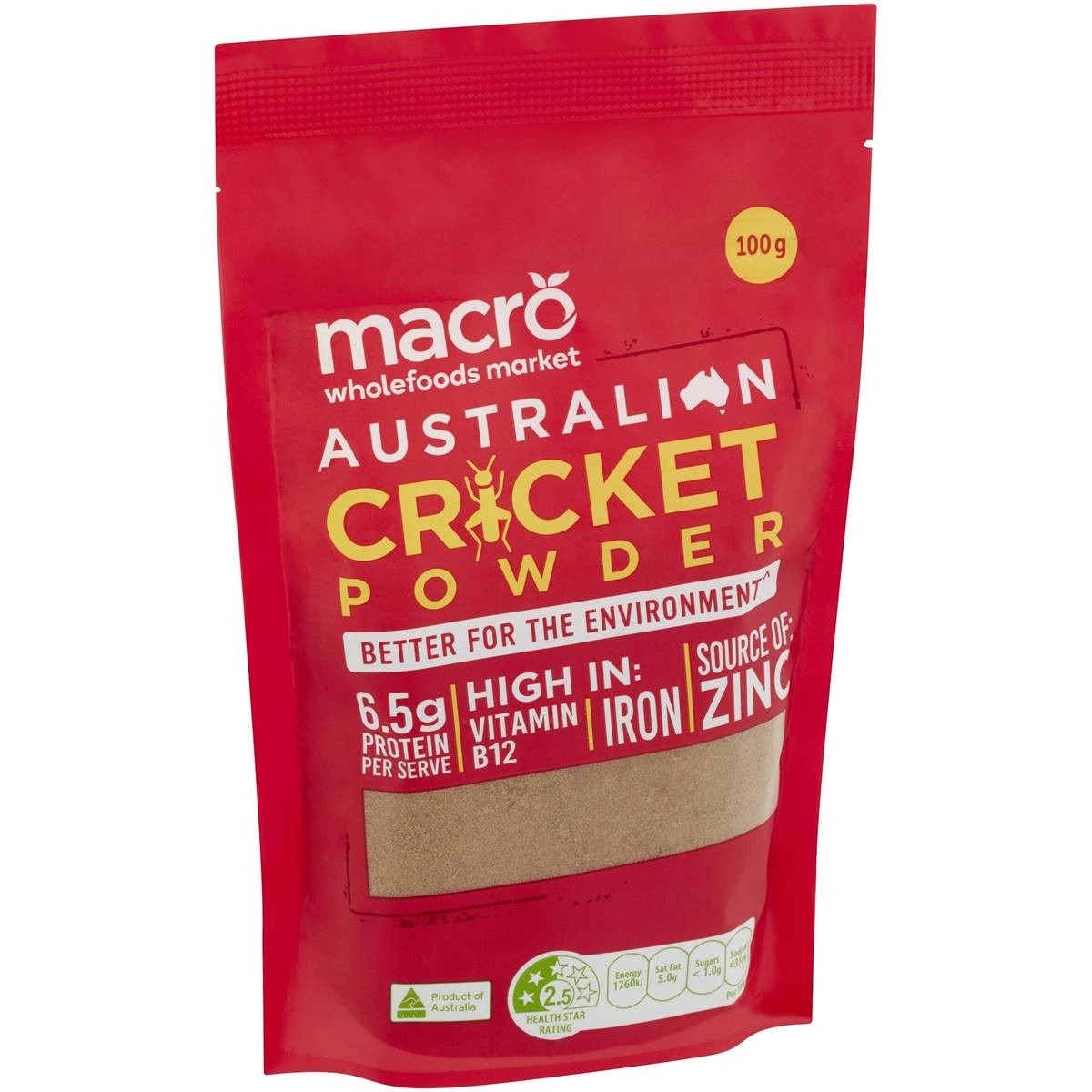 Woolworths appears to have cricket protein powder under its macro range. It's listed on the website, but when checking stock, most stores appear to be out of stock.
Woolworth's cricket protein powder comes from Australian-harvest crickets, and the way their crickets are farmed means they use less water and less land when compared to beef, pork or poultry.
Woolie's cricket powder is free from preservatives, artificial colours & flavours, gluten, soy, dairy and egg. In a 100g of Macro Cricket Powder there are approximately 500 dried crickets.
Hoppa Foods Cricket Protein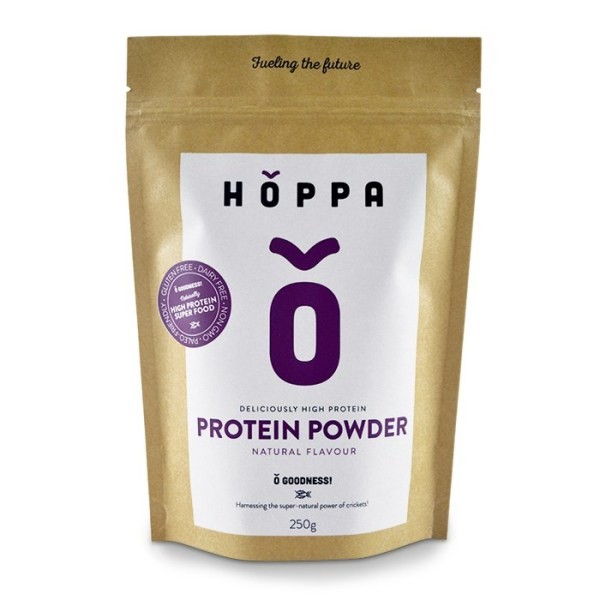 Source: South East Asia (Thailand & Vietnam)
Hoppa Foods believes there is a better way to keep the world's natural resources plentiful and its people nourished. They recognise their role and commitment to global food sustainability, which is why they offer tasty solutions to better the planet.
Hoppa's cricket powder contains more than 60% protein (less than the other cricket powders listed above), is naturally low in sugar (almost 0%) and has no artificial ingredients or other nasties. It's gluten and dairy free, non-GMO and paleo friendly.
Which is the Best Cricket Protein?
The highest amount of protein per serve comes from Grubs Up, however it is also the most expensive. If you're looking at protein and cost per serve, Woolie's cricket powder actually comes out on top. However, as mentioned, it doesn't appear to have a whole heap in stock. Let us know if you find it! Let us know in the comments as well if you've ever tried cricket powder, or if you're keen to give it a go!