The good news is in the last several years there have been many "low cal" and even "healthy" ice-creams to hit the supermarket shelves. While you'd think these healthy versions could never live up to the real deal, the good news is with some brands out there, you can't even tell the difference. I've been dairy-free for a few years now and can honestly say I don't miss dairy ice-cream because there are so many delicious dairy-free options available.
Now, back to this idea of healthy ice-creams. Is it actually a thing? Well, by any dieticians' standards, the ingredients of ice-cream – whether low calorie or not – aren't necessarily healthy. But of course, anything that has natural sweetener and is significantly lower calorie than the "real deal" is going to be better on your waistline.
These days there are countless low-calorie ice-creams available, with most of them being low in sugar and fat, and also high in protein and fibre. Yet you shouldn't be distracted by the "low calorie" branding, because not all ice-creams are made equally, and some ingredients can be questionable. So, what's exactly in low-calorie and "healthy" ice-cream?
What's in Low Cal Ice-Cream?
Regular ice-cream contains easily identifiable ingredients like milk, cream, sugar, egg yolk and so on. The ingredients in low-cal and high protein ice-creams are significantly different, with some containing ingredients you might have never heard of, like: 
Stevia: Stevia is made from a super sweet herbaceous plant. It's a non-nutritive sweetener, meaning it doesn't have any kilojoules or carbohydrates, and is about 100 times sweeter than regular sugar. 
Erythritol: Erythritol is a sugar alcohol which isn't metabolised by our body during digestion; it is also calorie free. While safe for consumption, it can cause an upset stomach in some people.
Xylitol: Xylitol is another sugar alcohol. 
Prebiotic fibre: To make low-cal ice-creams "high fibre", many of these ice creams contain prebiotic fibres, also known as inulin. These help to bulk out the ice cream and basically give it more texture (with no calories).
Organic vegetable gum: Vegetable gums are made up of indigestible polysaccharides. They're often used in processed foods because of their texture and how they increase shelf life.
High Protein Vs Low Cal Ice-Cream
Now, it's important to note not all low calorie ice-creams are high in protein. In fact, most of them aren't. However, in most cases, high protein ice-creams are low in calories. Make sense? There aren't too many high calorie ice-creams available in Australia at this point in time, but there are plenty in the US, which means it's only a matter of time before it hits our shores.  
The Best Aussie Low Cal Brands
Below is a list of some of the most popular and easily available low calorie and "healthy" ice-creams in Australia. We've also created a handy table so you can see their nutritional value side by side. Here's what else you need to know about them. 
| | | | | | |
| --- | --- | --- | --- | --- | --- |
| Brand Name | Protein (per serve) | Carbohydrates (per serve) | Calories (per serve) | Price | Where to buy |
| FroPro Chocolate Protein | 7g | 6.5g | 94 cal | $10 for 520mL tub | Woolworths |
| Halo Top Chocolate | 5g | 13g | 80 cal | $9 for 473mL tub | Coles & Woolworths |
| Yo Pro  | 10g | 5.1g | 106 cal | $12.00 for four paddle pops (540mL total) | Coles |
| Tilly's Choc Brownie | 3.6g | 3.3g | 80 calories | $8 for 475mL tub | Woolworths |
| Denada Double Choc | 2.2g | 1.2g | 126 calories | $11.50 for 425mL tub | Coles |
| Over the Moo Choc Choc | 1.2g | 19g | 162 calories | $10 for 500mL tub | Woolworths |
| Fit Lato Chocolate | 8.3g | 5.3g | 115 calories | $11.95 for 473mL tub | IGAs and other independent grocers |
High Protein
Fro Pro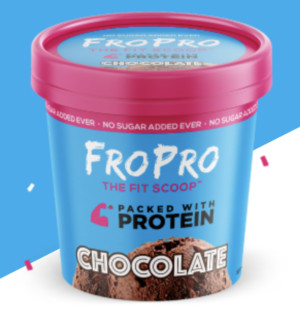 Calories per serve
94 kcal
FroPro is Australian owned and made but only sold at Woolworths stores. FroPro ice creams are also gluten free and made from all-natural ingredients, making it one of the healthier low cal ice-cream options.
Science-Backed
Fit Lato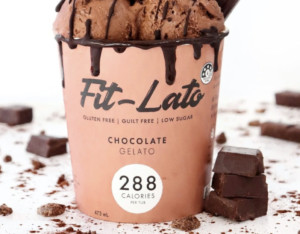 Calories per serve
115 kcal
Fit Lato is an Aussie brand created by a pharmacist and health and fitness professional. Jane Morgan is a former elite junior athlete for the Australian Hockey team turned pharmacist. Together with co-founder Indika Liyanage, an engineer, they combined their knowledge, skills, passion for health and fitness in a quest to create an indulgent product which tastes good, is made from naturally sourced ingredients. Fit Lato offers gluten-free and dairy-free options as well. You can buy Fit Lato from 260 stockists around the East Coast of Australia.
Best for allergies
Denada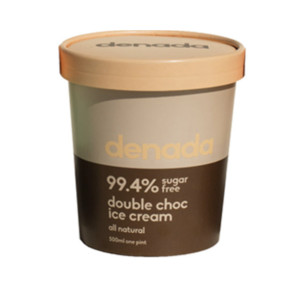 Calories per serve
126 kcal
Denada is a popular 99% sugar-free ice-cream made from all-natural ingredients. It's also low carb, low lactose (with dairy free options), and gluten-free. I'd say Denada is my favourite pick, tasting most like regular ice-cream.
Vegan-Friendly
Over The Moo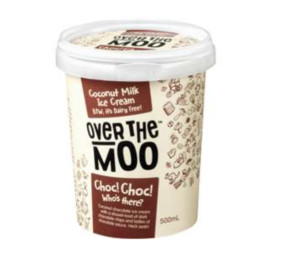 Calories per serve
163 kcal
Over the Moo is 100% dairy-free ice cream, and it's vegan-friendly and gluten-free. Basically, it's the ideal ice-cream for those with intolerances. It's available at Woolworths, IGA and independent grocers.
Cheapest
Tilly's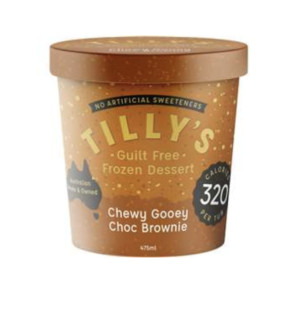 Calories per serve
80 kcal
Australian made and owned, Tilly's is new to the ice cream market and exclusive to Woolworths. Similar to other brands, Tilly's markets itself around having 300 calories per tub, although this depends on the flavour you go with. Tilly's also says its ice cream contains no artificial sweeteners.
Yoghurt-Based
YoPro
Calories per serve
106 kcal
Yo Pro is more commonly known for its high-protein yoghurts but it also has high-protein ice-cream sticks. They say their products have no added nasties like sugar or artificial ingredients.
Most-Like Ice-Cream
Halo Top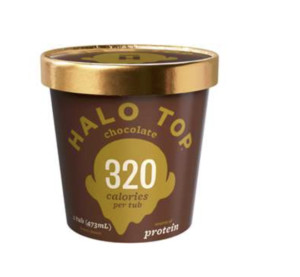 Calories per serve
80 kcal
Available at most major supermarkets, Halo Top markets itself as having around 300 calories per tub. It offers heaps of flavours, with Birthday Cake certainly being an Aussie favourite. Halo Top also offers a dairy-free range, with certain flavours additionally gluten free.
Calories Compared to Regular Ice-Cream
When you consider the calories in low-cal ice-cream compared to regular ice-cream, at first glance they seem on par. For example, Aussie favourite Bulla Choc Chip ice-cream has 108 calories per serve, with just 11.8 grams of carbohydrates. It's pretty similar to the low calorie ice-creams. However, you need to be careful and consider the serving size. Bulla's Choc Chip ice-cream serving size is 47g, whereas most of the low-cal options are anywhere from 60g to 85g. For example, Halo Top's Chocolate ice-cream's serving size is 85g with 100 calories per serve and 18g of sugar. That means in reality, regular ice-cream can have around double the calories of low-cal ice-cream. But at the end of the day, regular ice-cream isn't too bad compared to low-cal options (as long as you mind your servings and you read the ingredients list).
Fan Favourites
According to the sub-reddit r/1200 Australia (which is a low-calorie living sub-reddit), the fan faves when it comes to low-cal ice-cream is Tilly's, Halo Top, YoPro and FroPro. I personally enjoy Denada the best as I think it tastes the most like ice-cream, followed by Halo Top.
For the Gluten Free and Vegans
Most of the above ice-creams have gluten-free and vegan versions, you just need to be mindful and read the ingredients. Over the Moo is probably the best option for vegans as all of their products are dairy and egg free, with most being gluten-free as well. 
The Final Word
At the end of the day, if you're going to sit down a pint of ice cream it's probably better to pick the low-cal and high protein variety than regular ice cream ( as long as you're not concerned about the artificial sugars). However, ice-cream is a dessert. It's a treat. In any case, it shouldn't be consumed on the reg but rather in moderation. No amount of "healthy" branding can make low-cal and high protein ice-cream better for you than home-made banana ice-cream, for example, or a piece of fruit, you know? Basically, everything in moderation and go forth and enjoy!