Editors note: MNK Foods have ceased trading. Find more providers like MNK Food in Melbourne here.
MNK Foods Contest Prep Pack
As an avid gym goer, I thought I would look into the MNK contest prep pack to see how it could be used for someone preparing to compete in bodybuilding.
Most of the meals are high protein, low carbohydrate and low fat meals, with the exception of the salmon meals. So during the middle of a contest prep this could be a really good option for those of you who struggle with pushing through the middle part of your prep to ensure that you get exactly what you need on a day to day basis. Towards the end of prep, when you may need more carbs or you are testing out different macros for contest day loading, this would not be ideal, as there aren't many options you can add in.
There aren't any breakfast style meals included and most meals range from between 450-600c totals. So all you need to do is workout how many meals you would need in order to meet your daily targets and maybe even add in a snack or two along the way.
Website
The MNK website is quite easy to use to browse through the various packages and then order whatever you might like from their menu. Whilst there is no customisation to their packages, you can order some additional sides to go with your meals if you would like.
The issue that makes it hard to use the site for someone that needs exact macro breakdowns, someone who would buy the contest prep pack, is that the nutritional information is not easy to browse. The page for the package does not contain any nutrition information and there are not specific pages for each meal on the site. You have the go to a nutritional facts page and scroll through their entire menu to find the meals in your package. This proved problematic for myself as some of the meals from the contest prep pack were missing from the page at my time of ordering. I sent through a form on their contact us page and no one got back to me for over two weeks, after sending them a message on Facebook I received a quick reply. Unfortunately the menu had changed by then and they no longer had the exact macros for the meals I had ordered. I was advised that the macros had not changed much from the alternate menu, mainly changes in seasonal vegetables, and so I could just use similar meals to track my macros. This whole process left a bitter taste in my mouth, seeing that it was a contest prep pack that I ordered and tracking macros for that is very important, however it's not a huge deal for the average purchaser, so I can see how something small like this gets overlooked.
Delivery
The 12 meals came in a cardboard box as you can see below. There was no ice packs or anything to help keep the food refrigerated, which is quite an issue considering that all the meals were fresh and not frozen, which could cause issues for the longevity of the food. It's not a problem if you have the ability to refrigerate your food at work (my delivery address), however it could cause many users some issues with availability to receive the food.
The other issue I had when ordering the food was that there was a delivery charge added onto the bill, which I assumed would allow me to get home/work delivery. In fact they are charging a delivery fee to get the package to a depot, the nearest one to me being over 30km away, so this was not an option. This meant that I had to pay an additional delivery fee that brought the cost of delivery up to $16. The issue was brought to me with a polite phone call, however it took a few days and added what I thought to be an odd charge, considering that the only way you can receive the food is delivery. All up the food took 12 days from order to delivery, which really isn't that long, however there needs to be more explicit instructions on the website to take you through the whole process.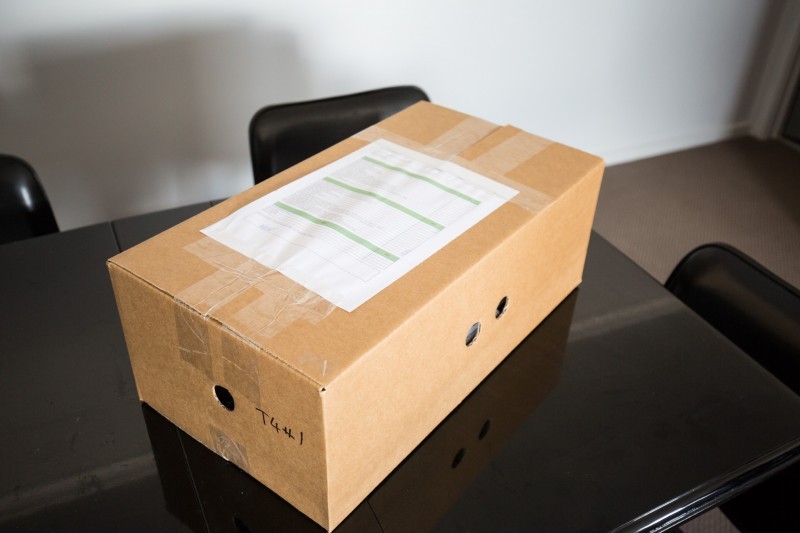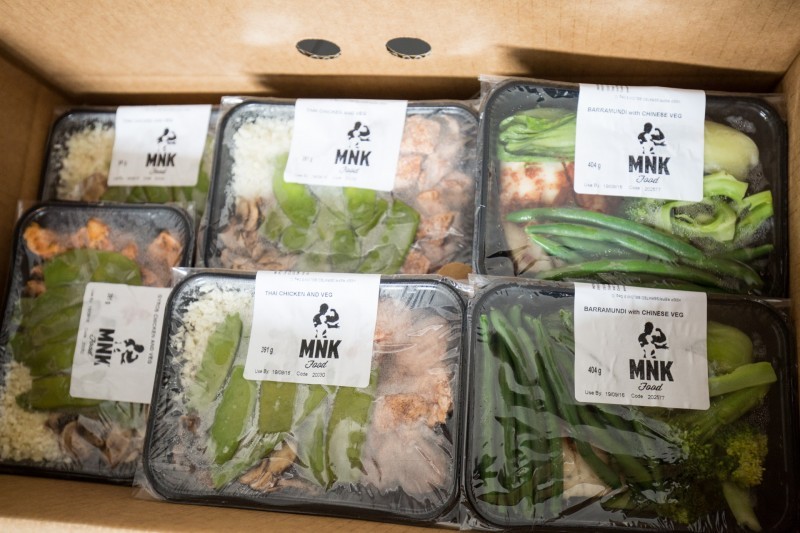 Overall Price: $160
Price Per Meal: $13.33
Overall I give MNK a 6/10
Good food quantity and the meat was nice, but issues with the website and ordering process and the vegetables in each meal brought their overall quality down.
Chinese Plum Steak with Vegetables x2
This was a really nice meal.
The Plum sauce on the steak was a good choice of seasoning, it spiced up the cut of meat and also gave the vegetables some flavour as well. The Vegetables were fresh when I first had this meal so they were nice and crunchy.
The only complaint, and I'll this just once as it applies to all the meals, was that their was no seasoning for the vegetables. Basically in all meals, vegetables were just washed and placed in the pack. Given this was a contest prep pack, I understand why there wasn't any sauce or the like for the vegetables, but just some thought would have been nice.
Overall:  9/10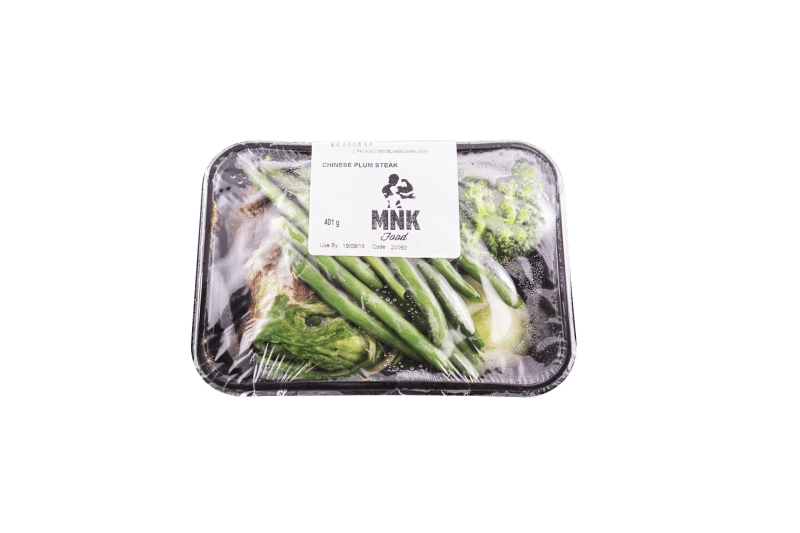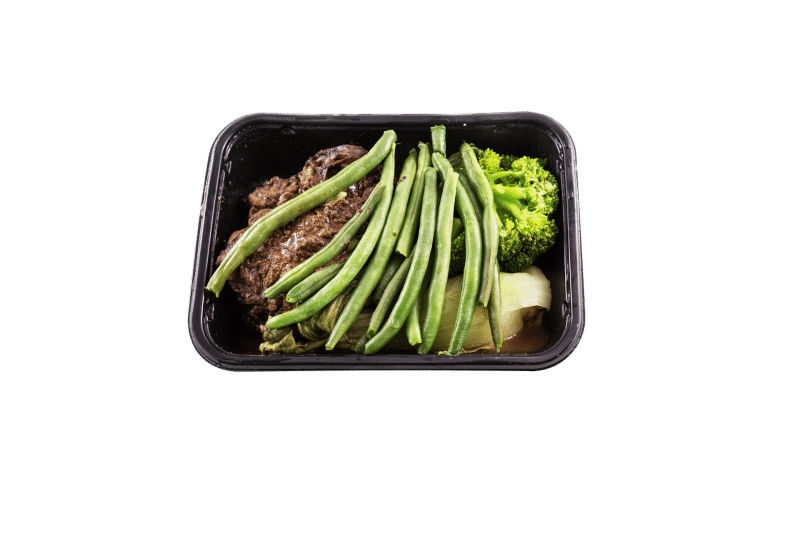 Nutrition Information
Servings per package:   1
Serving size:   400g
Average Quantity per Serving
Average Quantity per 100g
Energy
1940kJ (463 Cal)
484kJ (116 Cal)
Protein
61.8g
15.5g
Fat, Total
18.9g
4.7g
– Saturated
7.6g
1.9g
Carbohydrate
10.2g
2.5g
– Sugars
4.7g
1.2g
Sodium
506mg
126mg
Provided by the MNK website
Salmon and Chinese Vegetables x2
Really nice size piece of salmon in this meal. It was juicy and being a fresh meal really helped with giving me a full flavoured meal for the low calories involved.
The broccoli in this meal tasted very odd to me, quite bitter and I ended up throwing that part of the meal out.
Overall: 7/10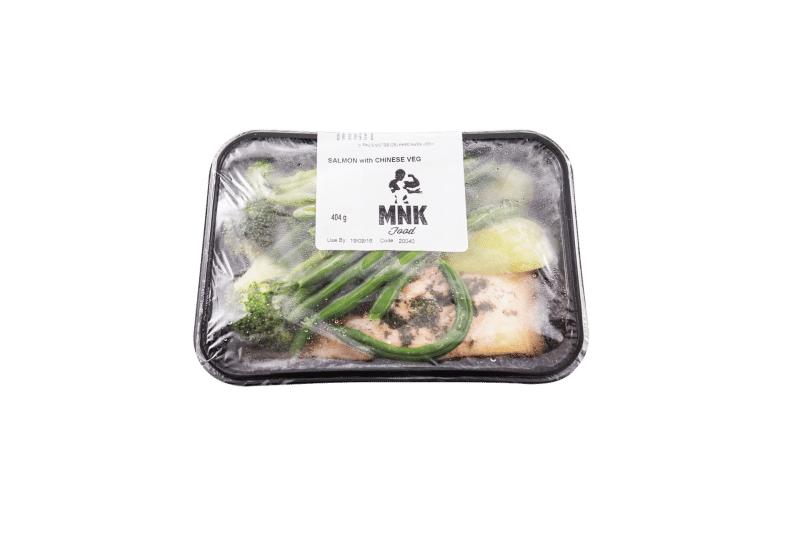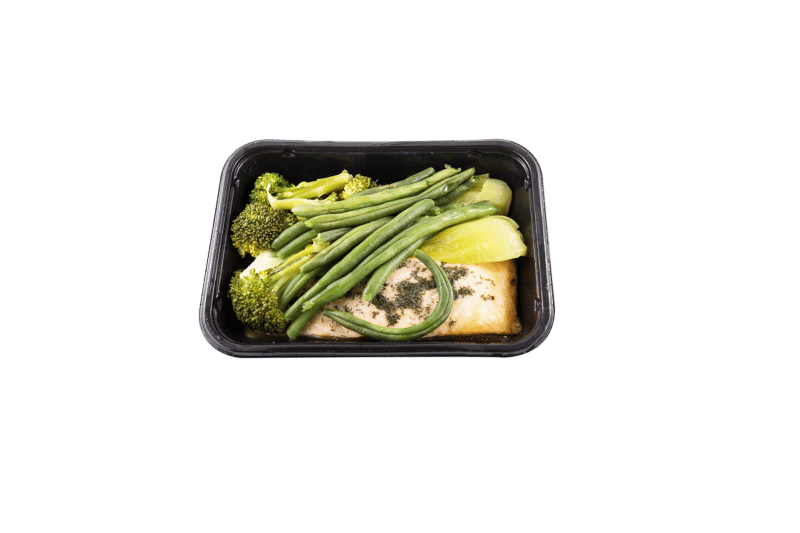 NUTRITION INFORMATION
Servings per package:   1
Serving size:   404g
Average Quantity per Serving
Average Quantity per 100g
Energy
1970kJ (470 Cal)
487kJ (116 Cal)
Protein
44.1g
10.9g
Fat, Total
27.6g
6.9g
– Saturated
7.1g
1.8g
Carbohydrate
10.1g
2.5g
– Sugars
4.8g
1.2g
Sodium
430mg
107mg
Lime Pepper Salmon with Veg (closest meal from the MNK website)
Gyros Chicken and Vegetables x3
The flavouring of the chicken for this meal was good, but with the breast being a dry meat to reheat, I would have liked a little more.
The grated cauliflower was a big miss here. When combined with the mushrooms, there was a fair bit of water in the base of the dish and it reheated to a very mushy consistency. Not something I would like to eat again.
MNK adds a used by date to all of their food, which is important as its all delivered fresh. Unfortunately I ate one instance of this and the following two dishes that were 2 days within the used by date, where the vegetables had become inedible. I'm not marking them down particularly for this, maybe it was my fridge or maybe something else that caused this, but it did make some of the meals quite unsatisfactory.
Overall 6/10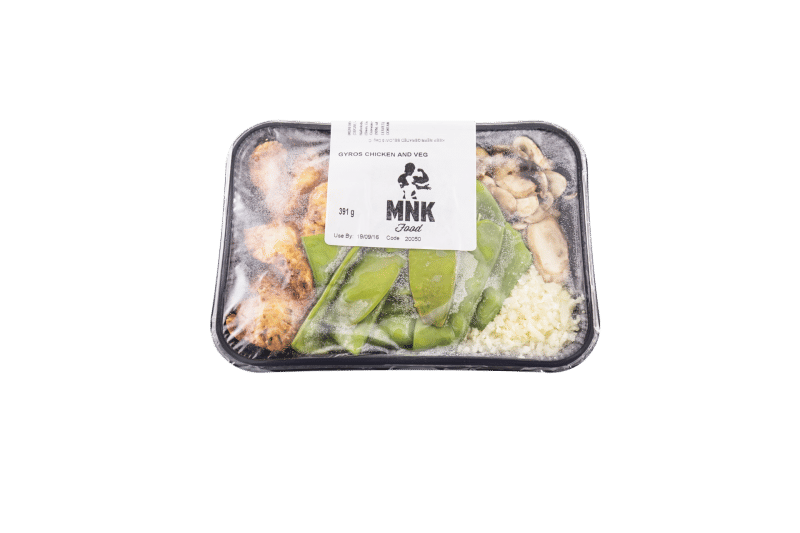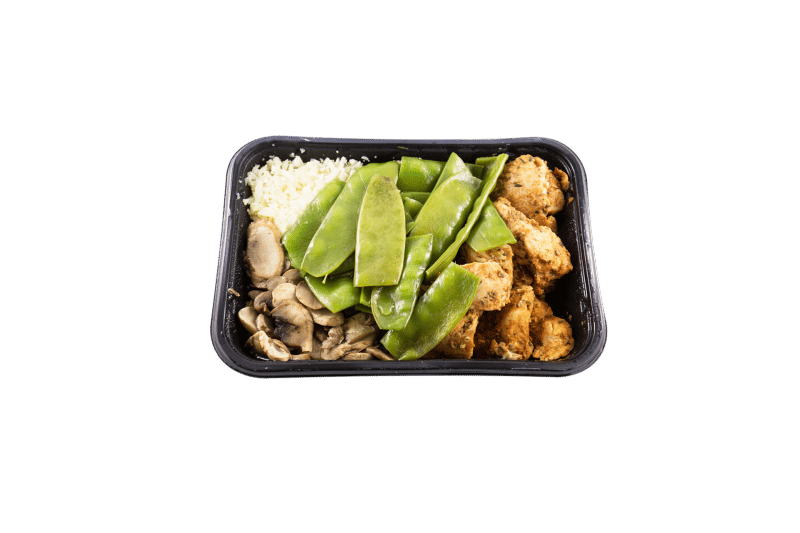 NUTRITION INFORMATION
Servings per package:   1
Serving size:   401g
Average Quantity per Serving
Average Quantity per 100g
Energy
1190kJ (284 Cal)
296kJ (71 Cal)
Protein
50.4g
12.6g
Fat, Total
4.1g
1.0g
– Saturated
1.0g
0.3g
Carbohydrate
10.4g
2.6g
– Sugars
4.8g
1.2g
Sodium
224mg
56mg
Peri Peri Chicken with Veg (Closest meal from the MNK website)
Thai Chicken and Vegetables x3
This meal was a bit of a miss all round. The chicken flavouring wasn't good and as I have already described there was all kinds of problems with the vegetables that were in here. Not something I would like to eat again.
Overall: 5/10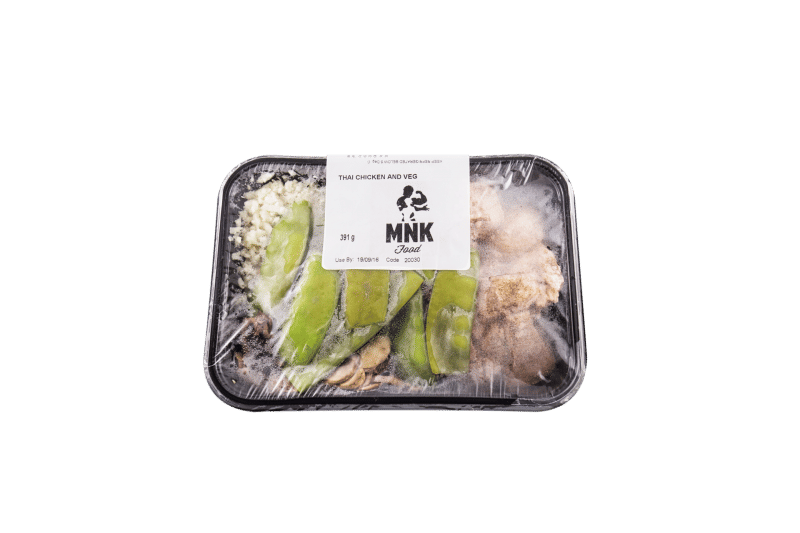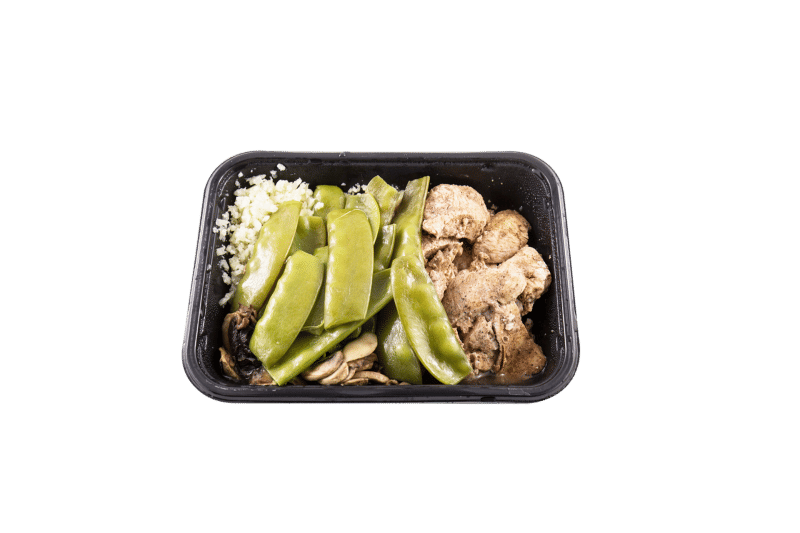 Nutrition Information
Servings per package:   1
Serving size:   402g
Average Quantity per Serving
Average Quantity per 100g
Energy
1200kJ (287 Cal)
299kJ (72 Cal)
Protein
49.1g
12.2g
Fat, Total
4.9g
1.2g
– Saturated
1.8g
0.4g
Carbohydrate
13.3g
3.3g
– Sugars
6.5g
1.6g
Sodium
548mg
136mg
Tandoori Chicken with Veg (Closest meal from the MNK website)
Barramundi and Chinese Vegetables x2
Big fillet of Barramundi in this one, with a really good texture to the fish. Could have done with some more seasoning on the fish, but if you like the flavour of the fish itself, then this was a good dish.
Overall: 8/10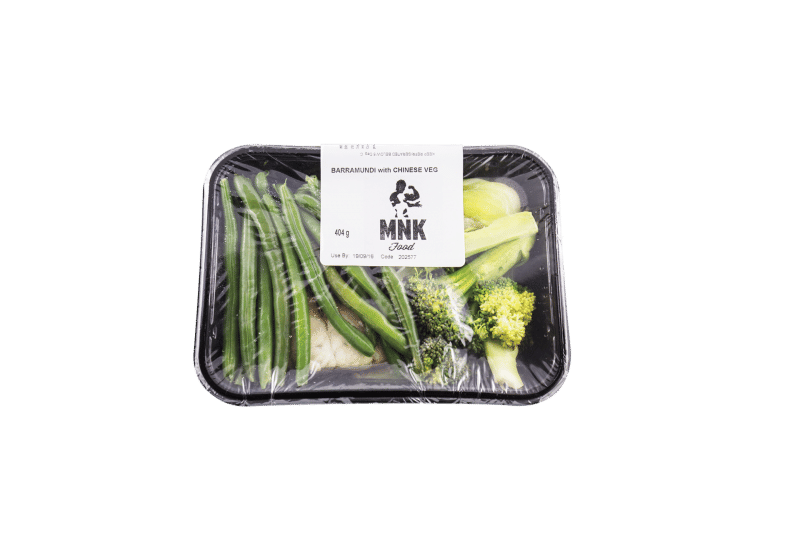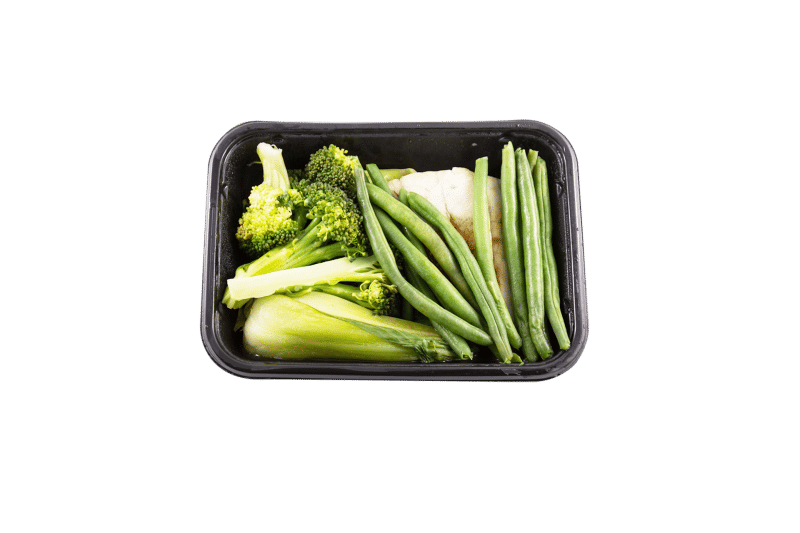 NUTRITION INFORMATION
Servings per package:   1
Serving size:   404g
Average Quantity per Serving
Average Quantity per 100g
Energy
1020kJ (244 Cal)
254kJ (61 Cal)
Protein
42.6g
10.6g
Fat, Total
4.7g
1.2g
– Saturated
1.9g
0.5g
Carbohydrate
11.1g
2.8g
– Sugars
6.0g
1.5g
Sodium
164mg
41mg
Lemon, Chilli, Garlic Barramundi with Veg (Closest meal from the MNK website)