Why Every Home Needs a Dutch Oven (And 10 Easy Meals You Can Make)
in partnership with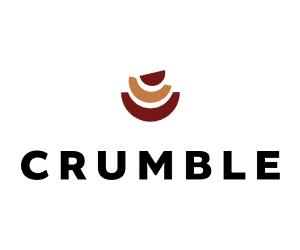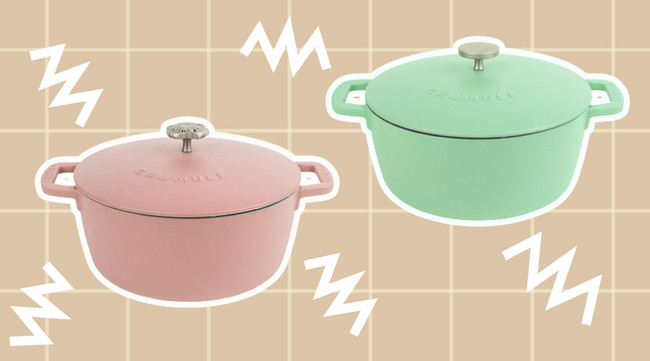 As an amateur home cook, if there was one kitchen utensil I couldn't live without, it'd have to be my Crumble Dutch Oven.
Gone are the days where I'd be so uninspired and so time-poor to make an actual dinner (I was regularly shamed in my sharehouse for always resorting to smoothies) – these days I feel like a pro-cook in my own home because of the amazing dishes I can make in my dutch oven.
The best part? They're easy and no fuss. Just the way I like it. Cooking with several pots and pans and having to wash those after I've finished my meal is the very opposite of a good time in my books.
So when I purchased my first dutch oven, I was hooked from the start.
With so many colourful ovens to choose from on the market, I love how it looks in my kitchen, I love how easy it is to cook with and I love how versatile it is.
If you enjoy cooking but don't like the mess and want a product that'll go the distance (my mum's Dutch oven has lasted her 30+ years), then this is the product for you.
Roast, fry, boil… you name it, you can do it with a Dutch oven.
To get you inspired and itching to get your hands on your own Dutch oven, I've put together 10 easy meals you can make, all with this humble piece of kitchen cookware.
10 Easy Dutch Oven Recipes
1.Beef Stew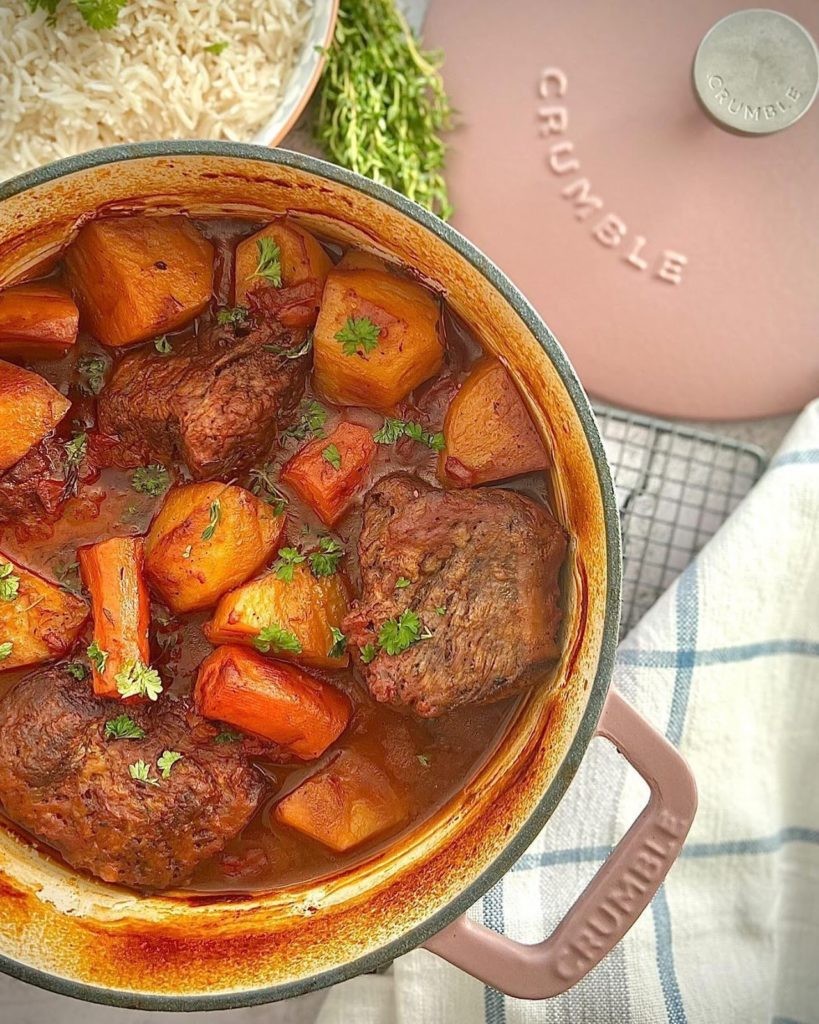 Beef stew is a classic Dutch oven recipe, and for good reason. There's nothing better than coming home to a simmering pot of beef stew on a cold winter's day. Beef, potatoes, carrots… all the really, really good stuff.
Ingredients
2 tablespoons olive oil
1kg boneless chuck roast, trimmed and cut into 1 1/2-inch pieces
1 teaspoon black pepper
1 1/2 teaspoons kosher salt, divided
226g mushrooms, quartered
1 red onion sliced
3 medium carrots, cut diagonally
6 garlic cloves, smashed
1 cup dry red wine
2 tablespoons all-purpose flour
2 1/2 cups beef stock, divided
1 bundle thyme sprigs and flat-leaf parsley sprigs
2 bay leaves
340g baby gold potatoes (cut any larger potatoes in half
2 tablespoons whole-grain mustard
1 tablespoon red wine vinegar
2 tablespoons thinly sliced fresh chives
2. Malaysian Chicken Curry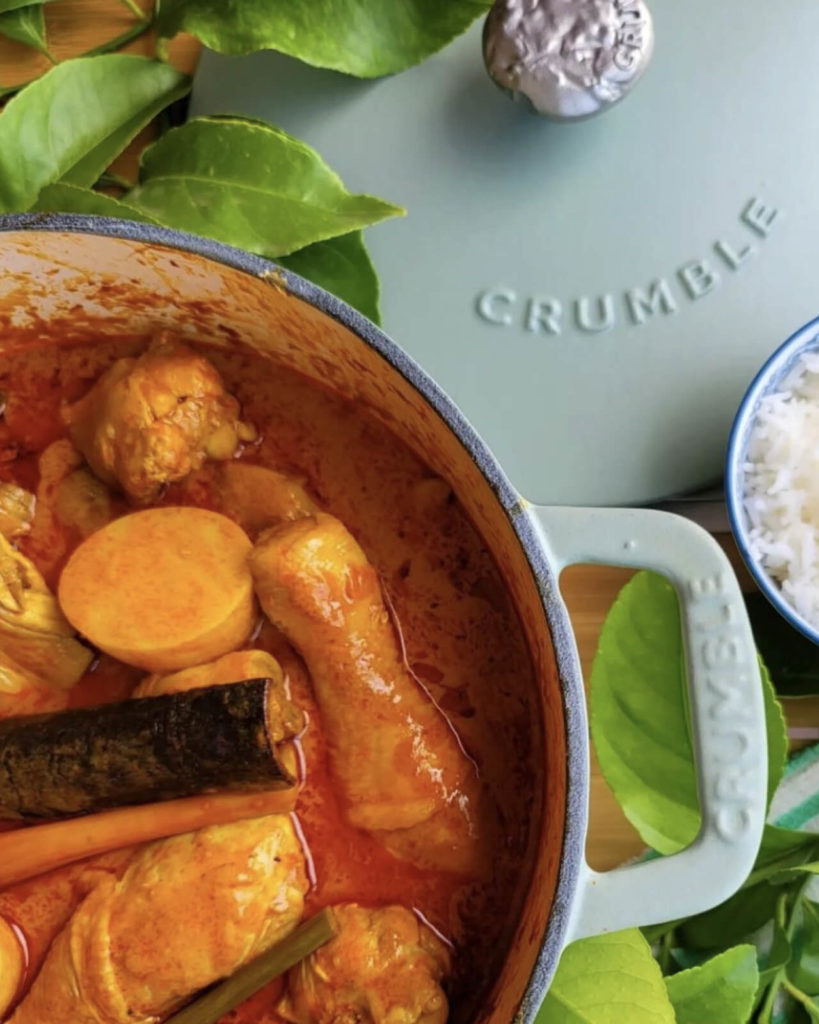 From chunky beef rendangs to ayam masak lemak (fat cooked chicken), fish curries and more, there's nothing quite like a Malaysian curry. And this gorgeous chicken curry is no different. Aromatic, flavoursome and all cooked in one pot – but this on your list of must-trys!
Ingredients
6 shallots
8 garlic cloves
1 stalk lemongrass
1 (2-inch) piece ginger
5 dried red chiles
2 Thai red chiles, for extra spice (optional)
5 tablespoons oil
5 tablespoons Malaysian curry powder
1/2 teaspoon chile powder, plus more to taste
1 teaspoon kosher salt
1 cinnamon stick
2 star anise
10 to 15 curry leaves
1kg bone-in chicken thighs and drumsticks
4 cups water, or enough to cover chicken
3 medium potatoes, peeled and quartered
1 1/2 cups coconut milk
3. Brown Rice Salad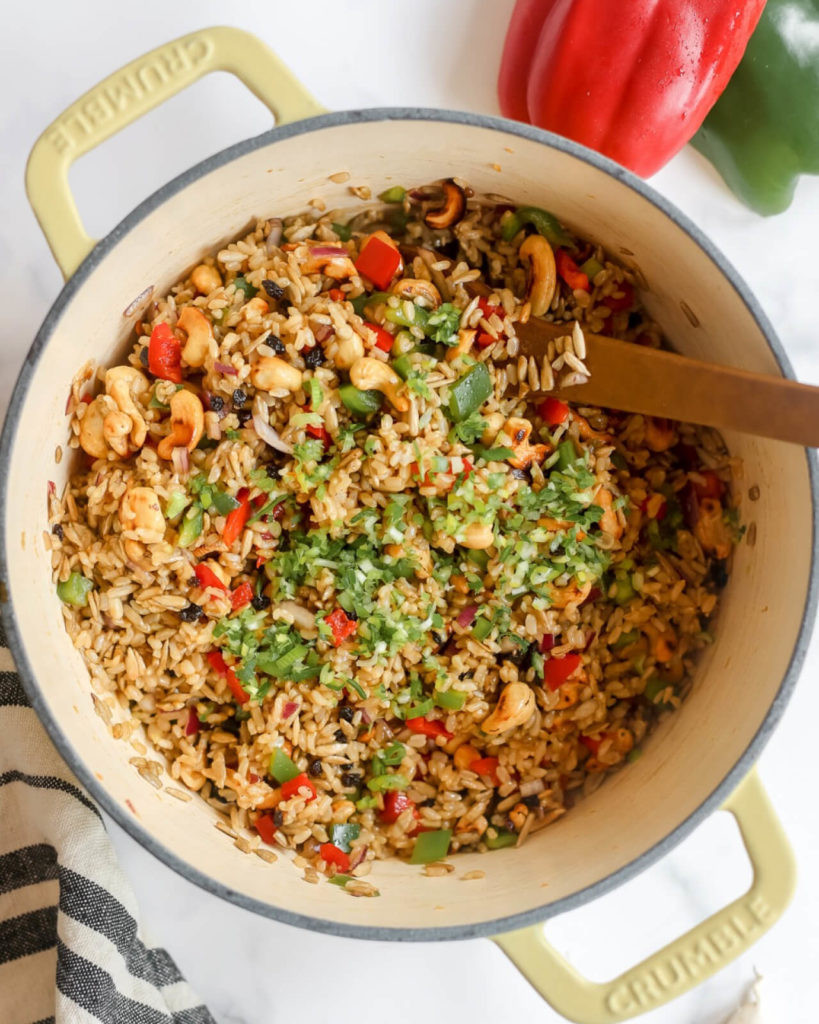 When I used to think of Dutch oven classic meals, I'd always think of hearty meat-based dishes. But this brown rice salad is a) vegan and b) a salad! See, you really can make anything in a Dutch oven.
Ingredients
3 cups cooked brown rice (1 ¼ dry)
3-4 tbsp currants
½ red onion or 4-5 stalks spring onion, finely diced
½ red capsicum (bell pepper), diced
½ green capsicum (bell pepper), diced
200g sunflower seeds, toasted
200g raw cashews, toasted
4 tbsp sunflower oil
2-3 cloves garlic, minced
1 tbsp chopped parsley
6 tbsp soy sauce
Steps
Combine all salad ingredients except cashews and sunflower seeds.
Combine all dressing ingredients in a jar and shake.
Keep the nuts and dressing separate until ready to serve, otherwise the salad will go soggy.
When ready to serve, add the nuts, dressing and mix to combine.
4. Summer Pasta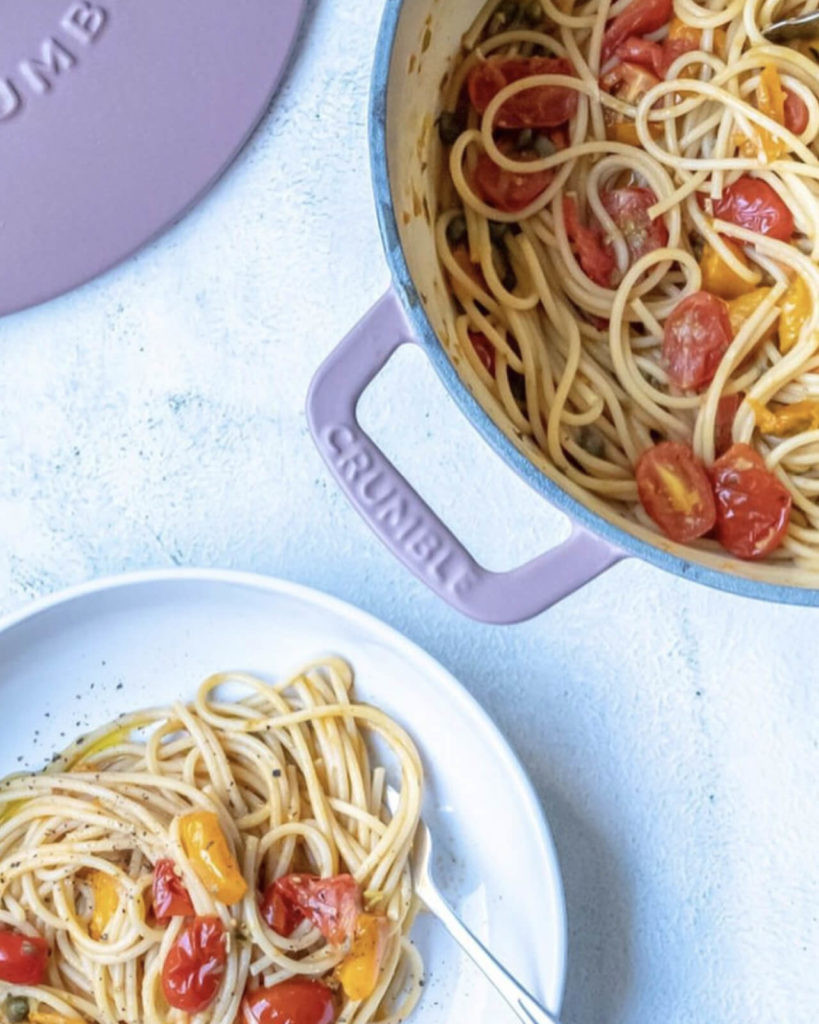 How fresh and tasty does a summer pasta sound? Spaghetti, onion, cherry tomatoes… it doesn't get much simpler or delicious than that. And you can cook it all in one pot!? What! Go on, give it a go (and hey, it doesn't even need to be eaten in summer!)
Ingredients
150g bigoli, or spaghetti
1 spring onion, finely sliced
400 gr heirloom cherry tomatoes, cut in half
3 tsp baby capers
Zest of half lemon
Dried oregano
Extra-Virgin olive oil
Salt
Black Pepper
Steps
In your Dutch Oven, over medium heat, add a good glug of olive oil, onion and cook until golden.
Add the capers (if they are large capers, roughly chop them) and let them fry off until fragrant.
Add the tomatoes and cook them for 5/6 minutes or until they just start to soften.
Meanwhile, bring a large pot of salted water to the boil, pour the bigoli in and cook it till al dente as per packet instructions.
As the pasta is cooking, add 1 ladle of pasta water to the sauce, followed by the oregano, and let simmer away. Check for seasoning.
When the pasta is ready, drain it, and add it to the sauce.
Add the lemon zest and toss it well until the pasta is nicely coated.
Top the pasta with a good crack of black pepper and a final drizzle of good quality olive oil.
5. Easy Vegetable Soup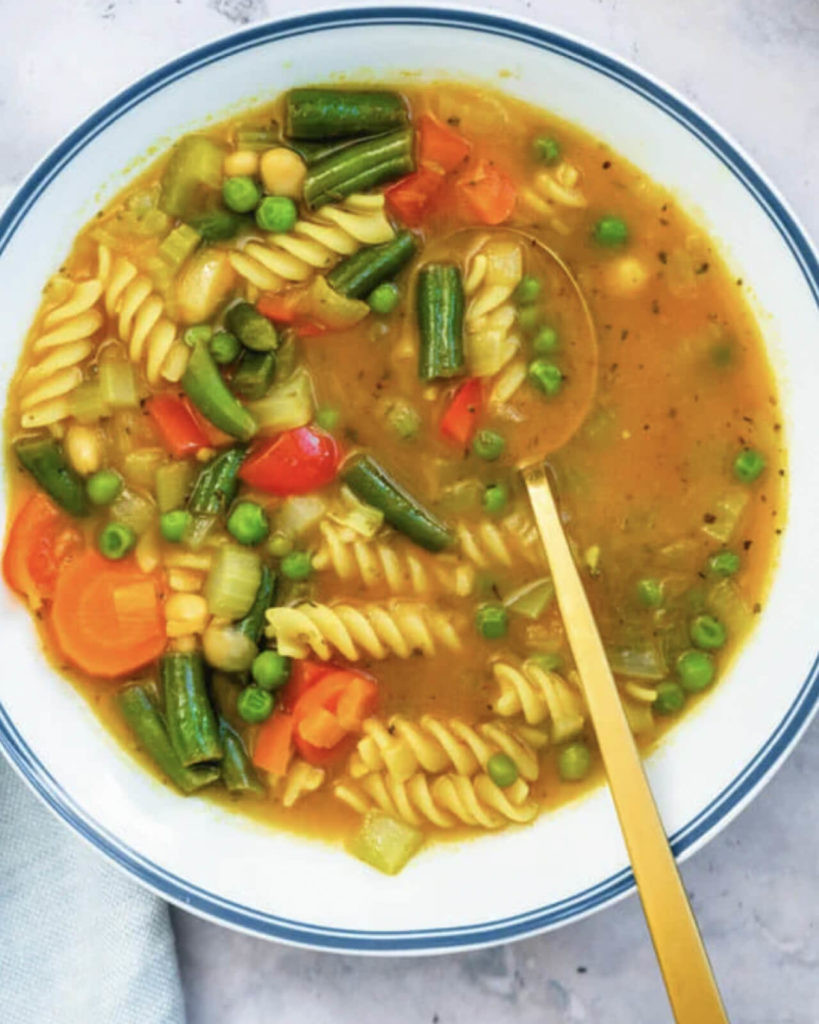 Nothing says a simple, comforting meal like vegetable soup. Even better when it can all be made in one pretty Dutch oven! This recipe is filled with plenty of veggies and spiral pasta, swimming in a yellow turmeric broth.
Ingredients
1 medium yellow onion
1 red bell pepper
2 celery ribs
3 medium carrots
3 garlic cloves
¼ cup olive oil
1 tablespoon garlic powder
2 teaspoons dried basil
1 teaspoon each dried oregano and dried thyme
½ teaspoon ground turmeric
8 cups vegetable broth
1 1/2 to 2 teaspoons kosher salt, to taste
Fresh ground black pepper
1 ½ cups frozen green beans
400g can white beans (cannellini) drained and rinsed
1 ½ cups frozen peas
2 cups dry pasta spirals
Steps
Dice the onion. Dice the bell pepper. Thinly slice the celery. Peel and thinly slice the carrot into rounds. Mince the garlic.
In a Dutch oven or large pot, heat the olive oil over medium heat. Add the onion, bell pepper, celery, carrots, and garlic, and sauté for 5 to 7 minutes until the onion is translucent.
Add the garlic powder, dried basil, oregano, thyme, and turmeric and stir. Continue cooking for about 1 minute.
Add the vegetable broth, 1 ½ teaspoons kosher salt, frozen green beans, drained and rinsed white beans, and fresh ground pepper. Bring a simmer.
Add the frozen peas and pasta and continue simmering until the pasta is cooked, about 10 minutes. Remove from the heat and allow to cool for several minutes. Taste and add the additional salt as necessary.
6. Red Lentil Soup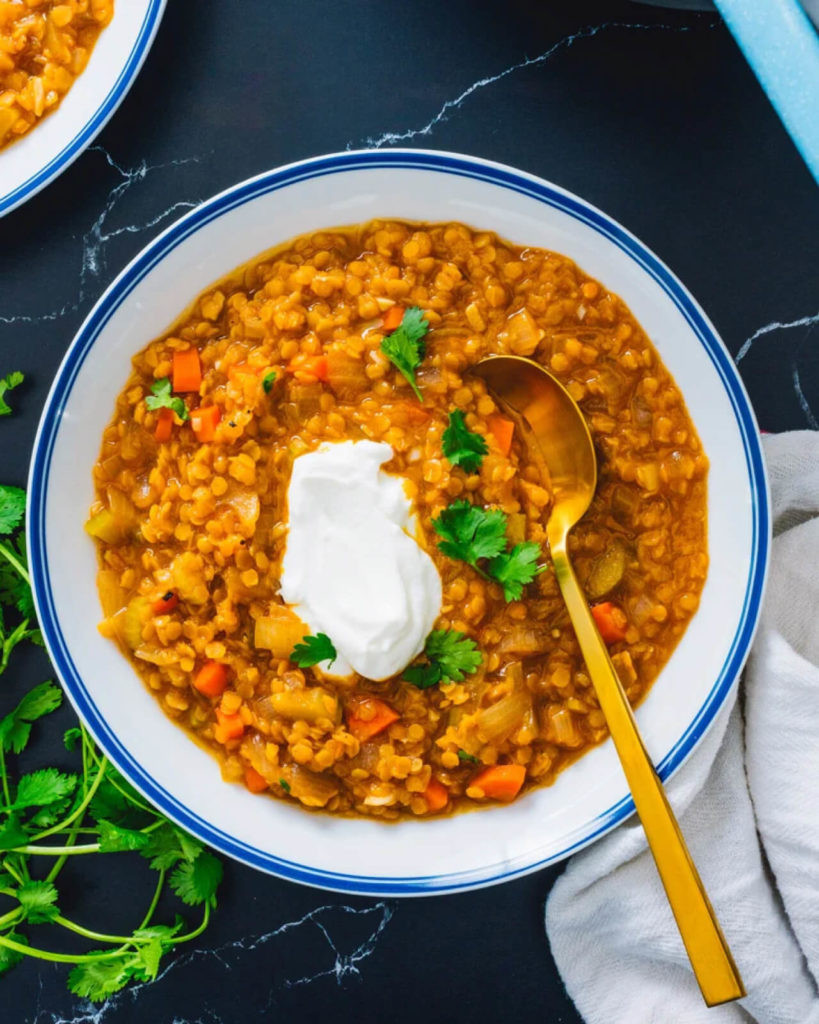 Another delicious soup and great option for vegans and vegetarians is this simple red lentil soup. Bursting with flavour, this recipe is the very definition of hearty, cosy and aromatic.
Ingredients
Vegetables: carrots, onion, celery garlic
Olive oil
Vegetable broth
Water
Split red lentils
Smoked paprika
Lemon zest
Salt and pepper
Steps
Peel the carrots. Finely dice the carrot, onion, and celery. Mince the garlic.
In a large pot or Dutch oven, heat the olive oil over medium heat. Add the onion, carrots and celery, and sauté until the carrots are tender, about 5 to 7 minutes.
Stir in the garlic and sauté for 1 minute. Add the broth, water, red lentils, smoked paprika, lemon zest, kosher salt and fresh ground pepper.
Bring to a low simmer, then cover halfway and gently simmer until the lentils are just soft but before they start to break apart, about 7 to 10 minutes. Watch closely and taste to assess doneness. The finished soup should be brothy with the lentils just soft; cooking past this point yields a very thick stew which is just as delicious but less soup-like. (If you'd like, you can add handfuls of greens in the last few minutes, like chopped spinach or kale).
Taste and add additional salt to taste, and a few grinds black pepper. Leftovers can become very thick, so you can add a little water or broth when reheating.
7. Dutch Oven Pizza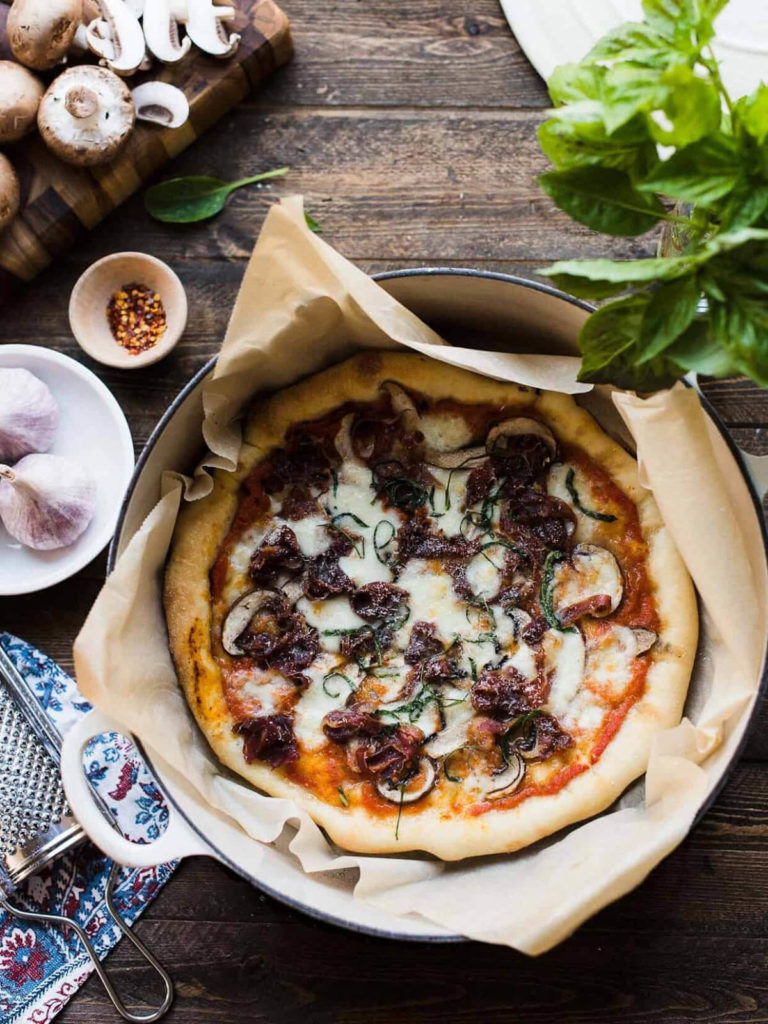 Pizza… in a Dutch oven? Who would have thought to try it? Certainly not me, but once I did, boy did I never look back. You can use a Dutch Oven to make perfect pizza baked in the oven—or even to make campfire pizza! That's the other awesome thing about a Dutch oven… all you need is the pot and some heat and you can cook yourself a meal!
Ingredients
For the Pizza Sauce:
1 x 15- oz canned tomatoes
2 cloves garlic finely grated
1 teaspoon kosher salt
2 teaspoons olive oil
Pinch of granulated sugar
Freshly ground black pepper
Toppings:
8-10 oz whole mozzarella sliced in 1/2-inch cubes
Your favourite toppings we love mushrooms, olives, and prosciutto
Fresh basil chopped
Freshly grated parmesan cheese
Steps
Preheat the oven to 230°C with a Dutch oven on the lowest part of the oven. No lid required.
Lightly brush pizza base (homemade or store bought) with olive oil, then spread a third of the sauce in a thin layer. Top with your preferred toppings and cheese, then grate parmesan cheese on top.
Carefully guide the pizza into the Dutch oven by using the parchment paper as a sling and sliding it off the board into the pot. If you find that the edges aren't laying flat, you can use a wooden spoon to coax it in.
Bake for 12-15 minutes, until the crust is golden and crispy, and the cheese is melted.
Remove Dutch oven from the oven and use the parchment paper to lift the pizza out and onto a cutting board.
8. Whole Roast Chicken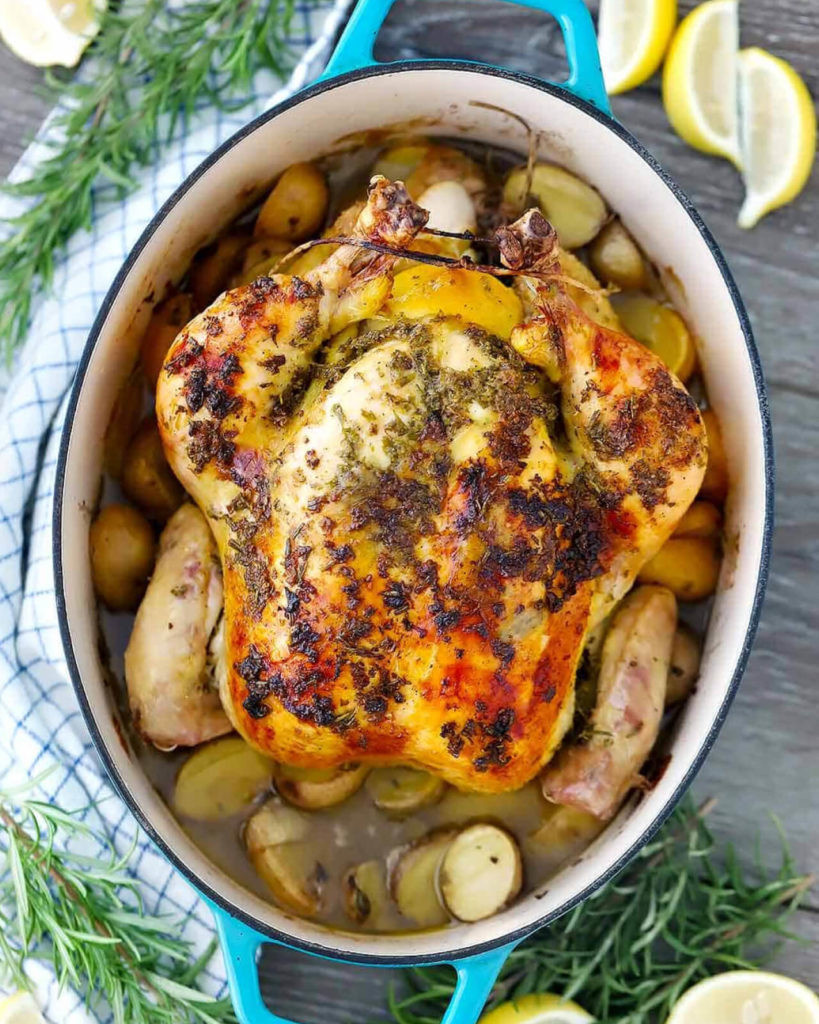 Want an easy way to cook a whole roast chicken? Look no further than chicken in a Dutch Oven. This recipe will cook your chicken to perfection with lemon, garlic and rosemary butter flavours bursting with every bite. Add some delicious potatoes and you've got yourself a one-pot wonder.
Ingredients
1 whole chicken
2 lemons
5 cloves garlic 3 minced, 2 cut in half
4 sprigs fresh rosemary 3 finely chopped, 1 left whole
2 large onions halved and thickly sliced, end scraps reserved
4 tablespoons butter (1/2 stick)
kosher salt see notes
black pepper see notes
600g potatoes cut into 1″ pieces
9. Beef Chilli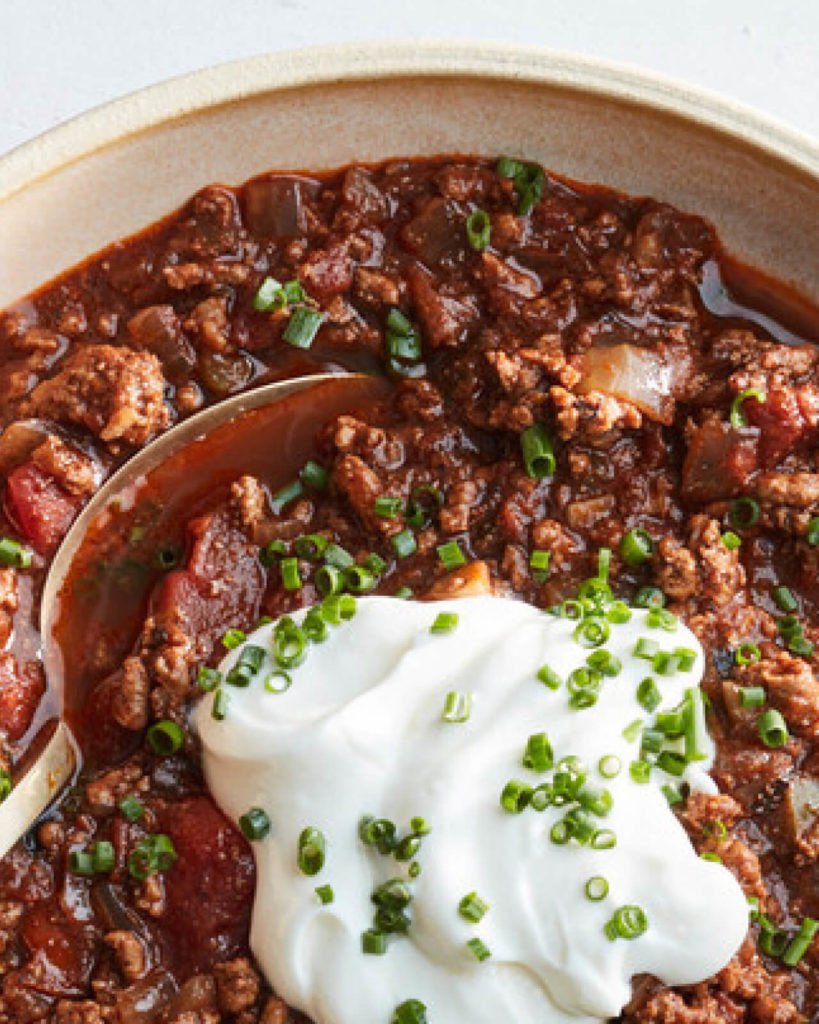 If ever I'm cooking with beef, I'll always resort to my Dutch oven. I don't know how but it just makes the beef turn out perfectly each time! This recipe has no beans, just good hearty beef with a spicy chilli base. this hearty ground beef-based chilli! Add some fire-roasted tomatoes, chilli powder, and cocoa and you've got yourself a delicious Dutch oven meal.
Ingredients
1kg ground beef
2 medium yellow onions
3 cloves garlic, finely chopped
1 jalapeno
Kosher salt and freshly ground pepper
2 tablespoons chilli powder
2 tablespoons Dutch-process cocoa powder
2 tablespoons tomato paste
1 can fire-roasted diced tomatoes
2 cups low-sodium chicken broth
Sour cream and finely sliced chives
Steps
Place Dutch oven over medium-high heat. Add beef and cook, breaking up with the back of a spoon, until cooked through, about 6 minutes. Using a slotted spoon, transfer beef to paper towels to drain. Discard all but 1 tablespoon fat from the pan.
Return pot to medium-high heat. Add onions, garlic, jalapeno, 1 1/2 teaspoons salt, and 1/2 teaspoon pepper; cook until onions soften, about 6 minutes. Add chilli powder, cocoa, and tomato paste; cook until fragrant, about 2 minutes more.
Add tomatoes, broth, and cooked beef. Bring to a boil, then reduce heat to medium-low and simmer, partially covered, until thickened slightly, 25 to 30 minutes. Season with salt and pepper; serve with sour cream and chives.
10. Coconut Fish curry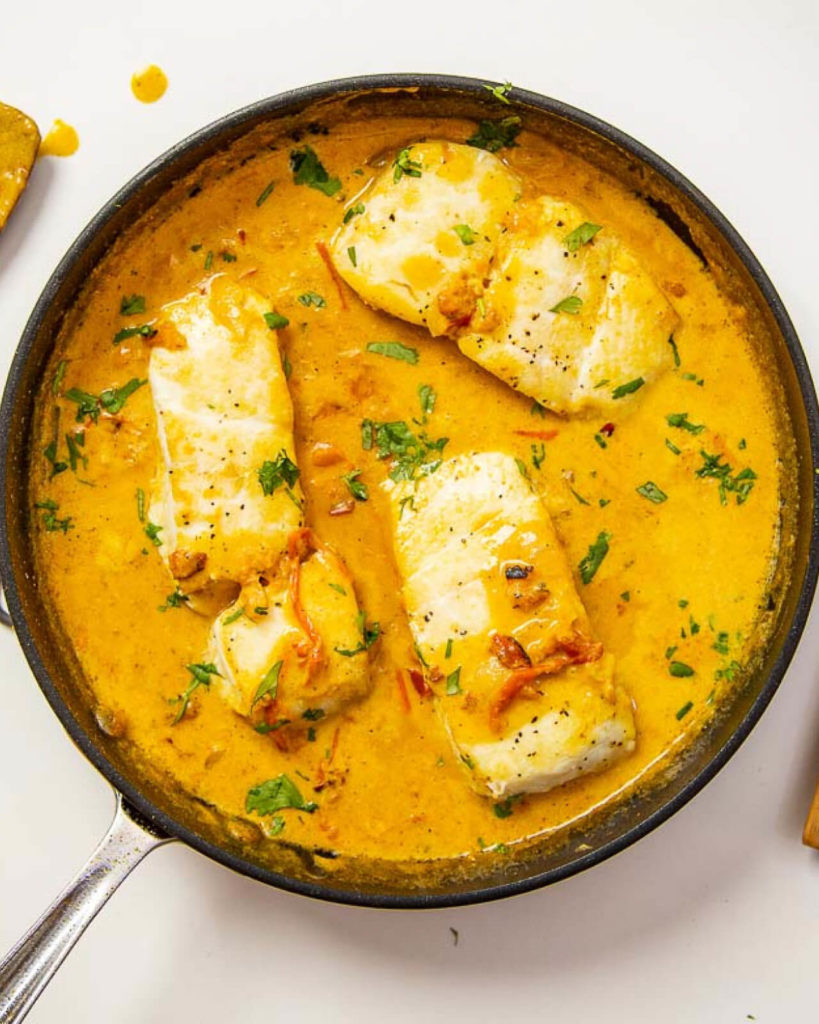 And finally, we come to a delicious coconut fish curry – perfect for our pescetarian friends and for those who want a lighter, summary dish.
Ingredients
1 tablespoon vegetable oil
1 large onion, chopped
3 garlic cloves, minced
2 teaspoons curry powder
1⁄2 teaspoon salt
1⁄2 teaspoon pepper
1 (400 ml) can coconut milk
1 (400 ml) can chopped tomatoes
1⁄2 cup fish stock
10 whole allspice
1 kg firm white fish fillet, chopped into chunky pieces
1⁄2 lime juice
2 spring onions (green parts only)
Steps
In a Dutch oven, heat oil over medium heat, cook onion and garlic for 5 minutes or until soft.
Add curry powder, salt and pepper and stir for 1 minute.
Add coconut milk, tomatoes, stock and allspice, bring to boil.
Reduce heat and simmer for 20 minutes.
Add fish, cover and cook for 10 minutes or until fish flakes easily with a fork.
Discard the allspice, stir in lime juice and serve sprinkled with the spring onions.
Looking for Your New Best Kitchen Friend?
Crumble is the best Dutch oven on the market and it comes in so many gorgeous colours, and at a very reasonable price point (some Dutch ovens will cost you an arm and a leg and they are not worth it).
Crumble Dutch ovens are easy to use, easy to clean, and offer a 30 Day Risk Free Trial! Take your Crumble home with you for 30 Days and if it's not right for you, simply return it. Gotta love the faith they have in their product!
START YOUR COOKING JOURNEY
30 Day Home Trial + Spend AU$400+ get extra 10% OFF
SHOP ONLINE