HelloFresh Unveils Christmas Box with All You Need to Cook An Xmas Feast
in partnership with

Get into the Xmas Spirit with HelloFresh
ORDER NOW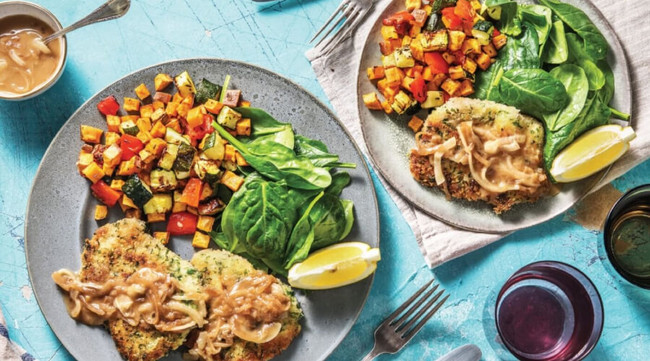 Christmas is just around the corner and you know what that means? 'Tis the season to be jolly and merry and eat a lot of food… and if you're anything like the MealPrep team, you probably have conflicting feelings about Christmas food.
Yes, you want to eat all the delicious Christmas goodies and enjoy the festivities without worrying about the calories or macros… and you can! One day of enjoying all the foods you wouldn't typically eat isn't going to hurt. However, there's also nothing wrong with wanting to keep to your good habits and enjoy a healthier Xmas feast with your friends and family.
Well, the folks over at HelloFresh are going to be your new best buds with their epic Christmas Box. Want healthy, delicious food that won't compromise your hard work and still allows you to enjoy yummy Christmas foods? Do you want to take the hassle out of creating a Christmas meal plan for everyone and just have it all done for you and all that's left to do is the fun part of cooking? 
Then the HelloFresh Christmas Box is for you. 
HelloFresh have put together a box filled with everything Aussies need to cook a delicious festive feast to share with family and friends. 
Not to mention it's available for EVERYONE – whether you're a current HelloFresh subscriber, an old customer or simply want to buy a one-off Chrissy Box. How good!
Your order for the Christmas Box will be delivered on Thursday 22nd Dec or Friday 23rd December, just in time to get your Christmas feast prep started.
To receive this exclusive Christmas Box,  all orders need to be made by 11:59PM AEDT 13th December (or while stocks last, you don't want to miss out!) 
And, at MealPrep we're going to sweeten the deal. We have a 20% discount just for you – consider it our Christmas gift to you and your loved ones. Click the ORDER NOW link and it'll take you straight to the discount. Ya welcome!
Get into the Xmas Spirit with HelloFresh
Order your HelloFresh Christmas Box Today!
ORDER NOW