Massage guns were designed to help with deep muscle pains, stress release and the relief of sore muscles and can result in a whole lot of great physical and emotional benefits including, decreased stress levels, better blood circulation pain & tension release and many more.
This being said, massage guns don't really come cheap and when they do, they aren't always of the highest of quality. So, when you are looking for the ideal massage gun to suit your needs, it pays to clarify what exactly you're looking for, to make sure you're getting the best bang for your buck.
Hypervolt GO
EkrinB37
Ekrin BANTAM
Sportneer Deep Tissue Percussion Massage Gun
RENPHO Massage Gun
Recoverfun Mini Massage Gun
Chuirr Massage Gun
For example, if you're a pro and you require it for work, you would need something reliable and with a long battery life, so it doesn't switch off while you're using it. If you're using it for travel, you'll want a massage gun that is compact and quiet, so not to disturb people when you're out in public.
Just some of the qualities you should look for in a decent massage gun include battery life, noise level, size and reliability. These qualities should help you to choose the ideal gun for your required purpose.
Listed below is 7 of the highest rated massage guns available to Australia, all under $300.
Best Expensive
Hypervolt GO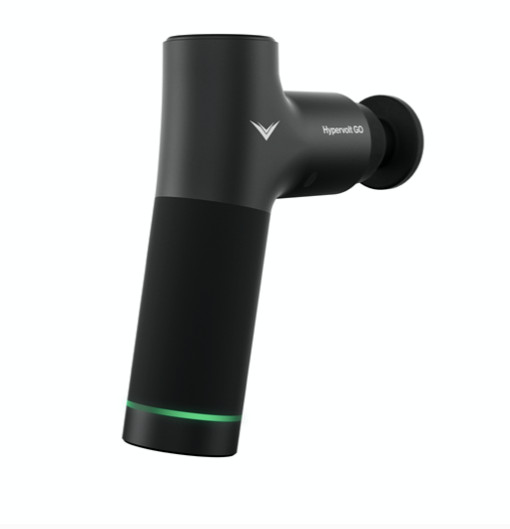 Speed
3x speeds - 3200 RPM
Attachments
2x massage heads
Pros & Cons
What's good?
Small and easy to grip for hard to reach places
TSA approved for travel
Lightweight
Stylish
Soft and easy to grip handle
What's not so good?
Short battery life
Only 2x attachments
Loud motor
No carry case
The Hypervolt GO was designed with high-quality and reliability in mind; weighing in at only 0.6kg, the Hypervolt GO is light-weight, small and easy to transport, so you can stay active and knot free from wherever you are.
Unfortunately though, the Hypervolt GO lacks a proper carry case which makes it a little difficult to travel with and puts it at risk of damage during transit. The gun also lacks subtly and operates with a surprisingly loud motor for such an expensive product, so isn't exactly suited to use while watching your favourite TV show!
Best Overall
Ekrin B37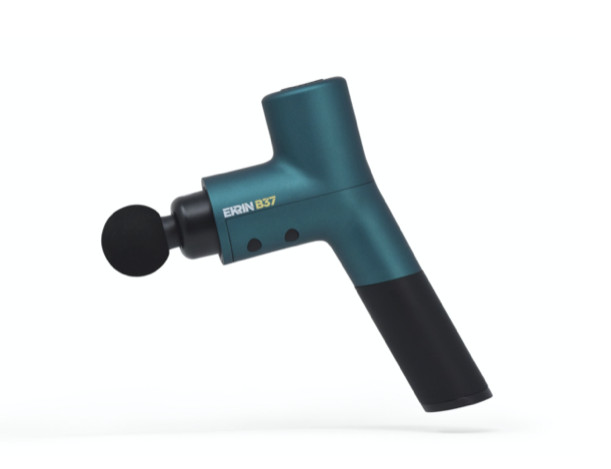 Speed
5x speeds - 3200 RPM
Attachments
4x massage heads
Pros & Cons
What's good?
Travel case included
Extremely powerful
Reliable
15 degree handle makes it easy to hold
Quiet
Unique green aesthetic
The Ekrin B37 is not too different from most other massage guns, but still somehow features subtle nuances that make it far superior to other guns. The 15 degree handle makes it easy to grip, while the ultra quiet technology means the B37 will only reach up to 55dB at full speed.
The B37 isn't super lightweight, however, this speaks to the durability of the gun and gives off the distinct impression that it isn't easily breakable. The B37 has a reputation for reliability and endurance, meaning if you use the gun frequently, it's unlikely to fail on you mid-use!
Best convenience
Ekrin BANTAM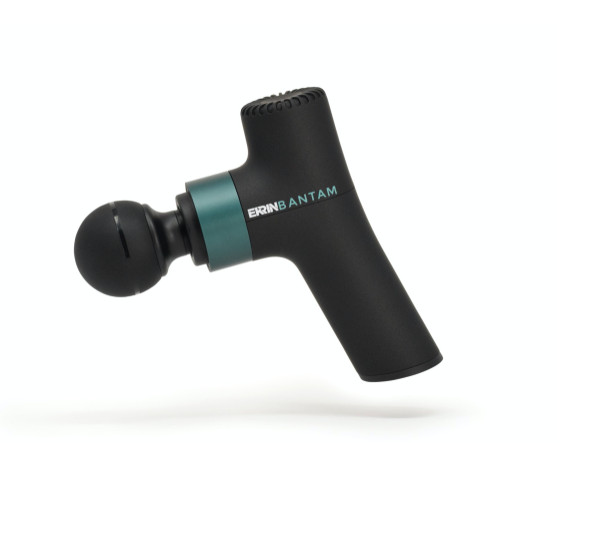 Speed
3x speeds - 3200 RPM
Attachments
4x massage heads
Pros & Cons
What's good?
Travel case included
50% smaller than other Ekrin guns
Ultra lightweight - 0.5kg
What's not so good?
No rubber or silicone handle
No noise reducing technology
Only four attachments
The Ekrin BANTAM, unlike it's much larger counterparts, is the perfect balance of convenience and reliability with an ultra lightweight, yet noticeably durable feel. The handle still sports a 15 degree angle which makes it easy to hold, however, it lacks the rubber grip which would make it a little nicer on your hand.
The odd thing about this gun is, that unlike most other guns, the BANTAM doesn't feature an LED screen; instead, it features a singularly on/off button which you hold down to adjust the speeds. Although, this ads a sort of simplistic charm to the the gun, making it easy and straightforward to use.
The gun has a 10mm stroke length, which means it's is great for deep muscle treatment.
Best Price
Sportneer Deep Tissue Percussion Muscle Massager Gun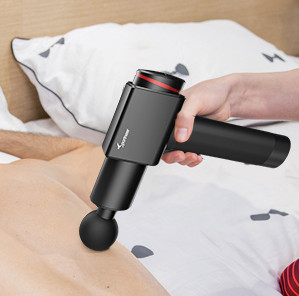 Speed
6x speeds - 3200 RPM
Attachments
6x massage heads
Pros & Cons
What's good?
Travel case included
2x oil friendly massage heads
Ultra quiet technology
What's not so good?
Short battery life
Impractical shape
The Sportneer massage gun is great for extremely sore muscles, featuring a vast range of varied intensity settings that allow you to start gentle and work your way up to firm. The massage gun kits also feature two great, oil friendly massage attachments with metal heads, which are cold to the touch and awesome to use after an exceptionally hot, sweaty workout.
The battery life claims to between 4-6 hours, but doesn't always live up to the hype. The realistic battery range on the Sportneer is often well below four hours, especially if you are using it at full speed.
While the Sportneer features ultra quiet technology making it great for use in a public environment, the shape of the gun is a little impractical and makes it difficult to attack hard to reach spots.
Best Speeds
RENPHO Massage Gun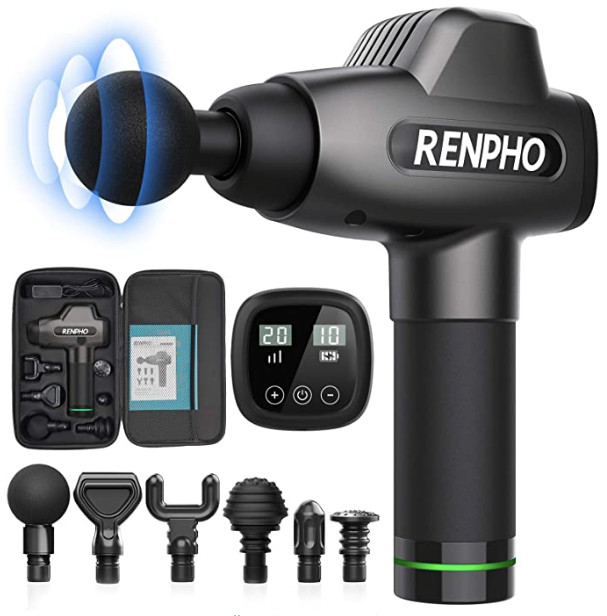 Speed
20x speeds - 3200 RPM
Attachments
6x massage heads
Pros & Cons
What's good?
Travel case included
20x speeds
Long battery life
Comfortable grip
Easy to set up
After scouring many reviews, the RENPHO seems to have very few faults! At a modest $129.99, the RENPHO offers up to 20 different speeds and has an impressive battery life of eight hours. Aside from these great benefits, the RENPHO also sports quiet technology that maxes out at 63.5dB, which is slightly more than some other guns, however, still pretty darn quiet.
The RENPHO is super popular with couples given its huge variety of speeds and comfortable grip, making it the perfect substitute for a one on one massage. The gun is extremely easy to use, with a small button panel at the back which indicates the speed and battery level. The RENPHO also has a 10mm amplitude to reach deeper into your muscles.
Best mini
Recoverfun Mini Massage Gun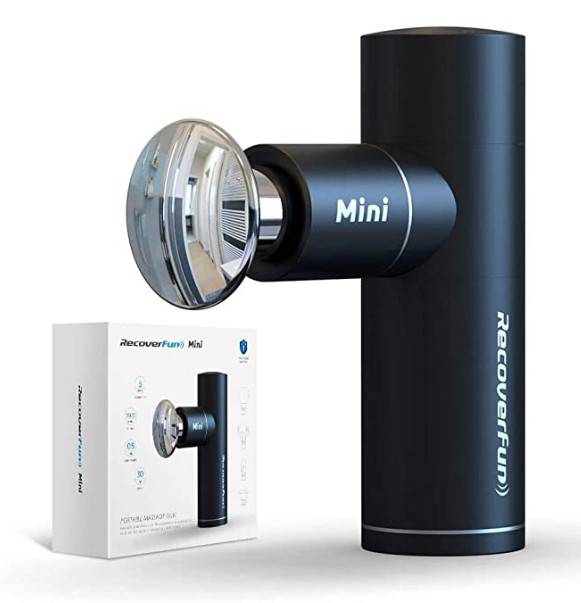 Speed
4x speeds - 3200 RPM
Attachments
4x massage heads
Pros & Cons
What's good?
Lightweight - 0.5kg
Available in multiple colours
'Silent Force Technology'
What's not so good?
No travel case included
Awkward shape
The Recoverfun mini is just as adorable as it's name, but packs a mighty punch! Penetrating up to 6mm deep into tissue, the gun also sports four different speed intensities and 'Silent Force Technology' (reaching a max of 42dB) meaning you can whip it out of your handbag to use at any time.
The guns are just as aesthetically pleasing as they are physically pleasing. If you're sick of the usual boring black or grey massage gun, Recoverfun is also available in pink and red.
Unfortunately, one of the downsides to the Recoverfun is its packaging which is made up of a soft, drawstring bag. This puts the gun at risk of unnecessary damage and makes it a little less convenient for transportation. The only other downside is the shape of the gun; given its name implies a petite structure, the gun is surprisingly thick and a can be a little awkward to fit back in its drawstring bag with all of its attachments.
Best Cheapest
Chuirr Massage Gun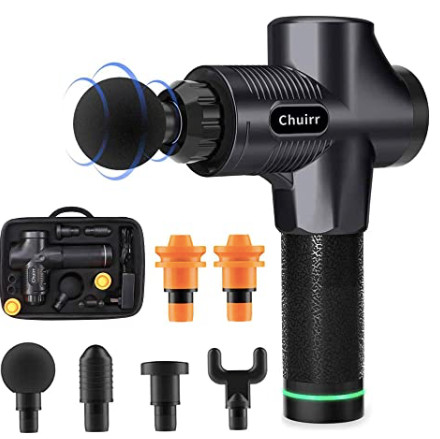 Speed
30x speeds - 3200 RPM
Attachments
6x massage heads
Pros & Cons
What's good?
Hard box travel case included
Quick charger
Features 30x speeds
With up to 7 hours of battery life, the Chuirr Massage Gun is the cheapest item on our list but has a surprising amount of features for such a low price. Even with a whopping 30x different speeds, the Chuirr Massage Gun sports a quiet guide noise reduction technology which means even at level 30, the gun will give off nothing more than a low hum.
Although it has 30 different speeds, a common theme in consumer reviews reflects that the low amplitude can be an issue if you're looking for a deeper massage for those stubborn knots and tight muscles.
The gun is a little heavier and bulkier than some of the other guns on our list, making it a little awkward to hold and difficult to handle if you have small hands. However, for a measly $99.99, this gun is an absolute bargain if you're looking for something cheap and effective!
We have scoured the internet and narrowed down seven of the best quality massage guns available in Australia based on the opinions of qualified fitness and health professionals, health and fitness journalists and consumer reviews.