Are you constantly finding yourself in a dilemma about what to eat next? Say you're always on the go with a negligible amount of time to whip up dishes on weekday evenings. Or perhaps you're on a tight budget, and having meals delivered right to your doorstep isn't going to cut it. In that case, meal prepping may just be the solution for you!
If you consider yourself a newbie to meal prepping, fret not! We've assembled a beginner's guide to walk you through the basics, including what you'll need to get started and how to prepare healthy meals based on tips from nutritionist Sarah Appleford.
What Is Meal Prepping?
Meal prepping is getting your meals ready in advance, and most commonly, this would be an entire week's worth of food for lunch and dinner.
Additionally, it may also involve preparing a large batch of snacks to combat hunger when it strikes or freezing your smoothies in smaller portions to enjoy throughout the week.
How Much Time Will It Take?
It would generally take around 4 hours of labour, including the time to plan, choose your recipes, shop for ingredients, cook, and store your meals. However, this also depends heavily on the batch size and how many meals you have to prepare for the week.
The cooking time can also vary widely depending on the complexity of the recipe. For instance, a simple recipe consisting of rice, steamed fish, or veggies will require around two hours of labour for one week's worth of food. Nevertheless, many preppers don't fancy tucking into the same meals every single day.
To get the best of both worlds (decent variety of meals and less cooking time), these tips may help!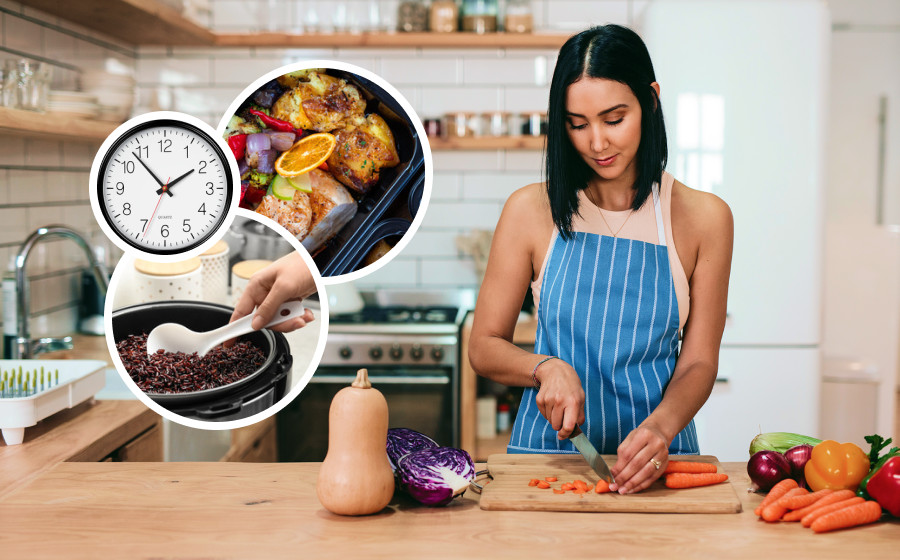 Utilise an array of different appliances and utensils, such as a slow cooker.
Use the same group of ingredients but differing cooking methods to enhance the variety.
Use a mix of raw/unprocessed and ready-to-use ingredients.
Prepare a combination of simple dishes instead of one complex and intricate recipe.
Double the batch size.
How Much Will It Cost?
You don't want a light wallet to rob you of the joy and satisfaction of chowing down a tasty meal.
The cost of the meals will vary depending on where you source your ingredients from and the ingredient quality. Nevertheless, meal prepping is undeniably more cost-effective than takeouts, meal service providers, deliveries, or dining out.
For instance, a basic Chicken Teriyaki meal consisting of 200g chicken, 100g white rice, and 50g broccoli should cost you no more than $4.00 per meal. In contrast, most providers charge on average $10.00 – $16.00 per meal.
Meal Prep Essentials
Masterchef-category skills are not required to meal prep successfully. Nevertheless, there are three main aspects to keep in mind to ease the process: Kitchen appliances and utensils, food storage, and ingredients.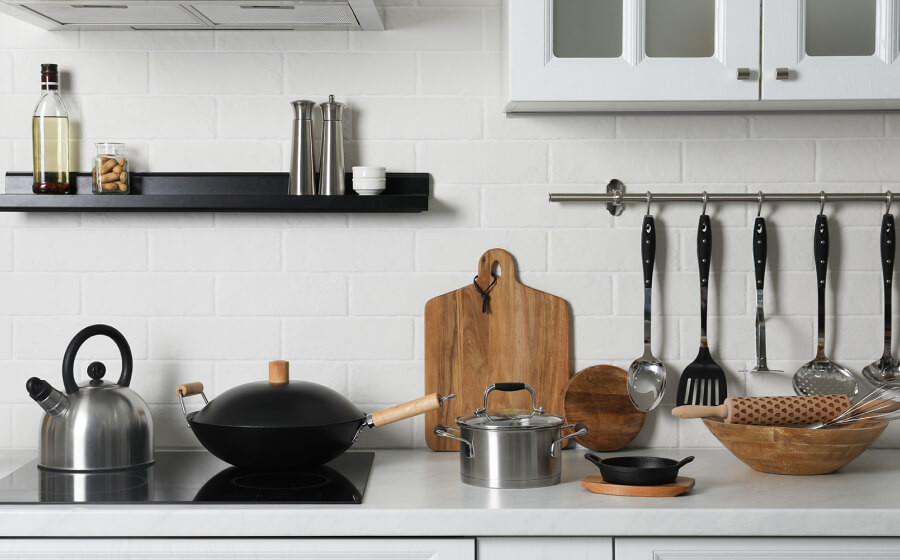 Kitchen Appliances
You won't need a plethora of expensive and high-tech appliances to meal prep efficiently. However, certain kitchen essentials would help lighten the load and make the process more of a breeze. They include the following.
Basic Meal Prepping Equipment
Gas/ Induction Cooktop
Oven, microwave
Saucepan, fry pan, wok, baking tray
Cutlery, knives, chopping board, strainer
Measuring cups
Advanced Meal Prepping
Rice cooker
Electric Grill
Blender
Digital food scale
Slowcooker
Multicooker
Our favourites:
Food Storage
Food storage might seem like a minor aspect of meal planning and prepping. But the type of food storage you opt for might make or break the experience!
Here are some aspects you should consider when selecting the most suitable meal prep containers for your use.
How many containers will you need?
Will you be meal prepping for the whole week or only for weekdays? If you have a five-day workweek, you'll probably need at least five microwavable containers. Additionally, consider if you'll be whipping up dinner, snacks, or breakfast as well.
Plastic containers are cheaper than glass containers and weigh a lot less, but not all are dishwasher safe. Disposable plastic containers make the perfect candidate if you wish to save time and effort. But if you'd like to be environmentally conscious, glass or silicone containers are a much better way to go!
Do you need travel-friendly containers?
When you're ready to dig in, you won't want your appetite dampened by a disastrous-looking meal or your lunch bag completely soiled by leaked liquids and soups. Hence, if you predict you'll be hurriedly scrambling to work, it may be better to utilise leak-proof and compartmentalised containers to avoid these inconveniences.
Additionally, stainless steel containers effectively keep food warm and fresh and are environmentally friendly as they can be reused. However, they're not microwavable and hence, are better suited for foods that don't require reheating, such as salads or snacks.
Many of us heat our lunches in the morning but only dig into them at noon. If you find cold food unappetising, then insulated lunch boxes and lunch bags will faithfully serve the great purpose of keeping your food hot, fresh, and delicious until mealtime!
Does the container need compartments to separate the food?
You may actually be spoilt for choice with the multitude of options for compartmentalised food storage containers. From bento lunchboxes to stainless steel tiffin carriers and multilevel lunch jars, there's an array of choices to pick from!
These multi-compartment containers come in handy when you wish to separate wet from dry ingredients, so you don't end up with a soggy mess for lunch!
Do you need a transparent container?
While this isn't non-negotiable, transparent containers can boost convenience by allowing you to take quick peeks of their content without needing to open up the lid. An innovative alternative would be to label the containers with non-permanent markers or sticky post-it notes.
What size should the meal prep containers be?
Purchasing containers that are large enough for a single meal would be optimal. Containers that are too small won't store enough, and massive ones may be a bulky inconvenience to carry around.
How much do meal prep containers cost?
Unsurprisingly, plastic containers are the cheapest of the lot, followed by silicone, glass, and, lastly, stainless steel.
How long do meal prep containers last?
Durability is an important aspect to consider. Stainless steel containers are the most durable, resistant, and heavy-duty. But because they're non-microwavable, their use is limited to foods that don't require reheating.
Are there environmentally friendly meal prep containers?
Stainless steel and glass containers tend to last the longest and top the scoreboard in durability and reusability. However, food-grade silicone containers are steadily gaining popularity among preppers as they are lightweight but more durable, ocean-friendly, and better resistant to heat and cold than plastic containers.
Ingredients
Last but not least, ingredients play a crucial part in the assembly of a delicious dish! Your choice of ingredients will be based on the complexity of your recipes and the dietary requirements you need to cater to.
To formulate a nutritious meal, Sarah recommends including a quality protein source, one palm-sized portion for women and two for men. Additionally, it's always best to incorporate a small portion of complex carbs, a load of leafy veggies, and a thumb-sized portion of healthy dietary fats. However, this is a general guideline and is subject to change based on your nutritional requirements and restrictions, as noted by Sarah.
If you are looking for weight loss or muscle gain, or living with a chronic health issue, having your dietary requirements assessed by your health practitioner will help ensure you're meeting your macro and micronutrient needs.
The following is a handy list of convenient, nutritious, and suitable ingredients for meal prepping.
Proteins: Chicken, Beef, Tuna, Eggs, Salmon, Turkey, Pork, Legumes, Tofu, Tinned fish, Tempeh
Complex Carbs: Rice, Pasta, Noodles, Sweet potato, Quinoa, Chickpeas, Buckwheat, Pearl barley, Freekeh
Fats: Avocado, Almonds, Macadamia, Olive oil, Nut oil, Cheese, Greek yoghurt, Hummus, Nut butter
Vegetables: Spinach, Broccoli, Cauliflower, Kale, Cabbage, Carrot, Zucchini, Capsicum, Pumpkin, Tomatoes, Mushrooms
On the other hand, these are some ingredients you should probably avoid as they don't store or reheat well.
🍞 Unless you're a fan of soggy-textured foods, it's best to avoid bread as your sandwiches may taste mushy after sitting in your fridge for a day or two.
🧀 Cooked cheese is a dicey one, too, as it may cause indigestion if not appropriately reheated.
🐟 Seafood emits a pungent smell when reheated, so keep that in mind!
🍅Fresh veggies, fruits, or anything with a crispy texture may not retain their crunchiness and texture when mixed with other wet ingredients such as condiments or saucy foods. A decent solution would be storing the meal in compartmentalised containers to separate dry and wet ingredients.
To enhance the nutritional profile of your meals and give your dishes each a unique kick of flavour, Sarah recommends utilising a mix of aromatics such as ginger, garlic, and onions. Plus, you may wish to add herbs and spices such as turmeric, chilli, paprika, coriander, rosemary, parsley, basil, cumin, and cinnamon to your meals to elevate their taste and flavour further!
Add fresh herbs to individually portioned meals only once when cold to retain their flavour and health benefits.
Step-By-Step Guide To Meal Prepping
You won't need professional-grade culinary skills to soar towards success. And meal prepping might sound like an overwhelming task, but it's not as complicated as you might think. To help you hit the ground running as you get started on your meal prepping journey, we've outlined several steps that you can follow to craft delicious and nutritious meals!
1. Work out how many meals you need.
Do you plan on making meals for breakfast, lunch, or dinner? And how many meals per day are you aiming to prepare for the rest of the week?
Working out the sum of meals you need to make will help you plan your menu and give you a rough idea of how much time to set aside for labour. Additionally, it's best to check your schedule so you can plan around commitments and social activities and manage your time effectively to prevent over-exhaustion or burnout.
If you're feeding more than one mouth, batch cooking may help ease the load off your tired shoulders. Sarah explains that batch cooking is a strategic method to meal prep for families or those that can't afford to cook frequently.
Batch cooking is a great option for family meal prep or those who don't have ample time. To make life easier, double the meal you are cooking so you can freeze the individual portions. For the time it takes to cook 4 meals, you've cooked 8.
For instance, say you love to grab some sugary chocolate doughnuts for breakfast on the way to work. In that case, meal prepping for breakfast might be a significant step in the right direction. Or perhaps, you tend to order deep-fried fast food takeouts for dinner to save time and energy. Then, look towards meal prepping for dinner to improve your daily nutritional intake and overall health.
2. Plan your menu.
Set a goal you wish to attain. Are you planning to meal prep for weight loss, gain muscle mass, or improve your physical wellbeing? With a goal locked in mind, you can steer your meal prep menu towards making those goals a reality.
Don't shy away from trying out new recipes. But staying away from intricate ones that require an extensive range of ingredients will save you the extra stress and hassle.
Remember, a healthy meal does not only come at extravagant costs and effort. Instead, think of a healthy meal as one that contains quality protein, veggies, complex carbohydrates and a small portion of healthy fats such as avocado, olive oil or nut butter.
Additionally, to save on prep work time and money, consider using the same group of ingredients for cooking up different dishes and, whenever possible, utilise an assortment of cooking methods.
3. List out your menu.
Unless you have photogenic memory or enjoy the spontaneity of choosing a dish at the very last minute, listing out your menu will help you keep track of the dishes you plan to cook for your weekly meals.
Plus, doing so may also give you the upper edge when calculating the nutritional profile of your meals and constructing your shopping list based on the ingredients required for those dishes.
4. Build your shopping list.
Try not to rush over to your grocery store without a grocery list! If you tend to go wild over sales, having a shopping list tucked in your arsenal can help curb the temptation of buying unnecessary goods and assist you in sticking to your monthly budget.
While constructing your shopping list, take stock of what you already have in the kitchen and organise your ingredients into different categories to help you shop more efficiently. Besides that, it's also a great idea to take inventory of your storage containers to ensure enough room for your meal prep plans!
Before you leave the house, have in mind a rough estimate of how much your grocery bill would add up to. Consider bringing along just enough money to cover those costs, so you're not tempted to buy on impulse. Of course, this isn't a guaranteed fix, especially with credit cards and e-payment smartphone apps.
5. Schedule your prep time.
Schedule some time for meal prepping and be specific with it. For example, say you wish to dedicate one weekday night and one weekend night to meal prepping. In that case, you may want to cook on a Sunday night for Monday, Tuesday, and Wednesday and cook on a Wednesday night for Thursday, Friday, Saturday, and Sunday.
6. Maximise your prepping time.
The following are some tips to boost efficiency and help you meal prep like a pro:
Identify commonalities in your recipes. For instance, if many of your meals call for rice or pasta, you can cook a large batch of them and divide them as required.
Start with ingredients that take the longest time to cook. Get them going while you work on the next dish.
Cook your meat and poultry using basic seasonings such as salt and pepper. That way, you can add different sauces, spices, and herbs to them later on to enhance variety.
Cook your veggies, but leave them slightly undercooked to avoid having them overdone when you reheat them later.
If you wish to prepare fresh fruit or veggie salads, cut them up and divide them into several containers or bags to pop in the fridge.
7. Pack and store your meals properly.
Once your meals are done cooking, remember to cool them properly before storage. Assemble all the different cooked ingredients and sauces per potion in your storage containers so that they are conveniently grab-and-go.
To keep your fridge organised, you can utilise your fridge shelves to categorise the containers according to breakfast, lunch, and dinner. Alternatively, you may wish to use non-permanent markers, post-it notes, or colour-coded container lids to label them.
Store the meals you wish to consume in 3-4 days in the fridge, and the rest will go in the freezer. Setting reminders or alarms can help you remember to move them to the fridge closer to the date you plan on consuming them. You don't want to end up with miserably cold and rock-solid food for dinner!
Lastly, Sarah cannot stress enough how crucial it is to patiently wait until your food has cooled before storing it in plastic containers. Heating plastic, including BPA-free plastic, may leach dangerous hormone-disrupting and liver-loading chemicals into your body and lead to adverse outcomes.
Is Meal Prepping Right For You?
To decide if meal prep is right for you, you may wish to weigh the advantages against the disadvantages to see if it's worth the time and effort for your situation.
✅ Improved health and fitness
Firstly, homecooked and self-assembled meals allow you to take full reigns over the ingredients and portions of your meals. Hence, your meal plan can be strategically geared towards your health and fitness goals, including weight loss, bodybuilding, or muscle gain.
✅ Caters to intolerances and personalised needs
Besides portion control, meal prepping is also a fantastic strategy to ensure that your daily meals cater to your specific needs. For example, suppose you have any allergies or medical conditions that require a strict and controlled diet. In that case, meal prepping allows you to enjoy nutritious and well-balanced meals while safeguarding your health and wellbeing.
Plus, those on a vegetarian, vegan, or keto diet may also benefit from meal prepping.
✅ Saves time
Meal prepping can help you save time. While you may be eager to reach for a quick-and-easy microwaved pizza or day-old hotdog, your body will thank you in the long run if you choose healthier and more nutritious meals instead.
By meal planning and prepping, you'll have a healthier, nourishing, and even calorie-controlled meal reheated and ready for consumption in minutes. And you'll no longer have to spend every weekday evening labouring in the kitchen!
✅ Saves money
Takeouts and meal deliveries may not be the most cost-effective solution. And while $15 per takeout might not seem like an extravagant cost on the spot, it will rake up a hefty bill by the end of the month. If you want to keep your stomach happy and your wallet heavy, meal prepping is a great way to go!
Because homemade meals are almost always cheaper than takeouts, the money you save will accumulate through the month. With this tactic, you can afford to steer your expenses towards other essentials or your savings account.
✅ Reduces food waste
Meal prepping is wallet-friendly and environmentally friendly because it cuts back on food waste. Of course, this requires proper planning as you need to stock check the ingredients left in the pantry or fridge before your grocery shopping trip to avoid overbuying and waste!
Other than that, it's an excellent idea to note the expiry date of certain ingredients to ensure you use them all up before they go rancid.
✅ Reduces stress
When you get home after a hectic day, you may be looking forward to enjoying a relaxing evening slumped down on a cosy beanbag instead of sweating it out in the kitchen and rustling up a full evening meal. We completely understand that!
Consider meal prepping! Doing so generates room for you to sit back and relax after a busy day without needing to worry about how to fill that growling stomach.
❌ Requires sacrifice and dedication
❌ May dampen your appetite due to the lack of variety
Healthy Meal Prep Recipe Ideas 🌮
Need meal prep inspiration? Take a look at some of the best meal prep ideas to get you started.
Low-Calorie Meal Prep Recipe Ideas 🥙
Meal prep and portioning out the meals individually ahead of time is a great strategy to help you reach your weight loss goals.
Take a look at these recipe ideas, which are all 500 calories or less.